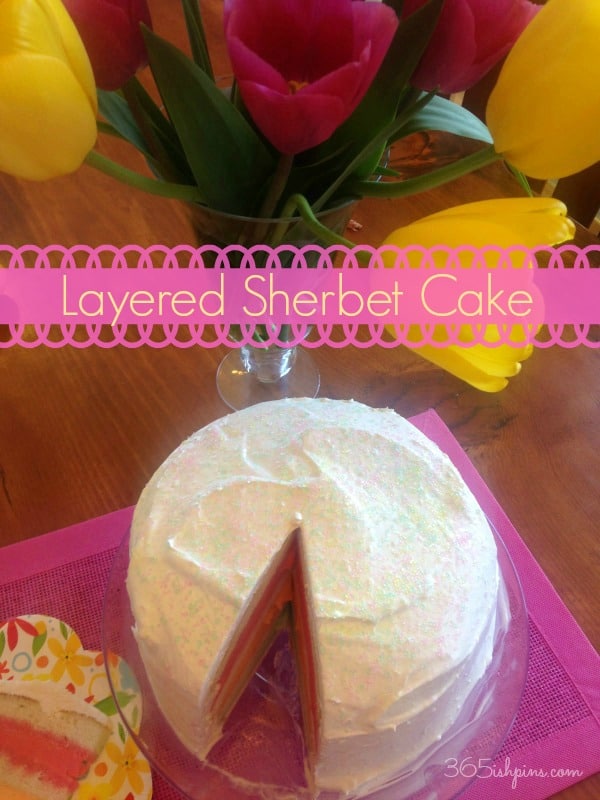 Is it "sherbet," "sherbert" (which is how I pronounce it) or "sorbet"? These are the deep thoughts going through my head as I take a bite of leftover Layered Sherbet Cake from Easter dinner. Really. I'm eating it right now. See? I paused a second there to take a bite. I couldn't help it. I was editing the photos for this post and I had to pull the cake out of the freezer to have some more! I saw this cake last year on Better Homes and Gardens, pinned it, and then completely forgot about it until I was searching for something for dessert for Easter. The colors were perfect and it was something I could make the day before, which is a requirement for practically every holiday dish I make.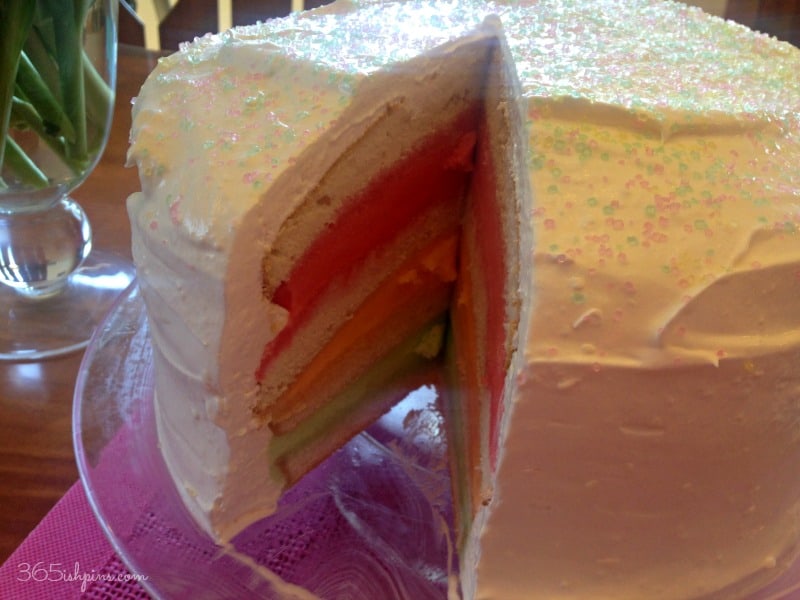 Layered Sherbet Cake
1 Classic White Cake mix and necessary ingredients
2 cups lime sherbet, softened
2 cups orange sherbet, softened
2 cups raspberry sherbet, softened
8 ounces cream cheese
1/2 cup powdered sugar
1/4 cup milk
1 teaspoon vanilla
1 12 ounce container Cool Whip
Decorative candies or sprinkles
Prepare, bake and cool the white cake as directed for 8″ layers
Using a long, serrated knife, slice the layers in half horizontally. Use toothpicks inserted in each side to help keep the knife blade centered. Place one layer, cut side up, in the bottom of an 8″ springform pan. Attach sides of pan. Spoon lime sherbet over the first cake layer. Top with second cake layer, spread with orange sherbet. Top with third layer and spread with raspberry sherbet. Top with final cake layer, cut side down. Cover with plastic wrap and freeze for 3-4 hours.
For frosting, in a large bowl, mix cream cheese, powdered sugar, vanilla and milk on med/high speed until light and fluffy. Fold in Cool Whip.
Remove cake from springform pan and move to cake plate. Spread top and sides with frosting, add sprinkles and freeze, uncovered for 1-2 hours or until firm.
Let stand at room temperature for 10-15 minutes before slicing.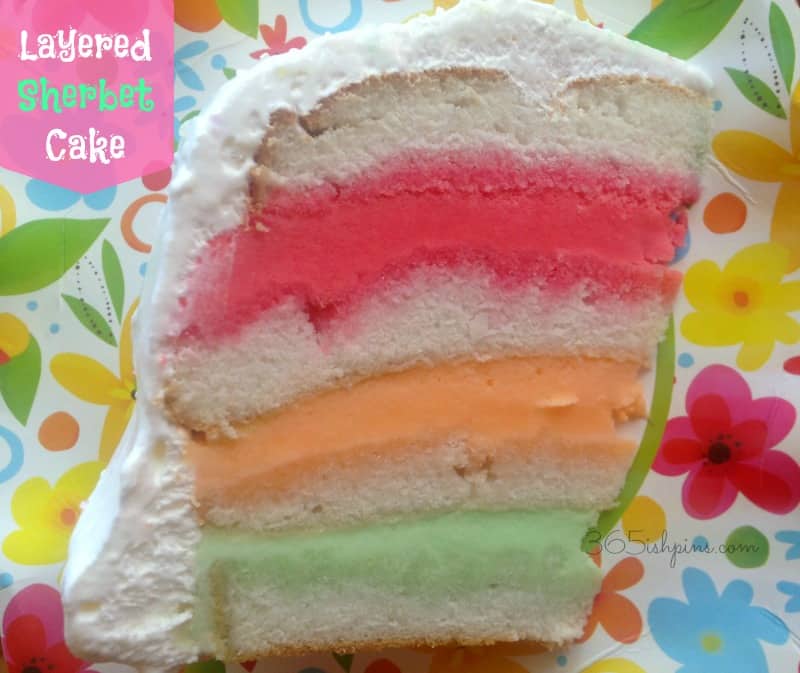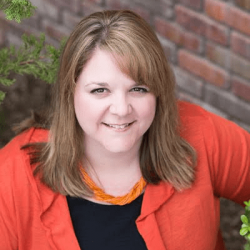 Hi, I'm Nicole!I love chocolate chip cookies, good grammar, and trying new things. Pinterest is my happy place. Come follow me down the rabbit hole!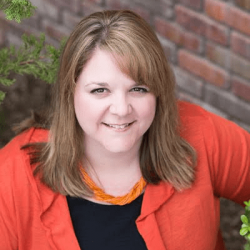 Latest posts by Nicole Burkholder (see all)