This post may contain affiliate links. Please see my full Disclosure Policy for details.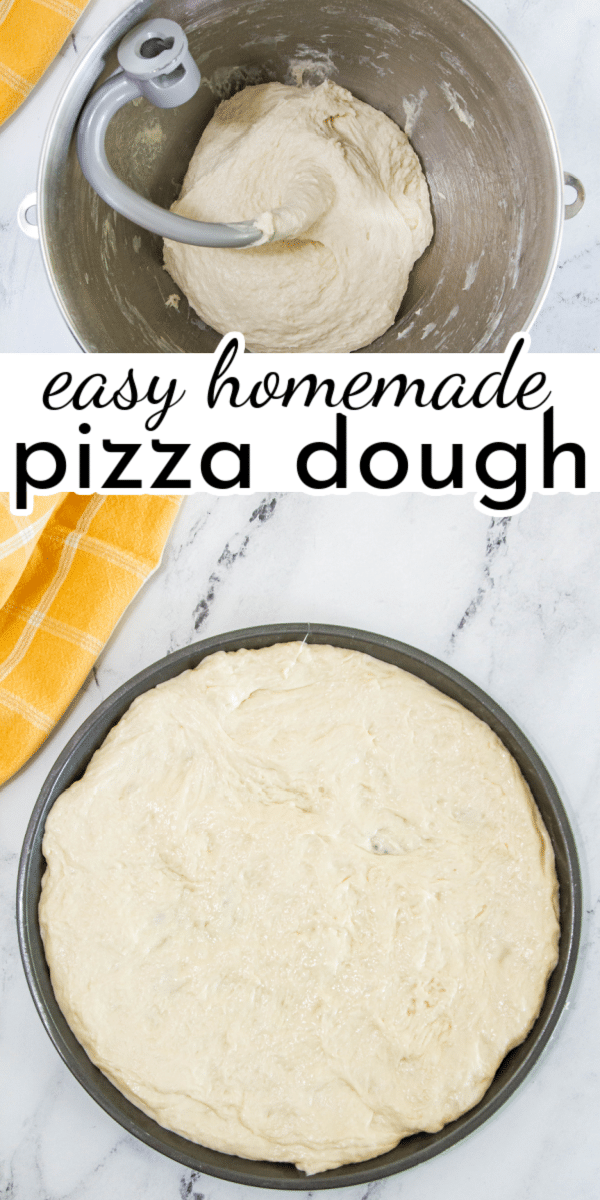 Making your own homemade pizza dough doesn't need to be complicated-this delicious and easy dough makes two 14″ pizzas-perfect for family pizza night!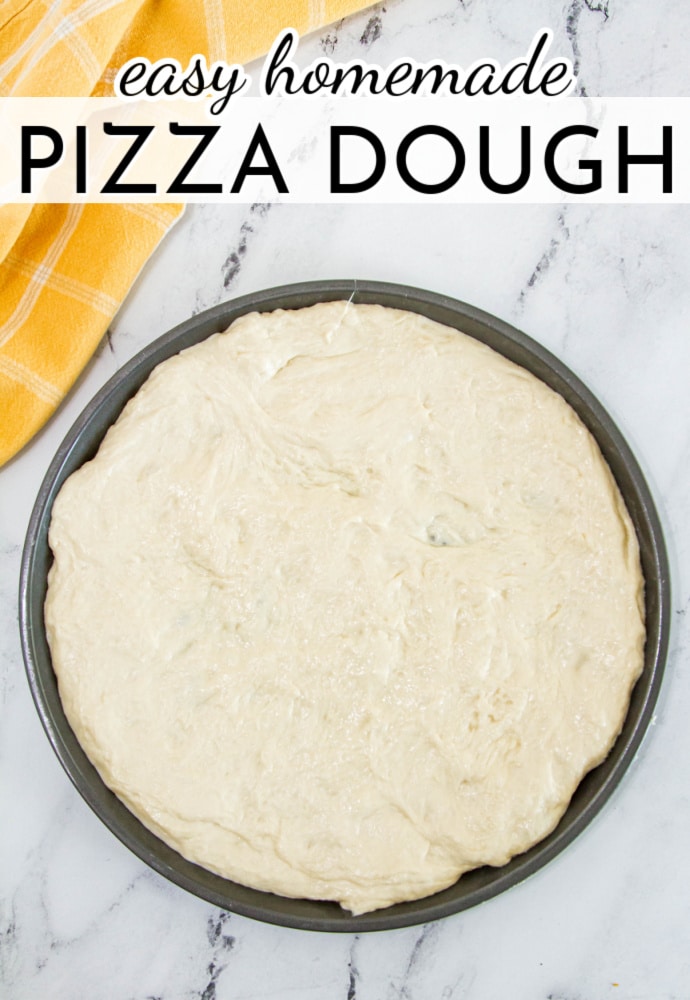 Every Friday night is Pizza Night in our home. For years I purchased pre-made pizza shells at the store. Then I tried the pre-made dough in the refrigerated section. But it just wasn't the same as take out from a pizza shop.
Then I finally got over my fear of working with yeast dough and started making this easy Homemade Pizza Dough. Honestly, I don't know why I waited so long. It's a very simple recipe and tastes SO much better than store bought dough!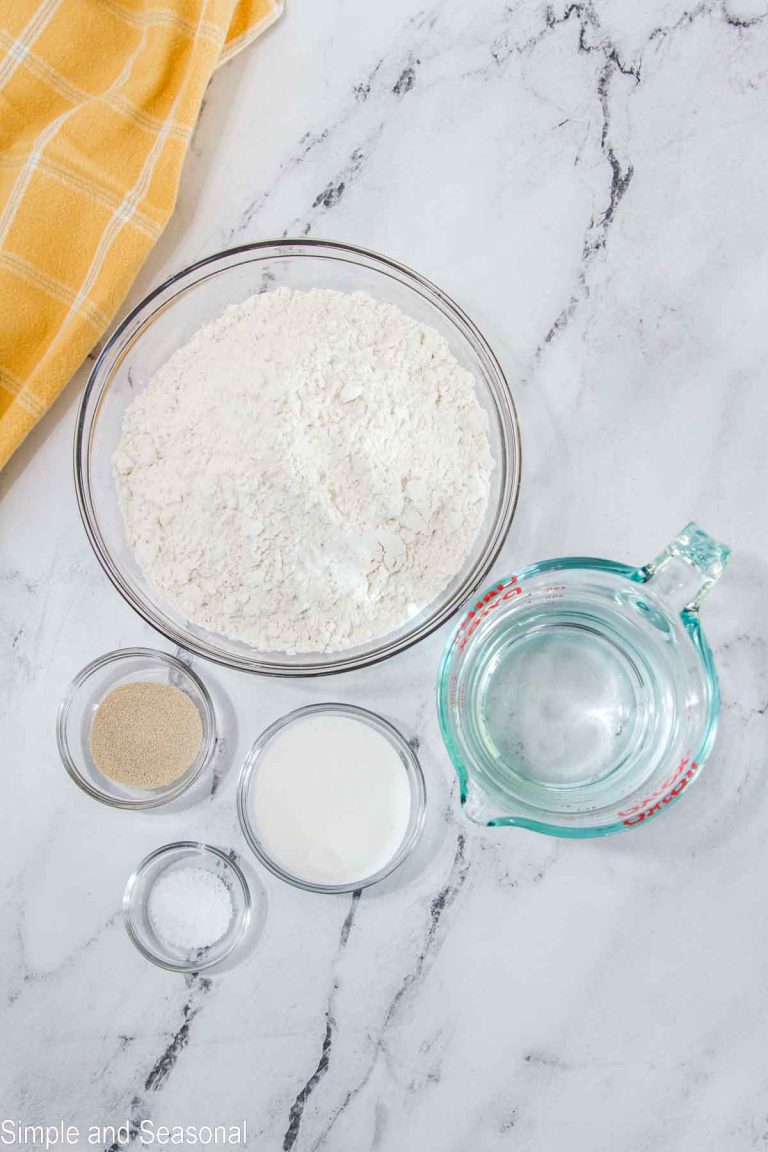 Ingredients
warm water-it should be quite warm to the touch, but not hot. If you're unsure, use a kitchen thermometer to measure. You're shooting for 110-115 degrees (F) so you activate the yeast but don't kill it.
active dry yeast-because I use it every week, I like to buy a "brick" of yeast. I will store about half of it in the freezer and keep the rest out in the pantry. Yes, you can freeze yeast! It basically puts it in stasis. Once you pull it out and activate it with warm water, it will come back to life.
sugar-this to feed the hungry yeast and create those tasty airy bubbles in the dough
salt-you don't need much, but you do need it for flavor
flour-all purpose flour is all you need. Be sure to use the "scoop and level" method when measuring the flour. If the dough is very sticky (perhaps the water wasn't measured carefully, or your home is quite humid) you may need to add an additional tablespoon or two of flour. This is rarely the case for me.
Instructions for easy pizza dough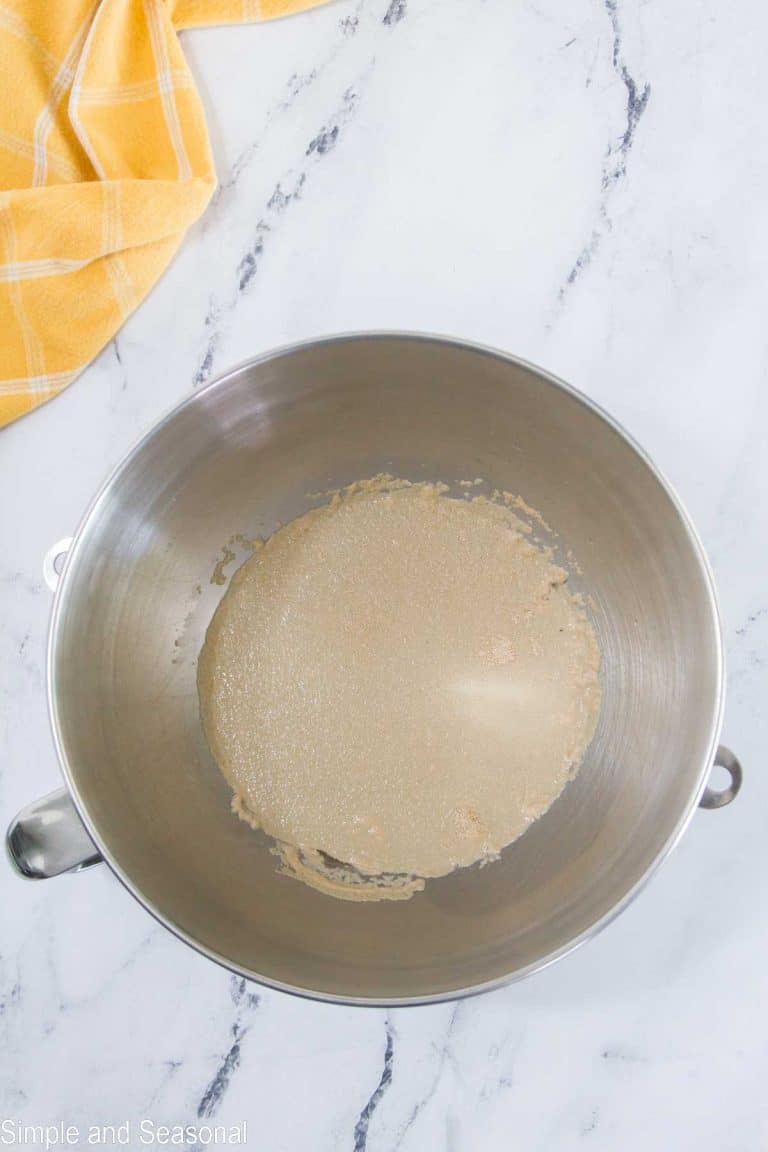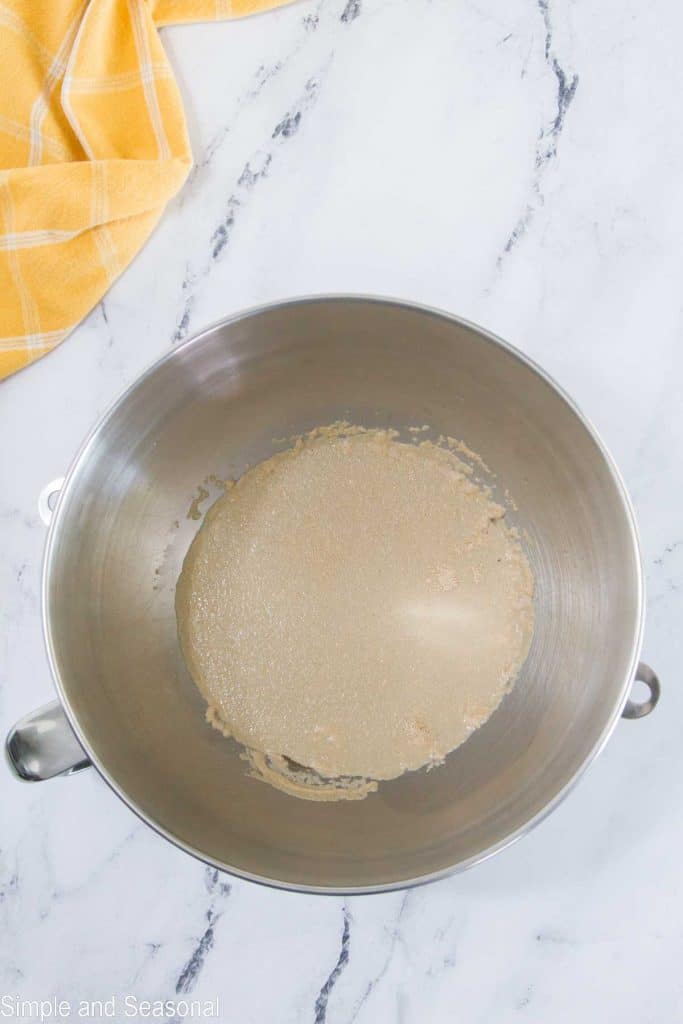 Step 1: activate the yeast
Add the warm water (110-115 degrees) to the bowl of a stand mixer. Sprinkle the yeast on top of the water and let it sit for 2-3 minutes to allow it to begin to dissolve and activate. You should smell a delicious "yeasty" smell coming from the water.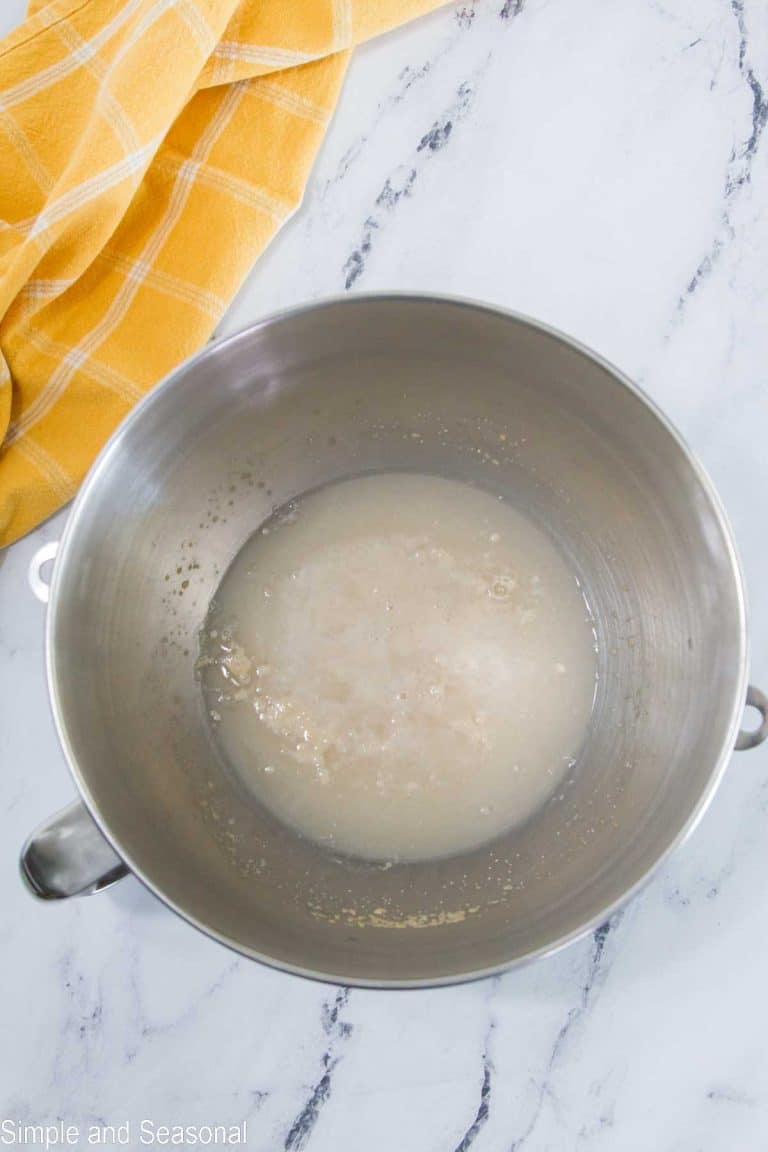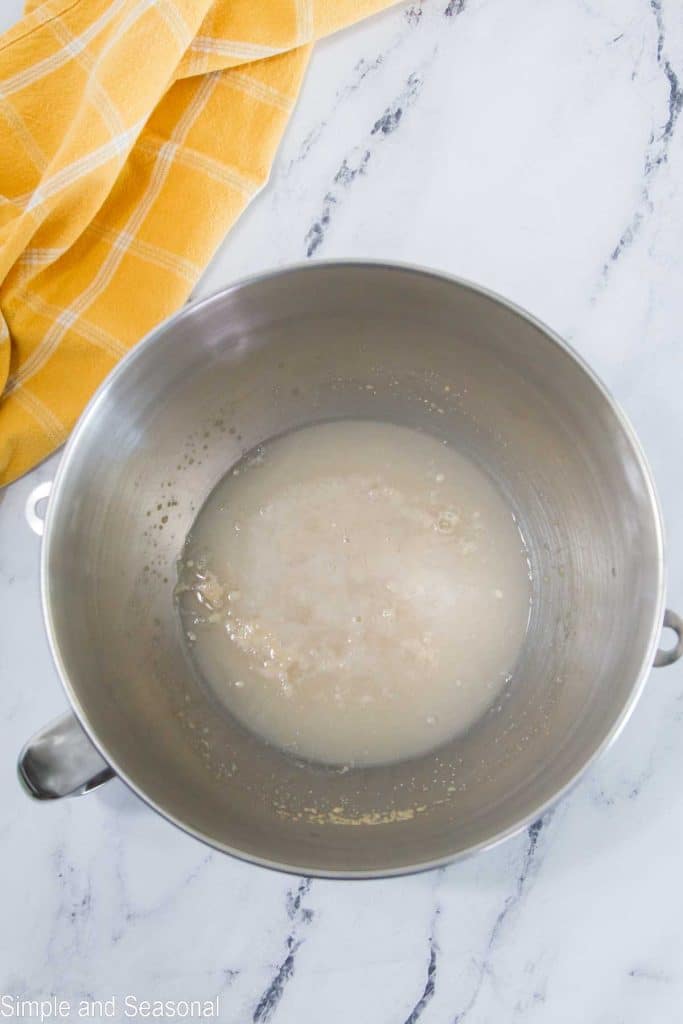 Step 2: Add the sugar, salt and flour
Once the yeast is activated, add the sugar, salt and flour and mix slowly with the dough hook (on speed 1) until mixed together.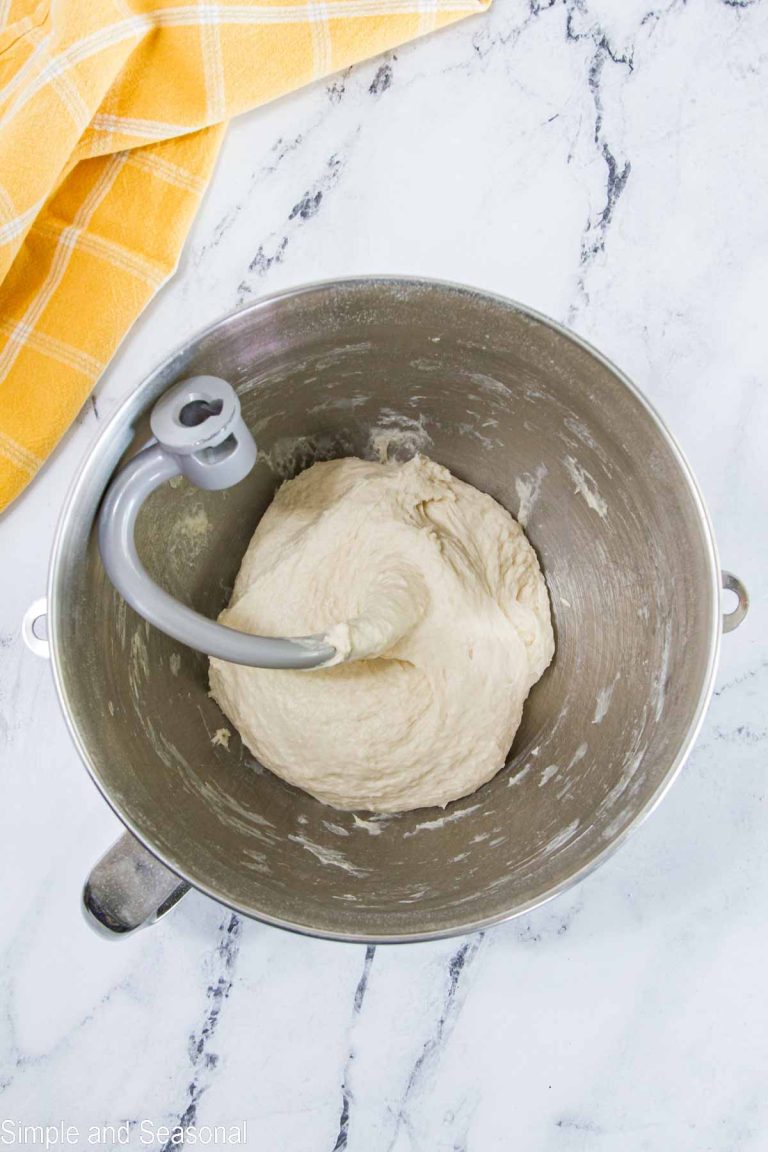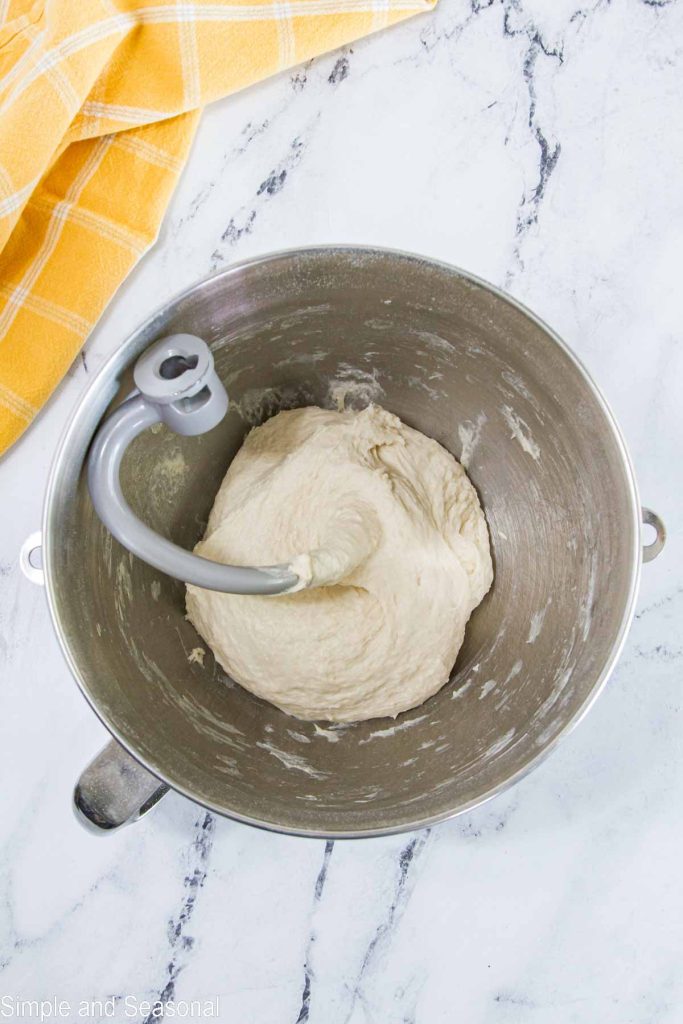 Step 3: Knead the dough
Knead the dough on speed 2 for 5 minutes, until smooth and elastic. It will be sticky, but should pull away from the bowl.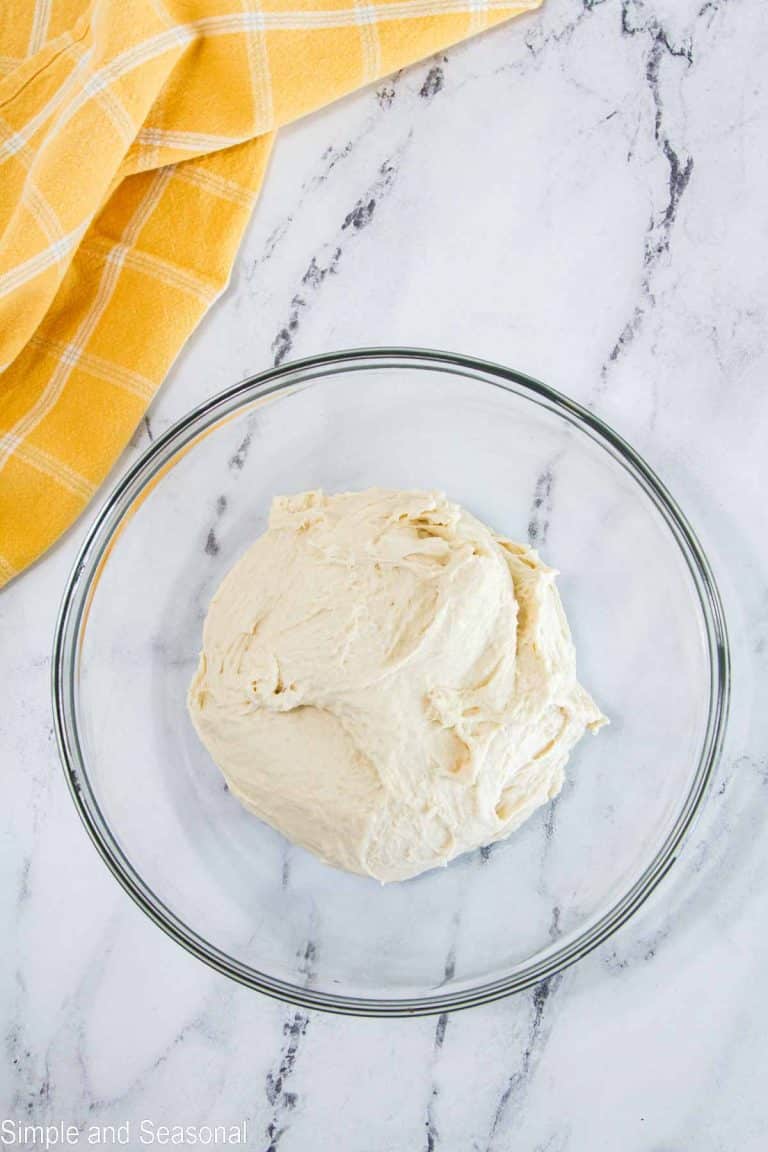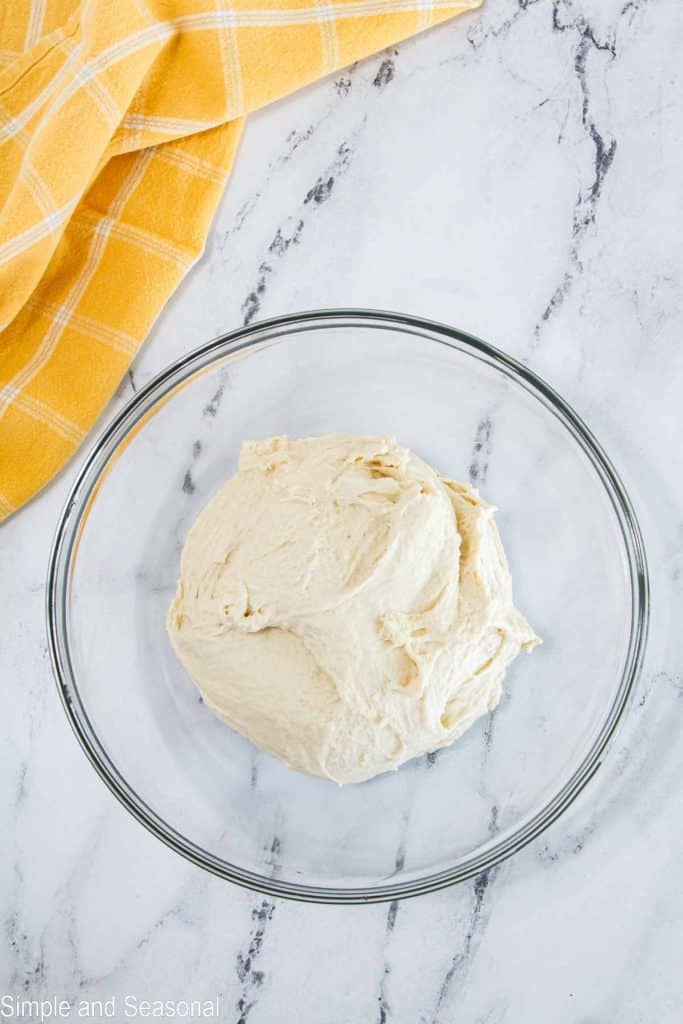 Step 4: Prove the dough
At this point, you can prove the dough one of two ways:
One option is to leave the dough in the mixing bowl. Just cover with a clean towel and leave to rise until doubled in size. This can take anywhere from 30 minutes to 2 hours, depending on how warm your house is.
The second option (which I choose more often because it makes things easier later) is to separate the dough into two equal halves, place them on greased pizza pans and then cover and allow to rise.
It doesn't matter which way you choose-the dough won't rise faster or differently. I find it a bit easier to spread out the dough after it rises if it's already on the pan. But sometimes I'm in a hurry and tossing a towel over the mixer is just easier at the moment. Your choice!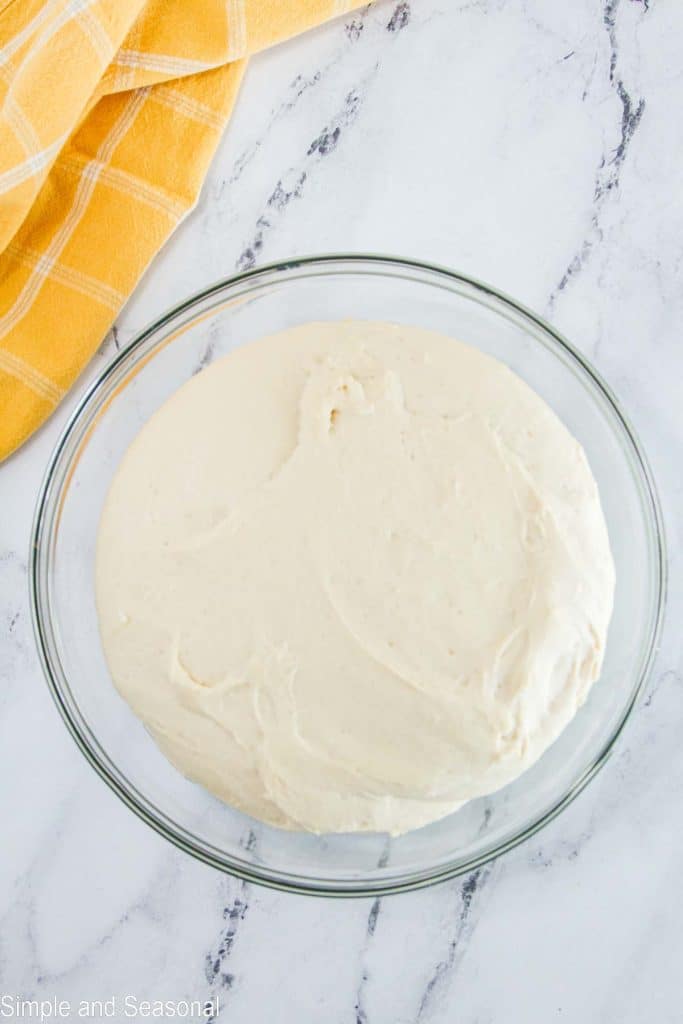 Step 5: Shape the dough
The last step after the dough has risen is to press it down and stretch it into shape. I start in the center of the dough ball and press the air out. Then I press down and out all the way around until the dough fills the pan.
Each ball of dough is enough for a 12″-14″ pizza. Just stretch it to the size of your pan, leaving a little bit extra around the edges to create a thicker crust if desired.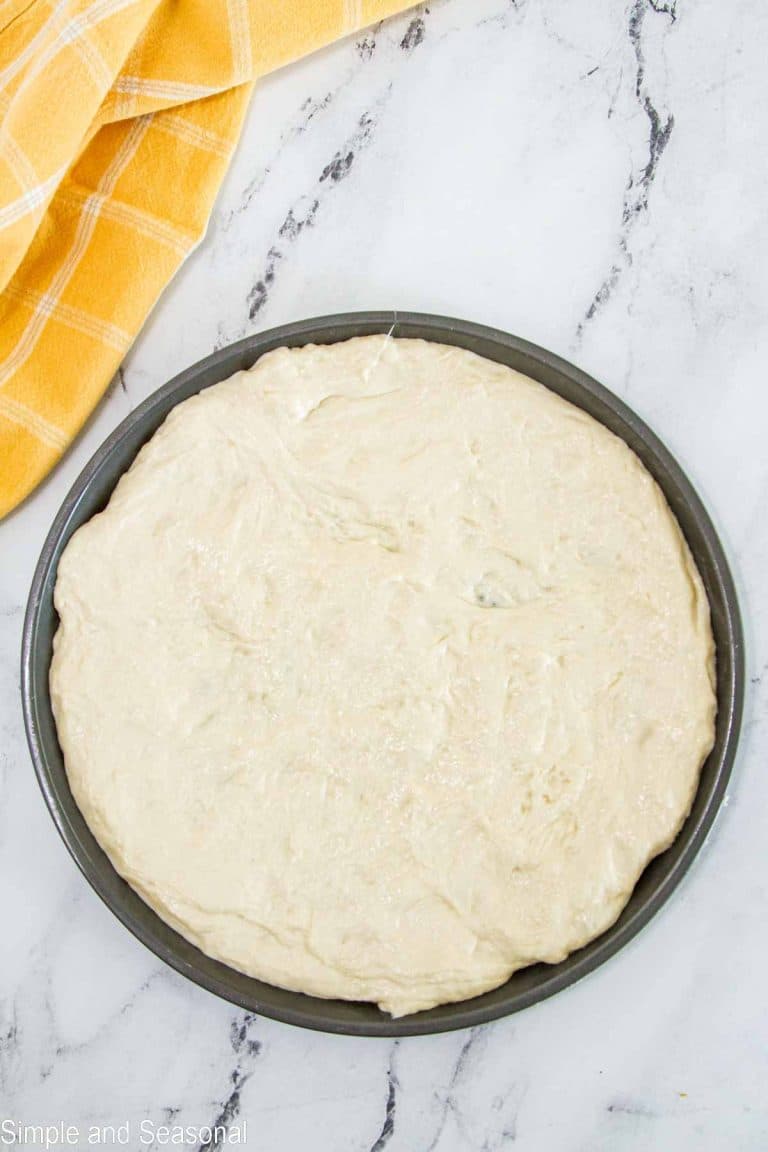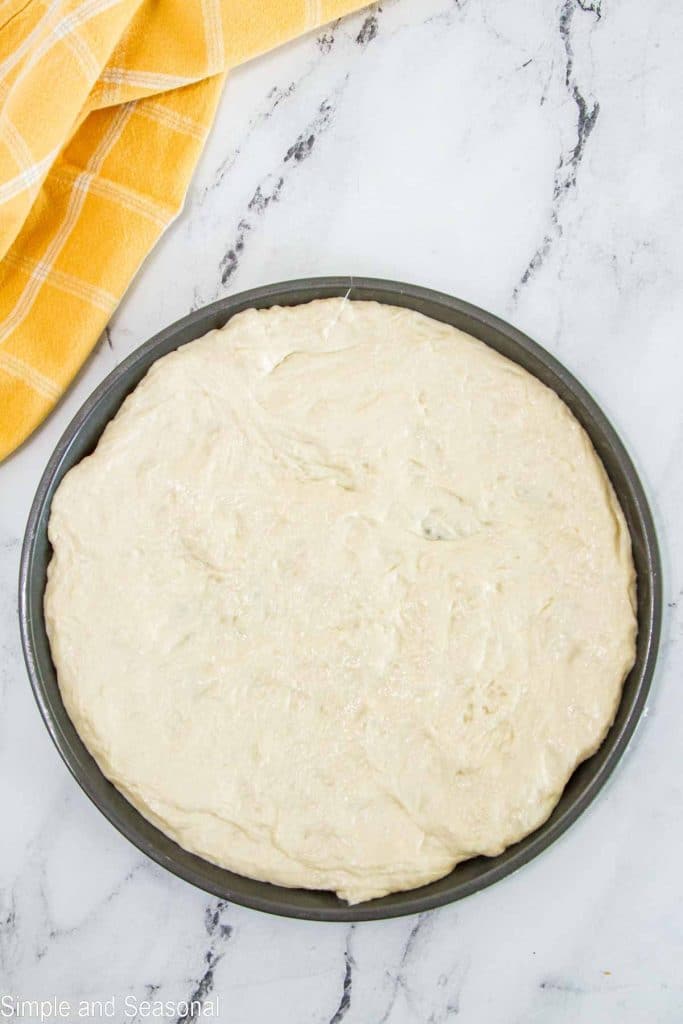 Step 6: Create your pizza
I will turn on the oven to preheat while the dough rests and I'm prepping the toppings. Pizza cooks best at high temperatures. I've played around with my oven and found 500 degrees to be the sweet spot. The bottom gets crispy and the rest stays beautifully soft.
After spreading on your favorite pizza sauce, add cheese and then cover with whatever toppings you like and bake!
What kind of toppings go with Homemade Pizza Dough?
sauce-go for traditional pizza sauce, or try something new like Garlic Chicken White Pizza
cheese-we stick with mozzarella usually, but sometimes it's fun to mix it up
protein-pepperoni and sausage are our favorites, but there's always ham, salami or even chicken
vegetables-I love mushrooms on pizza! We also like roasted red peppers, bell peppers, onions, olives, and jalapenos.
Easy Homemade Pizza Dough
Making your own homemade pizza dough doesn't need to be complicated-this delicious and easy dough makes two 14" pizzas perfect for family pizza night!
Servings:
16
slices (two pizzas)
Ingredients
1 ½

cups

warm water

about 110-115 degrees

2

tsp

active dry yeast

¼

cup

sugar

1

tsp

salt

4

cups

flour
Instructions
1 ½ cups warm water,

2 tsp active dry yeast

Add the water to the bowl of a stand mixer and sprinkle the yeast over the top. Let the yeast sit for 2-3 minutes.

¼ cup sugar,

1 tsp salt,

4 cups flour

Add the sugar, salt and flour. With the dough hook, mix on speed 1 until mixed together and then increase to speed 2 and knead the dough for 5 minutes.

Cover and let rise for 30 minutes-1 hour, until about double in size. (depends on how warm the kitchen is)

Split into two equal balls of dough and press into (2) 12-14" pizza pans

Add desired toppings and bake at 500° for 10-12 minutes or until golden brown
Nutrition
Calories:
131
kcal
|
Carbohydrates:
28
g
|
Protein:
4
g
|
Fat:
0.4
g
|
Saturated Fat:
0.1
g
|
Polyunsaturated Fat:
0.1
g
|
Monounsaturated Fat:
0.1
g
|
Sodium:
148
mg
|
Potassium:
48
mg
|
Fiber:
1
g
|
Sugar:
3
g
|
Vitamin C:
0.004
mg
|
Calcium:
6
mg
|
Iron:
1
mg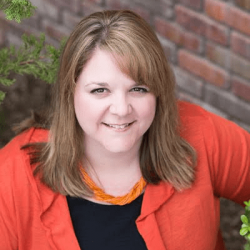 Latest posts by Nicole Burkholder
(see all)