This post may contain affiliate links. Please see my full Disclosure Policy for details.
Today I'm hosting my last guest blogger for this vacation. I'm actually home already, but you know the mountain of laundry I'm trying to climb out from underneath right now?!? So I'm outsourcing. The blogging, at least. 🙂
Thanks to Nicole for letting me guest post for her here at 365(ish) Days of Pinterest. I'm Jenna over at www.SensationallySeasonal.com. I'm a wee bit Christmas crazy and like to extend the holiday cheer year round by celebrating all seasons and stopping to appreciate all the good things that each season and holiday brings through food, crafts, home decor, and other ways to enjoy the whole year.
Just, because it is summer doesn't mean it is not crock pot weather. Let's think about this for a second, shall we? It's a million degrees outside and humid, and inside it's maybe 10 degrees cooler-and moving-even if it's just say, to push the button on the remote to change the channel on the TV, makes you break out into such a sweat that you look like you've just been running. Do you want to turn on your oven on a day like that to make dinner? You could grill, but your hubs (aka the Grill Master) works late and that means dinner would inevitably happen at 10 at night. So what do you do?
Turn on the crock pot! It won't heat up your house. And better yet, you can just throw everything you need into one pot and forget about it because clearly since standing in the kitchen cooking especially with the oven on during a hot summer day is pretty much like standing on the face of the sun… And then, while dinner is simmering you can either drape yourself over your air conditioner or go float in a pool, whichever strikes your fancy.
Anyway, this recipe is actually one I came up with over the winter when I didn't want to shed the comfort and warmth of my pj's and my hubs's blue bathrobe. (What was I thinking?!) These crock pot chicken enchiladas are just as delicious in the summer, though, served over spinach or crisp romaine lettuce. You could even slice up some fresh bell peppers to top it. And then you could add copious amounts of cheese and guacamole, since you know, it is served over salad and that makes it healthy, right?
crockpot chicken enchiladas
I also didn't have any tortilla shells or wraps. So I served it over salad greens like an enchilada salad. And then felt better about adding copious amounts of cheese and guacamole since it was "healthy" over the salad. 🙂
Ingredients
1 small package of chicken breasts
2 small onions or 1 medium onion
peppers
1 tbs of tomato paste
2 small cans of unseasoned tomato sauce
chicken stock
2 tbs of flour
2 tbs of olive oil
hot sauce *to taste*
pinch of salt
generous sprinkle of black pepper
1 tsp of cumin
1 tbs of paprika
1 tbs of garlic powder
zest and juice of 1 lime
cayenne pepper *to taste*
red pepper *to taste*
1 cup of rice (not instant) or quinoa
optional- can of jalapeno peppers
Directions
Chop your onions and peppers. Add to crockpot along with chicken. Season chicken generously with the lime zest and juice and spices. Turn crockpot on low and let set while you cook your sauce.
These are the cute little peppers I had on hand that I used. Love these things in everything.
In a pan over medium heat, add the oil and flour. Stir together until flour is golden and you have formed a paste. (You are making a quick roux to give your sauce some body.) Add the sauce and a tbs of tomato paste and cook until the sauce is thick. Season with hot sauce (to taste- we like it very spicy), cayenne pepper, cumin and garlic powder. If the sauce is too thick, thin with chicken broth.
home made enchilada sauce
Add the sauce to the crockpot and add in a cup of rice or quinoa.
Cook on low for 5-6 hours or until rice is cook and chicken is fork tender.
Serve in tortillas, over salad or in taco shells. Make sure you top it with lots of cheese. Because you know, cheddar makes everything better.
That was it. Ridiculously easy and fed us for 3 nights. Plus, it is yummy and healthy anytime of year.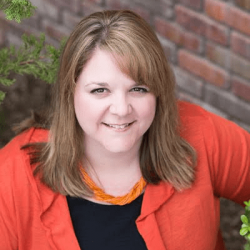 Latest posts by Nicole Burkholder
(see all)