This post may contain affiliate links. Please see my full Disclosure Policy for details.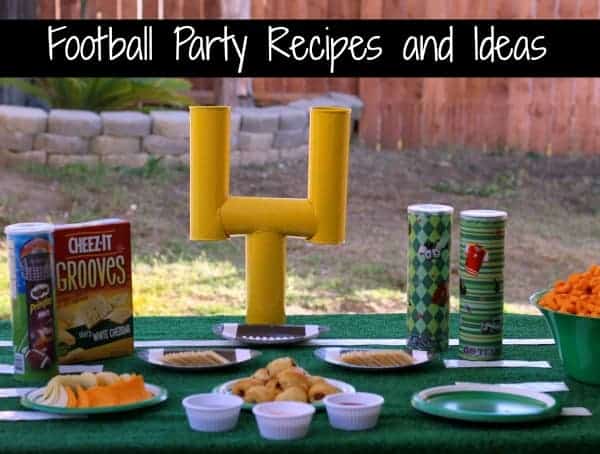 My husband is a big football fan. He's followed his favorite San Francisco team for years and years as a "faithful" fan. I, on the other hand, am a playoff season fan. 🙂 I think the games actually get interesting this time of year when there's something big on the line. It's the same way with basketball. I'm bored until the last five minutes of the game when the action starts to get frenetic. But since my husband is such a fan, I make an effort to keep up with the teams, the latest standings, and we even host a couple of parties during playoff season. Plus, Henry, our six-year-old, is turning into a real football fan himself. He will actually sit and watch a game with my husband! He still picks his favorite team based on the color of their jerseys (green will always win) but I think it's adorable. Here's some great ideas for a casual football viewing party. I'll be serving these again in a couple of weeks for the BIG GAME!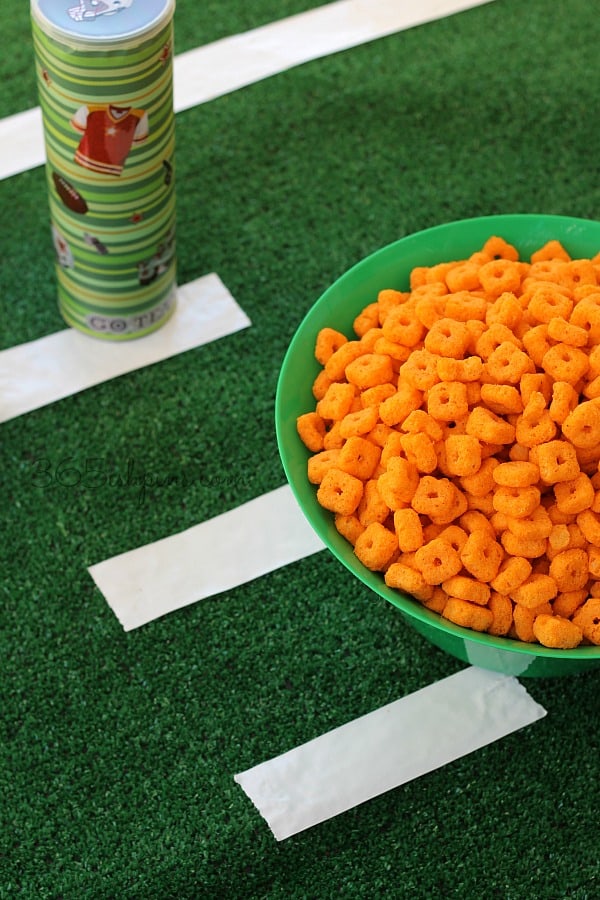 We are blessed to live in southern California where the weather is great for football season. I decided to set up on the back porch since there's more room to move out there. I was searching high and low for a green tablecloth to fit my patio table so I could paint it or tape it off to look like a football field. I couldn't find anything I was really thrilled with, though. Then I saw a great idea over on Britni's blog, Play Party Pin. She used a strip of outdoor carpet to look like turf. It adds so much to the table! I went to the hardware store and bought a roll of outdoor carpet for my table. They can also cut a strip off a giant roll, but the small pre-cut ones are cheaper. It's thin, pliable, and easy to use. I taped off a line for the end zone and then added hash marks down the length of the table. Ta Da! The football field end zone is ready for filling with yummy snacks!
Of course, you can't have an end zone without a goal post! I bought several cans of Pringles for the party, so I emptied four of them to use for building my own goal post. You don't need anything but the Pringles cans, a pen or marker, a knife and some paint to make your own!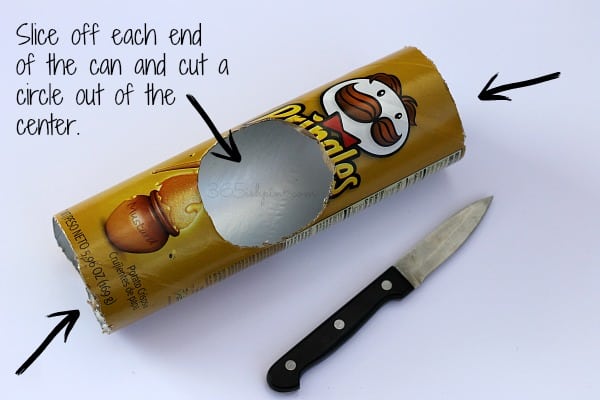 I sliced the ends off one can just past the lip for the lid and the above the base. It doesn't have to be a clean cut. Then I used the lid to trace a circle on the center of the can and cut it out with my paring knife.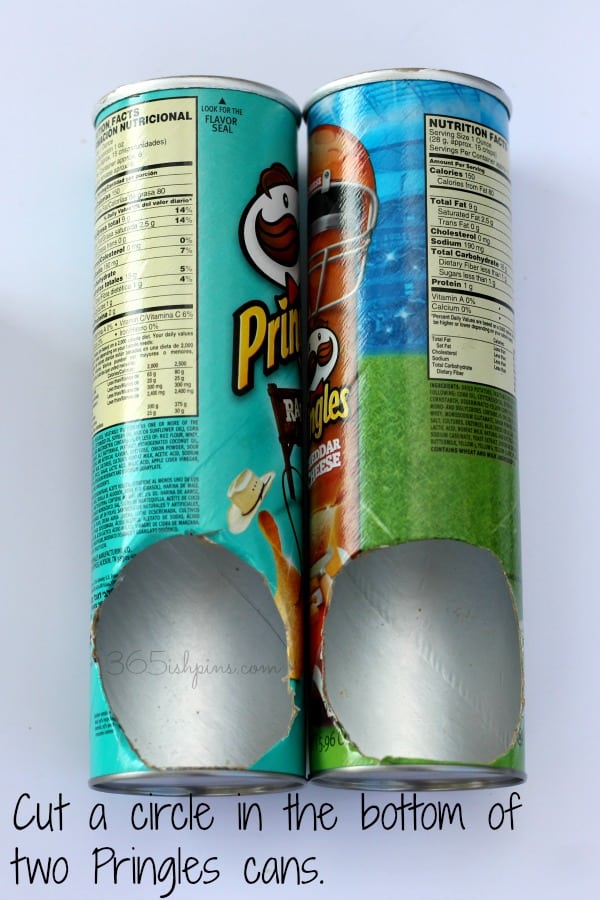 Use the lid again to trace circles on the bottom of two other cans. As you can see, my circles weren't perfect, but they work. Just don't cut them too wide, or your posts won't fit together.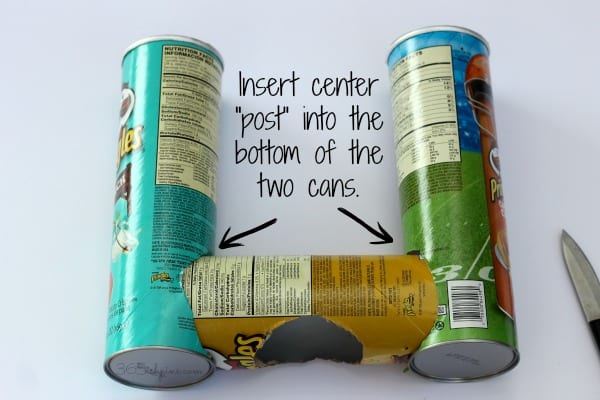 You don't need any glue or tape for this. Just push the pieces together and they will fit like a glove as long as you've used the same lid for measuring and cutting the holes.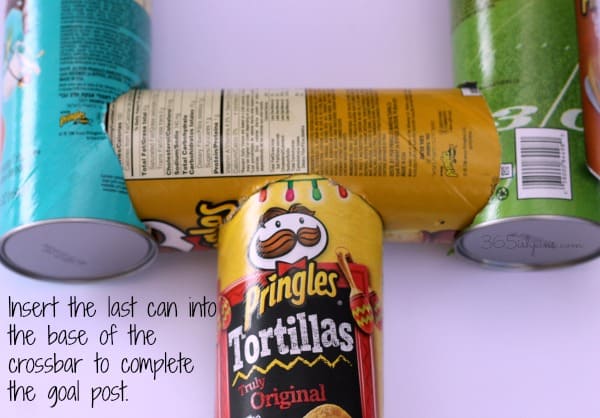 The final can doesn't need to be cut at all. Just shove the top into the hole cut in your center post. You may want to put some rocks into the can before you do. It will steady the finished post and keep it from getting knocked over if someone bumps into the table.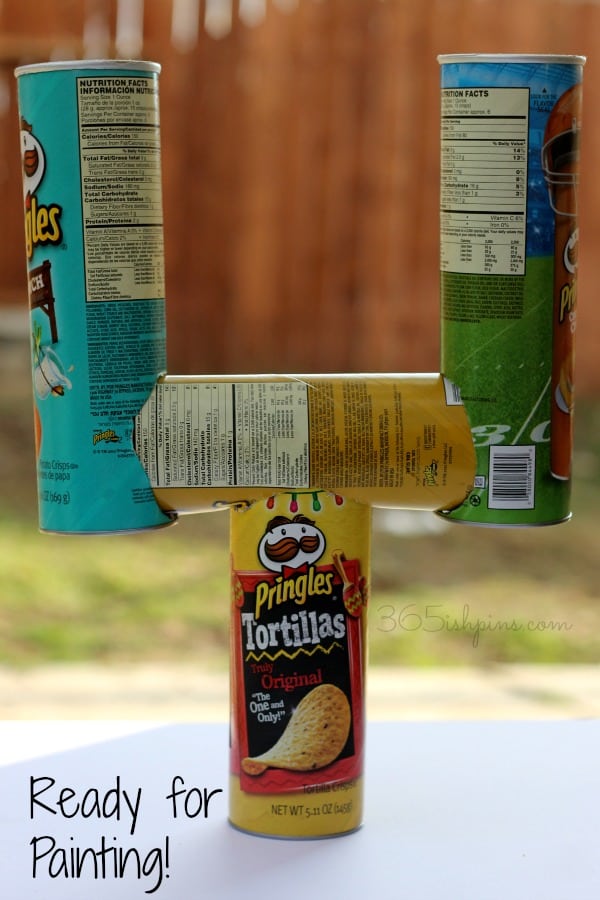 Ta Da! Isn't it cute? 🙂 It's the perfect centerpiece for any football party. You can cover it with paper or blast it with some yellow spray paint for the final touch. But be warned: it takes a LOT of spray paint to get good coverage. At least the way I paint it does. I was too rushed and I tried to get it all done in one sitting. It would have been better to just spray a very light and thin coat on there and let it dry before adding more paint. My way ended up with paint dripping all over the grass. I finally wised up and let it dry overnight. The second coat was much more cooperative.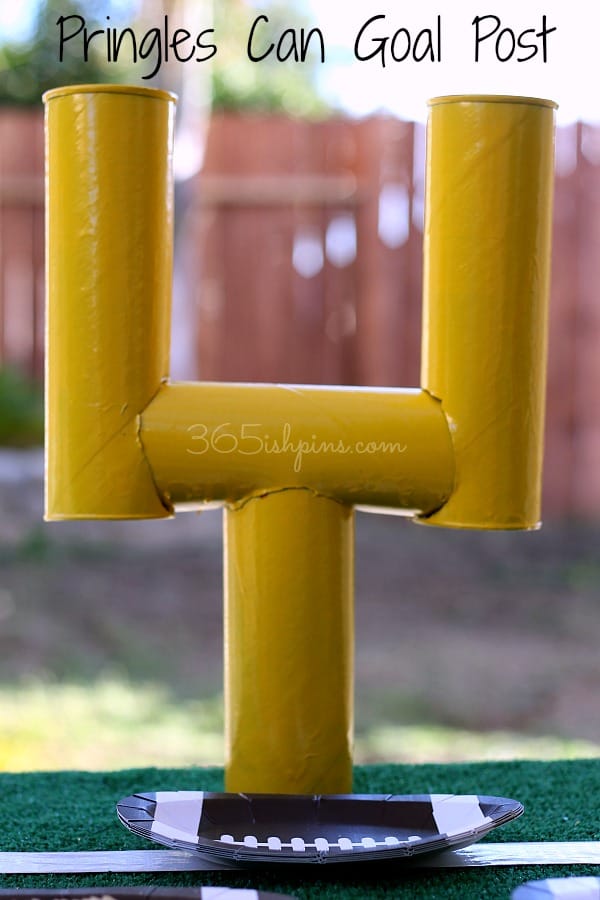 The only other "decor" for the table was the noisemakers I made for the kids to shake during kick-off and field goals. Really, they just like to run around outside making all sorts of racket. 🙂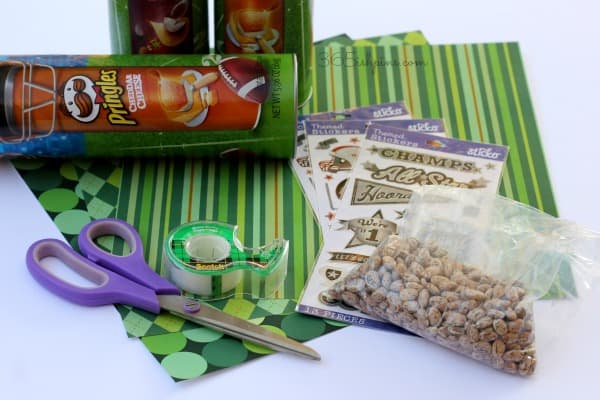 You'll need some empty Pringles cans, scrapbook paper cut to 9 1/2″ square, tape, stickers for decorating and beans for shaking. Just wrap it, tape it, decorate it, fill it, cover it and SHAKE IT!
Now it's time for football party food!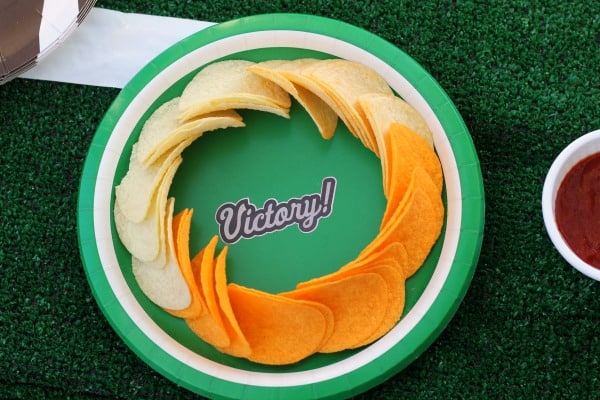 Obviously, you should know by now that we had lots of Pringles. 🙂 They actually look really pretty on a plate. Try the Loaded Baked Potato flavor. It's delicious!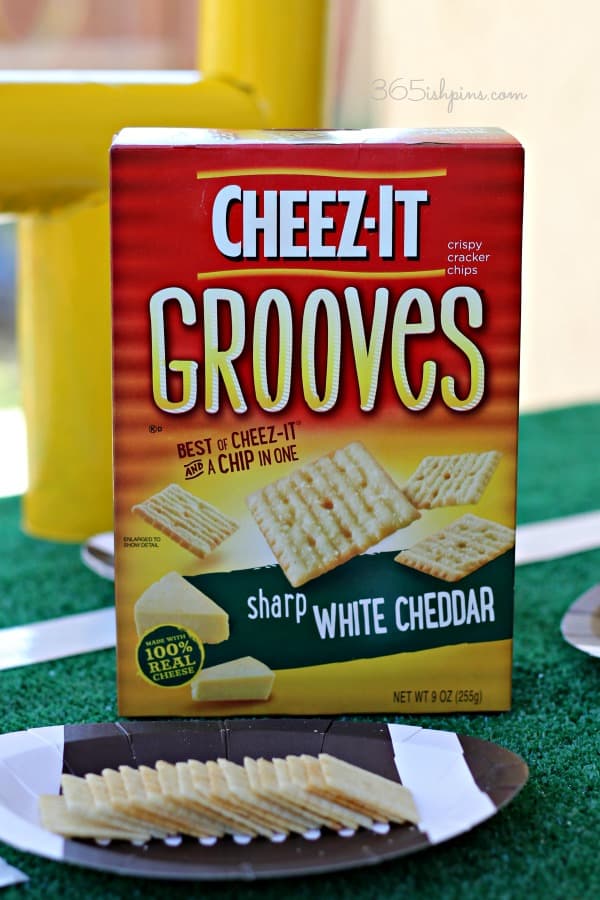 We also had some Cheez-it Grooves, which were new to me. They are like a cross between a chip and a cracker. They look like a cracker, but they are hearty enough to handle a good party dip, like this Cheesy Bacon Onion Dip that I made last week.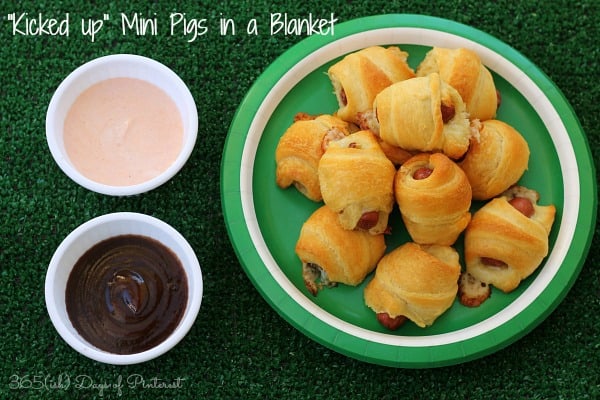 My husband's favorite party food EVER is pigs in a blanket. We cannot have a football party without them. A made a simple little variation of them for our party table and they were gone in minutes!
Mini Pigs in a Blanket
1 packaged mini smoked sausages
1 can crescent roll dough
sharp cheddar cheese
pepper jack cheese
Open the crescent roll dough and separate the triangles. Slice each one in half lengthwise.
Set one slice of cheese and one sausage on the wide end of the triangle and roll up. I started with a long strip of cheese but then quickly changed to cutting small triangle-shaped wedges instead. It was easier to roll them up that way. I used cheddar for half and pepper jack for the other half.
Bake at 350° for 10 minutes, or until golden brown.
Serve with dipping sauces.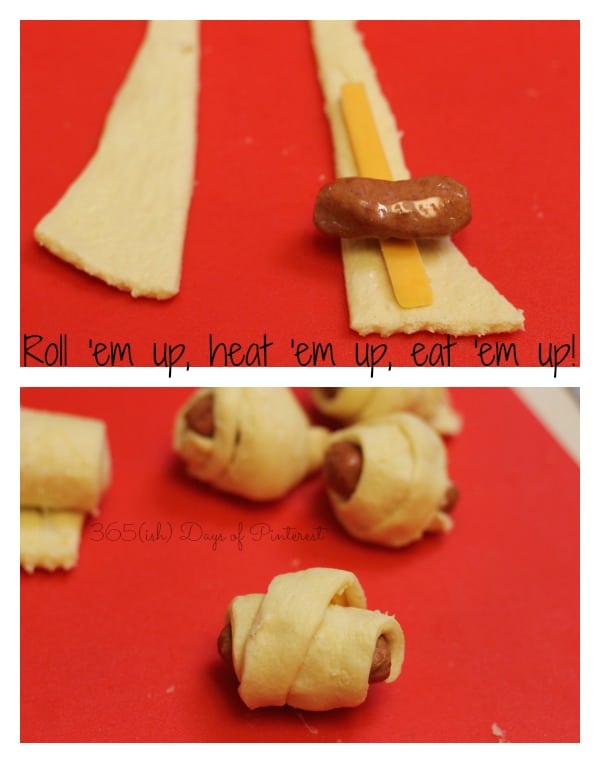 I served our pigs in a blanket with three different dipping sauces: BBQ, Chili Sauce (like the kind used for Sweet and Tangy Meatballs-also a great party food) and Creamy Sriracha Sauce. (I think I was in the mood for spicy when planning this party!)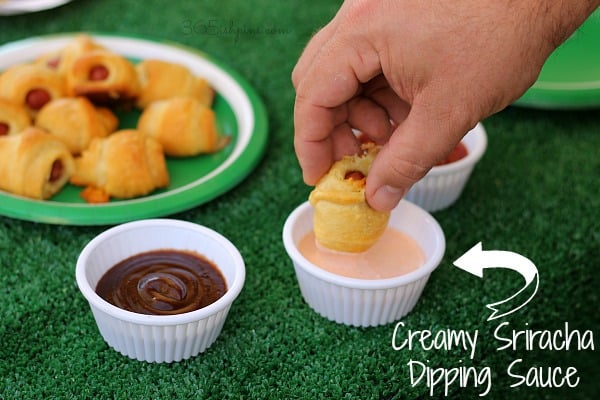 To make the creamy sriracha, just start with 1/4 cup of sour cream and stir in 2 tbsp sriracha sauce. If you want more kick, just keep adding sriracha until you reach the desired heat level. This goes really well with the pepper jack stuffed pigs. 🙂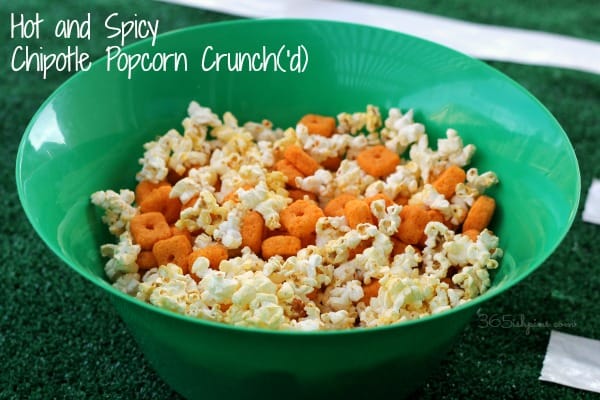 See? I told you I was in the mood for spicy! The last snack on the table was this Hot and Spicy Popcorn Crunch. The Hot and Spicy flavor was perfect for this popcorn snack!
1 bag microwave popcorn, popped
1 bag Hot and Spicy Cheez-it Crunch'd
2 tbsp chipotle Tabasco sauce
Pop the popcorn and sprinkle the Tabasco sauce into the bag. Give it a good shake to coat the popcorn. Pour into a large bowl and add the Cheez-it Crunch'd. Mix it up and dig in!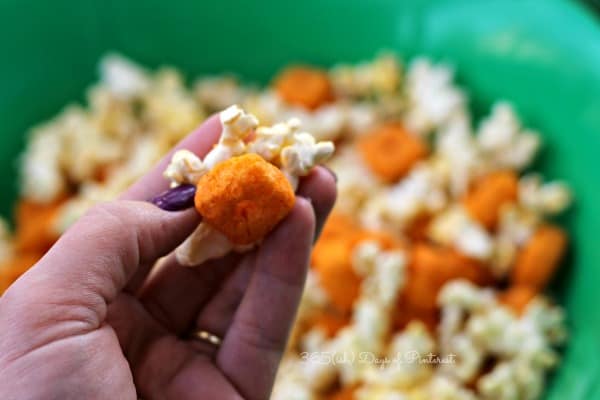 Whew! Thanks for sticking with me all the way to end of this post! There were so many things to pack into one party! 🙂 Are you hosting a party for the Big Game this year? What are your favorite party snacks?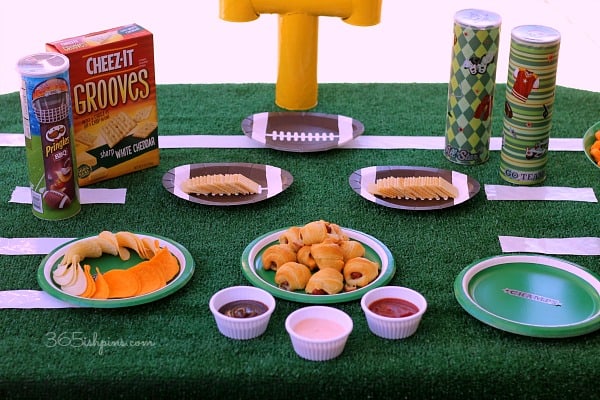 This post was sponsored by Collective Bias, Inc. and its advertiser. All opinions are mine alone.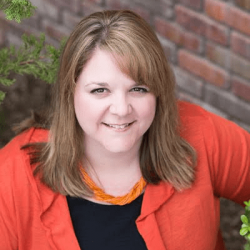 Latest posts by Nicole Burkholder
(see all)