This post may contain affiliate links. Please see my full Disclosure Policy for details.
Throw the most amazing Avengers birthday party with these simple decor and food ideas and then check out the awesome party games, too!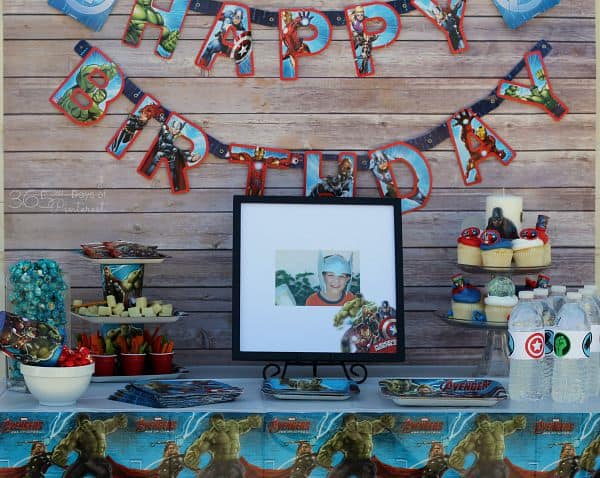 The end of July begins the birthday cycle in our family. It really begins in earnest in September (we celebrate a birthday every two weeks between September 2 and December 31st!
Charlie, however, turned 4 just a couple weeks ago. In our house we've had dinosaur parties, farm parties, pirate parties, camping parties and now a MARVEL's Avengers birthday party!
One thing I don't do is spend a lot of money on party supplies. I've got some simple themed party snacks, party favor ideas, a special way to commemorate the day and even a free printable for water bottle labels so you can throw a fantastic Avengers birthday party without breaking the bank!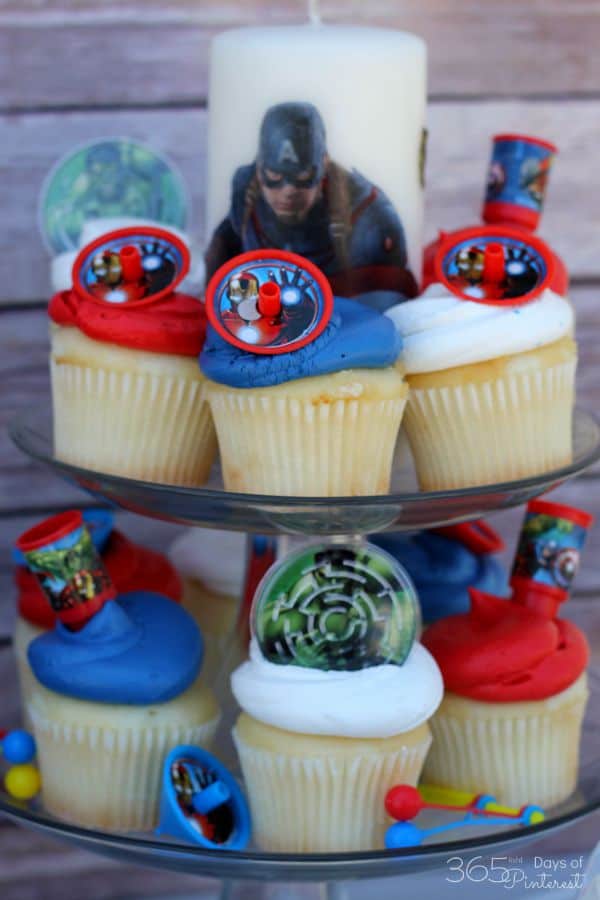 Birthday Dessert
Let's start with the sweets, since they are always my favorite. 🙂 Cupcakes with red, white and blue frosting are a nod to Captain America. I topped them with party favors that I found on the Celebrations aisle in Walmart with all the paper plates and other party supplies.
Since we didn't have a traditional cake with candles, I made a special "Hulk-sized" candle to top off the cupcake tower. However, if you are looking for an awesome birthday cake, you are guaranteed to find one on in this collection of 112 Birthday Cakes for Boys on Spaceships and Laser Beams! WOW!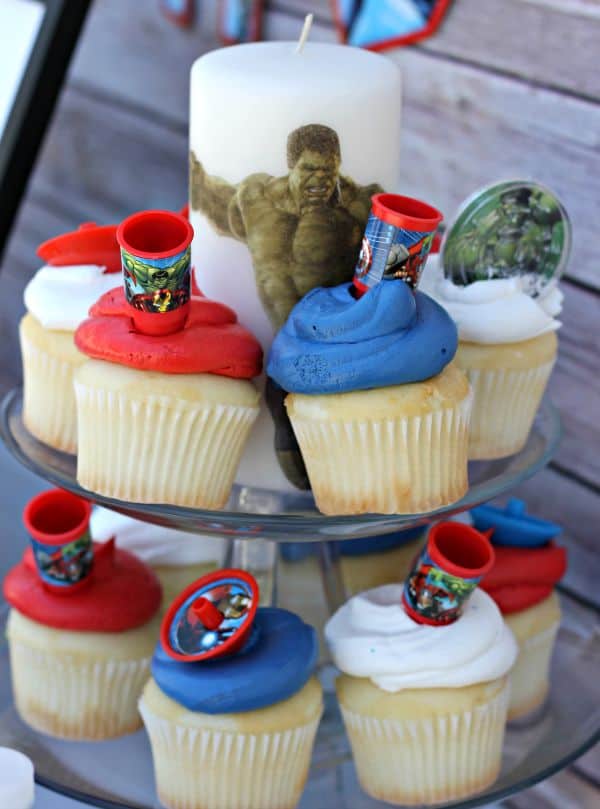 How to make a themed candle
To do this, you just need a party napkin and some Mod Podge. Simply cut out the characters from the party napkins (I chose Captain America for one side and the Hulk for the other), lay them out on the candle and apply a thin layer of Mod Podge over the top.
It will dry clear in just a few minutes and you have a unique party decoration!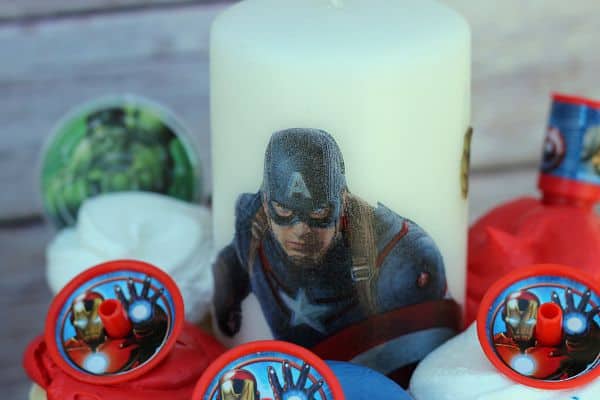 On the opposite side of the table were all the snacks. I'm a big fan of symmetry when it comes to putting a table together (or anything, for that matter) so I was looking for something to add height to balance my cupcake display.
As I was unpacking all my party supplies, I had an idea. Why not make my own tiered tray?
DIY Tiered Snack Tray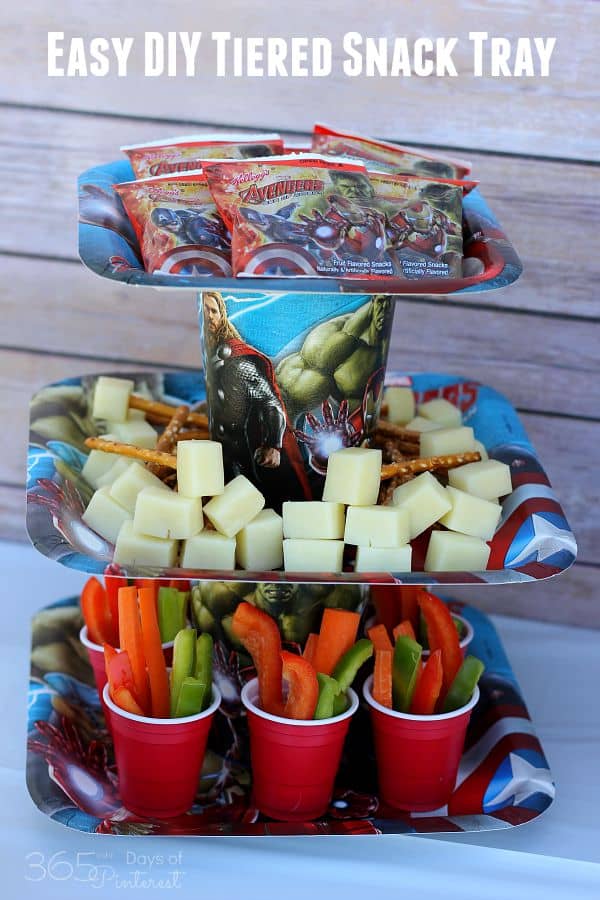 This literally came together in under 3 minutes, and I love how it looked on the table! I was surprised at how sturdy it was, too! I wouldn't put anything heavy on it, but for light party snacks, it did the trick!
To put one together, you need 2 dinner plates, 2 plastic party cups and 1 dessert plate. Place one dinner plate on the table. Using a hot glue gun, add several drops of glue to the bottom of one plastic cup and place in the center of the plate.
Next, add several more drops to the lip of the same cup and place the next dinner plate on top of it. Repeat the steps with the next cup and top with the dessert plate.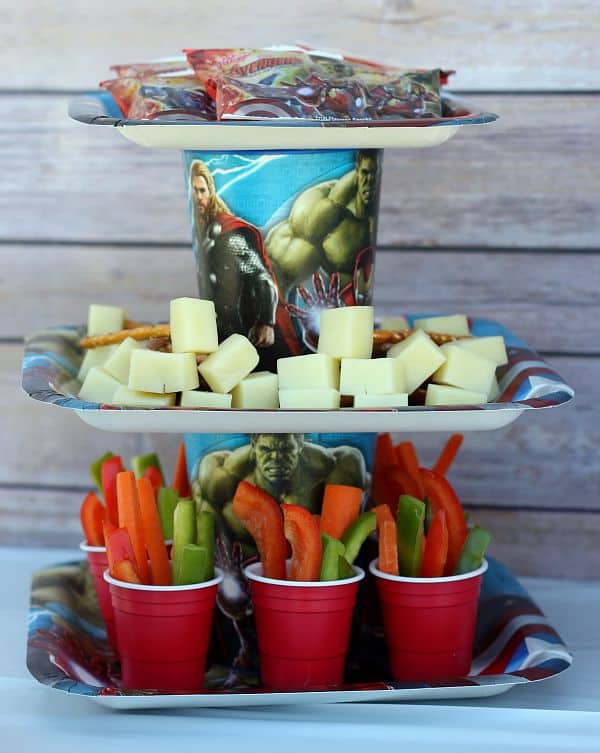 Avenger's Birthday Party Snacks
Now to the snacks! On the bottom layer, I placed mini red party cups with a couple tablespoons of ranch dressing and fresh veggie spears inside.
The middle layer was pretzel sticks with cheese cubes and the top layer was Avengers fruit snacks. I like to keep party snacks simple to make and replenish so you're not distracted with complicated recipes while trying to host your guests and enjoy your own child's birthday party!
I was also proud of myself for keeping things on the healthy side with this one. 🙂
Hawkeye's Bow and Arrows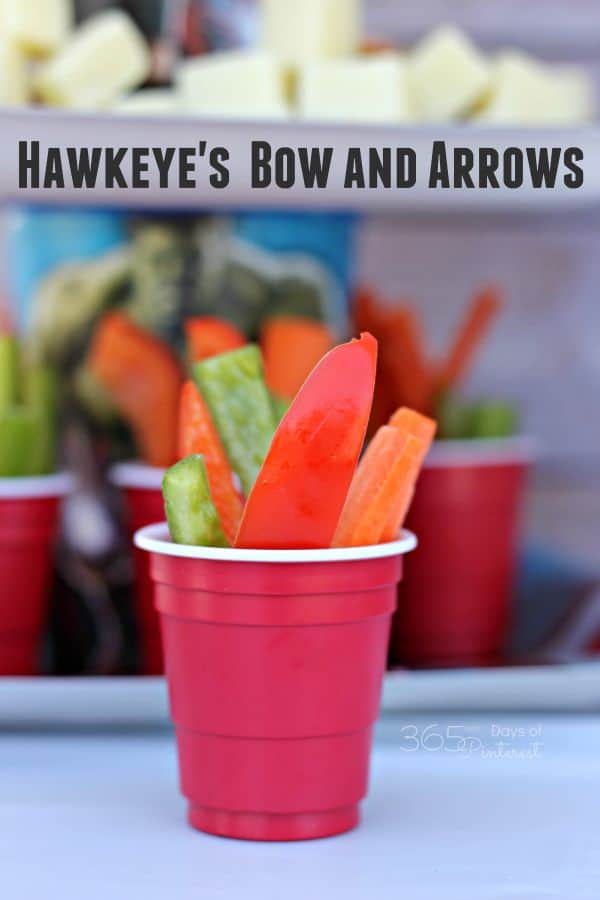 You have to have a theme name to go with the snacks, right? The children are a lot more likely to eat veggies if you call them Hawkeye's bow and arrows. 🙂
The veggie sticks you can cut the night before and then just put the cups together the morning of the party.
The cheese can be cubed ahead of time as well, but don't put them on the pretzels until it's almost party time. Pretzel sticks get really stale in the refrigerator. (Ask me how I know that.)
Thor's Hammer Pretzel Sticks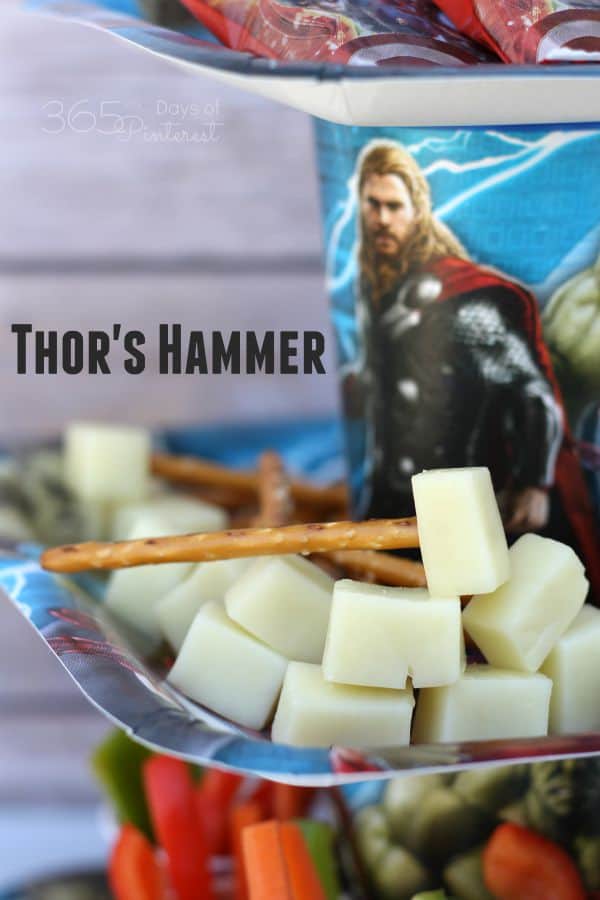 Avenger's Water Bottle Wrappers
Keeping things along the "slightly healthier" theme, I served water to drink. You can also make a cool layered punch if you want to offer another drink option.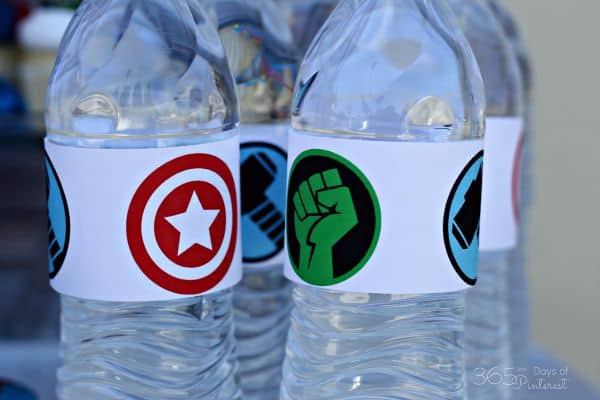 Using themed water bottle labels is a simple way to add an extra touch to the party table without spending a lot of money. As a matter of fact, you can get these MARVEL Avengers water bottle labels for free right now! Just click the link to download your own watermark-free printable PDF.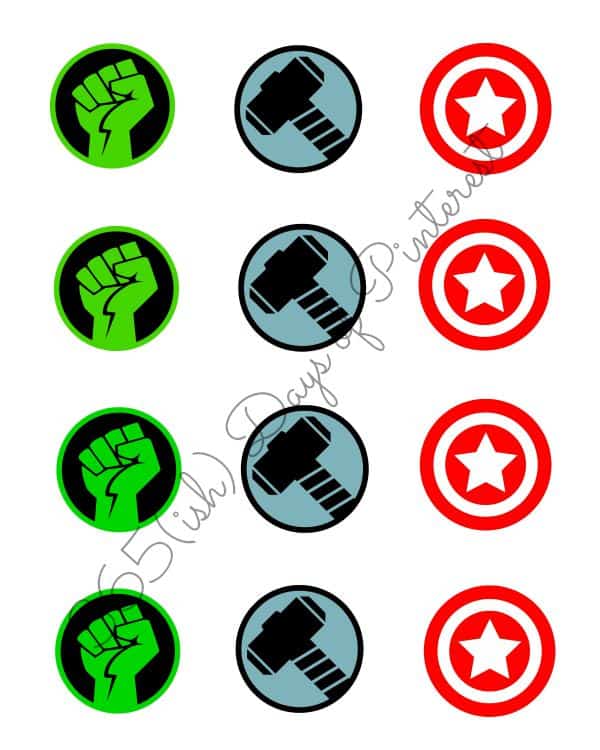 Avengers Birthday Party Favors
For party favors, I think I have stumbled across a wonderful, simple, cheap, inexpensive idea. Our local grocery store has candied popcorn in the bulk section.
For just a few dollars, you can fill up several containers with flavored popcorn that matches your party theme. I chose blue and red for mine. As a party favor, each guest may take a 16 oz. plastic cup and fill it up with their favorite flavors to take home.
Have some plastic wrap or bags handy to wrap up the cups and popcorn after everyone picks out what they want!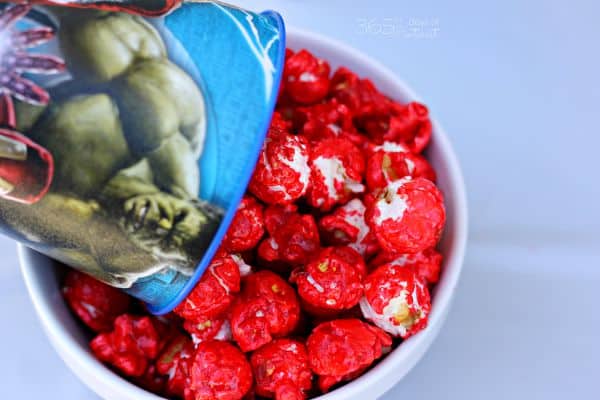 Centerpiece and Keepsake
I've saved my favorite thing for last. The centerpiece of the table was a photo of Charlie wearing Thor's helmet and holding his hammer. When the kids are dressing up in all of our Avengers masks and playing with the toy weapons, he always picks out the hammer and helmet.
I printed out the photo and framed it with a large mat. Then I cut out the front of the party invitation and put it under the glass. For the party, you can either remove the glass and provide a marker for people to sign and add birthday wishes, or leave the glass in and use a dry erase marker if you don't want the messages to be permanent.
I like the idea of keeping them forever, though. Hanging a collection of birthday photos on the wall is a wonderful way to document those special days!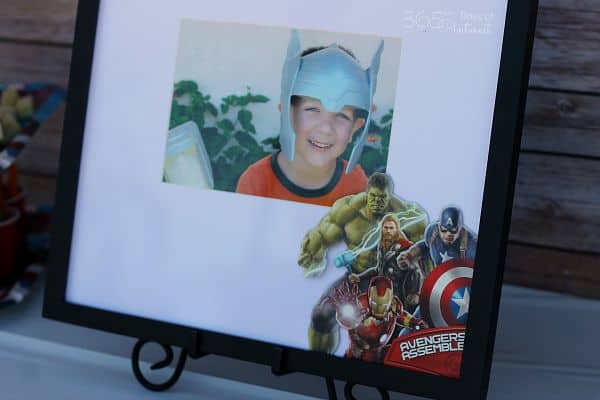 There are a lot of little details and touches when it comes to creating the best birthday ever. But as you can see, you don't have to spend a fortune or even buy all sorts of new supplies. Just get creative with what you already have!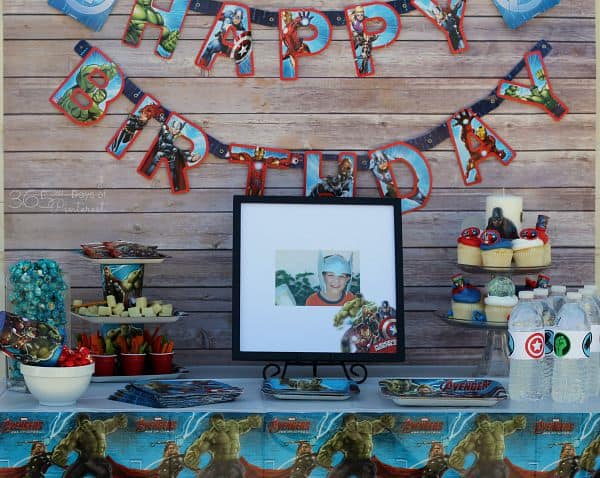 I found all of these party supplies at Walmart, but I'm sure they can be found online or in your local party store as well. If you have any of the toys, you can play all sorts of cool Avengers party games. Check those out here!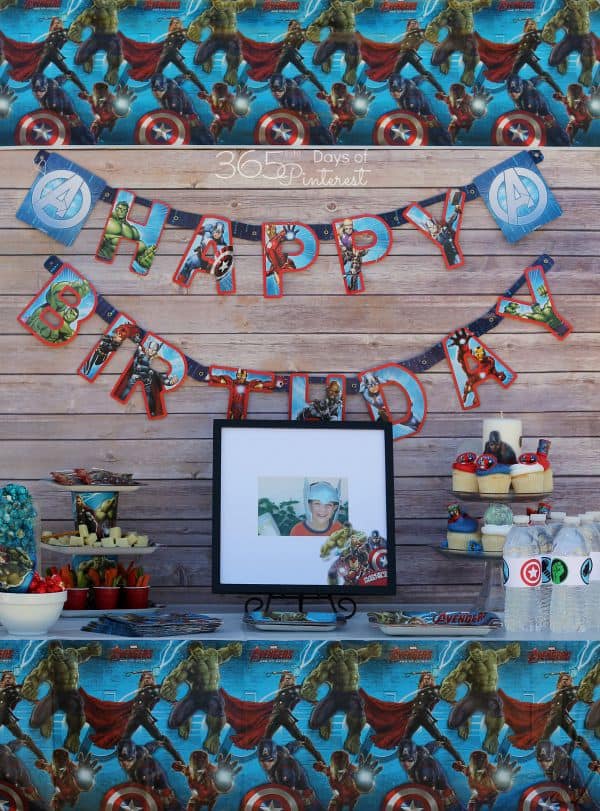 This post was originally sponsored by Walmart.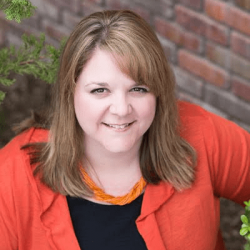 Latest posts by Nicole Burkholder
(see all)