This post may contain affiliate links. Please see my full Disclosure Policy for details.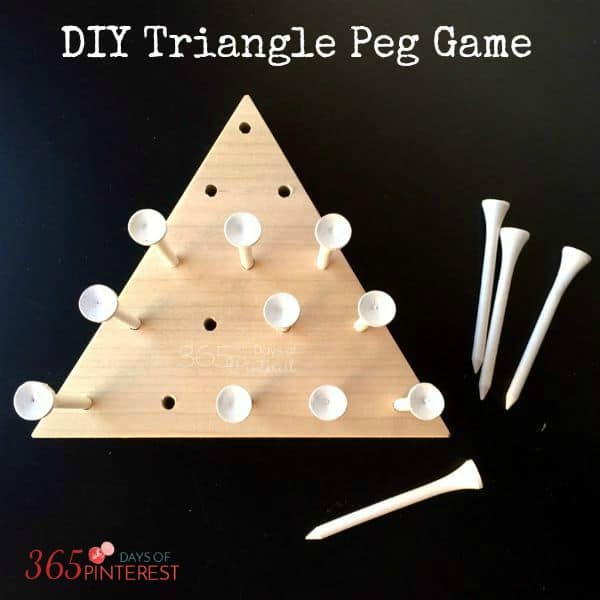 Not long ago I posted a copycat recipe for Cracker Barrel's Fried Apples. They were glorious. You should definitely go check them out. But not yet. Right now, I want to share a simple DIY project that would make a fun gift (thinking ahead-these are great stocking stuffers) or just a fun addition to your game collection. I can't seem to find an official name for this game, so I'm calling it the Triangle Peg Game.
I am fortunate enough to have a brother who does woodworking for a living, so there was no shortage of scrap lumber or tools needed for this little project. I even had an abundance of golf tees, courtesy of my husband's golf bag, so this DIY literally cost me nothing. But if you don't have the same access I do, here's what you'll need:
DIY Triangle Peg Game
scrap lumber (we used a 6×6 that was 3/4″ thick)
saw
pencil and ruler or graph paper
drill with 3/16th" bit (a drill press makes it much easier to keep the holes consistent, but it's not a requirement)
14 wooden golf tees
Start by cutting your wood into an isosceles triangle (and you thought you'd never use those geometry classes). If you have a nice fancy saw like this one, set it to 33 degrees for each corner. If not, you can use a ruler and marker and cut along the lines. Our triangle was 6″ on each side. You could easily do a 5″ triangle instead. Any smaller than that and you'll end up with your pegs bumping into each other.
After cutting, use a ruler and pencil to mark off a grid to set where the holes will go. You need one row of five, one row of four, one row of three, one row of two and a final hole on top. You should have a total of fifteen holes marked when you're done. An easier way to do this would have been to use graph paper or even printed out a template online, but hey, live and learn. This still only took about five minutes to get done to Mr. Perfectionist's satisfaction.
Use a black marker to show exactly where each hole will go. At this point, you can either drill with a regular handheld drill using the 3/16th bit, or employ a very cool machine called a drill press.
When I asked on my Instagram and Facebook page about this tool, I was surprised to see so many people familiar with it! Good for you! (It was totally new to me.) 🙂
Drill each hole 5/8″ deep. When you're done, blow out the holes to make sure there's no sawdust inside. That will help the golf tees to slide right in and stand up straight. Fill fourteen of the holes with a tee, leaving one open. Now you're ready to play!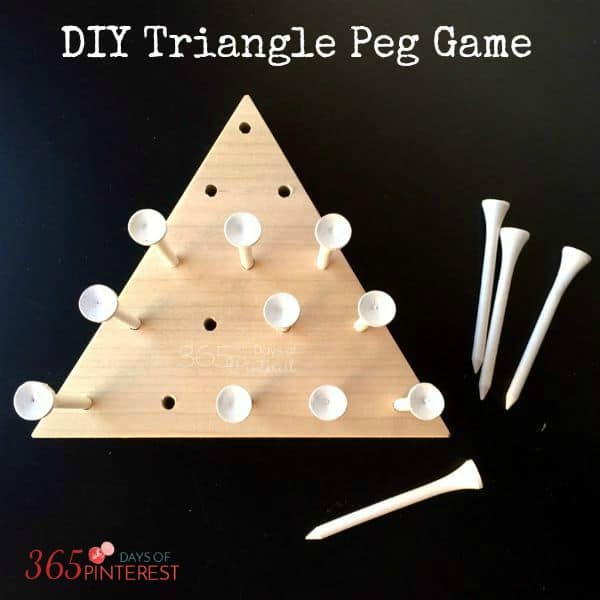 These are the rules:
You must jump each peg over another peg, but only if there is an open space.
Each peg you jump over must be removed.
You win if only one peg is left at the end of the game.
Now, my husband thrives on puzzles and games like this and he can figure things out quickly. I, on the other hand, get quickly annoyed when I can't do something right. If you're like me, I found the perfect site for you! It shows you step by step how to solve the puzzle from several different starting positions. You're welcome.
I keep our triangle peg board game on an end table near our couch. It's a perfect way for parents waiting on their kids' piano lessons to pass the time. Henry keeps "winning" when he plays, but I'm pretty sure he's cheating. 🙂
In case this post makes you want to go to Cracker Barrel, here are those homemade Fried Apples I was talking about earlier. Because, let's be honest-most of us are better in the kitchen than we are in the wood shop! 😉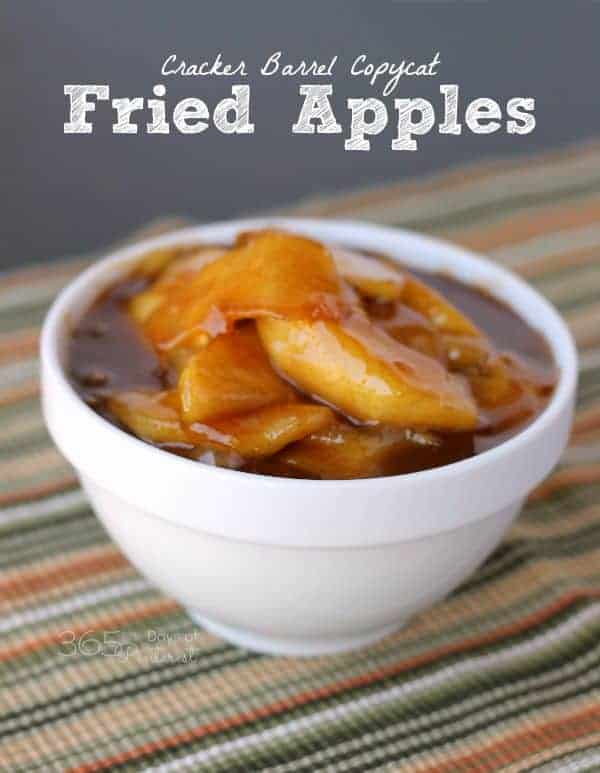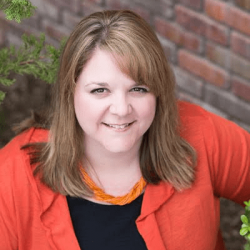 Latest posts by Nicole Burkholder
(see all)