This post may contain affiliate links. Please see my full Disclosure Policy for details.
Today is my husband's 35th birthday! We had no plans other than:
1. Drop the kids off at Grandma and Grandpa's house
2. Be alone, somewhere. 🙂
So we dropped off the kids around 3:30 this afternoon and promptly headed to Kmart. Yes, I know. Be still, my beating heart! But Jared had some birthday money and desperately needed some new work pants, so it was the first stop. I wanted to go "out" and be among the crowds, but Jared said he spends every day out among people and he just wanted to go home and be quiet and enjoy a nice meal. So we decided to do what we planned to do on Valentine's day, before he got sick with the stomach flu. We hit the grocery store, paid an exorbitant amount of money for ingredients (worth it) and headed home to conquer the mysterious Beef Wellington.
One of Jared's regular customers has a daughter who hosts a cooking segment for a local news show. She put together a menu for a Valentine's day meal, and we used that as our starting point.
Ingredients
1 ½ pound Beef Tenderloin, trimmed (even thickness) We purchased 2 filets, 1/2 lb each
4-5 oz Mascarpone Cheese
6 oz thinly sliced Prosciutto (about 6-7 slices) A 3 ounce package was plenty for 2 people
1 9×9 inch Puff Pastry sheet, thawed (Aussie Bakery brand recommended) We used 2, one for each filet
1 Egg + 1 tablespoon water, whisked
Freshly ground Sea Salt and Black Pepper
Extra Virgin Olive Oil
Port Wine Chocolate Reduction Sauce
2 tablespoons Unsalted Butter
¼ cup Shallots, finely minced (about 1-2 shallots)
1 cup Baby Bella Mushrooms, finely minced
Pinch of dried Thyme
2 cups Beef Stock
1 cup Port Wine Left this out and the sauce was still AMAZING
¼ cup (about 1.5 oz) Bittersweet Chocolate Chips (preferably Ghirardelli) Also left this out
Freshly ground Sea Salt and Black Pepper to taste
Preparation
Preheat oven to 400 degrees with rack in the center.
Pat beef dry and generously season with sea salt and fresh ground pepper on all sides. Rub beef all over with olive oil. Heat a large skillet on high heat (preferably a lightly oiled cast iron skillet) and lightly coat with oil. When oil begins to simmer place beef on pan and quickly brown on all sides, about 3-4 minutes total. Remove beef from pan and set aside to cool.
Carefully unfold puff pastry sheet on a lightly floured large working surface. Gently roll puff pastry out to about 12 x 12 inches flipping over once while rolling. Generously spread mascarpone cheese all over one side of puff pastry sheet. Lay prosciutto slices across the puff pastry to cover entire sheet. Place beef tenderloin in the center, roll up one side, then the other. Fold over ends and trim if necessary. Brush with egg wash. Place the beef on a lightly oiled baking sheet, seam side down and brush the top side with egg wash. (Egg wash should coat entirely) Carefully make 4-5 slits across top using the tip of a paring knife. Bake for 20-25 minutes until pastry is golden brown and thermometer reaches 125 degrees in the center for medium rare. Remove from oven and let it rest, about 10 minutes.
While Tenderloin is baking Prepare Port Wine Chocolate Reduction Sauce: Melt butter in a sauce pan over medium-high heat. Add shallots, mushrooms and a pinch of thyme and sauté until softened, about 3-4 minutes. Stir in beef stock and port wine and bring to a boil until reduced to a little less than half, about 15-20 minutes. Reduce heat and whisk in chocolate. Season with freshly ground sea salt and black pepper and simmer until sauce thickens. Remove from heat and set aside.
Cut beef into large slices and serve with sauce.
Serves 4-6 Or 2, in our case 🙂
This seems like an intimidating recipe, but once you work through it, it's really not that difficult. And the results are amazing! It's worthy of Christmas dinner. Of course, with our huge family, it would cost a FORTUNE to feed us all! We have decided that this will become a birthday tradition. Not necessarily Beef Wellington, but trying something completely new, making it together, and setting the table with our wedding china and candles. Sounds like a good idea!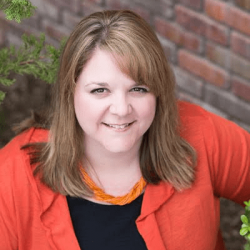 Latest posts by Nicole Burkholder
(see all)