This post may contain affiliate links. Please see my full Disclosure Policy for details.
Today's idea doesn't come from Pinterest, but I'm going to pin it to Pinterest because I thought it was such a great one. Bryce came home with an assignment last week to make Valentine's for his class. This is typical, as they don't want anyone to feel left out, so the teachers always send home a class list for you to reference. However, this year, the teacher assigned them to write a one sentence compliment about each person in their class.They could write it on a slip of paper to add their own valentines, or they could come up with their own way of presenting them. So we started down the list (over 30 kids) several days ago. I found some large foam heart stickers at Party City that were big enough for a little boy to write a sentence across the front. We also got some stickers to decorate the hearts. Of course, I failed to take a single picture of them before he left for school this morning, but the compliments went something like this:
Flor, Thanks for playing with me at Recess.

Kyle, I like your red hair and freckles.

Gene, (pronounced Jenny)?!? You are a great reader.

and my personal favorites-

Joey, You have cool glasses that turn to dark outside.

Jacob, You need to do your work.
Yup, apparently Jacob is not the greatest worker and Bryce hears that sentence directed at him all day. I could NOT convince him to write something nicer. Well, when I said "nicer" Bryce came up with "Jacob, will you do your work, please?" And "Please do your work so you can go to computer lab." Since none of these were actual compliments, I reworded it just a bit to "Jacob, I know you can do your work!" hoping it's read as an encouraging "you can do it!" and not a judgement of the poor kid! It did make me chuckle though.
So, it's a bit late for this post since it's actually Valentine's Day today, but maybe you can pin this for reference next year. 🙂 I think it's just such a personal touch and a great idea for the kids to think kindly of one another. And as a mother, I can't wait to read the nice things other kids have to say about my son!
I wrote a post on my other blog,
Living with Autism
, about the Valentine's Day notes he received. It was so sweet!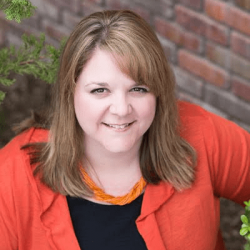 Latest posts by Nicole Burkholder
(see all)