This post may contain affiliate links. Please see my full Disclosure Policy for details.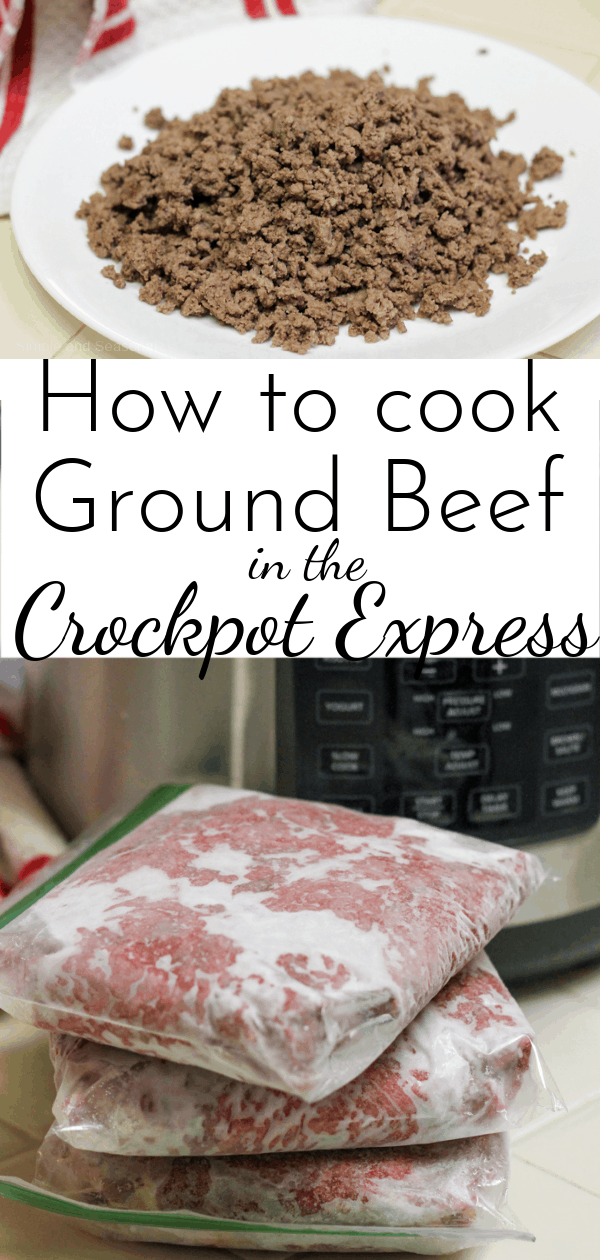 Go from frozen to ready to eat in just minutes after cooking ground beef in the Crockpot Express!
Trust me, I know that's not the prettiest plate of food. But ground beef is such a staple in family recipes, I figured it was time to share how to cook ground beef in the Crockpot Express.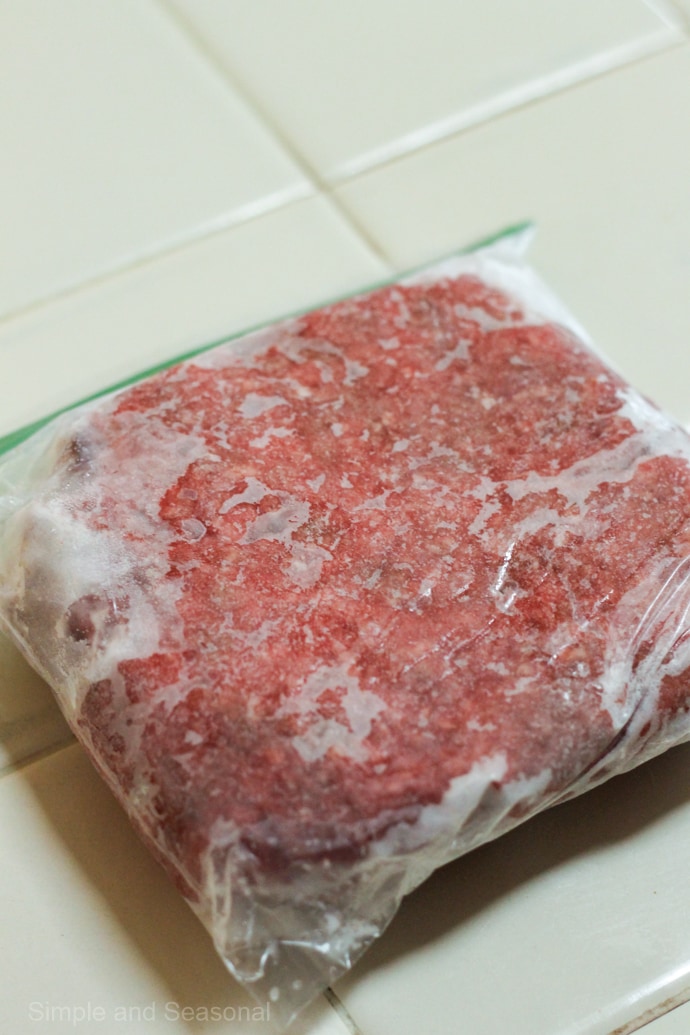 One of the biggest benefits of having a pressure cooker like the Crockpot Express is the fact that you can cook food from frozen. It's a huge time saver when you realize you forgot to pull out the meat for dinner earlier in the day!
You can also cook thawed ground beef using the Brown/Saute setting. It works just like cooking on the stove top does. I only do that, though, if it's the first step in an actual Crockpot Express recipe.
If I need to brown some hamburger for tacos, I'll just do that on the stove. But if I'm making Crockpot Express Spaghetti, for example, I will brown the meat in the pot.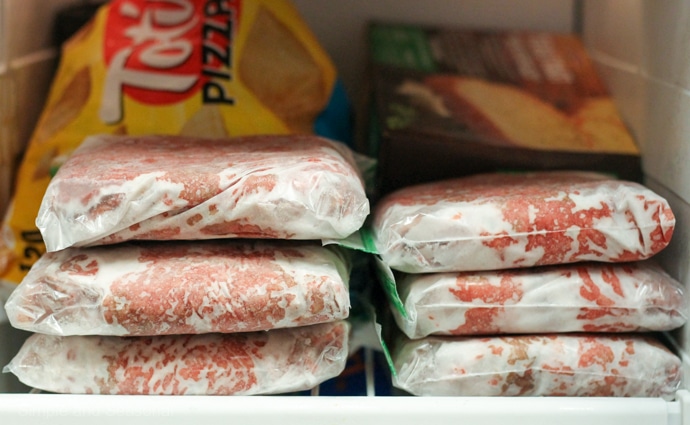 Benefit number 2 to cooking ground beef in the Crockpot Express: you can make a whole bunch of it at once! I've cooked up to 10 pounds of ground beef in my 6 quart CPE, and the cook time was the same as doing just one pound.
The key is to have it separated into 1/2 pound or 1 pound chunks before starting.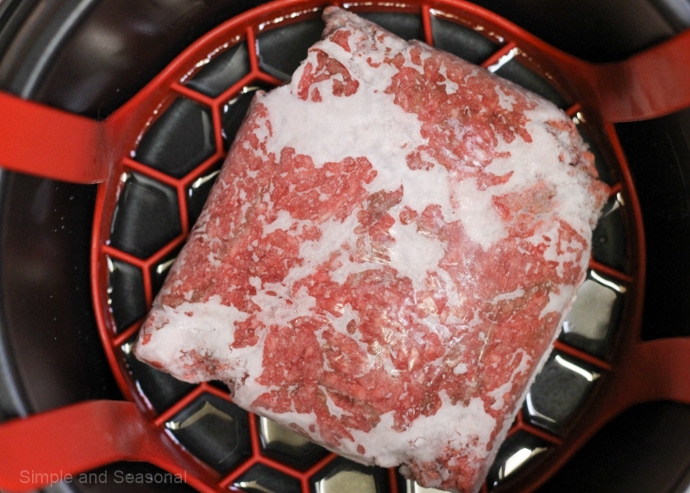 The first thing you're going to need is a handy dandy trivet with handles like this one from OXO. It's the thing I use all the time and if you only buy one accessory for your pot, this should be it.
Add 1 cup of water to the pot, place the trivet down inside and then put your frozen chunk of ground beef on the trivet. If you're going to do several pounds at once, just keep stacking them up on top of each other.
I've done 10 pounds (broken into 1/2 pound chunks) total, but most often I'm just making 1 or 2 pounds of ground beef.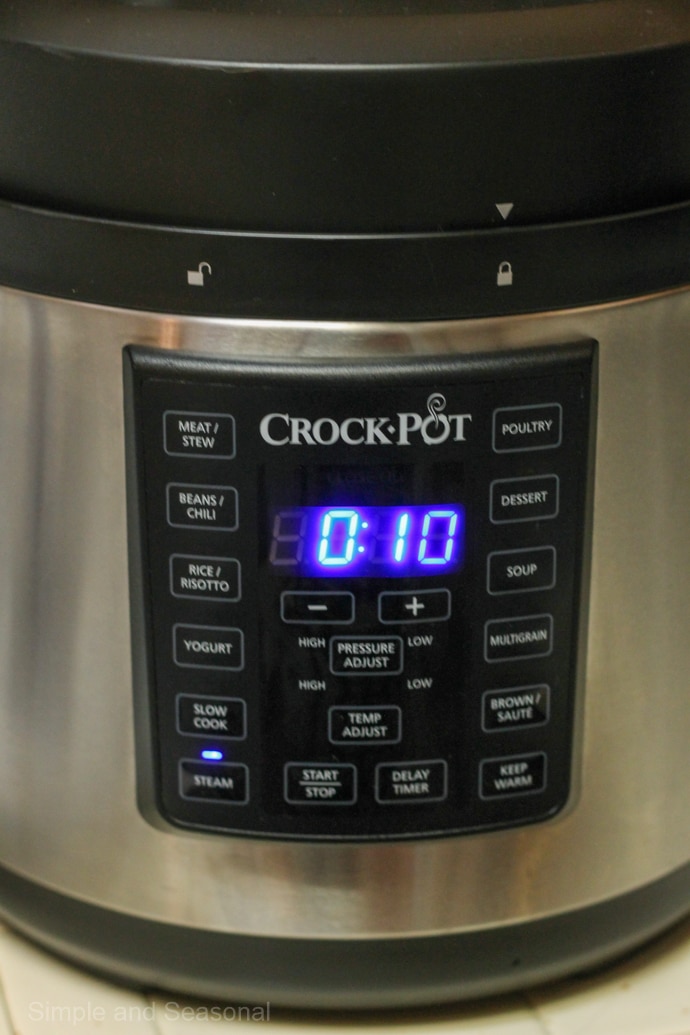 Next, close and lock the lid and press "Steam." It will default to 10 minutes on high pressure. Make sure your steam release valve is closed and then hit the Start/Stop button.
Even with the contents being frozen, it doesn't take long for the pot to pressurize if you're only making a couple pounds of ground beef. When the cycle ends, do a natural pressure release for at least 5 minutes and then release any remaining pressure by flipping the steam release valve to open.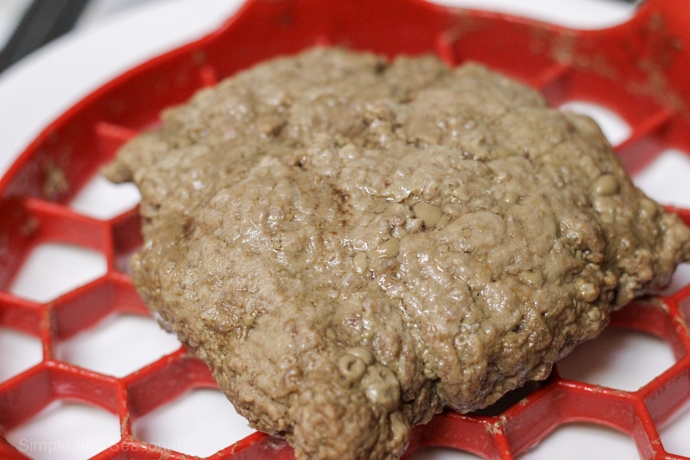 When you pull it out, it's a rather unappetizing hunk of brown meat. But never fear, it's going to crumble up and become the typical ground beef you are used to putting in your tacos and chili.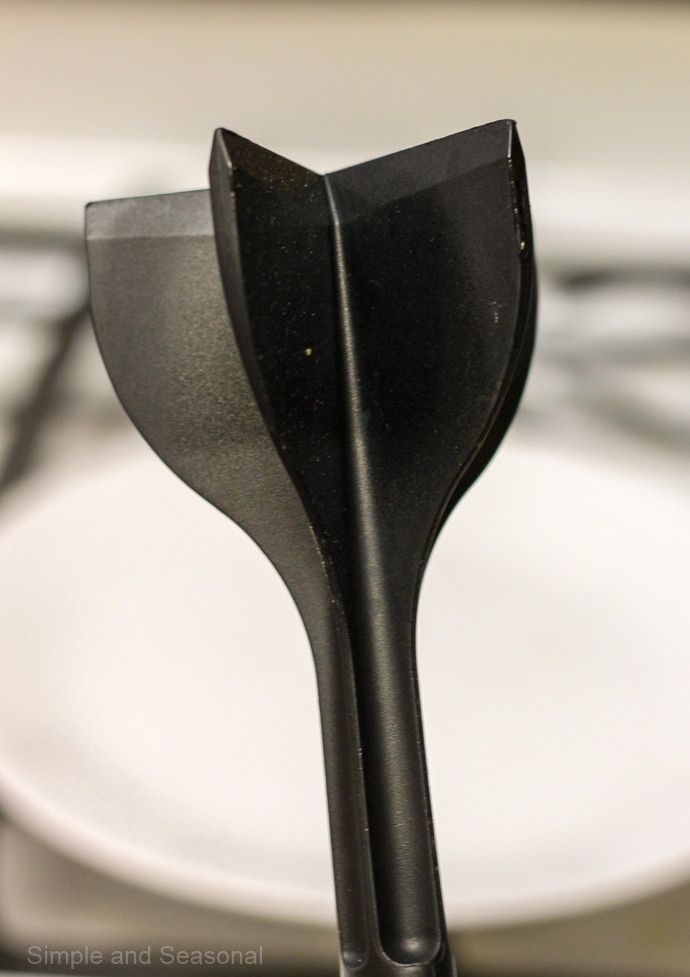 Here's another handy dandy tool (meat/potato masher) that gets lots of use in my kitchen. Because it's nylon and heat resistant, it's safe to use with non-stick surfaces like the inner pot of the Crockpot Express. It quickly cuts through chunks of ground beef and mashes up fruit and other foods.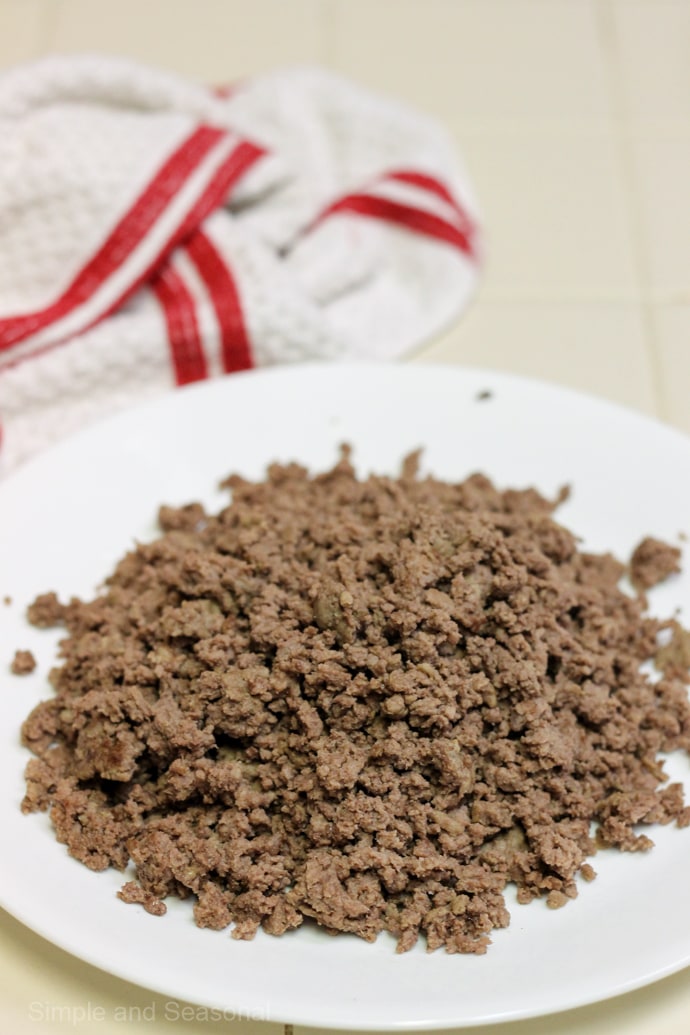 Once you've lifted the cooked ground beef up out of the pot, lift out the inner pot and dump the grease and water out. Then return the pot to the CPE and switch to Brown/Saute. Place the meat back in the pot (without the trivet) and use a spoon or tool like mine to break it up into small crumbles. This will also ensure any pink spots are cooked completely.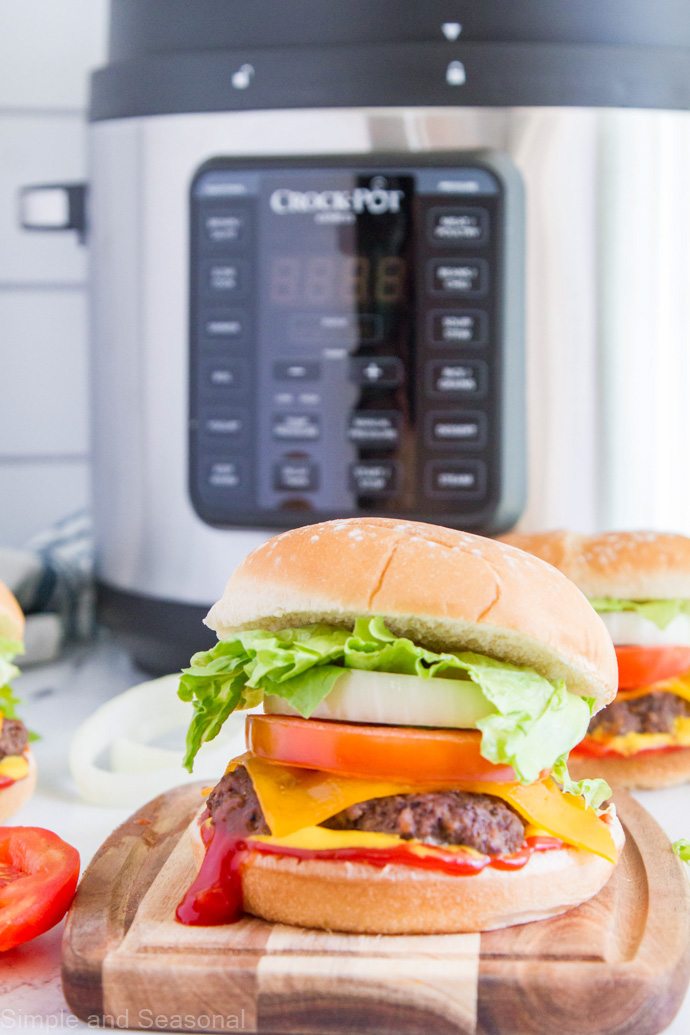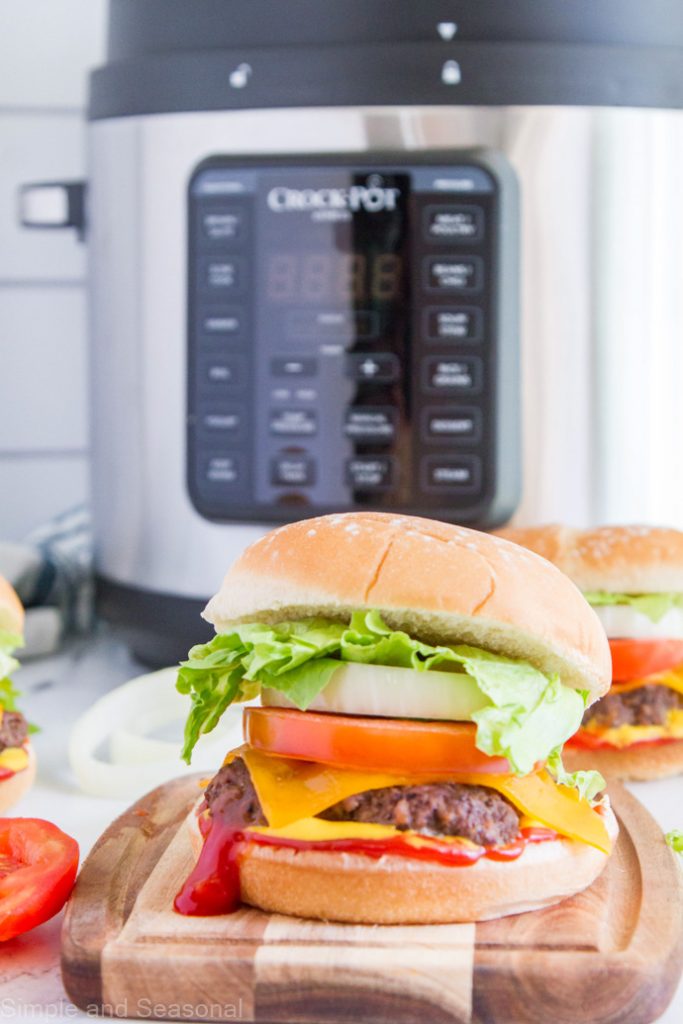 Can I make hamburgers in the Crockpot Express?
You absolutely can make hamburger patties in the your CPE! In the northeast, steamed patties are very popular. Making them in the pressure cooker is even faster and easier than the traditional way.
You can read all about how to do that in this post: Crockpot Express Hamburgers
How to Cook Ground Beef in the Crockpot Express
Go from frozen to ready to eat in just minutes after cooking ground beef in the Crockpot Express!
Ingredients
1

lb

lean ground beef

frozen

1

cup

water
Instructions
Add water to the inner pot and place trivet inside.

Place frozen ground beef on the trivet. (You can cook more than 1 pound at a time, but keep the meat in 1/2 pound or 1 pound chunks.)

Close and lock the lid, turning the steam release valve to closed. Press Steam (high pressure for 10 minutes) and then Start/Stop.

When the cooking cycle is done, allow a 5 minute natural pressure release and then open the steam release valve to release any remaining steam. Press Start/Stop.

Open the pot and lift out the cooked meat. Pour out the water and drained fat, Return the cooked meat to the pot and press Brown/Saute. Using a non-stick safe tool, break apart the meat into crumbles, being sure to cook out any remaining pink.
Nutrition
Serving:
0.5
cups
|
Calories:
78
kcal
|
Protein:
12
g
|
Fat:
3
g
|
Saturated Fat:
1
g
|
Cholesterol:
35
mg
|
Sodium:
39
mg
|
Potassium:
196
mg
|
Calcium:
5
mg
|
Iron:
1
mg
Try some Crockpot Express American Goulash with your next batch of ground beef!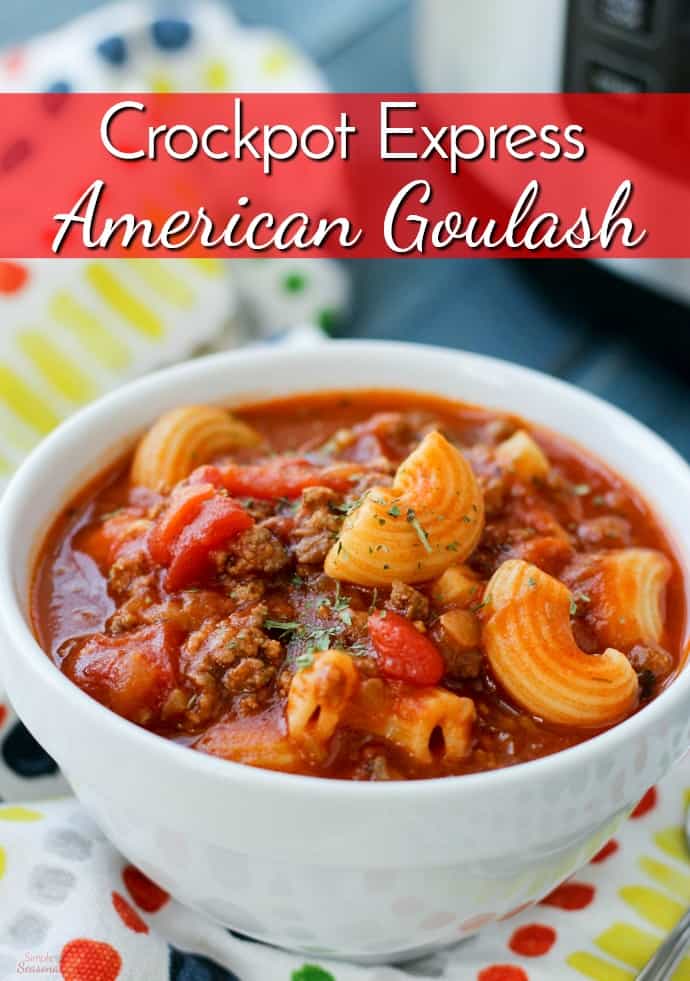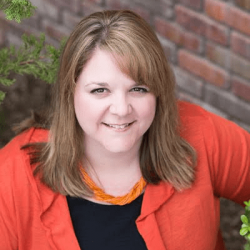 Latest posts by Nicole Burkholder
(see all)