This post may contain affiliate links. Please see my full Disclosure Policy for details.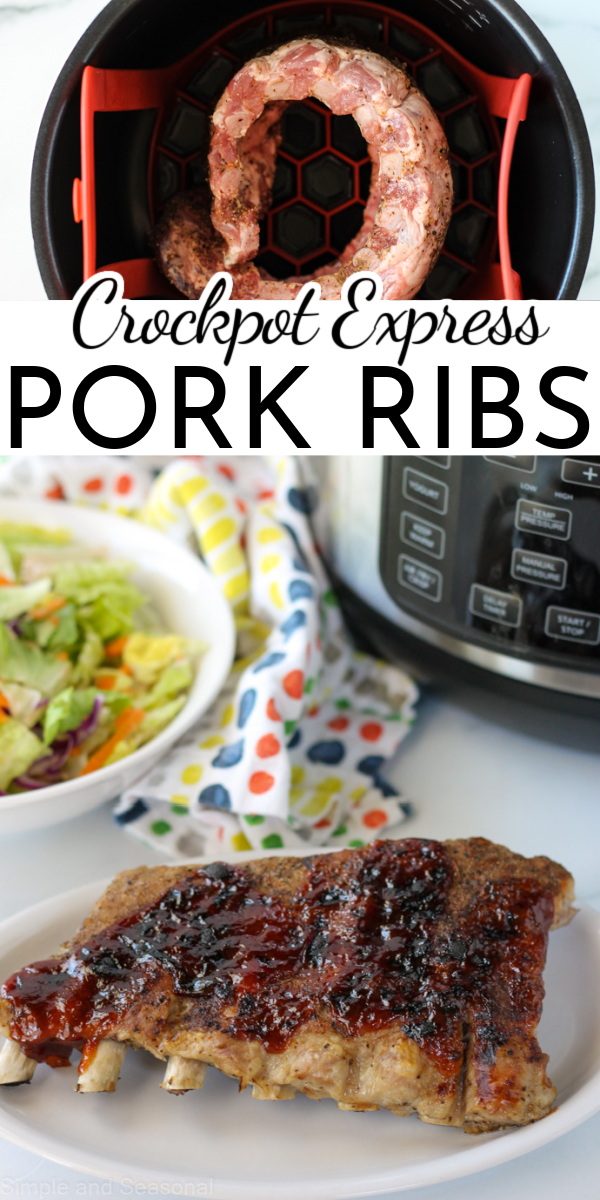 Cook tender, juicy ribs in a fraction of the time with this Crockpot Express Ribs recipe! Rub with spices, pressure cook, then baste and grill or broil to finish.

When I got my Crockpot Express, one of the first things I made was baby back ribs. Even Alton Brown pressure cooks his ribs first before grilling them, so I knew it was a safe bet. For some reason, though, I never got around to posting the recipe for Crockpot Express Ribs.
With July 4th just around the corner, I figured it was time to finally share how to make ribs using a pressure cooker. Grilling season just got better, my friends!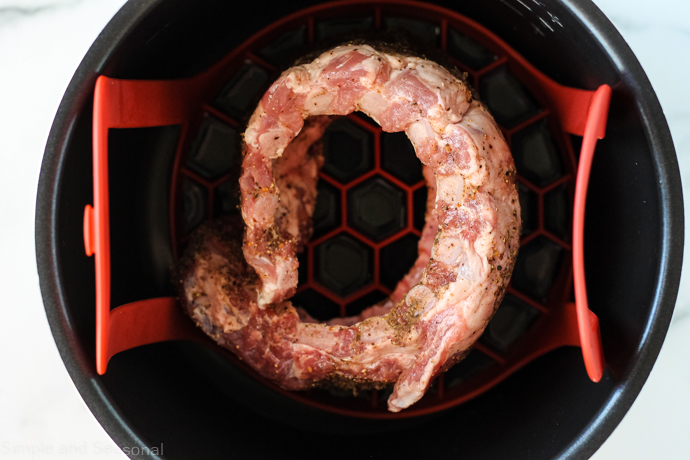 To make ribs in the Crockpot Express, you'll need to wrap them around the pot as pictured above. A 2.5-3 pound rack of baby back ribs will fit easily inside the pot. You can actually wrap two racks around each other and still cook for the same amount of time.
I cooked mine in my 6 quart pot. If you are using an 8 quart, you can get 3 racks curled inside. I haven't tried it myself, but I imagine you could get a 4th rack squeezed into the giant 10 quart Crockpot Express!
Some people like to cook their ribs directly in the pot instead of using the trivet. That's fine to do, especially if you are using something like apple cider or another flavored liquid. I, however, prefer to keep my ribs out of the water so the dry rub stays on the meat.
A handled trivet like this one from OXO is perfect for lifting it out after the cooking cycle is done.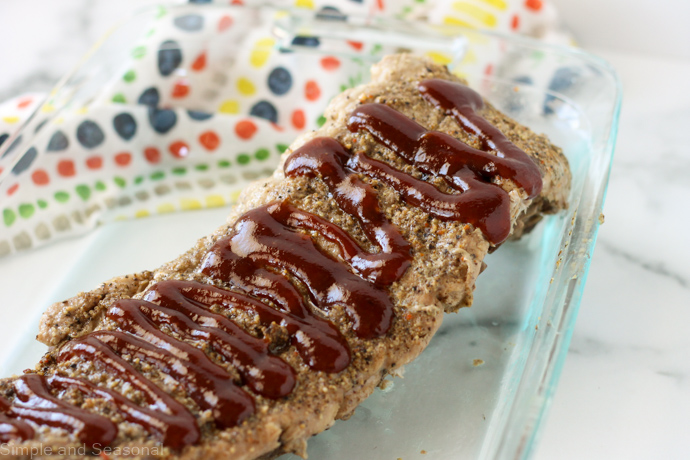 After adding a generous amount of dry rub to the ribs and pressure cooking them, the next step is to pull them out, sauce them with your favorite BBQ sauce and then throw them on the grill or under the broiler for about 5 minutes.
I like to use the broiler because it's quick, and it gets the top crispy without charring it all away. But I have done it both ways-if you really just like that grill flavor, feel free to head outside with your rack of baby backs. 🙂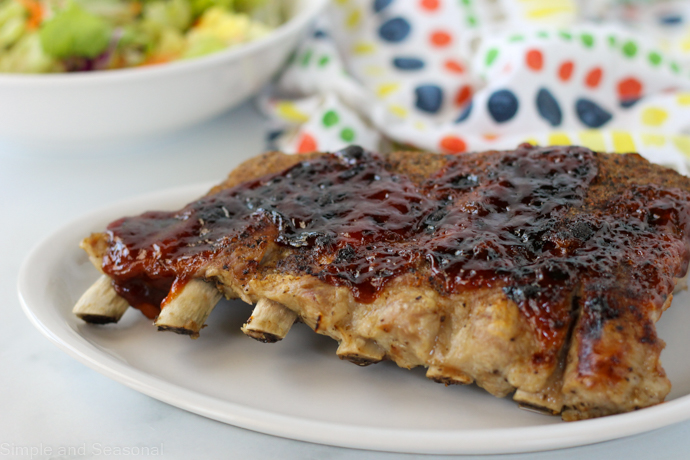 People always say "they were falling off the bone-so tender!" And that's fine, if you prefer your ribs that way. Technically, though, they are bit overdone if the bone slides right out of the meat. They should still have some bite to them. Just ask any Pit Master. 😉
Keeping the cook time just a little bit shorter will ensure your rack stays together as you lift it out of the pot or onto the grill. But if you have overcooked them a touch, stick with broiling them to finish instead of grilling. You don't want to lose them through the grill racks! You can read more about How to Grill Ribs on a Gas Grill here.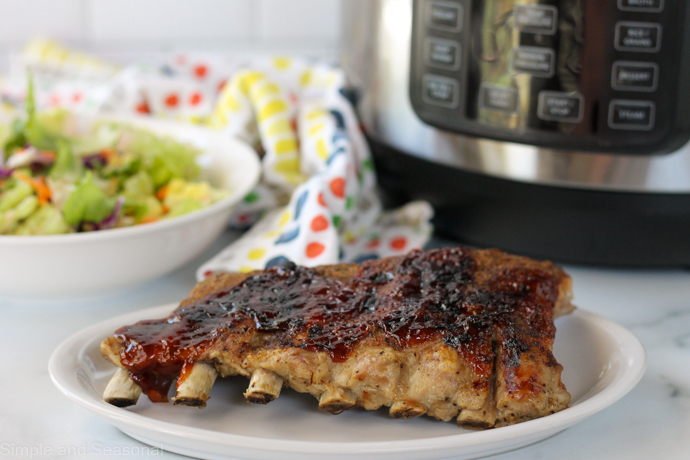 The cook times listed below in the recipe card are for baby back (pork) ribs. You can also cook spare ribs, country style ribs, short ribs or St. Louis style ribs in the Crockpot Express.
Think of it as a shortcut-the meat gets cooked and tender without drying it out, and THEN you finish on the grill. The cook time for those larger ribs will be a bit longer, though. Again, some of it will depend on how much "bite" you prefer to your meat.
Don't forget the drinks and side dishes! I strongly suggest Mom's Baked Beans or Slow Cooker Macaroni and Cheese. Both are crowd pleasers. For drinks, try a Red White and Blue Slush. Finish the meal with these No Bake Mini Cheesecakes (also red, white and blue) for an awesome July 4th celebration!
Crockpot Express Ribs
Cook tender, juicy ribs in a fraction of the time with this Crockpot Express Ribs recipe!
Ingredients
3

pounds

baby back ribs

one rack (average 2.5-3.5 pounds)

2-3

tbsp

lemon pepper seasoning

or favorite dry rub mix

3

tbsp

BBQ sauce
Instructions
Pat the rack of ribs dry with a paper towel. Remove membrane if desired (I don't bother, but some people prefer it.)

Generously season the meat with dry rub. (top only-there's no meat on the back to speak of, especially if you leave the membrane intact.) Depending on the size of the rack, it should be 2-3 tbsp of seasoning.

Add 1 cup of water to the inner pot. Place the seasoned rack of ribs standing on end in a ring around the inside of the pot.

Close and lock the lid, and make sure the Steam Release Valve is set to Closed. Press Poultry (defaults to 15 mins on High) or use manual and adjust to 15 minutes. Press Start/Stop.

When the cooking cycle is done, allow a natural pressure release (NPR) for 10 minutes. Open the steam release valve to release any remaining steam. Carefully open the lid and lift out the trivet with the ribs.

Unfold the ring of ribs and place in a broiler safe pan. Baste with your favorite BBQ sauce and then broil on High (top rack close to the flame) for 5 minutes or until the sauce is bubbly and the ends of the meat looks crispy.

Let rest for a couple minutes and then slice and serve!
Notes
If desired, use apple sauce, apple cider or another thin liquid instead of water
Freshly made lemon pepper seasoning is excellent! Use coarse salt  (Kosher salt), coarse ground pepper (I like to use a trio of peppercorns) and lemon zest. Adjust the ratio to your liking-but err on the side of more pepper, because it's delicious!
For larger ribs like spare ribs, country ribs or beef short ribs, go with a cook time of at least 30-40 minutes. 
Nutrition
Calories:
1020
kcal
|
Carbohydrates:
15
g
|
Protein:
83
g
|
Fat:
70
g
|
Saturated Fat:
25
g
|
Polyunsaturated Fat:
12
g
|
Monounsaturated Fat:
29
g
|
Trans Fat:
1
g
|
Cholesterol:
296
mg
|
Sodium:
644
mg
|
Potassium:
1199
mg
|
Fiber:
2
g
|
Sugar:
9
g
|
Vitamin A:
186
IU
|
Vitamin C:
1
mg
|
Calcium:
168
mg
|
Iron:
4
mg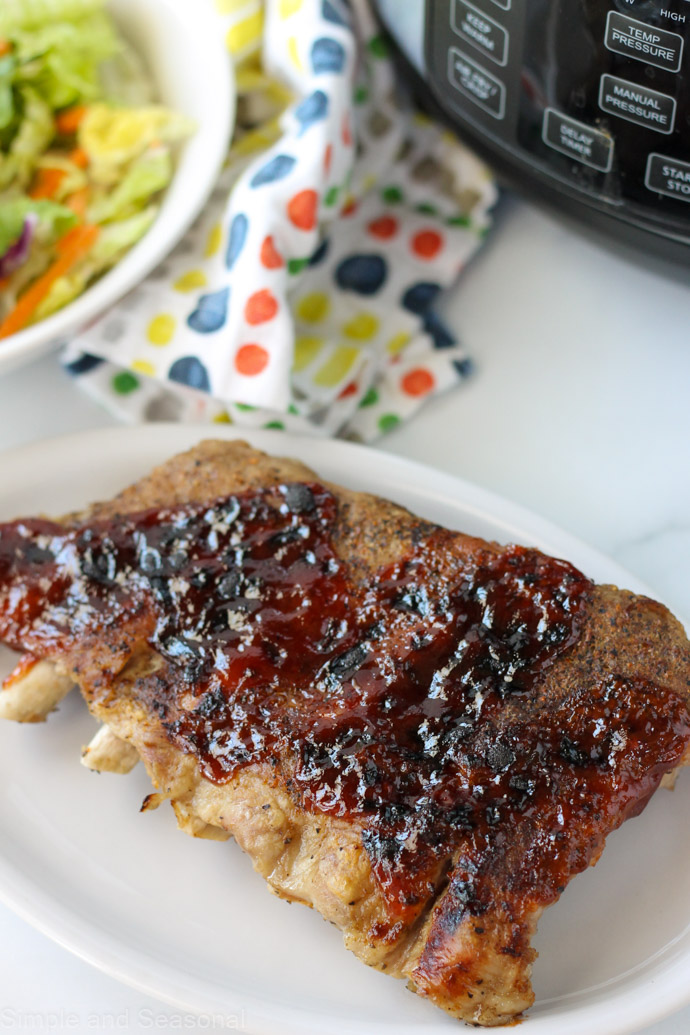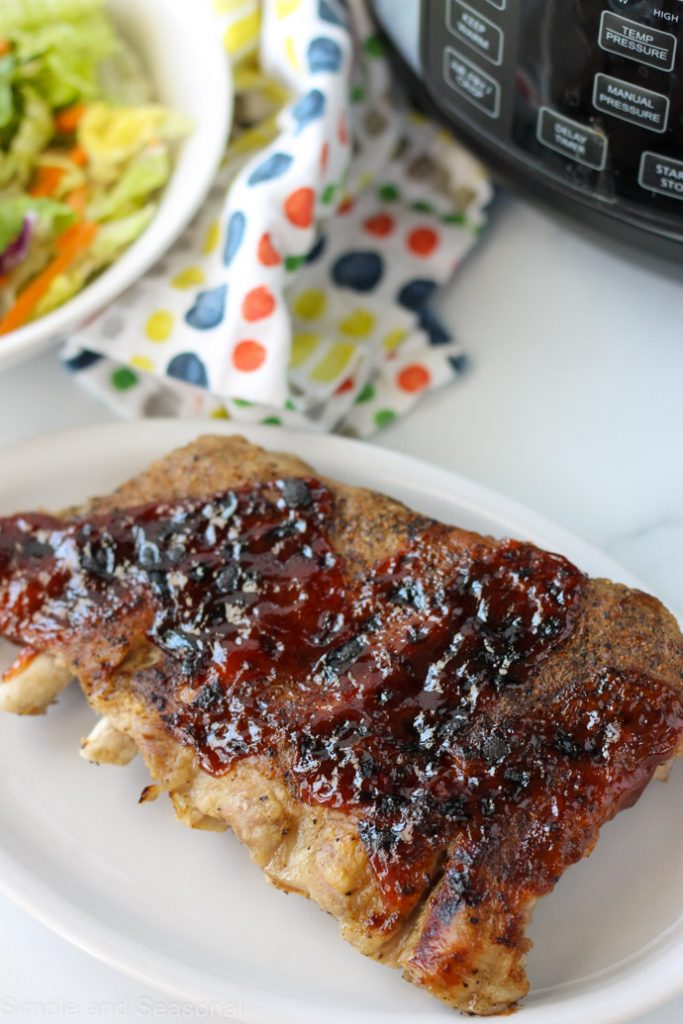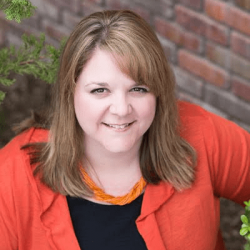 Latest posts by Nicole Burkholder
(see all)