This post may contain affiliate links. Please see my full Disclosure Policy for details.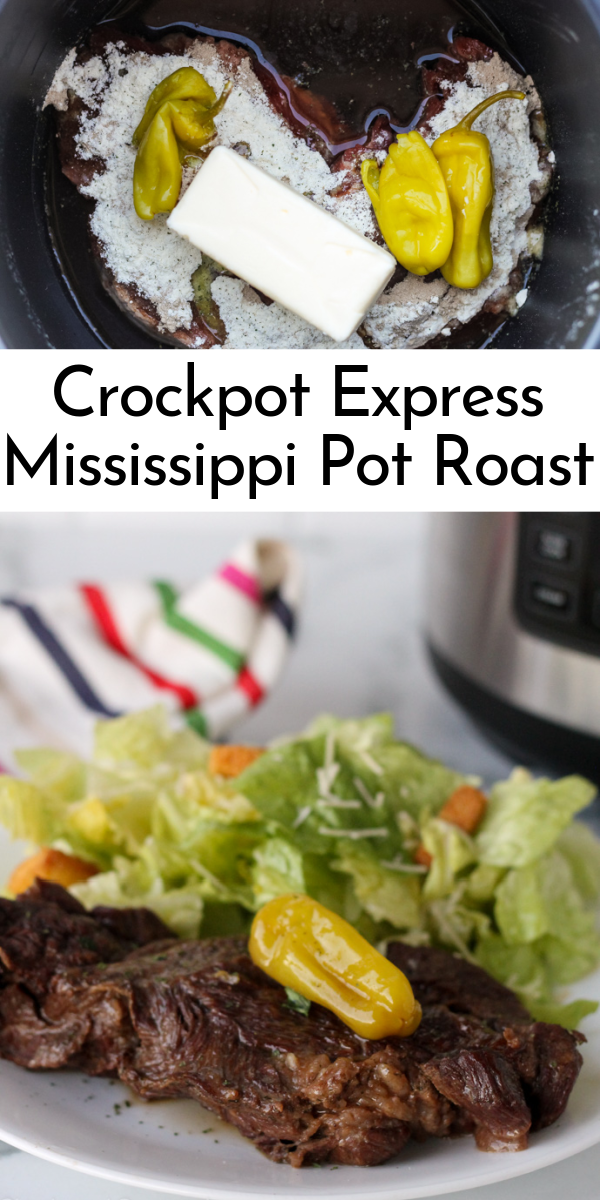 With just 6 ingredients, Crockpot Express Mississippi Pot Roast is a perfect dinner for busy families or new Crockpot Express owners! It's full of rich flavors and the pepperoncini peppers add just a touch of heat to this comfort food.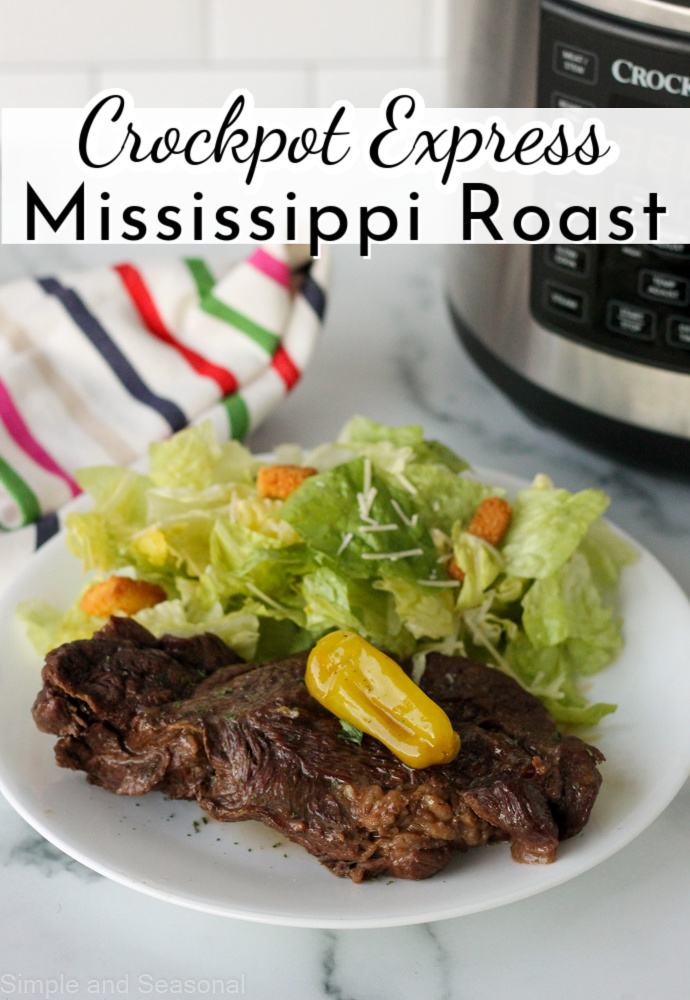 If you've been a member of any kind of cooking group on Facebook (especially those featuring Crockpot (slow cooker) meals, then you've already heard of Mississippi Pot Roast. It's got a cult following. 🙂
I don't know what took me so long, but I finally tried Crockpot Express Mississippi Pot Roast and it did not disappoint!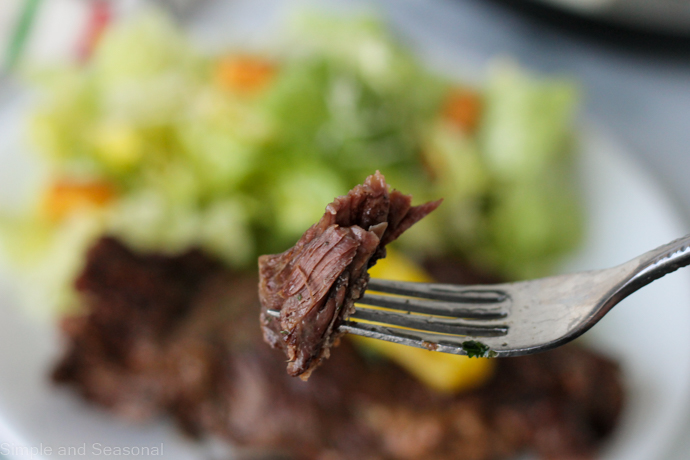 I already have an excellent recipe for Crockpot Express Pot Roast. It's a reader favorite. It's a little more labor intensive, and the flavor profile is different. But be sure to try it out sometime! I did use that recipe as a basic guide for this Crockpot Express Mississippi Pot Roast.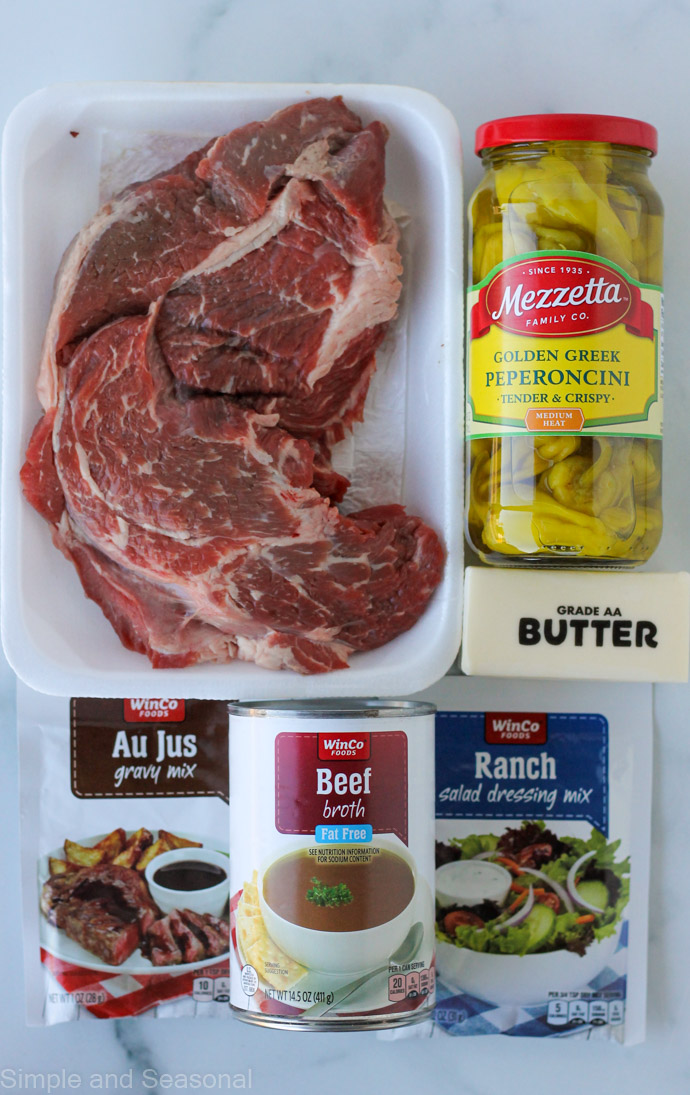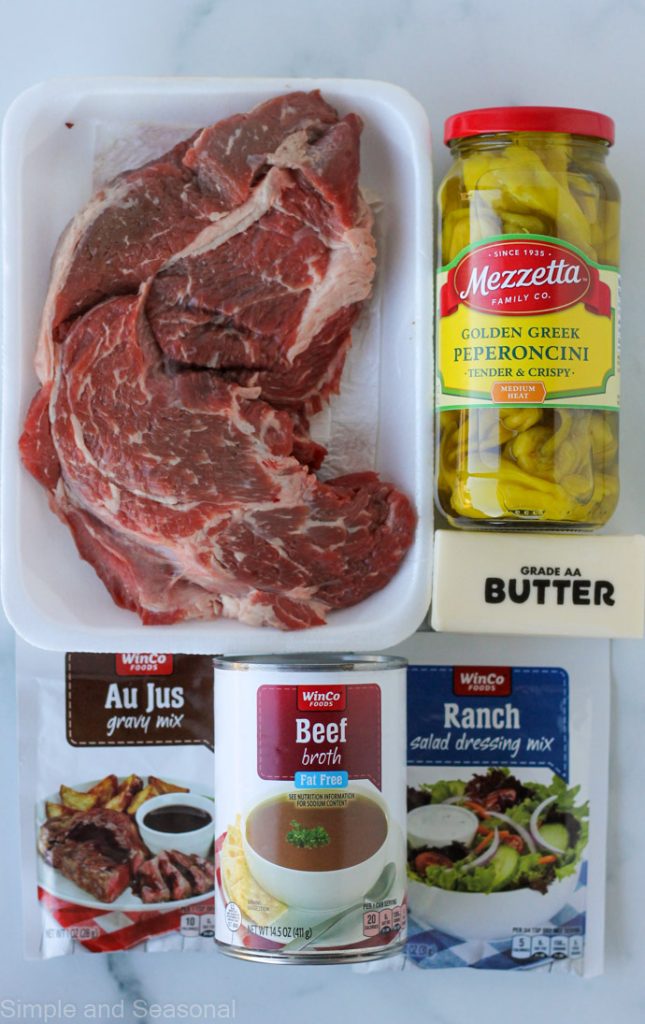 Traditionally, there are 5 ingredients needed for Mississippi Pot Roast: chuck roast (or some other kind of roast, but chuck is definitely the best choice), butter, au jus seasoning, ranch seasoning and pepperoncini peppers. However, since this recipe is for pressure cooking rather than slow cooking, it needs liquid, so beef broth is added to the mix.
Now, let me jump out in front of the comments that are certain to be coming…
There's way too much sodium in that. I have high blood pressure and have to watch my salt intake.

I don't like using packaged foods for cooking.

Pepperoncini peppers are too spicy for me.

Meat is murder.
Well, I can't help you on the last one there. You're definitely on the wrong site if you're a vegetarian or vegan. 😉 BUT I can provide a solution to the other three issues.
If you're watching your sodium intake, there are "low sodium" options for broth and most seasonings sold in the stores.
OR you can make your own seasoning mixes and broth and have complete control over the amount of salt in the recipe. I have a great recipe for "ranch seasoning" that I use when I make Slow Cooker Crack Chicken.
Eaten alone, the peppers can be spicy, but they do not really add much heat at all to the dish. If you don't like spice, just don't eat the peppers. But keep them in the cooking liquid, because they add a nice flavor to the broth.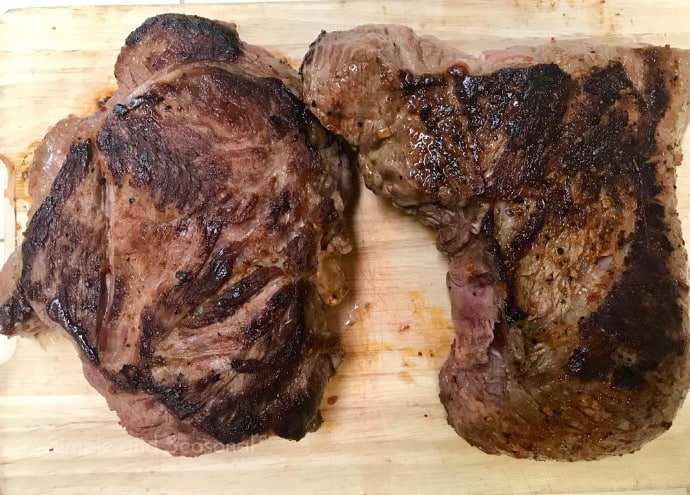 This first step is totally optional. Browning the meat and giving it a good sear intensifies the flavor and generally just makes things better. You can look up "maillard reaction" if you really want to know all the science behind it. 🙂
But if you're in a hurry or just don't want to deal with the extra step, I get it. Since this whole recipe is sort of "pre-packaged" it makes sense to just "dump and go."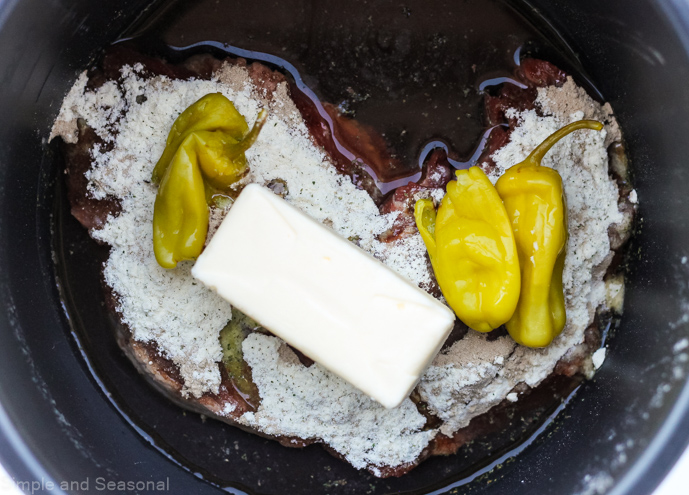 Add the beef broth to the pot, place the meat inside and then top with seasonings, butter and peppers. If your roast is larger than 1.5-2 pounds, it's very important to cut it in equal chunks. This will help it to cook evenly and much more quickly.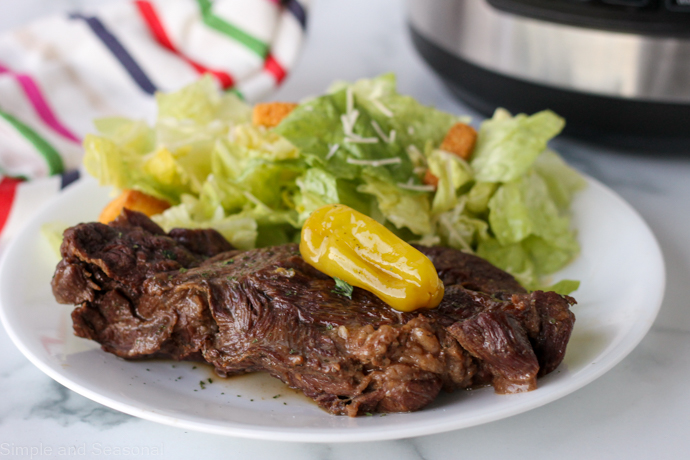 After the cooking cycle is done, allow a FULL natural pressure release. This may take up to 20-25 minutes. Do not release the pressure early! The meat will seize up and get very dry with the sudden change in pressure and temperature. Remove the meat, let it rest for a few minutes and then serve.
What can I serve with Crockpot Express Mississippi Pot Roast?
If you want to cook potatoes and carrots like a traditional pot roast, add them at the end while the meat is resting. Pull out the meat, then add the vegetables directly to the cooking liquids.
Cut large potatoes into smaller pieces so they cook quickly. I prefer using baby potatoes for roast because they are creamy and cook fast.
Put the lid back on the pot, close the steam release valve and press Steam. Set the time for 5 minutes and press Start/Stop. The pot will heat back up very quickly because the liquid inside is already hot.
When the cooking cycle is done, do a quick release and plate the veggies with the meat.
The cooking juices left in the pot make a delicious "au jus" or gravy if you want to thicken it. Simply add a slurry of corn starch and cold water and then turn it on to Simmer/Boil/Saute (whatever settings your pot may have) with the lid off.
Cook for a few minutes and let it cool a bit to thicken.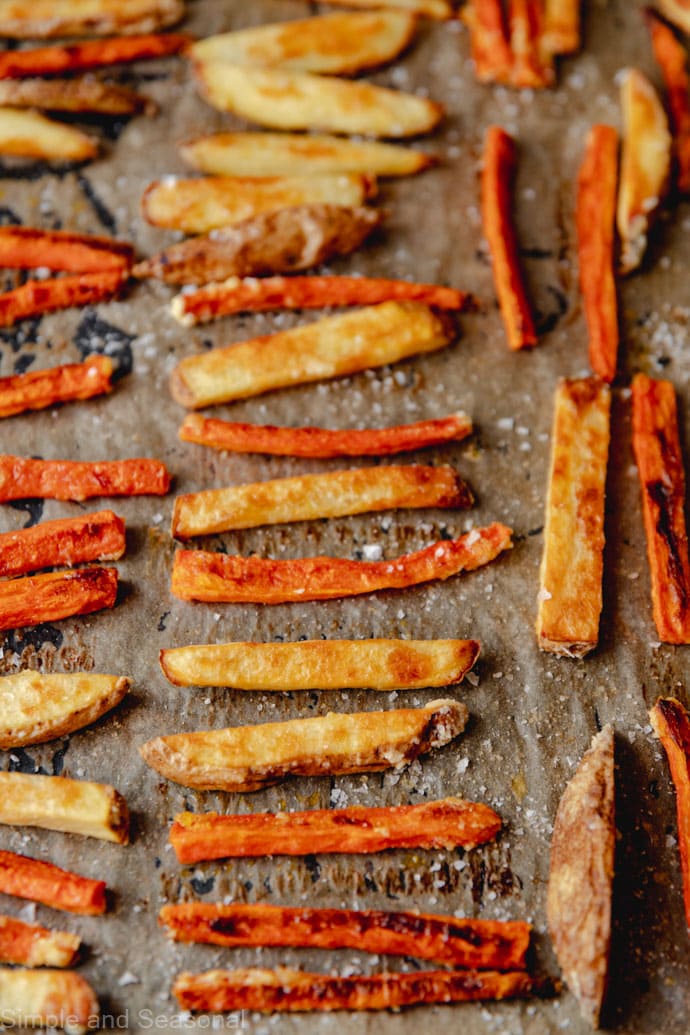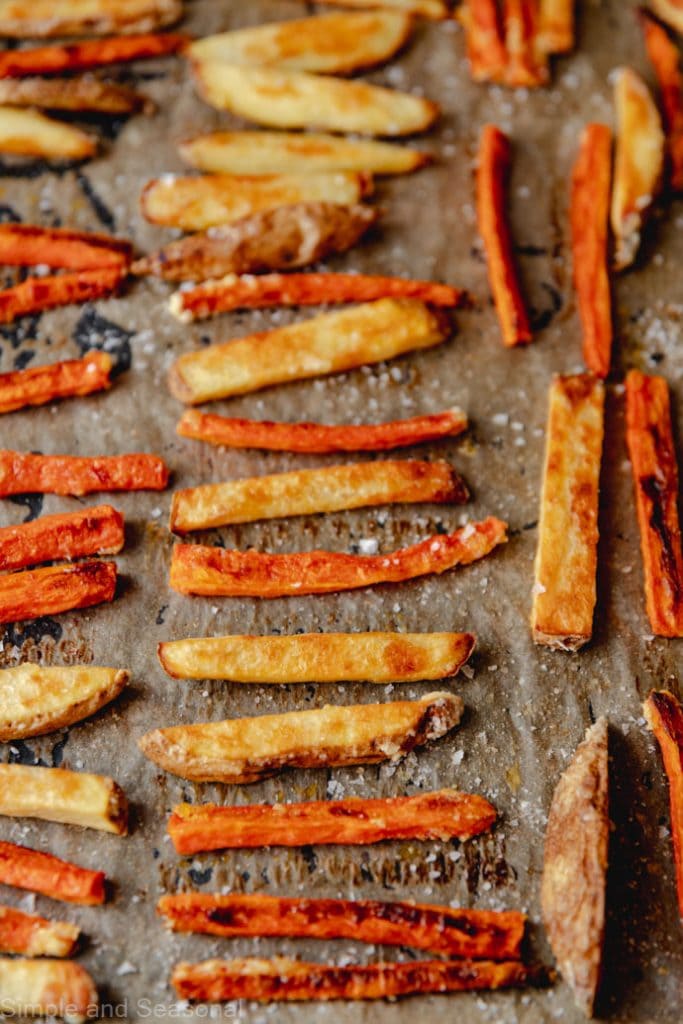 If you don't want to go the traditional route, put your oven to work while the Crockpot Express is cooking and make these crispy baked carrot and potato fries!
Or pull out the air fryer and make this Green Beans Recipe.
Crockpot Express Mississippi Pot Roast
Flavorful beef broth, seasonings and pepperoncini peppers come together to create easy comfort food!
Ingredients
2

lbs

chuck roast

1

cup

beef broth

1

1 oz

packet of ranch seasoning

1

1 oz

packet of au jus seasoning

4

pepperoncini peppers

1/2

cup

butter

one stick
Instructions
2 lbs chuck roast,

1 cup beef broth

Place the roast and beef broth in the inner pot. (if the roast is larger than 2 pounds, be sure to cut it into two equal pieces)

1 1 oz packet of ranch seasoning,

1 1 oz packet of au jus seasoning

Top the roast with the seasoning packets.

1/2 cup butter,

4 pepperoncini peppers

Place the stick of butter and peppers on top of the seasoned meat.

Close and lock the lid, turning the steam release valve to closed (X) and then press Meat. Adjust the time to 45 minutes. Press Start/Stop.

When the cooking cycle has ended, allow for a full natural pressure release (about 20-25 minutes.)

Remove the meat from the pot and let rest. Thicken the cooking liquids with a cornstarch slurry for gravy, or simply serve "au jus" if desired.
Nutrition
Calories:
619
kcal
|
Carbohydrates:
1
g
|
Protein:
45
g
|
Fat:
49
g
|
Saturated Fat:
26
g
|
Polyunsaturated Fat:
3
g
|
Monounsaturated Fat:
19
g
|
Trans Fat:
2
g
|
Cholesterol:
217
mg
|
Sodium:
631
mg
|
Potassium:
818
mg
|
Fiber:
1
g
|
Sugar:
1
g
|
Vitamin A:
773
IU
|
Vitamin C:
8
mg
|
Calcium:
50
mg
|
Iron:
5
mg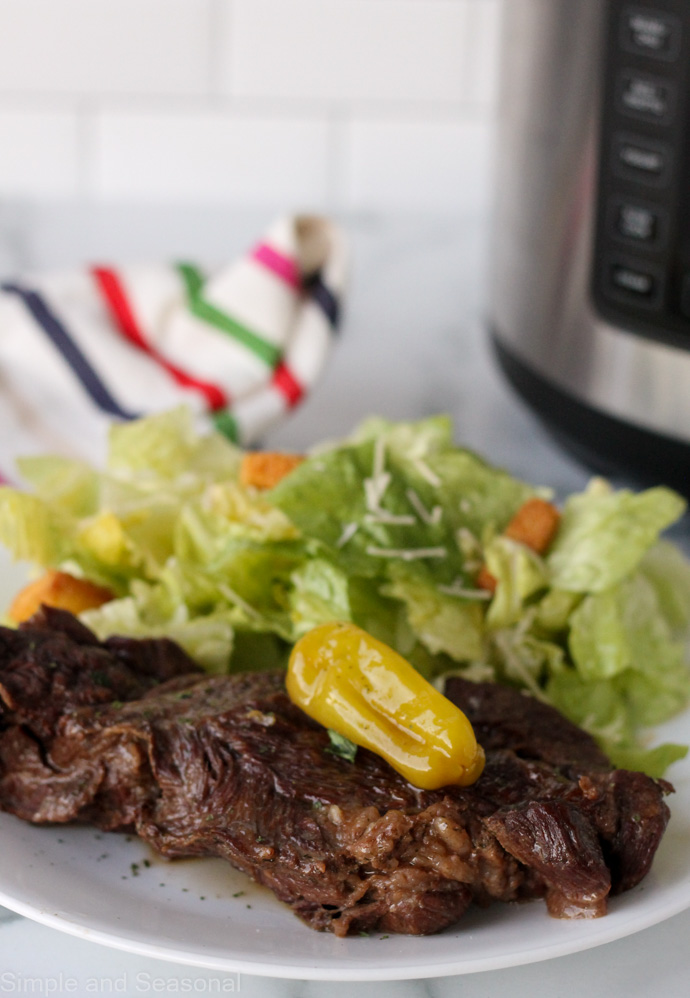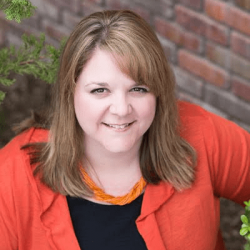 Latest posts by Nicole Burkholder
(see all)