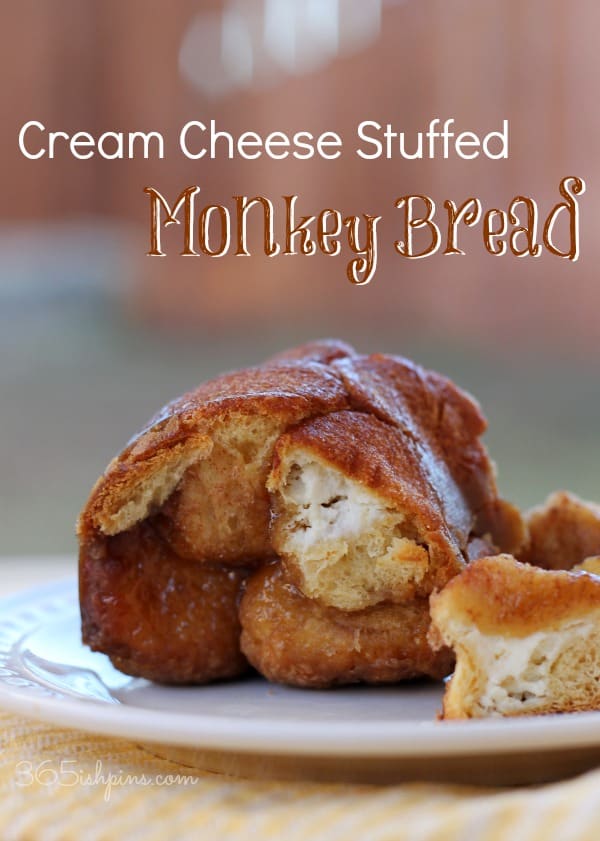 Before blogging, I'd never heard of monkey bread. Then thanks to Pinterest, I was introduced to the amazing creation that is dough baked under a brown sugar and butter bath. Regular monkey bread is good. Rhodes Rolls monkey bread is better. Cream cheese STUFFED monkey bread is exquisite.
I got an email from Pillsbury the other day and the subject line grabbed my attention. Really, anything that starts with "Cream Cheese Stuffed…" will grab my attention. 🙂 I added a note on my editorial calendar to try it soon and forgot about it until I was asked to make a meal for a new mommy in our church. (Funny story- I actually FORGOT about making that meal until I was reminded about an hour before it should have been delivered. Fortunately Mommy was kind enough to reschedule and wait another day for me. To thank her, I added this dessert to her meal.) So anyway, when this came out of the oven, I couldn't bring myself to be generous and give it all away. I cut the ring in half and saved some for us. What can I say, I'm weak. 😉
Cream Cheese Stuffed Monkey Bread
1/4 cup sugar
1/2 tsp cinnamon
8 oz. whipped cream cheese (you will not use it all, but the whipped tubs come in 8 oz.)
2 cans crescent roll dough (or the dough sheets which are even better!)
3/4 cup brown sugar
1/2 cup butter, melted
1. Preheat oven to 350° and grease a fluted bundt cake pan. Mix sugar and cinnamon in a small bowl.
2. Unroll a tube of dough into a large rectangle and cut into rows of 8 by 3, making 24 equal pieces per rectangle (48 total)
3. Place 1/2 tsp of cream cheese in each section of dough and fold over, crimping the edges together to seal. Roll in the sugar and cinnamon mixture and then place in the pan. Repeat for what feels like a lifetime until the pieces are all stuffed and in the pan.
4. Sprinkle remaining sugar and cinnamon mix over the balls. In a small bowl, mix the brown sugar and melted butter. Pour over the crescent pieces.
5. Bake 35 to 40 minutes or until golden brown. Cool in pan 10 minutes; run knife around edge of pan to loosen. Place heatproof serving plate over pan; carefully turn plate and pan over. If it won't come loose, just leave it there for a minute and let gravity do its work. It will pop out soon. Remove pan. Cool 10 minutes longer. Cover and refrigerate any remaining bread.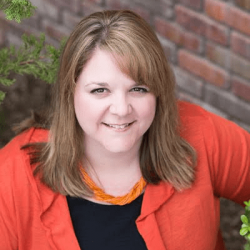 Latest posts by Nicole Burkholder
(see all)