This post may contain affiliate links. Please see my full Disclosure Policy for details.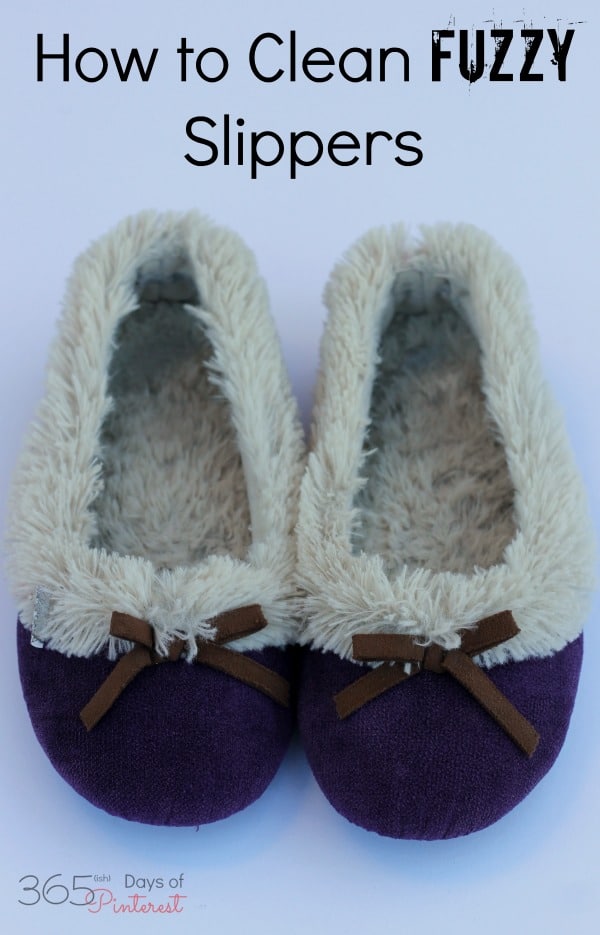 Have you ever wondered how to clean your fuzzy slippers with rubber soles without ruining them? It's actually really easy and doesn't take too long! This is the answer for how to clean slippers without using the washing machine.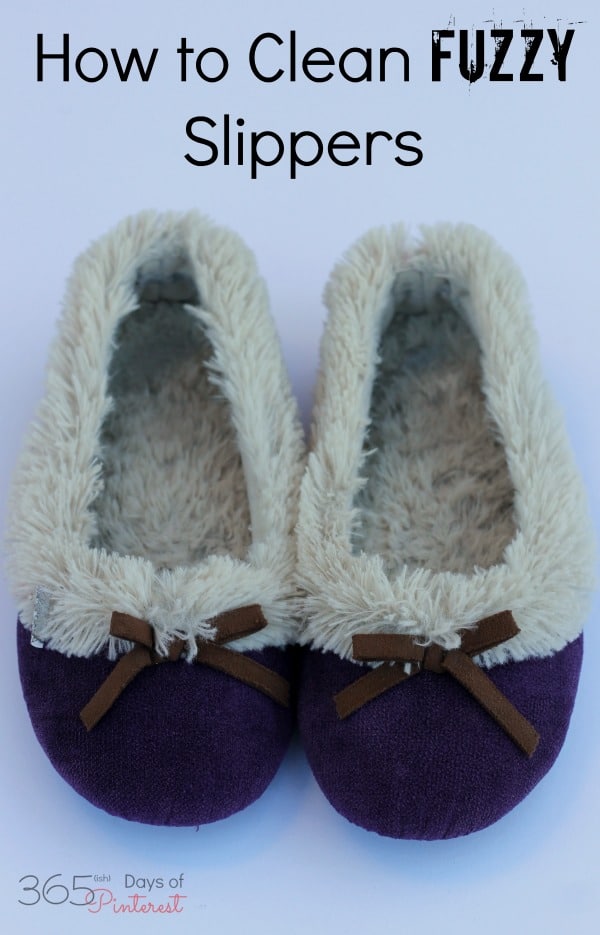 I love slippers. I wear them just about every day, until the weather gets too warm and I switch to flip-flops. But when you think about it, the idea of slippers is a little gross. It's like wearing the same pair of socks over and over but never washing them. YUCK!
So what's a fuzzy-slipper-wearing girl to do? You can't toss them in the washing machine or the soft fuzzy insides will be ruined and the rubber soles will come apart. So, of course, I went to Pinterest to see if I could find anything about how to wash slippers.
Most of the pins were specific to cleaning Uggs, and all I found was how to clean the outside. The only suggestion for the inside was to use baking soda to deodorize them. Then I found this post on 104 Homestead and it sounded like a feasible idea.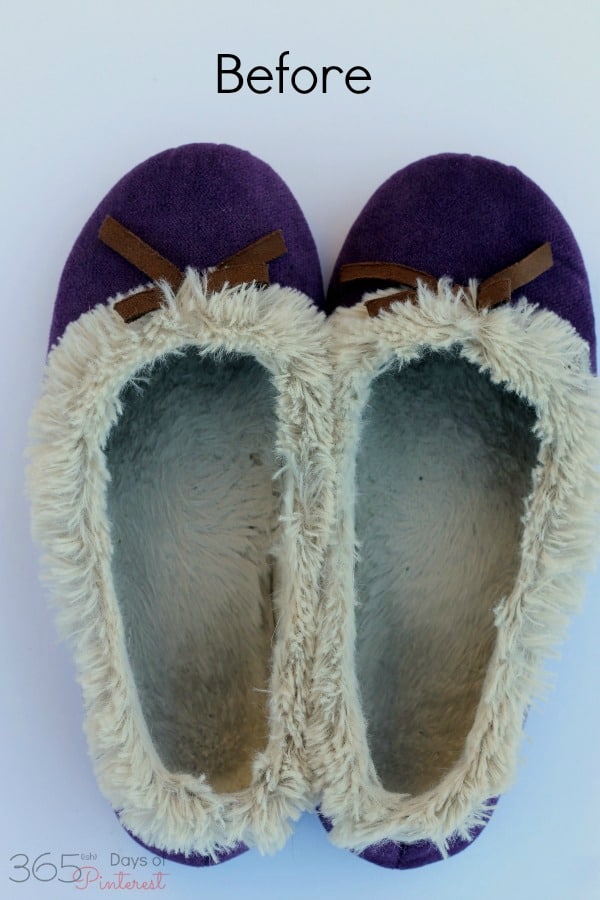 Yep. I'm airing my dirty laundry right here for the whole world to see. Actually, it's a little hard to see in photos, but trust me, there are some dark stains in that cream-colored fuzz. Whose idea was it to make the interior of a slipper a light color anyway?!?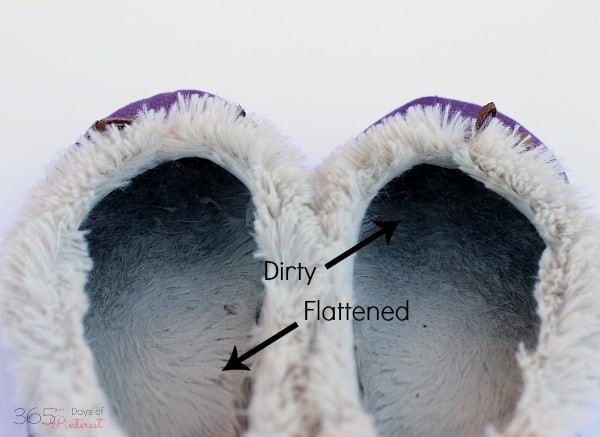 Here's an even grosser closeup for your viewing pleasure. So you get it. The toes are dirty and a nasty dark color and the rest of the inside is hard and flattened. The soft, fuzzy slippers are a thing of the past. (I bought these for myself Thanksgiving weekend, so they look like this after three months.)
Gross. I can't believe I've been wearing dirty slippers for three months. Anyway, here's what to do about it!
How to Clean Slippers
What you'll need:
2 cups warm water in a mixing bowl
squirt (yes, that's the official measurement) Dawn dish soap (I use the blue kind for all sorts of cleaning projects)
hand mixer
spray bottle with water
hair dryer
baking soda
comb
What to do:
Pour 2 cups warm water into a medium mixing bowl. Add a squirt of dish soap and mix with a hand mixer to create a foam.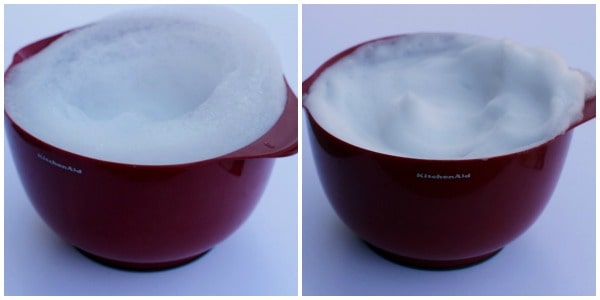 I found that if I put the mixer all the way down into the bowl, it created bubbles, but if I put the mixer in the bubbles, it then whipped them into a more stable foam.
Using a brush or just your fingers (that's what I did) work the foam into the slippers to get them clean. Spray lightly with a little water to rinse the foam off. Be sure not to soak the inside.
Using a hand dryer on low or the cool setting, dry the insides and work with your fingers. Once dry, sprinkle inside with baking soda to further deodorize. Use a comb to work the soda through inside. Let them sit for a while and then shake out the excess.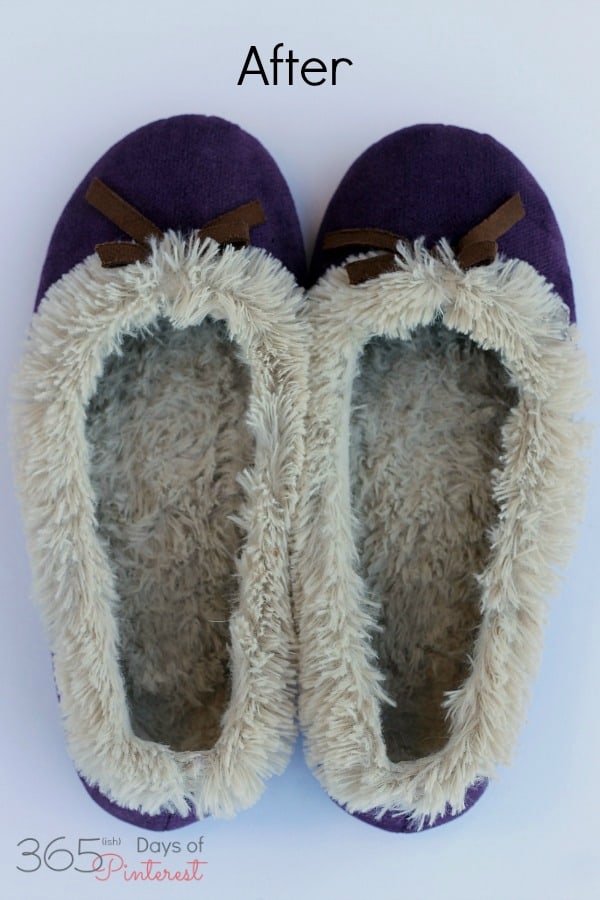 As you can see, they aren't pristine and pure white, but they are clean, soft and fluffy again, and I promise, they smell WAY better. No more stink. I wouldn't suggest this if it didn't work. Cross my heart. 🙂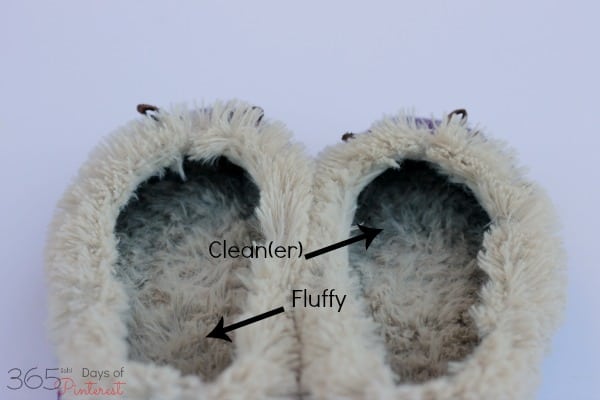 Here are some other great uses for Dawn dish soap that don't include washing dishes!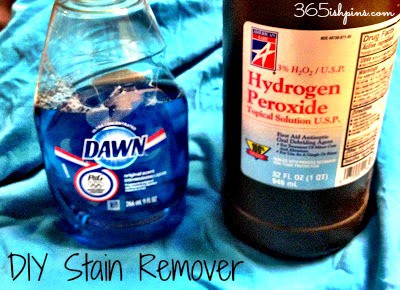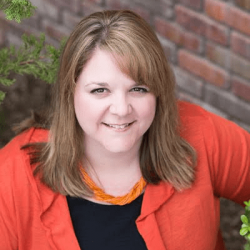 Latest posts by Nicole Burkholder
(see all)