This post may contain affiliate links. Please see my full Disclosure Policy for details.
This shop has been compensated by Collective Bias, Inc. and its advertiser. All opinions are mine alone. #SamsClubSeafood #CollectiveBias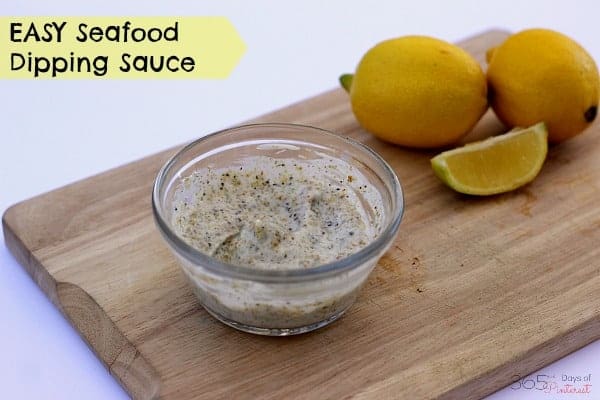 I try to serve some kind of fish once a week. The only way I can get away with doing that is by making sure we have good sauce to go with the fish. My kids are actually happy with just ketchup (blech) but my husband really likes tartar sauce. It seems like every time we have seafood, we are out of tartar sauce. AGAIN. The bottles you buy at the store are so small! Ten minutes before dinner was supposed to be on the table, I was searching Pinterest for homemade tartar sauce recipes. I've tried a few sauce recipes that were OK, but often I don't have the ingredients on hand for a last minute substitution. Until now! At a food demo in Sam's Club the other day, I learned the simplest recipe for dipping sauce. I didn't believe it until I tried it.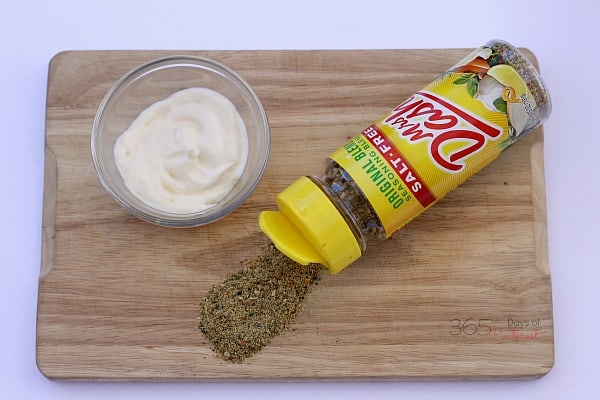 Everything you need is right there in the picture. Yep. TWO ingredients. Are you ready for this?
Easy Tartar Sauce
Ingredients
2

tsp.

Mrs. Dash Original Seasoning

¼

cup

KRAFT Mayo or KRAFT Miracle Whip
Instructions
Combine seasoning and Mayo together and mix until blended.
Notes
Add some extra crunch and tang by cutting up pieces of sweet gherkin pickles to stir into the sauce.
Add 1/4 tsp horseradish for an extra kick
Make it spicy by stirring in 1 tsp. Sriracha sauce
You can stick with the simple two ingredient recipe like I did, or add any of my suggested "stir-ins" to change things up! This easy tartar sauce tastes great with the new Gorton's Pretzel Crusted Tilapia Fillets. We gobbled them up!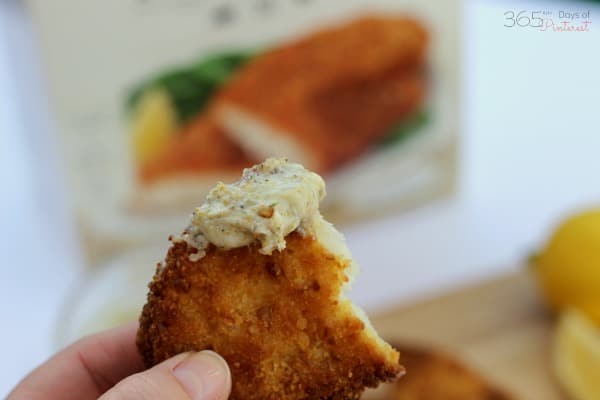 After the demo, I picked up some KRAFT mayo, Mrs. Dash seasoning and a box of Gorton's Pretzel Crusted Tilapia Fillets. The mayo and seasonings are all on the same aisle together and the fish is in the freezer section. Grab some the next time you're at Sam's and you'll have dinner ready in under 30 minutes. And with THREE ingredients. Really. It doesn't get easier than this! Before you go, check out some exclusive online offers!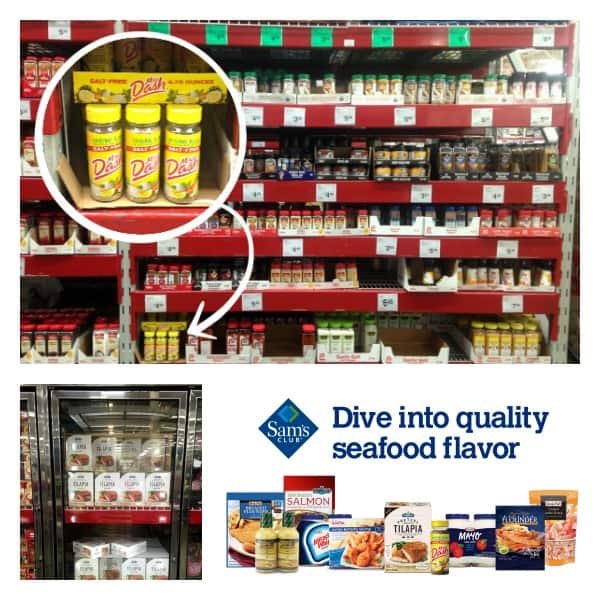 Sam's Club is offering samples for seven straight weeks, beginning February 19 &20. Just look for the demo cart in your local Sam's Club and grab your sample. Along with these tasty bites, demo associates will be handing out a recipe guide with info on how to make them. You can check out the demo schedule here to see if the store in your area is participating. The times will vary but they are usually somewhere between 11AM and 4 PM.
---
WEEK 2 February 26
THE DEMO: Enjoy Gorton's Pretzel Crusted Tilapia Fillets with Mrs. Dash® Original Seasoning and KRAFT Mayo or KRAFT Miracle Whip dipping sauce.
WEEK 3 March 5 & 6
THE DEMO: It's fish n' chips week! Try Sea Cuisine® Beer Battered Cod Fillets with Ore-Ida® Crinkle Fries.
WEEK 4 March 12
THE DEMO: Enjoy the crispy golden goodness of Daily Chef™ Handmade Crab Cakes. They're delicious and super versatile.
WEEK 5 March 19 & 20
THE DEMO: Everyone's Favorite Fish Tacos made with Treasures From the Sea® and/or Daily Chef™ Breaded Flounder Fillets and Virginia Brand® Vidalia Onion Vinaigrette.
WEEK 6 March 26 & 27
THE DEMO: Perfectly seasoned C. Wirthy & Co. Blackened Salmon with Fruit Salsa. Another perfect weekday seafood option that's ready in 10 minutes and tastes incredible.
WEEK 7 April 1
THE DEMO: Discover a delicious new favorite with our Easy Marinated Shrimp featuring Daily Chef ™ Cooked Medium Shrimp and Olive Garden Signature Italian Dressing that'll be your go-to party app.
---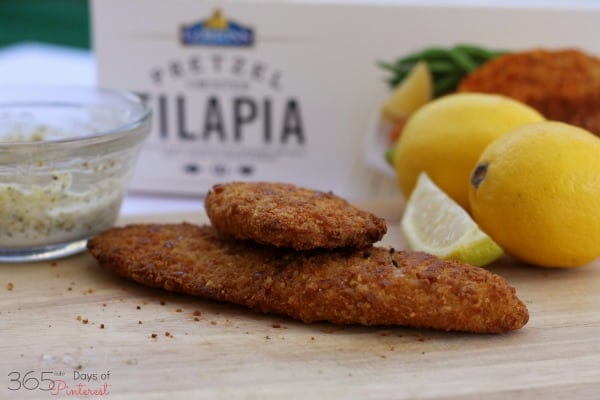 Heat oven to 425°F. Arrange uncooked fillets in a shallow metal baking pan. Bake uncovered for 21–23 minutes until coating is golden brown. Turn fillets after 15 min. See? I told you! Easy. And done in less than 30 minutes. We had some green beans and salad with ours.
What about your family? Do you have sea food on the menu very often? What about dipping sauce? Maybe your kids have a more sophisticated palate than my ketchup lovers. 🙂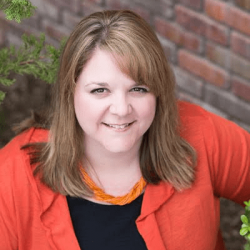 Latest posts by Nicole Burkholder
(see all)