This post may contain affiliate links. Please see my full Disclosure Policy for details.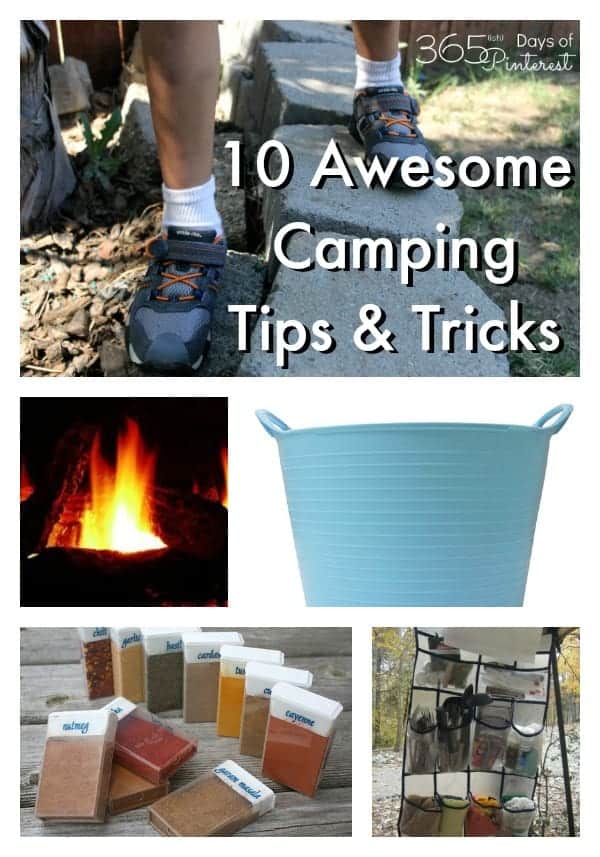 From storage ideas to camping hacks, these easy camping tips and tricks will make your next adventure a fun one!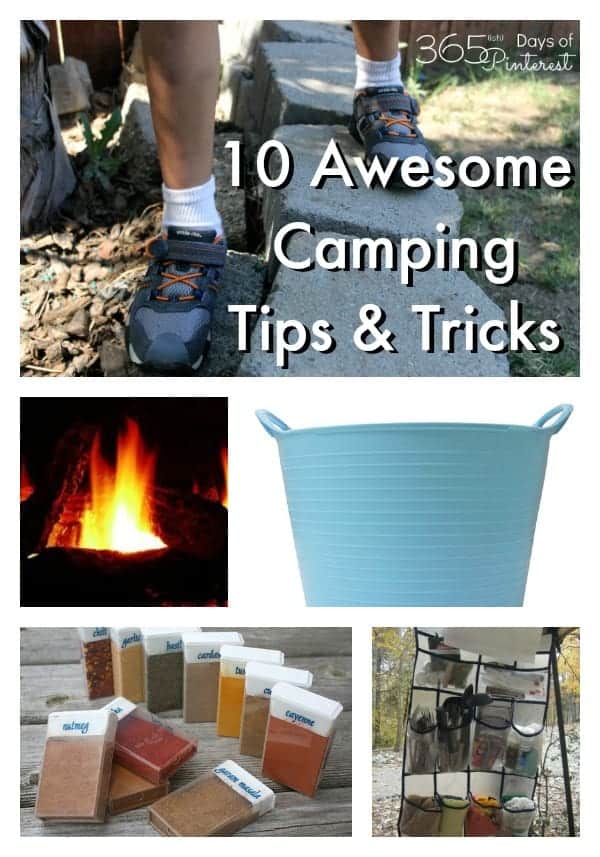 Growing up, we spent many summer vacations going camping. Since being married and having a family of my own, we've been camping a couple of times. As a kid, I did not realize how much work goes into just preparing to go camping.
Then again, we didn't have things like Pinterest and Google to find all sorts of fantastic ideas to make camping easier. 🙂 I've compiled a list of 10 Camping Tips and Tricks to make your next camping trip easier and more fun!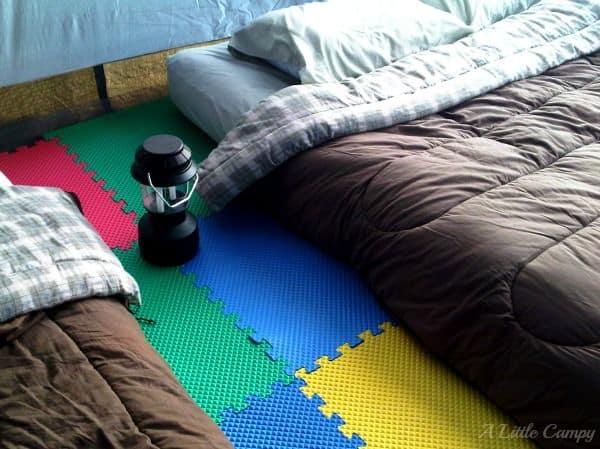 1. Line the floor of your tent with interlocking foam floor tiles.
Lining the floor of your tent keeps it clean for kids (especially crawling babies) and no more pebbles poking through! You may have a set in your playroom already, or you can shop for some by thickness and square footage on Amazon. Check out A Little Campy for other resources.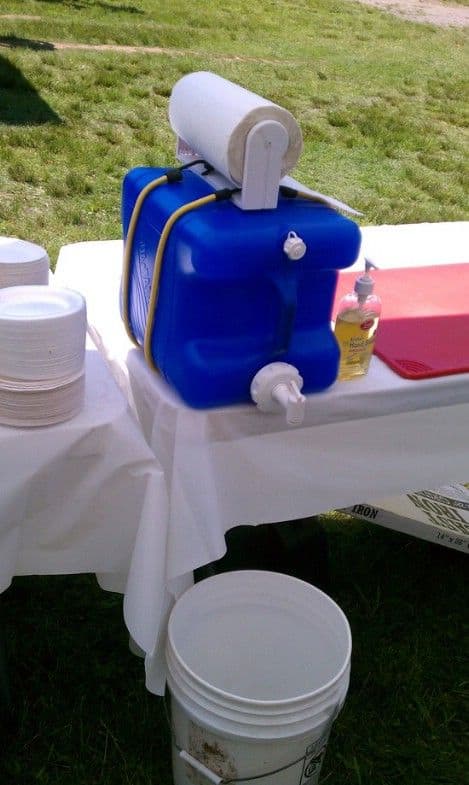 2. Set up a hand washing station.
Bring along a large water jug to use for hand washing. This saves you from multiple trips to the bathrooms or down to the lake before eating a meal.
Make sure the water jug has a spigot that's easy to turn on and off. Add a bucket for catching waste water and keep the soap and paper towels handy.
3. Use large, flexible totes for storing supplies and lugging things back and forth.
These tubs come in multiple sizes (the large one is 10 gallons) and they are perfect for storing supplies, giving kids a quick bath or lugging treasures like rocks and pine cones home. They come in lots of different colors and stack together for easy storage. Check them out here. (affiliate link)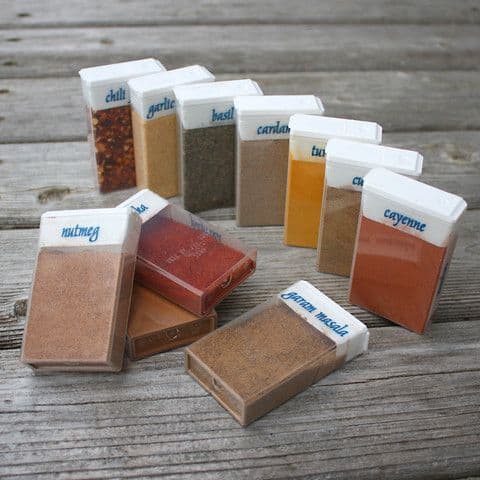 4. Use empty Tic-Tac boxes to pack spices for camping.
There's no reason camp food needs to be bland. Go beyond salt and pepper and pack in your favorite spices using Tic-Tac boxes. Our local grocery store sells spices in bulk, which is perfect for packing. Just remember to label the boxes so you're not playing a guessing game when it's time to make the burgers. 🙂
5. Go beyond eggs and bacon for breakfast.
Campfire Breakfast Burritos are delicious and easy to do for camping. You can put them together before you leave, wrap them up tight and then warm them over the campfire when you're ready to eat. There's no need for bringing multiple ingredients or dirtying a skillet. Cleanup is so easy!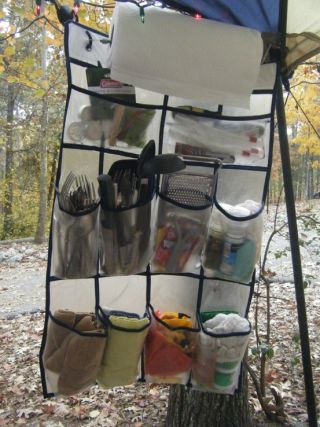 6. Use a hanging organizer to store kitchen tools, cleaning rags and other goodies.
This is one of my favorite camping tips and tricks! There's nothing worse than trying to dig through boxes, bags and totes when you are elbows deep in meal prep.
Keep everything you need on hand in a hanging organizer. When you're done, just roll it up and toss it in with your camping gear. Don't forget to bring rope or hooks to hang it!
7. Pack sturdy, washable shoes for the kids!
When you're spending the day hiking, jumping off rocks and running around in the dirt, you want to be sure you have shoes that will hold up to wear and tear. We really loved Stride Rite's Made 2 Play shoes when the boys were little. They are machine washable, which is perfect for messy camping trips.
A good pair of water shoes is really handy as well. They are perfect for walking back and forth (and straight into) the lake or river. They dry quickly and save you from sore feet later!
8. Take stargazing to the next level.
There are lots of free or inexpensive stargazing apps available that will help you name the constellations and track satellites. This one is called Star Walk and it's available in the Apple Store. Kids and adults will love to lie back and learn all about the beautiful night sky!
9. Bring along a bunch of glow in the dark stuff for nighttime fun.
Seriously, a $1 glow stick was the most popular thing at our backyard campout a few weeks ago. The kids all wanted more and we could have spent much longer playing outside with the glow sticks.
If you getglowstick necklaces and bracelets, you can play a game of glow in the dark ring toss, or put the sticks in empty water bottles and play a game of lawn bowling with them. You don't have to do anything fancy or organized. Just hand the kids a few rings and glow sticks and they will be happily entertained for hours.
My boys all fell asleep that night with their glow sticks in their hands. They are definitely worth a few extra bucks. The kids won't even notice they haven't watched any TV or played video games after dinner!
10. Put the kids to bed and spend some time playing games around the campfire.
There's something enchanting about a fire. No one wants to move away and the desire to stare into the fire is overwhelming. My favorite time camping was always at night when things got quiet.
As a child, I would lie in my sleeping bag and listen to the low rumble of the men talking and the occasional laugh from the women. As an adult, I love to sit and chat in a relaxed way you only get outdoors around a fire.
Rather than pull everyone away to sit around the table, try some of these fun games meant to be played around the campfire!
So what are you waiting for? Pack up the car and head out to the beach, mountains, desert, forest…you get the idea. Get outside and spend some quality time with your family.
This post originally sponsored by Stride Rite.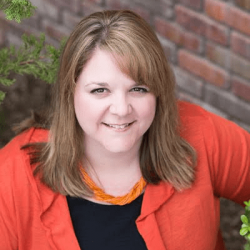 Latest posts by Nicole Burkholder
(see all)