This post may contain affiliate links. Please see my full Disclosure Policy for details.
A few weeks ago, the boys and I walked down the street to a HUGE fundraiser garage sale. I was just about to leave with only a few little toys for the kids, when I saw this wood desk. It really needed some work, but it had good "bones" and the drawers still opened and closed nicely. It would make a perfect school desk for Henry! Now I just needed to figure out HOW to do a decent desk makeover!
Here's the lovely "before" picture. Note the most important tool 🙂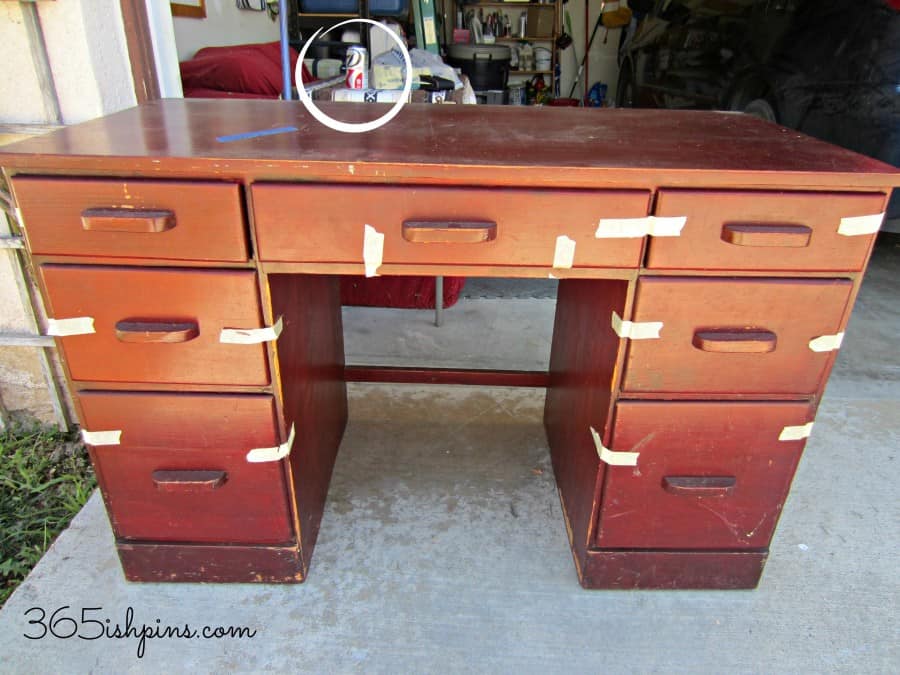 That masking tape holding the drawers shut became my nemesis later on. I should have taken it off as soon as we got home. Instead, it sat in a hot garage for a couple weeks and melted onto the finish. Luckily, I planned on painting, not refinishing, so I sanded most of it off.
So, the first step was to sand all the sticky residue and old finish off the whole thing. I used a 60 grit course sandpaper. I'm NOT a DIY gal, so I don't have any cool tools. But this was a pretty small project and my expectations were low. I used a single sheet of sandpaper. Don't forget to wear a mask! You don't want to breathe in any of that dust! I think it's a great look. 🙂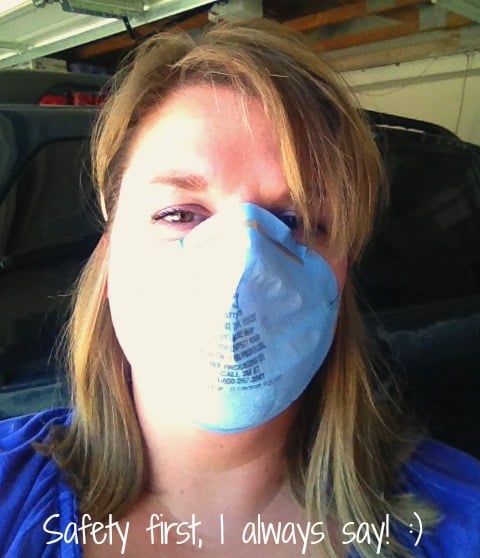 After the first sanding, I filled all those creases and divots with wood filler. I made sure to get the paint-friendly kind. After letting it dry, I sanded again with a finer grit until the top was smooth and I couldn't feel a difference between the putty and the desktop. Then I wiped it down with a damp rag to make sure all the dust was gone.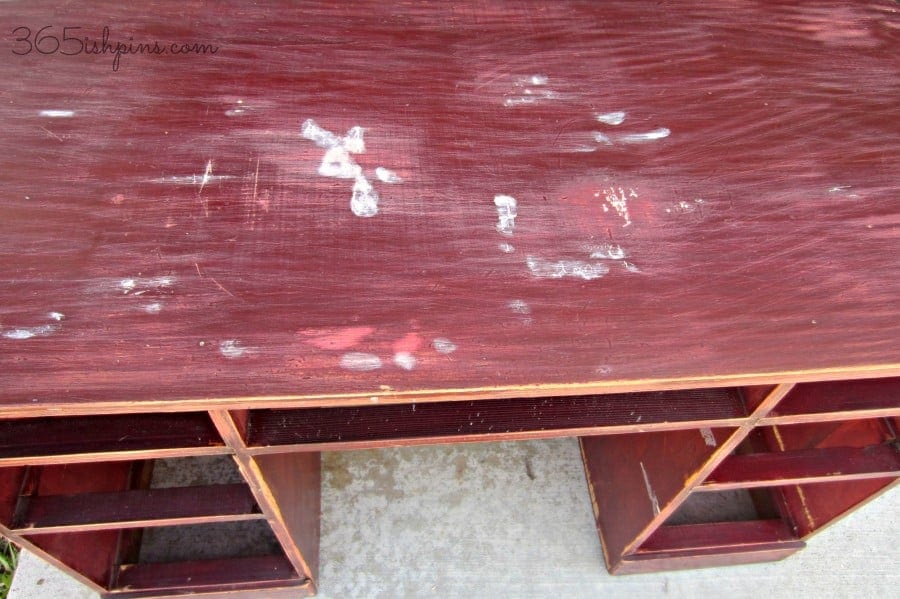 I used basic white interior paint for the desk. I also used a roller instead of a paintbrush (WAY faster) and then went over it with a foam brush. Because I was painting white over a dark stain, it took 4 coats to completely cover it. I should have used a primer first, but I didn't have any, and I didn't want to buy more paint. Between each coat, I sanded again with a 180 grit sandpaper.
Painting the desk took an entire day's worth of free time, so the drawers had to wait until the next day. I wanted a little pop of color to make this desk more fun and inviting. I kicked around the idea of papering the drawers, or painting a stripe down the sides. But then I decided I would just paint all the drawers a contrasting color. I hadn't decided on which one until I happened across the "oops" paint shelf at Lowe's. There was a little tester-sized paint jar in a gorgeous cinnamon color for only $1! Bingo! It also goes beautifully with my kitchen and dining room colors, which is where I decided to put the desk for easy access during school. I unscrewed the handles and used a small brush to paint to front of each drawer. (After sanding with the 60 grit paper.) I tried to paint the handles while they were off the drawers, but I just ended up with paint everywhere. When the drawers were dry, I screwed the handles back on and painted them while attached.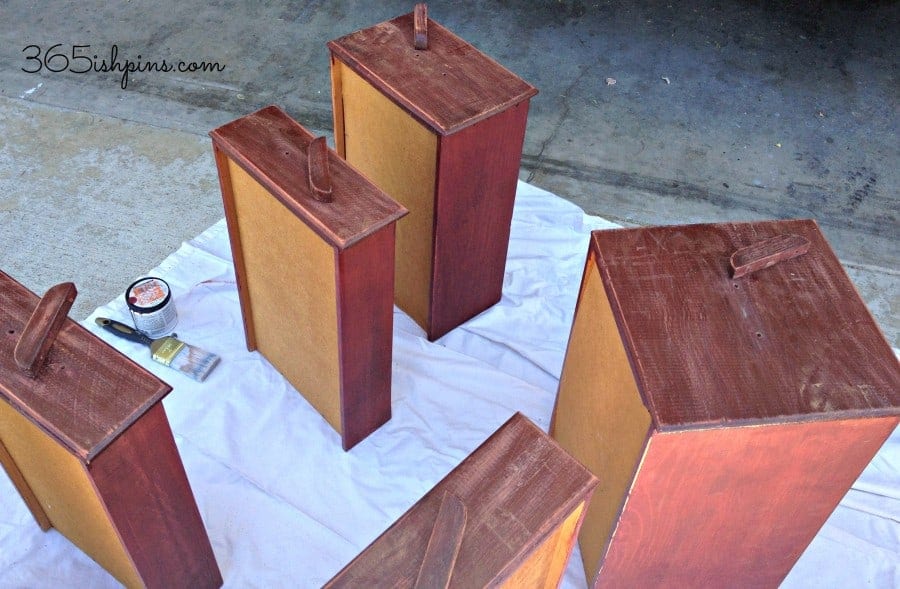 After everything was dry, I put it all back together. I could have stopped here, but it just seemed like something was missing. So I asked my lovely Facebook readers what they though about putting a chalkboard top on it. It seemed to just go with the school theme and colors. The result of my little poll was an overwhelming Yes!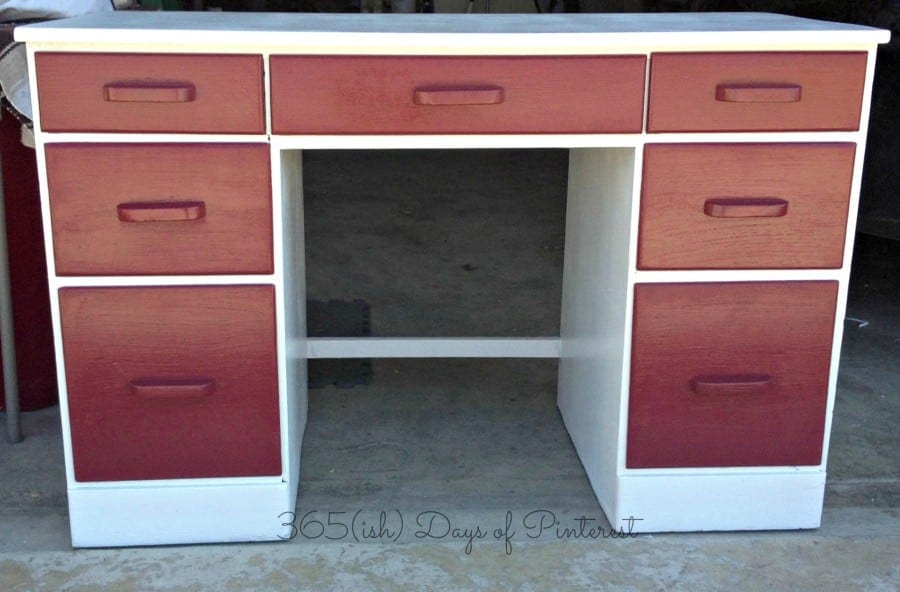 I had chalkboard spray paint leftover from my Ball Jar teacher gift (pictured below), so I used that to cover the desktop. It only needed one coat, but I did two just to be sure. I taped off the edges when I sprayed and then just went back and used a small foam brush to touch up any areas that caught a little over spray. Ta Da! From a $10 garage sale find to a pretty and useful school desk. Now that's a great desk makeover DIY!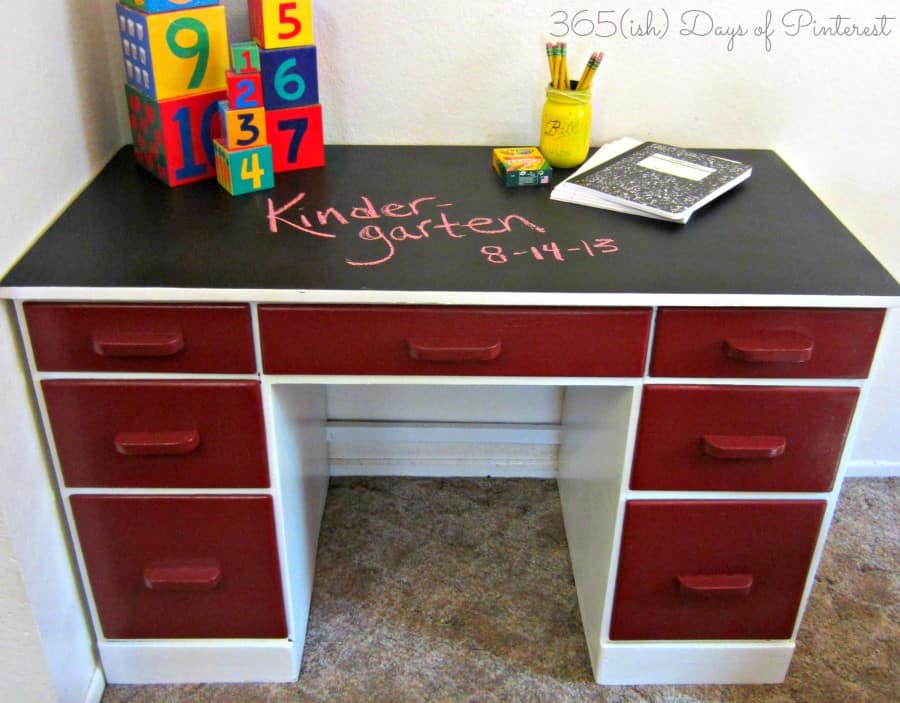 Here's my little man enjoying a treat on his first day of Kindergarten at his new desk!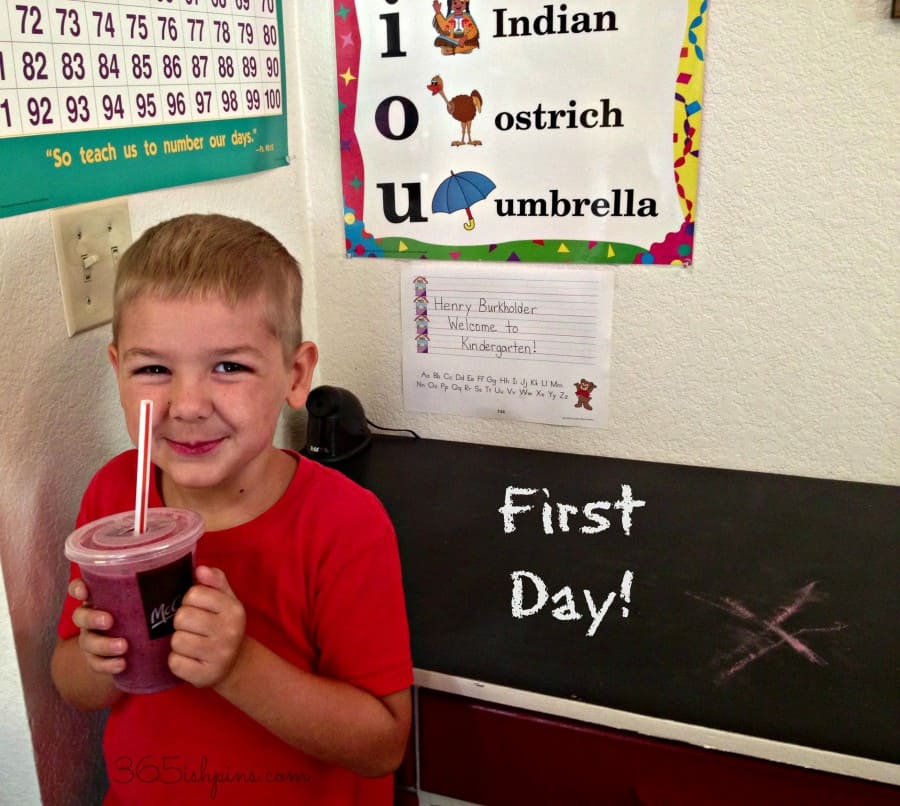 Being totally clueless in the furniture/DIY/makeover department, I asked a few fellow bloggers for advice and heavily relied on this great tutorial from Lewisville Love. Now that I've done it once, I can't wait to find more "treasures." 🙂
Linking up with Super Sunday Link Party, Marvelous Mondays, What'd You Do This Weekend, On Display Monday, Homework Wednesdays, Two Girls and a Party, Family Fun Fridays, Weekend Wonders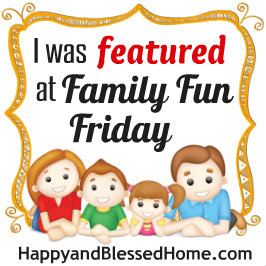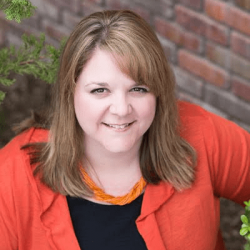 Latest posts by Nicole Burkholder
(see all)