This post may contain affiliate links. Please see my full Disclosure Policy for details.
We are now prepared for the coming Zombie Apocalypse. And if the Mayans ever get it right, we're ready for them, too. We wouldn't have been back in 2012, but NOW we can be secure in the knowledge that we are going to survive. No, we haven't stockpiled weapons, but we DO have a really cool underground oven! Yep, we can cook in the dirt. It's no microwave, but it makes for very tender pork ribs, that's for sure!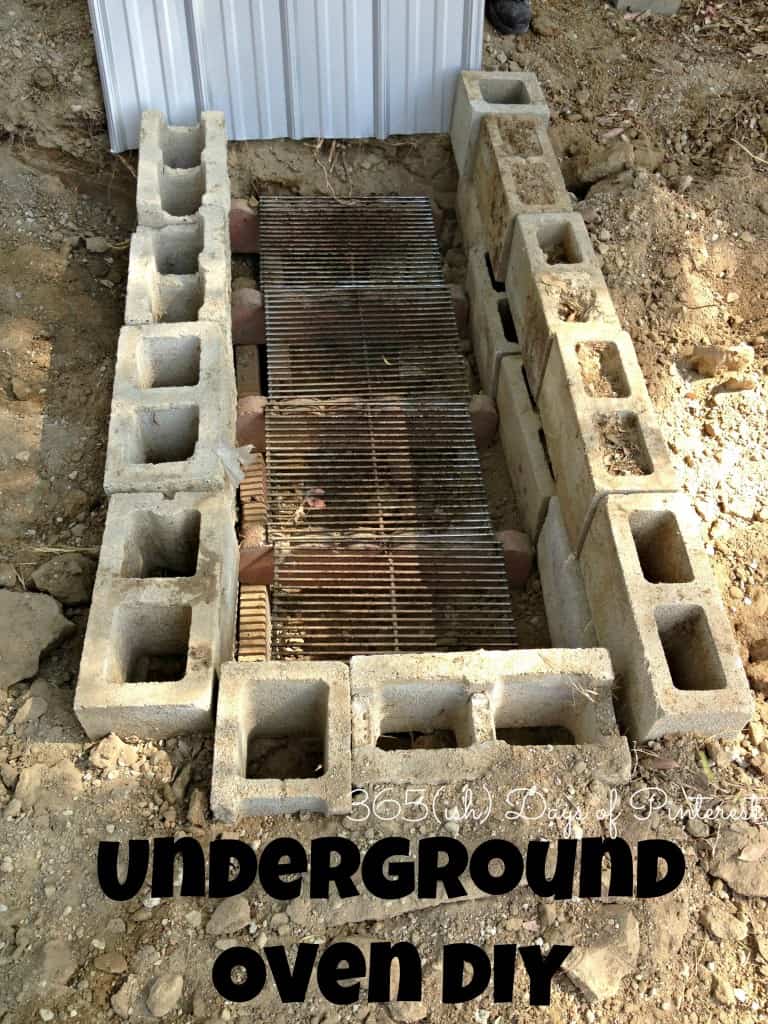 For our family's 4th of July celebration, we cooked ribs in the underground oven. They were amazing. They came out so tender-even the bones were soft enough to eat (we didn't, don't worry) 😉 And now we have a way to cook food without power or gas. You know, in case of the zombie apocalypse. Duh.
First we (and by we, I actually mean the men in the family) dug a hole in the ground wide enough to accommodate the grill racks. Our was 5′ by 1½' and 2½' deep. They used bricks to lift the racks off the ground and leave room for the hot coals. Then the sides were built up with cinder blocks so it was completely lined all the way around. I'm more of a visual learner, so here you go:
The next step before putting the food on the racks and closing up the oven is to build a roaring wood fire in the pit. Let it burn high and hot (continually) for 2 hours and then rake out the coals until there's no flame and it's just coals and ashes under the racks. While the fire is burning, it's time to prepare the meat! Just look at that beautiful rack of pork spare ribs! Make a tasty dry rub and massage it into those babies! Then wrap the racks tightly in at least 3 layers of foil, making sure there is no meat exposed. When the fire is out, place the meat on the racks. Be careful- it is REALLY hot in there!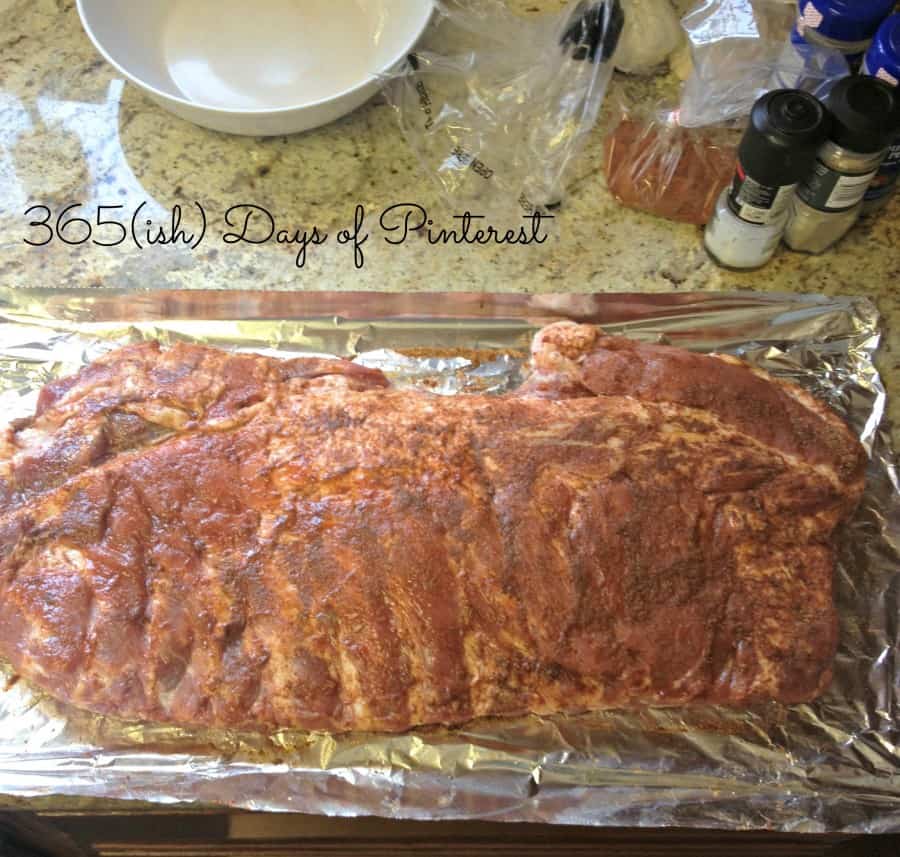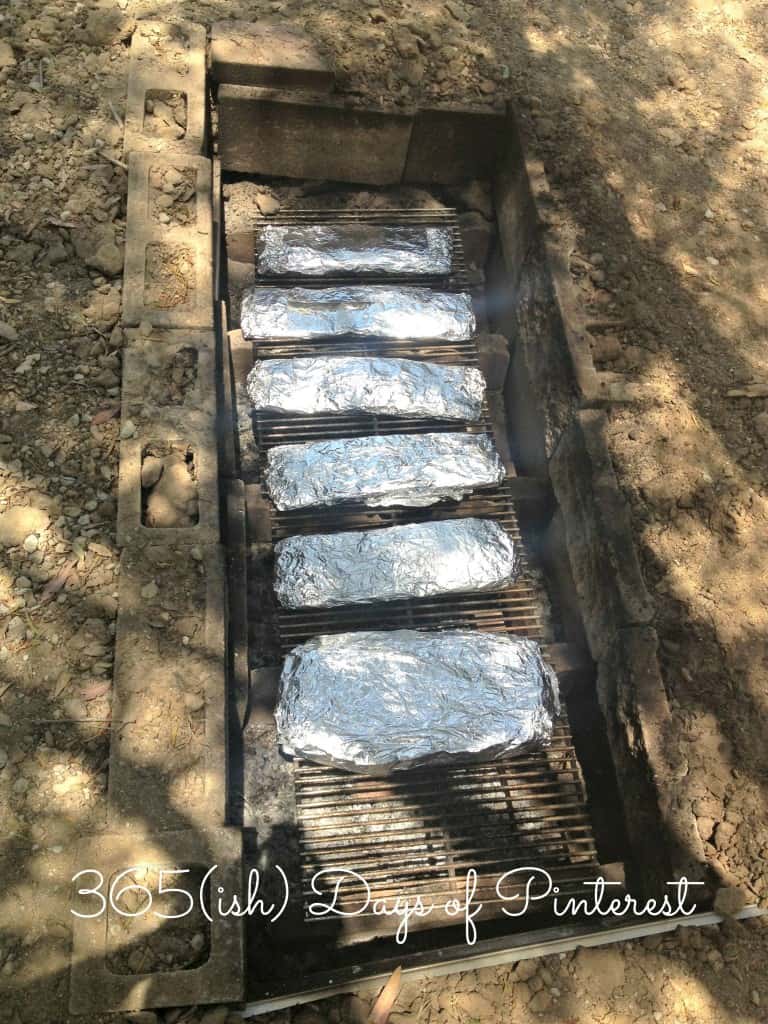 So now that your fire is burned out and you put your foil-wrapped ribs in on the grates, it's time to commit. There's no going back after this point, so be sure everything is ready and in there! (We should have done our corn on the cob and beans in here, too. Next year.) Place a sheet of tin over the oven and then grab a shovel- it's time to bury it all! Cover the whole thing in 4″ of dirt.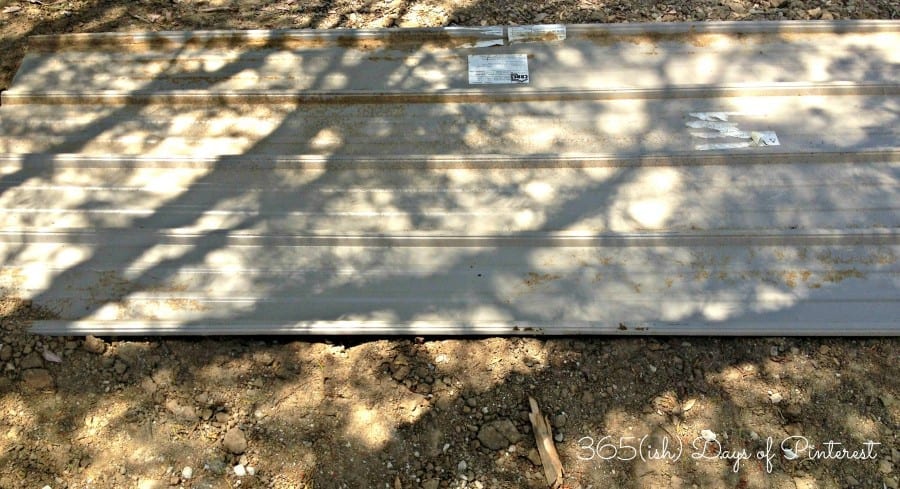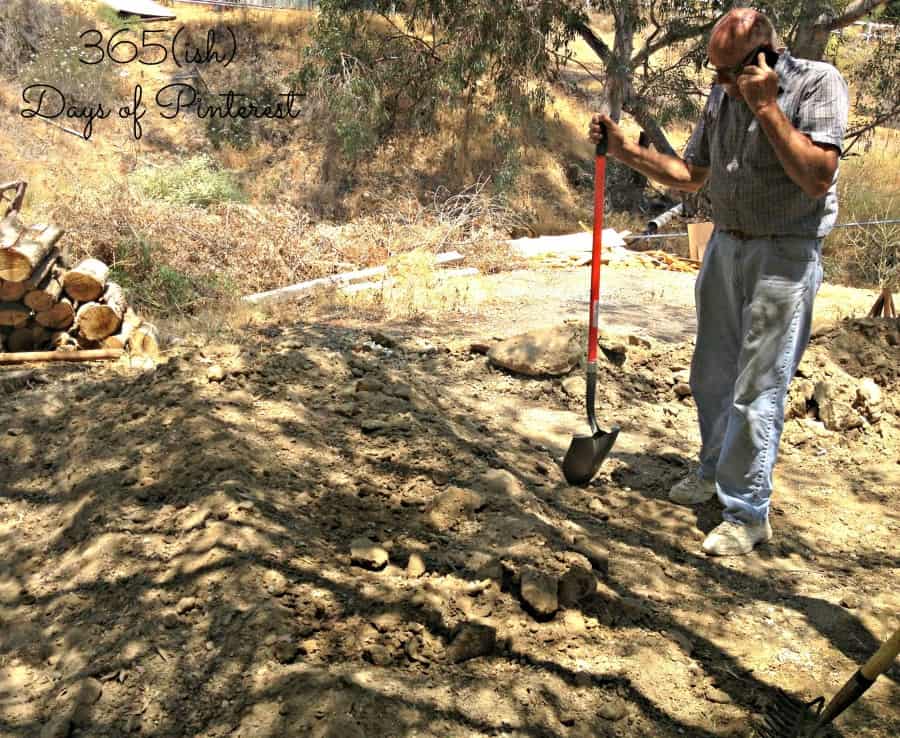 Now, walk away and enjoy some family time for 2½ hours. Then send down the manly men to go dig up meat from the ground. This is very cool to them and they are happy to do it. Just like they are happy to play with fire. (Don't tell them, but next year when we roast the corn and put the beans in Dutch ovens to cook, they will actually be taking care of the whole meal.) To get that tasty and pretty glaze, we basted them with homemade sauces and finished them off on the gas grill for about 10 minutes. We had savory, sweet, chipotle and hickory and brown sugar flavored sauces to choose from. Yum-my. I think the ribs just nudged out my layered drinks as the family favorite.
OK, think you can go make your own underground oven now? I hope this has been clear and easy to follow. Feel free to leave a comment with any questions you may have- or suggestions! There really wasn't much online as far as "how-to" guides and nothing with clear instructions for ribs, so we were your happy guinea pigs. I hope you had a happy 4th of July. We sure did!
***UPDATE***
Just a quick note- we have now roasted several chickens and even a turkey in the underground oven and every time the meat has be outstanding. There's just something about the slow roast and smoky flavor from cooking over a fire that takes the meal over the top. If you have a corner in your yard somewhere for this, it's worth it! PLUS, you'll be taking a step toward surviving the sure-to-com Zombie Apocalypse.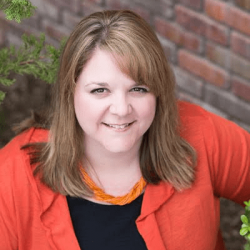 Latest posts by Nicole Burkholder
(see all)