This post may contain affiliate links. Please see my full Disclosure Policy for details.
This Fall, we started a homeschool co-op for our church families. I am "in charge" so to speak, but it truly is a cooperative effort. We meet once a week for three hours to offer enhancement to each family's curriculum. This post isn't necessarily how to start a homeschool co-op as it is how we started one. I searched Pinterest far and wide for resources, and there really are precious few out there. I will share with you what we are doing and how it's going so far.
Co-op Schedule
We meet every Thursday from 9 AM to 12 PM. The course runs for thirteen weeks. We have ten weeks of classes and three field trips scheduled (one each month.)
9:00-9:15 Opening. Arrive, put away backpacks and lunch boxes, say pledges and do presentations. Each week the students stand in front and present something to the class. The first week was a poster about themselves (photos, favorites, etc.) and the weeks following will be a current event for the older students and a show and tell item for the younger ones.
9:15-9:45 Chapel. The church staff teaches the older students and a pair of moms team-teach the younger ones. They are working through a series of character traits and memorizing a Scripture passage to present at the end of the semester.
9:45-10:00 Break. This break is specifically for changing for P.E. and allowing for the parents to get into place for the next block.
10:00-10:30 P.E. Another pair of moms is team-teaching this class for the older kids. They do calisthenics, stretching, running, relays and other cardio activities. Several moms are taking turns leading the younger ones in active games, motion songs, and a million variations of "tag." 🙂
10:30-10:45 Break. This break is for rehydrating, changing back into school clothes and having a small snack before class starts.
10:45-11:30 Class. This semester we are doing a Science course that I found thanks to Pinterest! It was designed specifically for co-ops, so it's laid out weekly and is applicable to students of all ages/grades. Moms signed up for whatever specific subject they wanted to teach. (states of matter, skeletons, dinosaurs, volcanoes, weather, etc.)
11:30-12:00 Lunch. The MOST fun thing for the little ones is getting to bring their lunch in a lunch pail and sit together to eat. So we have lunch together before we leave. One mom is signed up to handle the lunch cleanup and make sure things are put back together before we leave. Then everyone goes home happy!
Where to Begin
Before we started the co-op, the church staff and I sat down together and hashed out that schedule. Of course, we didn't have all the details, but we knew when to meet, where to meet (in an unused Sunday School classroom on the gym floor), what the general schedule was and who would be involved. Then we began promoting it to the church members. We made up a tri-fold brochure with a few details and set a deadline for signing up. The day of the deadline, I hosted a meeting explaining what a co-op was, how the classes would be set up and what the expectations were for those involved. During this meeting, parents paid the fees, signed up to teach/work in the various classes and signed paperwork. We ended up with six 4 and 5 year olds and four older kids (8-13.) We were supposed to have three more older kids but they had a conflict and won't be participating this semester.
Resources
So now I'm going to share some of the things that we've been using, primarily the science curriculum. It's called Science for Homeschool Co-op by Kathy Hutto. She also has a Geography course which we will be doing next semester, a Movie-making course and a Manners course for young children. You would not believe how happy I was to find this! It saved me from having to either trust that everyone would be able to prepare appropriate lessons on their own or writing them all myself! Each lessons comes with a newsletter to send home to the parents and a cool, hands-on activity. Worth every penny! (And it was very few of them, honestly.)
I have also used several game ideas from Pinterest for P.E. activities for the little ones and some great book report forms. The younger kids are doing a Kindergarten/First Grade level report and the older ones are doing a cool Paper Bag Report.
Please remember, this is just what we are doing. It may not work for you and your group, but perhaps seeing it in black and white will give you a jumping off point. And if you already participate in a co-op, I'd LOVE to hear from you. How is yours run? Do you have one teacher per course, or do you share teaching? What subjects do you cover? How large is your group? I'll take any and all ideas! 🙂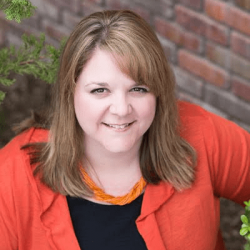 Latest posts by Nicole Burkholder
(see all)