This post may contain affiliate links. Please see my full Disclosure Policy for details.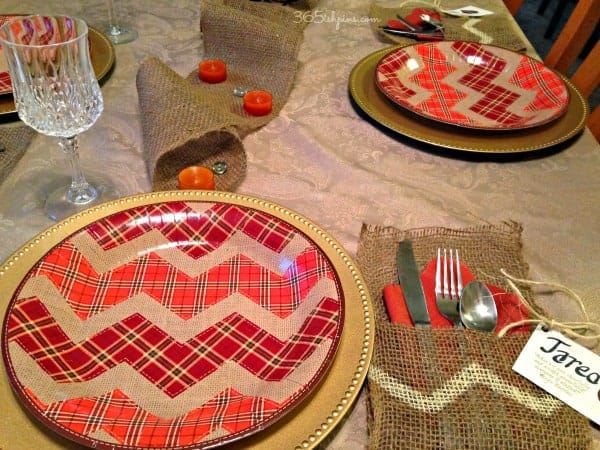 Last year for Thanksgiving (2013), we celebrated in an unusual way: small. Usually, our family Thanksgiving celebration is a huge gathering of family and more food than you could eat in a week. However, last year my parents were touring Israel and Greece over the holiday and two of my brothers were visiting family elsewhere. So it was just our family and my middle brother, Ryan, and his wife and son. They invited another couple along so we had a total of 6 adults and our kids. For the first time since our very first Thanksgiving, I had the opportunity to host dinner and set the table. I decided to go with a casual, yet elegant look and these burlap utensil holders I saw on I heart Naptime pulled the whole setting together. The best part is you can make them in just a few minutes and they are no sew!
DIY No Sew Utensil Holders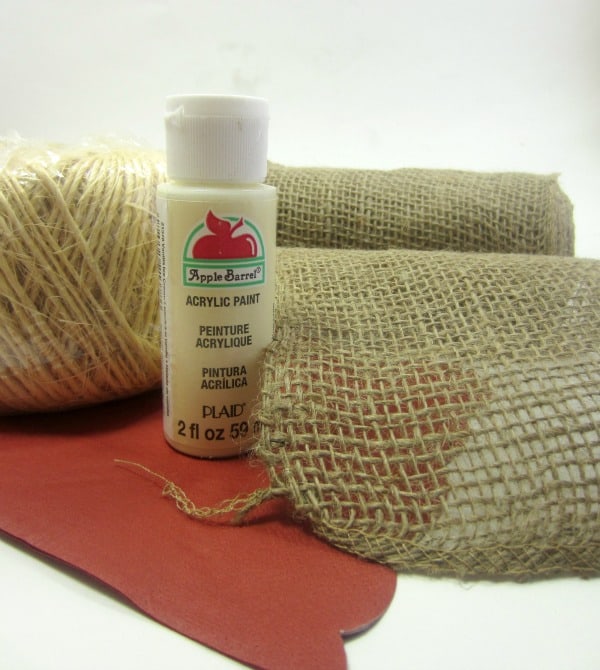 What you'll need:
Burlap ribbon
Scissors and tape
Craft paint, paintbrush
Glue gun/hot glue
Twine
What to do:
Cut burlap in 15″x 5″ strips. (My spool was already 5″ wide, so it was perfect!)
Cut out your stencil and tape across the burlap about 4″ from the bottom (I cut a chevron strip from my paper plates, but you can use anything- stripes, polka dots, whatever suits your decor.)
Paint with craft paint using a dabbing motion.
Fold up the bottom edge about 5″ and fasten with hot glue. It will only take a couple of dots of glue on each side to hold it in place.
Thread a piece of twine through the right side and attach name tags.
Fill with a napkin and place utensils on top!
I used some more of the burlap ribbon to make a runner down the center of the table. I added a few orange tea light candles and some glass beads for sparkle and light. Some fresh flowers pulled everything together. The best part about this is that I chose to use high quality paper plates, making cleanup a breeze! The table in the corner was actually a desk covered with a tablecloth. I set all the dishes on that table and we ate buffet style. While it wasn't our traditional Thanksgiving celebration, I really enjoyed hosting and having a change to decorate my own table last year!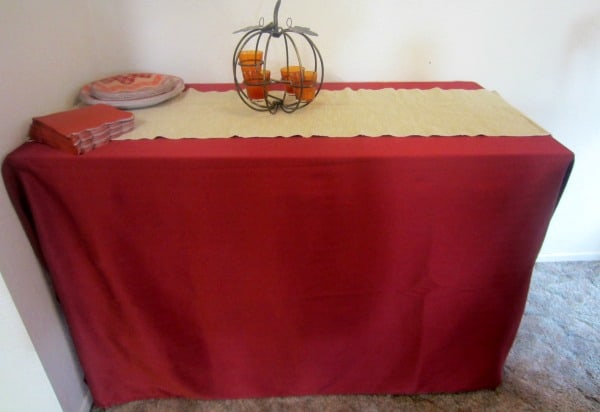 This year (2014), we are all back in town and will have even more family visiting. My parents will be hosting and hopefully soon I'll be sharing a grand and elegant table setting with golds and purples. I can't wait to decorate their giant table! 🙂 What are your plans for Thanksgiving this year?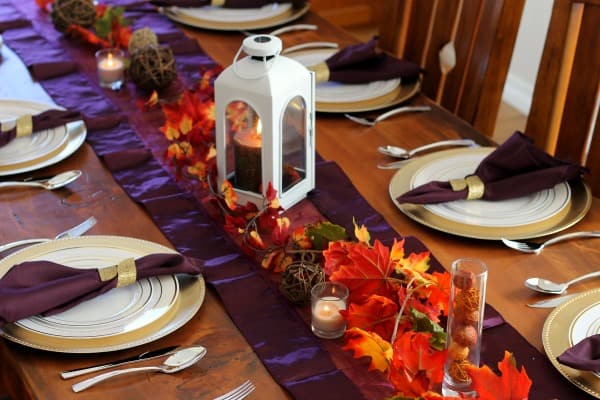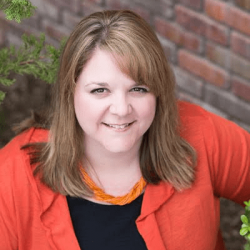 Latest posts by Nicole Burkholder
(see all)