This post may contain affiliate links. Please see my full Disclosure Policy for details.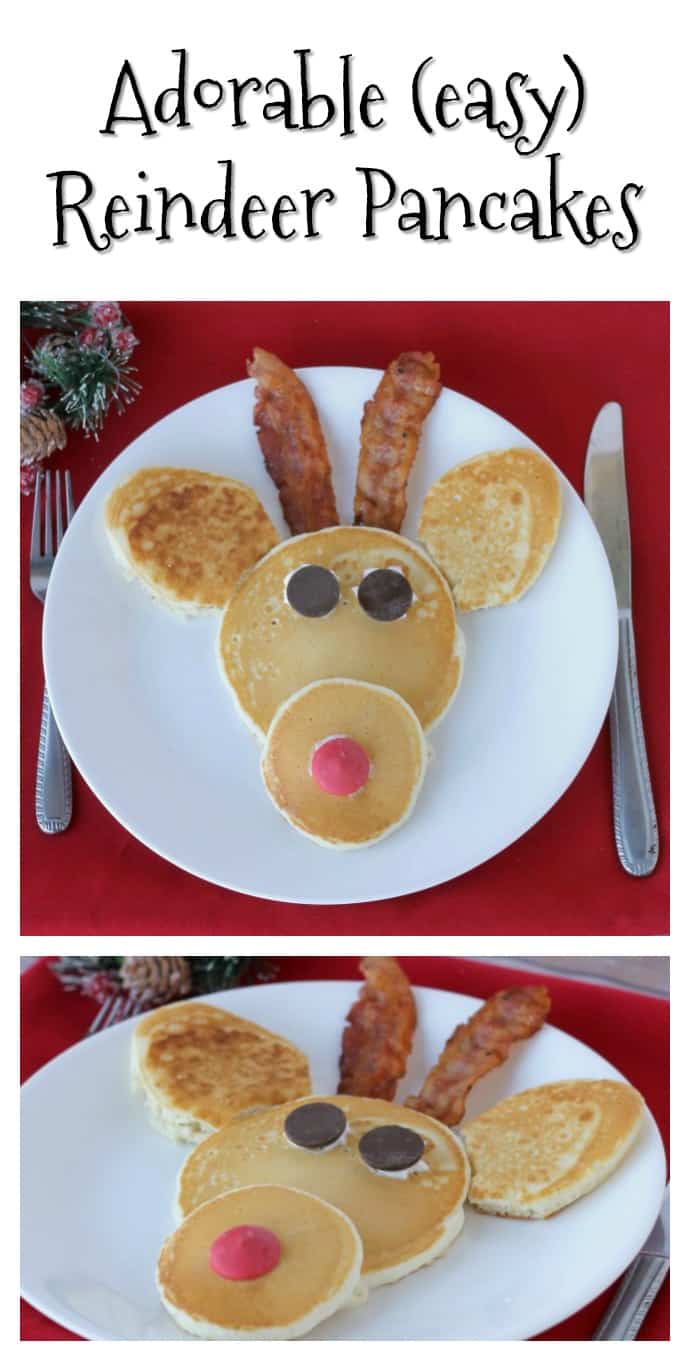 Make these cute Reindeer Pancakes for Christmas breakfast this year! No need to head to a restaurant-they are easy to make at home!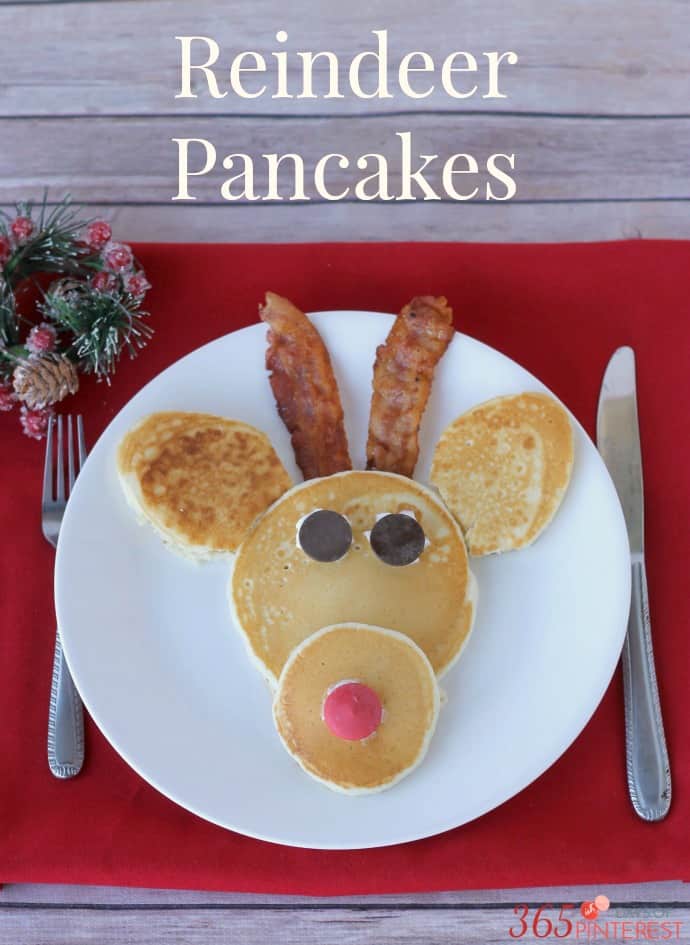 My husband manages a well-known diner we'll call "Lenny's." They have switched over to the new Christmas module (as we call it in the biz) 😉 and are now serving things like pumpkin pie, pecan pie and these cute little reindeer pancakes. Having never met a pancake that I didn't like, I took it upon myself to recreate them at home.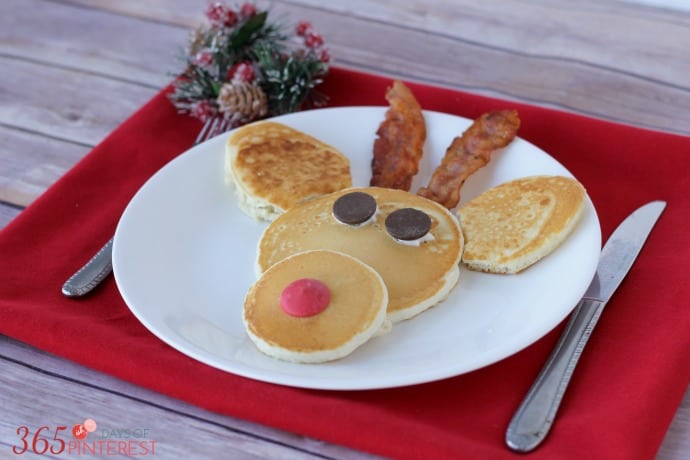 What you'll need to make Reindeer Pancakes:
Favorite pancake recipe (I just tried Krusteaz brand mix and it's great)
Bacon
Chocolate melting discs (milk chocolate and red discs)
Whipped cream, optional
Rudolph is made from 3 or 4 pancakes (depending on how you make the ears.) Make one large pancake and then another one just about half the size. These will be the head.
For the ears, I used my egg-shaped cookie cutter. To keep from wasting batter, I actually placed the cookie cutter directly on the griddle and poured the batter inside it (after greasing the inside of the blades.) The cookie cutter was metal, with a rubber top, so it was perfect. If you don't have something like that, you could make one large pancake and simply cut out the two ears using a knife or cookie cutter. I trimmed off the edges so they weren't so "egg-shaped" and they would fit right up against the reindeer's head.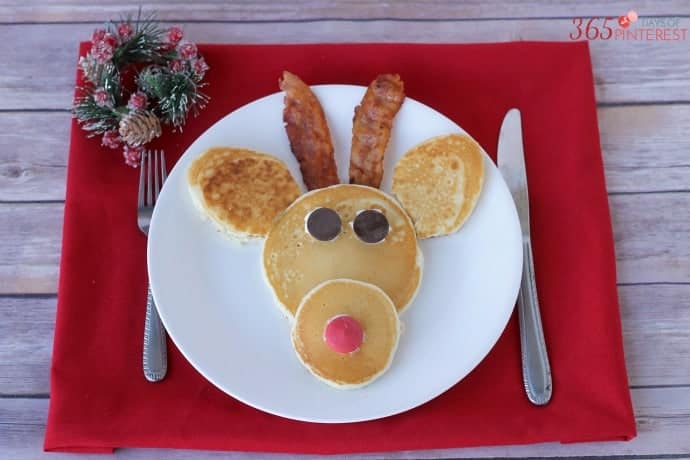 For the finishing touches, simply place two strips of bacon on top of the head for antlers and add the eyes and nose. I used a little squirt of whipped cream to hold the eyes and nose (chocolate melting discs) in place. Be sure to let the pancakes cool before adding them, or they will slide down and you'll have a very depressed-looking reindeer.
Honestly, I think my reindeer is much cuter than Lenny's. They don't have ears on their reindeer. That's just weird. Sorry, Lenny's. I win.
Pancake making tips from the expert (aka Lenny's management):
Use COLD water (32-35 degrees) to make your batter. It will give you thick, fluffy pancakes.
Don't spray the pan with butter or cooking spray. It will leave a mottled brown color instead of an even golden one. Notice the ears in my photo above vs. the head.
Pancake batter made cold, kept covered and cold in the refrigerator will last a couple of days.
If you're into cute Christmas food (really now, who WOULDN'T be?) then you are going to love these Elf Cupcakes that I posted last week!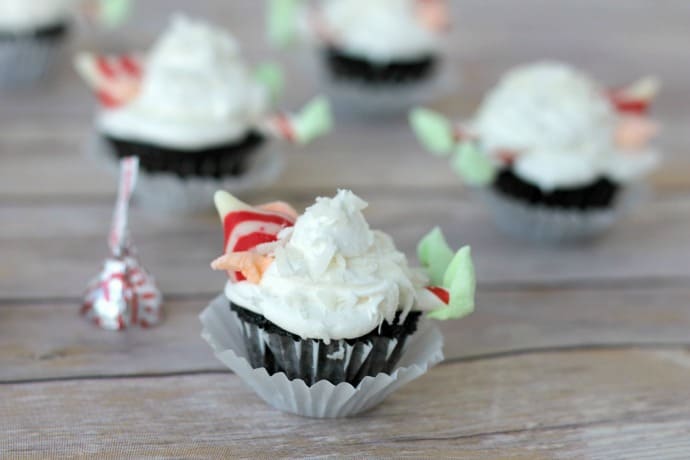 Don't forget to pin these cute Reindeer Pancakes for later!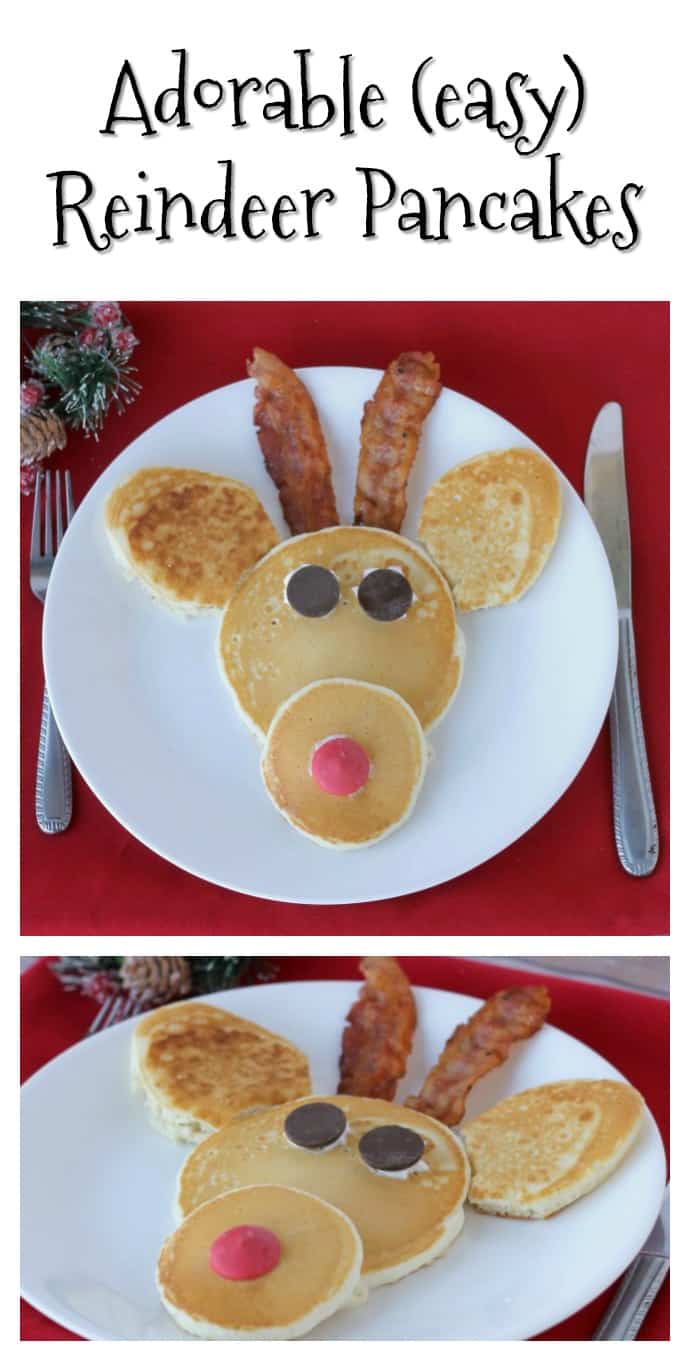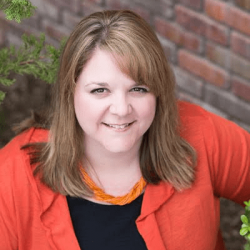 Latest posts by Nicole Burkholder
(see all)