This post may contain affiliate links. Please see my full Disclosure Policy for details.
Learn how to use the Crockpot Express Crisp-a new pressure cooker that comes with a lid for air frying!
I've had my original 6 qt Crockpot Express Multi-Cooker for a few years now. It gets used so much that I have a rolling cart where it lives instead of putting it away in the cupboards. Recently, Crockpot released a new model- the Crockpot Express Crisp and I decided I just HAD to get one (you know, for research.) 😉
What's the difference between the Crockpot Express Crisp and the original Crockpot Express Multi-Cooker?
The new CPE Crisp is a complete unit. It's not just a crisping lid. The 8 quart unit comes with both a pressure cooking lid and a crisping lid. You also get a reversible cooking rack/trivet for holding food and a cooling rack for the crisp lid.
This new unit has all the same settings as the original CPE, plus a few new ones like Manual, Saute, Simmer and, of course, Air Fry/Crisp. I did a live video in the Crockpot Express Community on Facebook showing the pot and some of the features.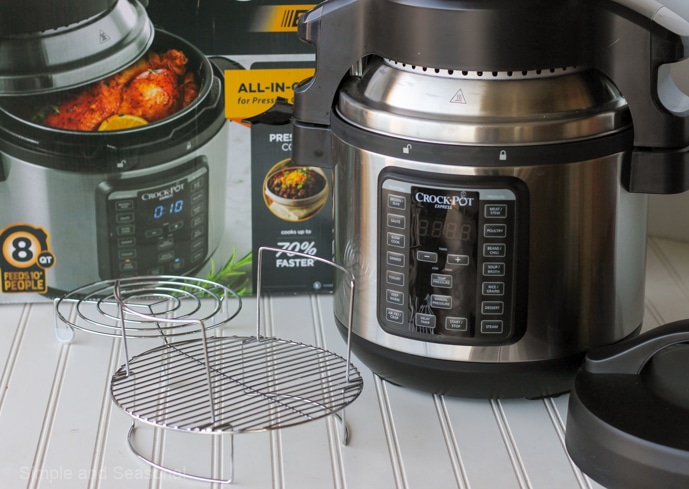 How do you use the reversible cooking rack in the Crockpot Express Crisp?
For larger foods like a whole chicken, roast, etc. use the low position (2 inch side on the bottom.) The higher handles help to hold the food in place and make it easier to remove when it's finished.
For small foods such as french fries, vegetables, shrimp, etc. use the high position (4 inch side on the bottom.) If it will fit, use the high position as much as possible, since you get closer to the heat source and will get crispier results.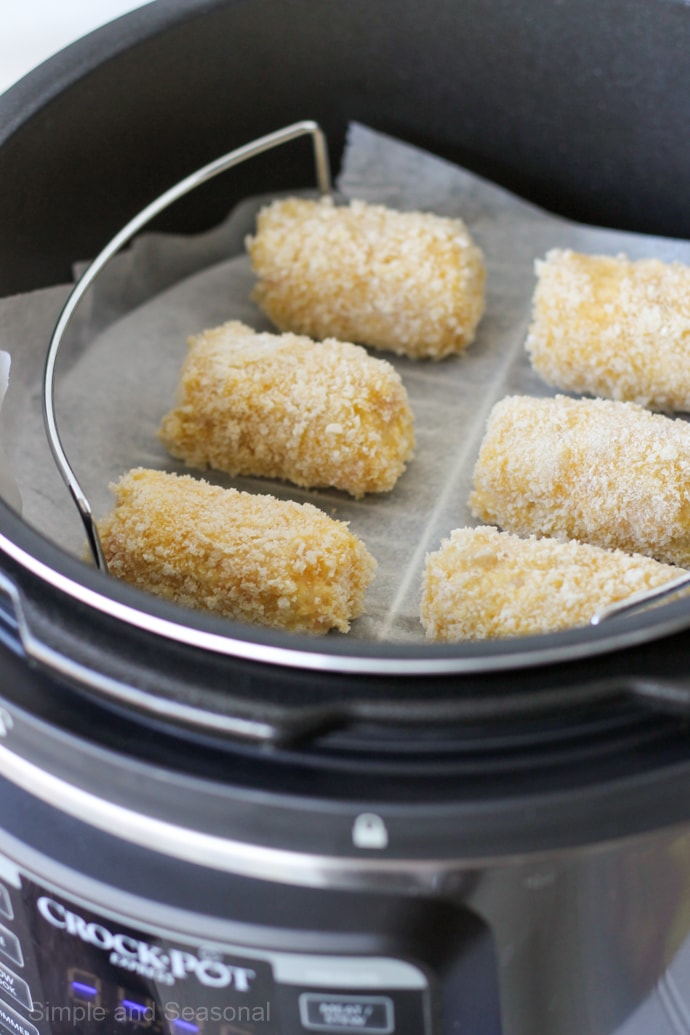 I don't want a whole new unit. Can I just get a crisping lid?
You can, but not from Crockpot. This only comes as a unit, since the power source is built into the pot handles. The other option would be to purchase something like the Mealthy CrispLid. It works with multiple brands of pressure cookers and the one linked there comes with a fryer basket and some other accessories.
The caveat for CPE users, though, is you will also need to purchase a stainless steel insert because Mealthy says their unit is not safe to use on non-stick pots. You can find stainless steel inner pots that will fit and work fine for crisping, but do not use them for pressure cooking.
They are not designed to work with the CPE and countless users have purchased, tried and ultimately returned inner pots that claim they do. Stick with Crockpot brand inner pots for pressure cooking, but for things like crisping or yogurt, feel free to use any pot that fits.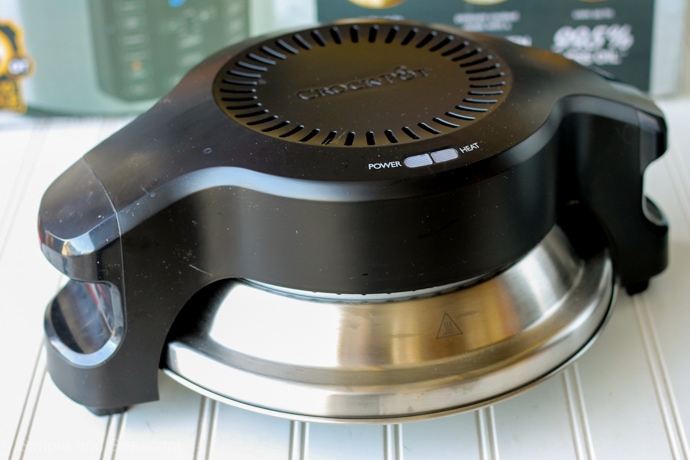 This is the crisping lid. It's pretty big but not heavy. It's surprisingly quiet while it's running. The lid and handles are easy to pick up, and the cooling rack is handy for having a place to set it down, especially when you're in the middle of a cooking cycle.
The crisping lid attaches directly to the handles on the pot. This is the power source, which is nice. There's no need to plug in an additional attachment like you would with a separate crisping lid.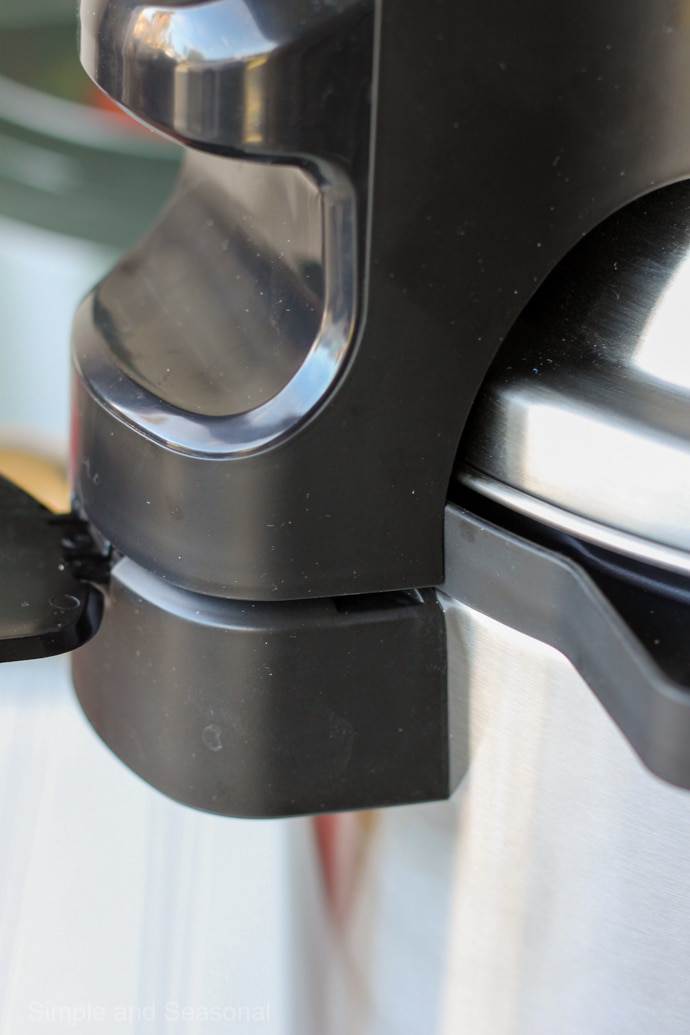 Once the lid locks in, the button for Air Fry/Crisp is automatically selected. It won't even turn on if the lid isn't in place. Then you simply choose the time you want and hit Start/Stop. High is 400 degrees F and Low is 350 degrees F.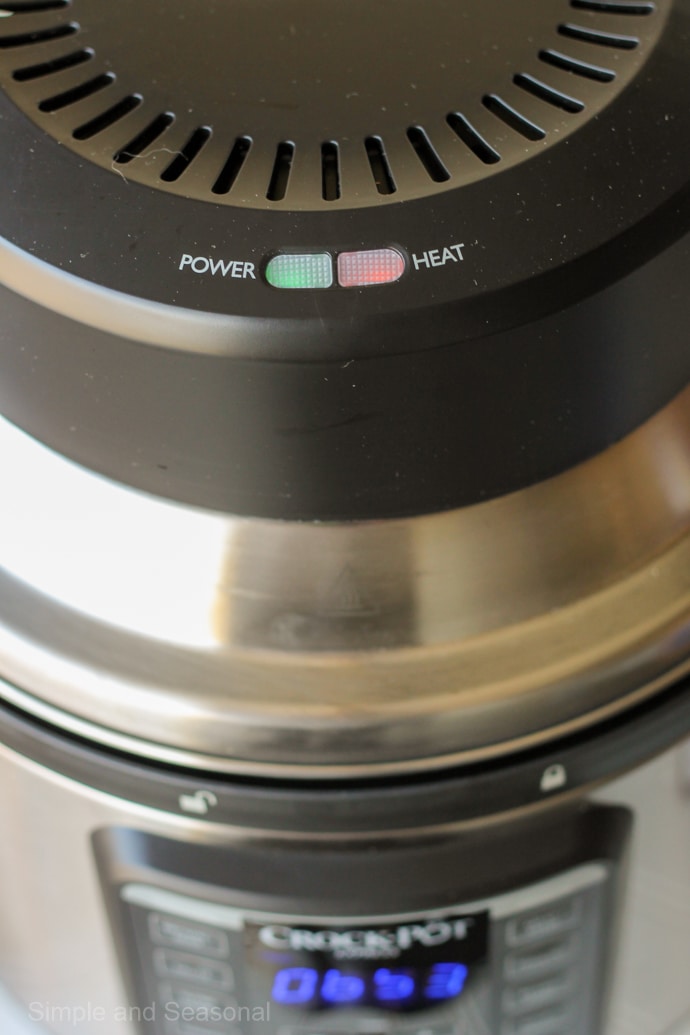 The power button comes on as soon as you hit Start/Stop and then within a few second the heat button lights up as well. It starts cooking right away, and is very quiet while it's running.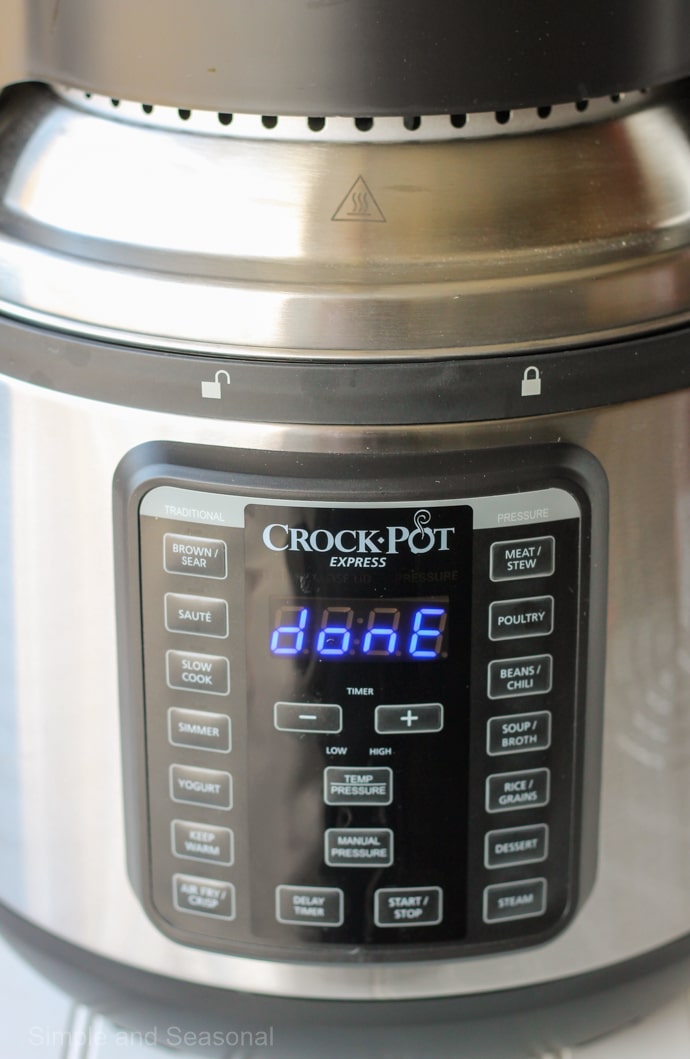 When the time is up, the screen will read "done." I have found that if I go from this "done" screen and restart a new cycle, inevitably the lid will turn off after a couple minutes. I think this is because there's an automatic shut-off that kicks in 3 minutes after the end of a cycle.
If it does shut off mid-cycle, simply turn it back on and adjust your time as needed. I've never had it shut off after restarting.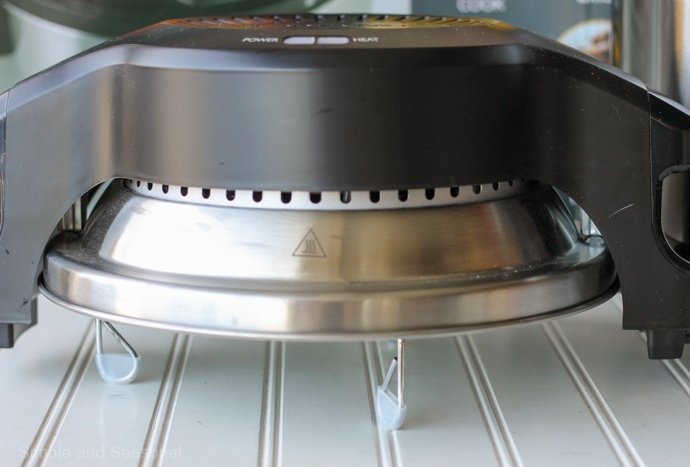 When you're finished cooking, or if you need to turn the food and start another cycle, you set the lid down on the cooling rack. It stays hot for quite a while afterwards, so be careful!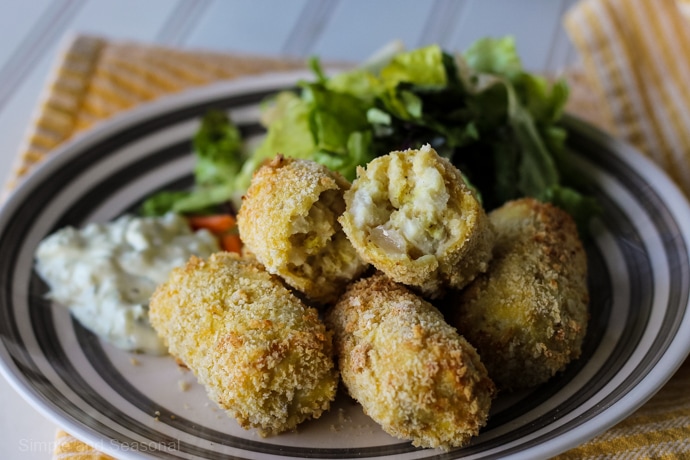 What are the pros and cons of air frying?
OK, so I'll be totally honest here. Air frying with a unit like this isn't great for large family sized meals. Even with a "deep" basket that's two inches tall, you can't get a lot of food in at once. Crowding or stacking it won't work because you need air flow to get a nice crisp finish. So be prepared to do multiple batches or use it for smaller portions and individual meals.
The photo above of my "fish fingers" is a good example. I cooked 6 fish sticks together, and they took about 16 minutes total to cook through. They were thicker than frozen/boxed fish sticks would be, but still, it's a bit limited. I had 32 fish sticks to cook. There's no way I was going to air fry them all.
But, they certainly are much healthier without being deep fried in oil! If you are really looking to cut calories and fat, or cooking for a couple people, then air frying is the way to go!
I cooked the rest of the fish sticks in oil on the stove top like I would normally do. They cooked in 3 minutes and turned that beautiful golden color you want to see. However, my house did stink like frying oil for the rest of the night, which puts another vote in the "pro" column for air frying. 🙂
Should I purchase the Crockpot Express Crisp?
A combination unit like the Crockpot Express Crisp is great because you're getting a pressure cooker, which you'll use a lot more than just the crisping lid. You can do things like a whole chicken or brisket under pressure, and then switch out the lids and add a nice crisp finish.
If you don't already have a Crockpot Express unit of any kind, I would definitely suggest purchasing the CPE Crisp because then you'll have both options.
If you do already have a unit you love, you may still get good use from having a second pot. I know I've used both pots simultaneously already, and it's been nice to have that option. Cooking whole chicken in one and rice or another side dish in the other pot is a nice feature.
The cost of purchasing a lid like the Mealthy CrispLid is going to be about $65 plus the cost of getting a stainless steel insert (about $25.) They do have sales and you may be able to score one for cheaper, so it's worth keeping an eye on it.
Right now, the only place you can purchase the Crockpot Express Crisp unit is Kohl's department store. They are available online at Kohl's.com as well. They are priced at $199 but with coupons and sales, you can usually get it closer to $150.
Long story short, I can't tell you what is the right decision for you. 😉 For me, I'm happy to have a second (larger) pot, and I would not have wanted to purchase just a crisping lid, since I don't use it nearly as often as I do the regular pressure cooker. It's just not practical for a large family. BUT, I love the option to crisp up my food easily after cooking!
Where can I find recipes for the Crockpot Express Crisp?
As I use it more, I'll be posting recipes here on my site. The recipe for these delicious fish sticks will be going up soon. You can use it with your own recipes and just treat it as a way to crisp things up after cooking, rather than "air frying."
The unit also comes with a recipe booklet. Some of them sound really great, but note the cook times and how many batches you'll have to do to finish the recipes. Again, air frying is NOT a faster way of cooking (which is a hard mindset to get out of when you're used to pressure cooking.) But it's definitely healthier and some of the recipes sound great.
I don't trust their booklets 100%, though, mostly because the photos do NOT match the recipes in every case. As I flipped through it, I had to give a giant eye roll at the "apple pie" recipe that somehow magically has crust underneath and on top (like a typical apple pie) and yet the recipe only calls for a top crust. So take the booklet with a grain of salt. 😉
Pinterest is full of links to great blogs that post air fryer recipes regularly. The process is similar, and you should be able to "convert" the recipes without too much trouble. Just like learning to pressure cook, there's a bit of a process but eventually you'll be confident enough to try things on your own!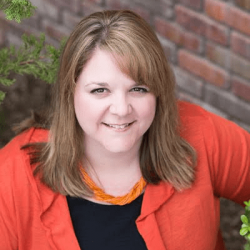 Latest posts by Nicole Burkholder
(see all)