This post may contain affiliate links. Please see my full Disclosure Policy for details.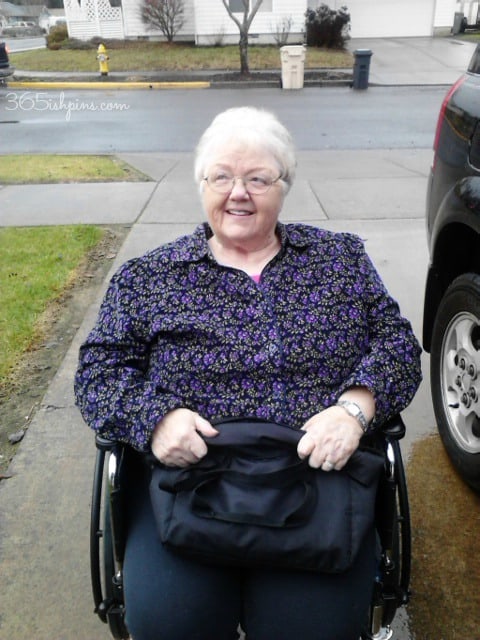 I don't usually mail anyone an Easter card or do Easter crafts, but this year we are making an exception for a very special lady. This is Elinora Engwall: Chris to her friends, Grandma Engwall to many and Mimi to the little ones.
Over a year ago, she walked into the hospital for surgery on her spine to repair badly twisted vertebrae, and due to a host of complications, she's now mostly confined to a wheelchair. She can walk with some assistance, and is determined to get back on her feet for good, but for now she's sporting a pair of wheels.
See that lovely smile? It's always there. My grandma is the toughest lady I know. She met my Grandpa while traveling around to Swedish Baptist churches with something called God's Invasion Army. Just months after they were married she was left alone with a new baby, far away from family and friends and her home country, while he shipped out to Alaska after being drafted during the Korean War.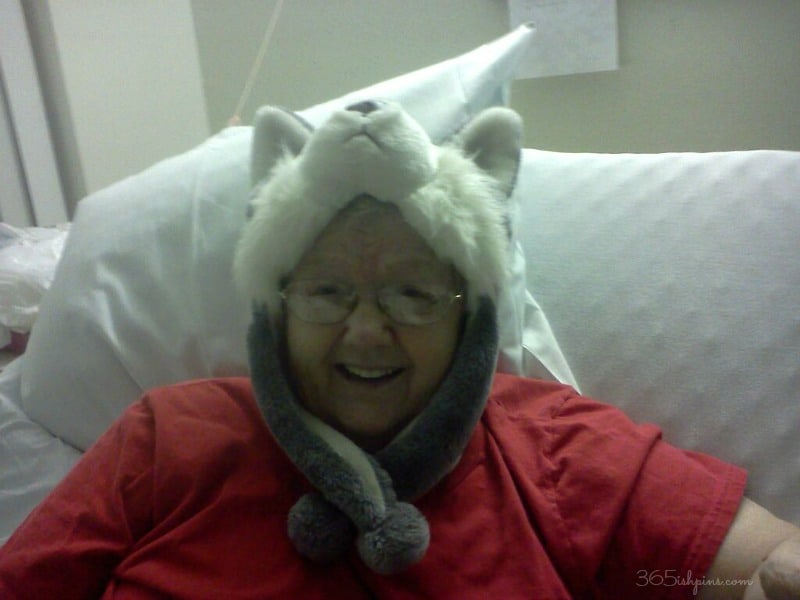 When Grandpa returned, they raised a son, daughter (my mom) and twins-a boy and a girl. Grandpa was the pastor of a small church in a small town in Oregon, and she was by his side. She helped to raise her grandkids and spent seven long years nursing Grandpa as he struggled with congestive heart failure.
Through it all she has been kind, loving, silly, witty and a faithful prayer warrior. She keeps notes and lists of people to pray for when she's awake in the middle of the night because of pain.
She always said she didn't want to grow old and become one of those crotchety old ladies who complains about everything. Anyone who has met her can tell you, she's definitely NOT a grouchy old woman!
I could go on and on about Grandma (Mimi), but I'll get to the point. Sadly, my boys have never even met her. Well, Bryce has, but he is too young to remember.
So, to encourage that sense of connection with family and our family history, we often talk about Grandma Engwall. The boys pray for her to get better every night before bed.
I send new photos in the mail and little cards whenever I can. My mom goes up to visit every couple of months and always comes home with little gifts for the boys from Grandma. We even used FaceTime a few times to chat with her.
This year, I let them pick out cards to send to Grandma for Easter. Thanks to the value section, I could afford to let them each pick a card. How fun for Grandma to get a full mailbox of cards and some easy Easter crafts from her great-grandsons way down in California!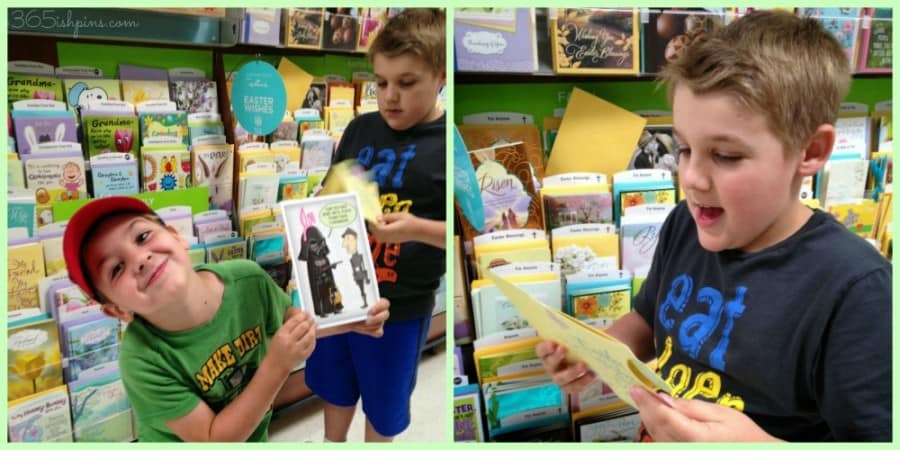 Henry really wanted to get her this Darth Vader card, but I'm pretty sure Mimi has never even seen Star Wars. Bryce, on the other hand, carefully inspected and read several cards out loud before choosing one to purchase.
The prices were so good, I stocked up on cards to send Grandma in the coming months, just to say hello. We even got Easter cards for Gramps and Mem, who live up in Northern California.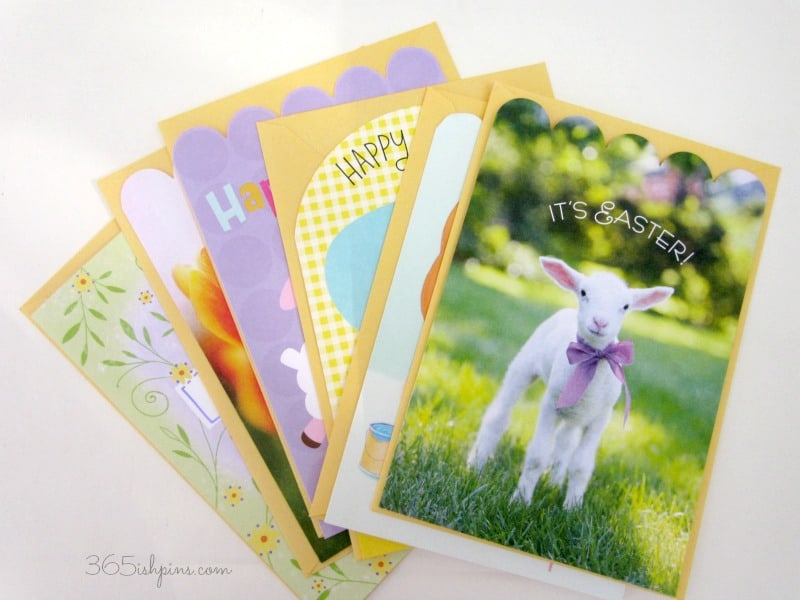 I didn't want to send an empty card to Mimi, so I wandered the halls of Pinterest in search of inspiration. I needed easy paper crafts that the kids would do. I also needed something that would fit inside a card. I ended up with three different Easter crafts that will brighten Grandma's day and hopefully make her feel extra special!
1. Paper Chains and "Snowflake" Eggs
I'd like to start this off with a "keeping it real" kind of photo. Did you ever make paper doll chains as a kid? These are supposed to be easy. Apparently the pioneer children were much more intelligent that I am, because this is what my table looked liked after many, many, many practice runs on scrap paper. I'm glad I waited to use my good Easter paper!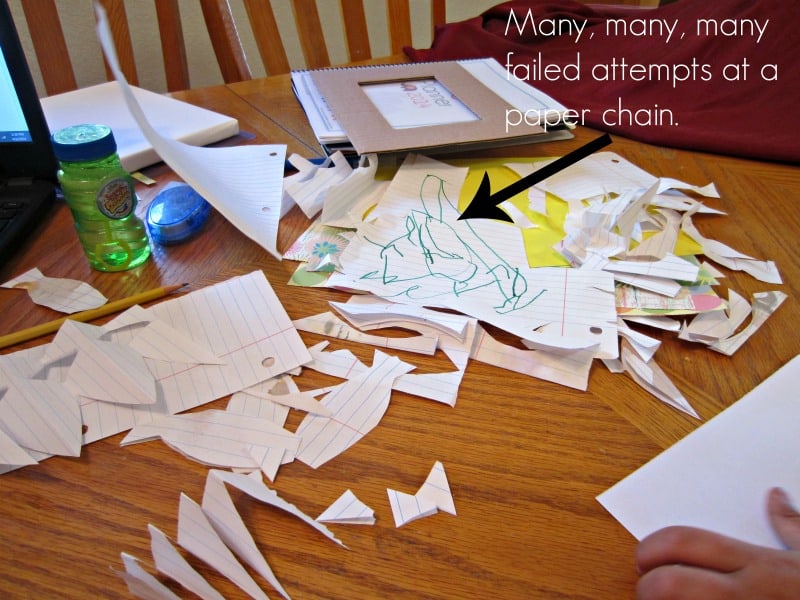 So, in case the logic in this doesn't come naturally to you, here's what I did. Cut a strip of paper about 4″ tall and as long you'd like the chain to be. (I was using scraps of 12×12 coordinating Easter scrapbook paper left over from my Easter Egg Paper Art project.) Then fold over about 2″ in an accordion-style fold so it looks like this: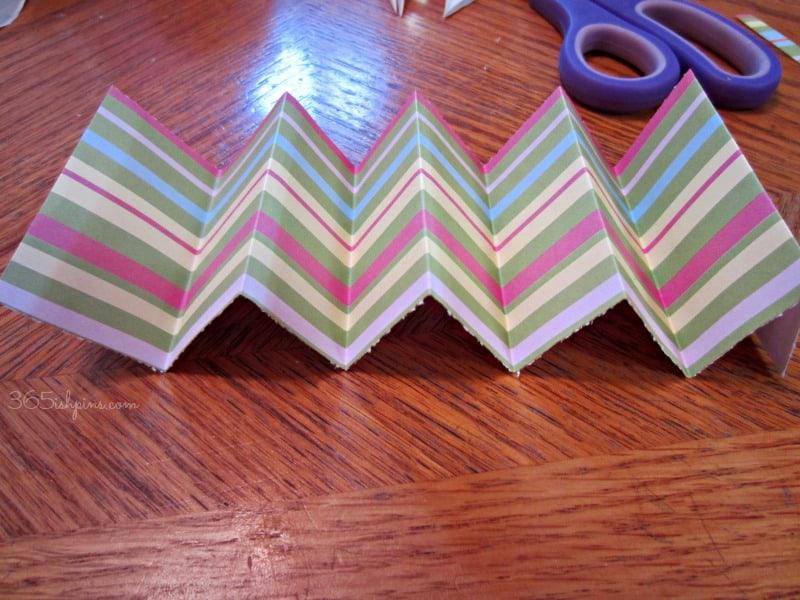 Next, fold paper back up and draw half of your design against the folded edge (not the open one.) The key to this, and coincidentally, the cause of my huge mess, is to draw your design all the way from edge to edge. You don't want to completely cut around it, or you'll lose the connection between folds. I chose a simple carrot design because I'm not an artist and a paper bunny was NOT happening. 🙂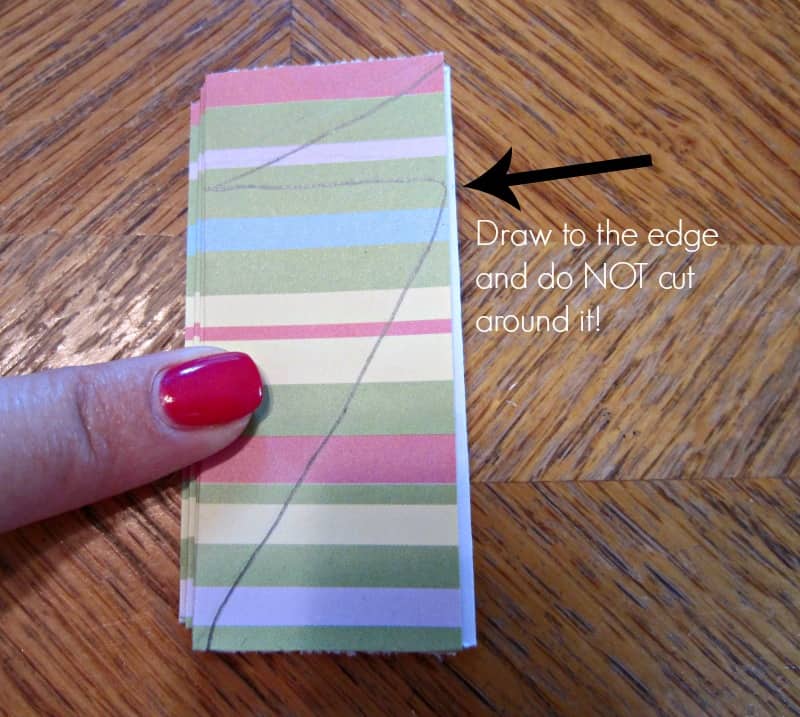 So you see, you're going to cut from the bottom, up the diagonal line and OFF the paper. NOT around the corner there. Then you'll make a second cut for the top of the carrot and the sprout top. And hopefully, when it's done, it will look like this.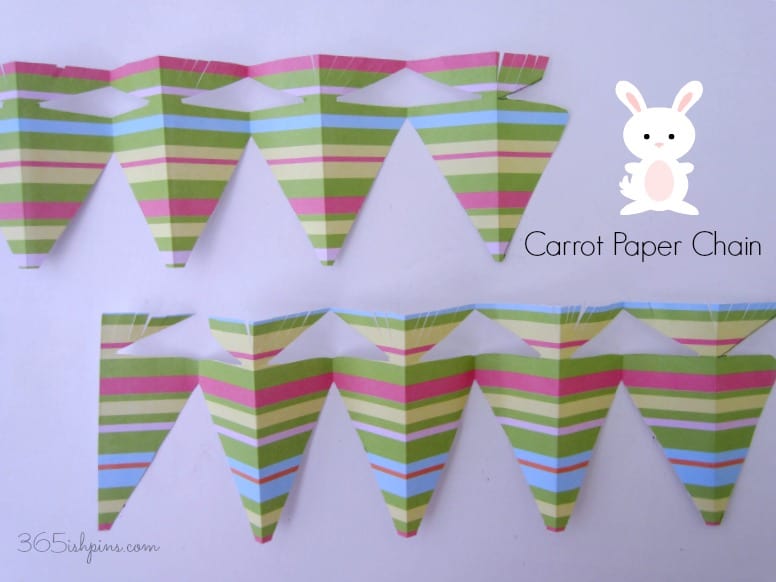 After feeling a little bit like a dummy for not figuring that out sooner, I had the kids help make paper "snowflakes" using egg-shaped pieces of paper. Just cut an egg out of a piece of paper and fold over on itself several times. Then make cuts on the folded edges to create a pretty design.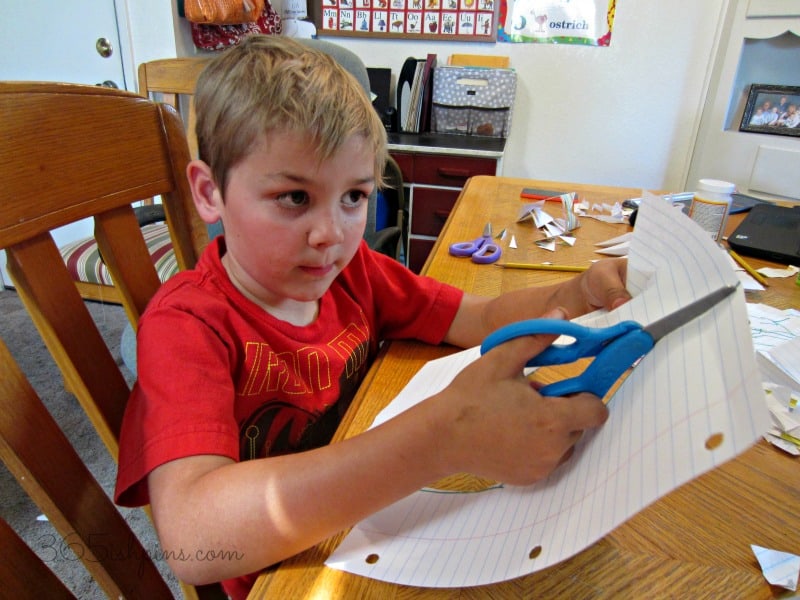 2. Easter Chicks with Hand Print Wings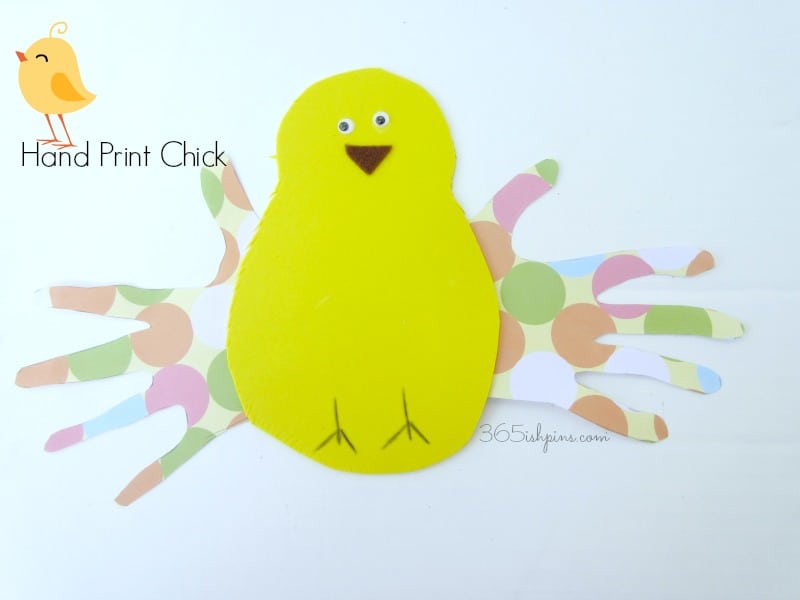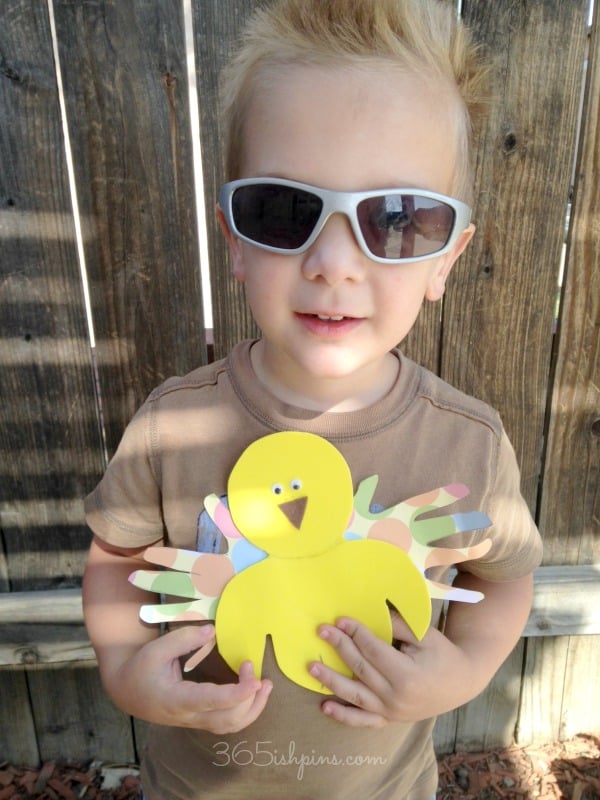 These are easy, I promise. I just traced Henry and Charlie's hands and then glued them on as the chick's wings. A couple googly eyes and a felt triangle for the beak and it's done! I was going to do something different with Charlie's, but he insisted on having one just like Henry. I like hand print crafts anyway, since they save a moment in time in a tangible way.
3. Mail a Hug
I think Grandma will like this one the best, because it shows how big Bryce has grown over the years. First, trace an adorable child's hands on paper. Then, have them stretch out their arms and measure a piece of ribbon or twine from one hand to the other. Last, attach the ribbon to the back of the hands. Ta da! A hug that will fit in a card! When Mimi opens her card, she can take Bryce's hands and wrap them around her.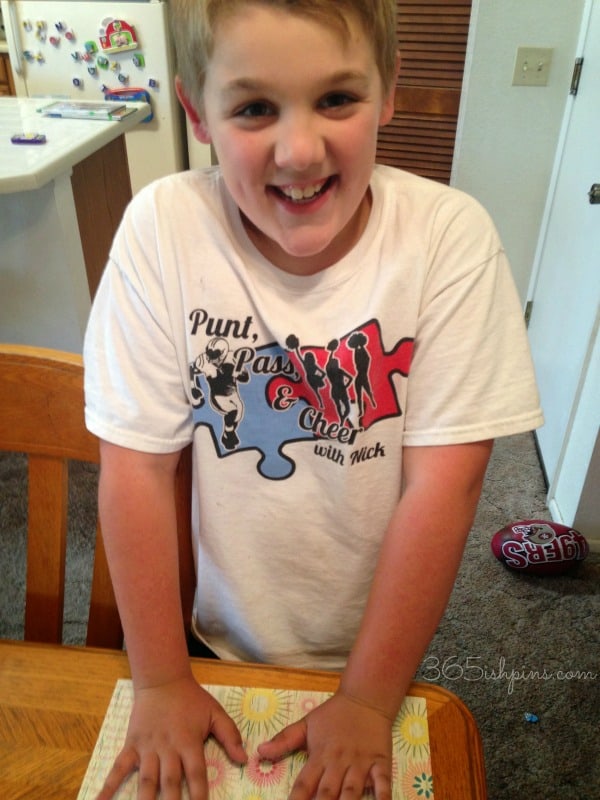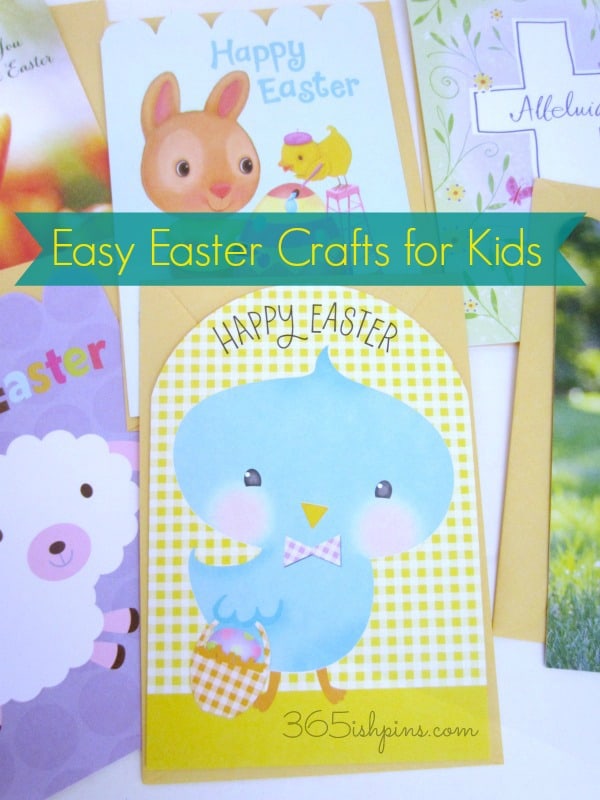 This post was originally sponsored by Hallmark.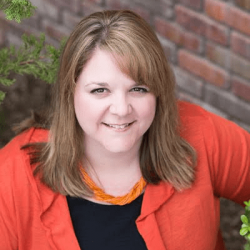 Latest posts by Nicole Burkholder
(see all)