This post may contain affiliate links. Please see my full Disclosure Policy for details.
This is a sponsored post written by me on behalf of The Hershey Company. All opinions are 100% mine.
This year, celebrate Easter with a unique edible Easter basket stuffed full of #HersheysEaster candy!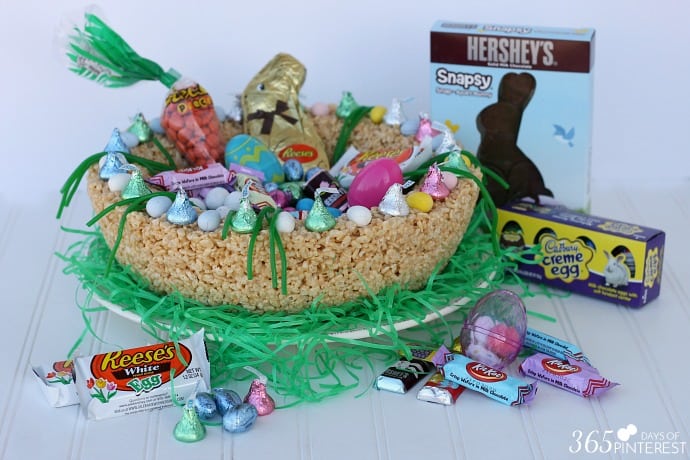 Sunny days, green grass, blooming flowers…everything about spring is a celebration! When I was a little girl, I celebrated Easter wearing a brand new frilly dress, a white hat and shiny new white shoes that hadn't been scuffed up yet. We would wake up on Easter morning and find baskets stuffed with candy on the table and then run around the house searching for Hershey's Chocolate Eggs under pillows and behind books on the shelf. It was always a contest to see who would find the most. 😉 For my boys, I decided a few years ago to consolidate to one larger basket since all the candy eventually gets shared anyway. This year, I took it up a notch and created an edible Easter basket!
Marshmallow crispy treats are one of my favorite treats and perfect for molding into fun shapes like pumpkins, basketballs or Easter baskets!
Edible Easter Basket
Large bowl (wide and shallow) for molding
3/4 cup butter (1 1/2 sticks)
12 cups mini marshmallows
15 cups crispy rice cereal
Optional-Whoppers Mini Robin Eggs Candy for stuffing inside
Cadbury Mini Eggs Candy and Hershey's Kisses Candy
In a large saucepan over low heat, melt the butter and marshmallows, stirring together until smooth.
Remove from heat and add the cereal, stirring until well-coated.
Grease the bowl with butter and then add the mixture to the bowl while still warm.
Grease your hands with butter and then press into the bottom and up the sides of the bowl.
If you choose to stuff with the candy eggs, add half of the mixture to the bowl, press the eggs into the sides and then cover up with the rest of the mixture.
After the bowl is shaped evenly, add chocolates around the edges for a finishing touch!
NOTE: if you don't have a large enough pan or have difficulty stirring such a large batch, simply divide the recipe into half or thirds and do a little bit at a time.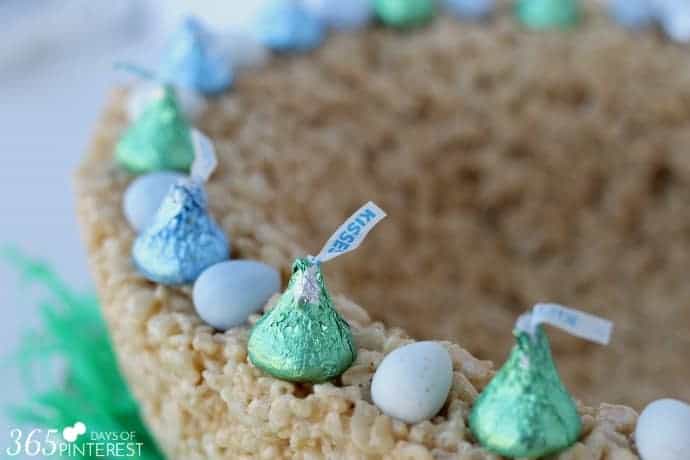 Now comes the best part: filling this delicious basket with even more delicious chocolates and candies for a special Easter treat! Daddy has already laid claim to the Reese's Pieces "carrot" and Mommy is claiming the Cadbury Crème Eggs. The boys will enjoy the rest. OK, maybe I'll sneak a Reese's Peanut Butter Egg here and there. 😉 Even the "grass" in my basket was edible! Charlie keeps calling them "tweezers" but they really mean Twizzlers Green Apple Easter Grass Candy. 🙂 All of these goodies are available at retailers nationwide, so hop (see what I did there?) over to your favorite store and load up!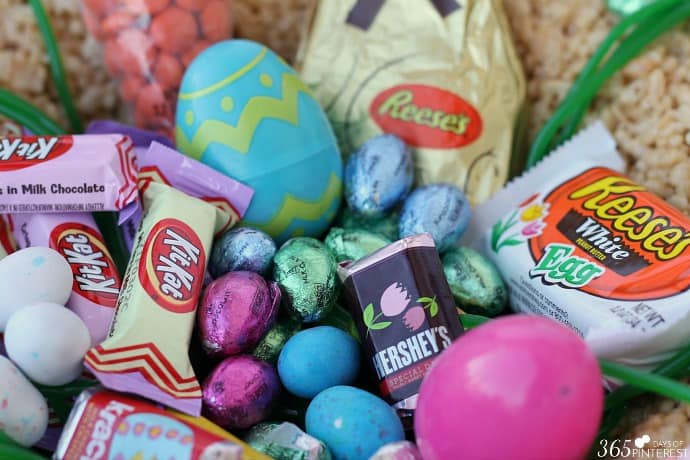 When your edible basket is all empty again, just slice it up or tear off a chunk and munch away! This is perfect for an Easter party, too. You don't need to worry about remembering to bring home your dish. 🙂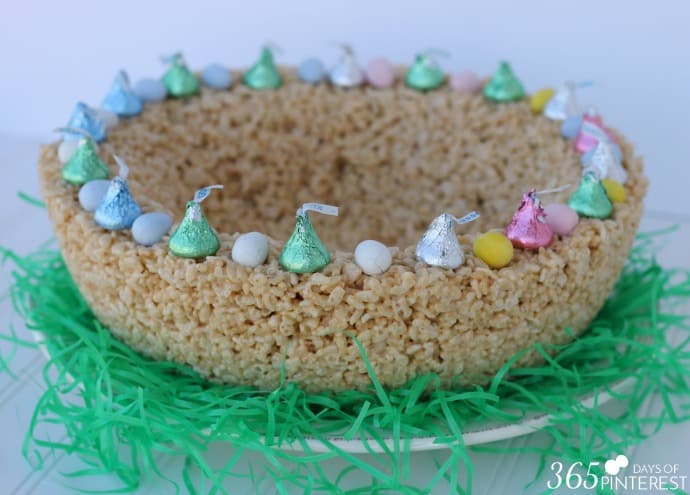 Head over to Celebrate with Hershey's to read more Easter crafts and treats!
Love this edible Easter basket? Pin it for next year!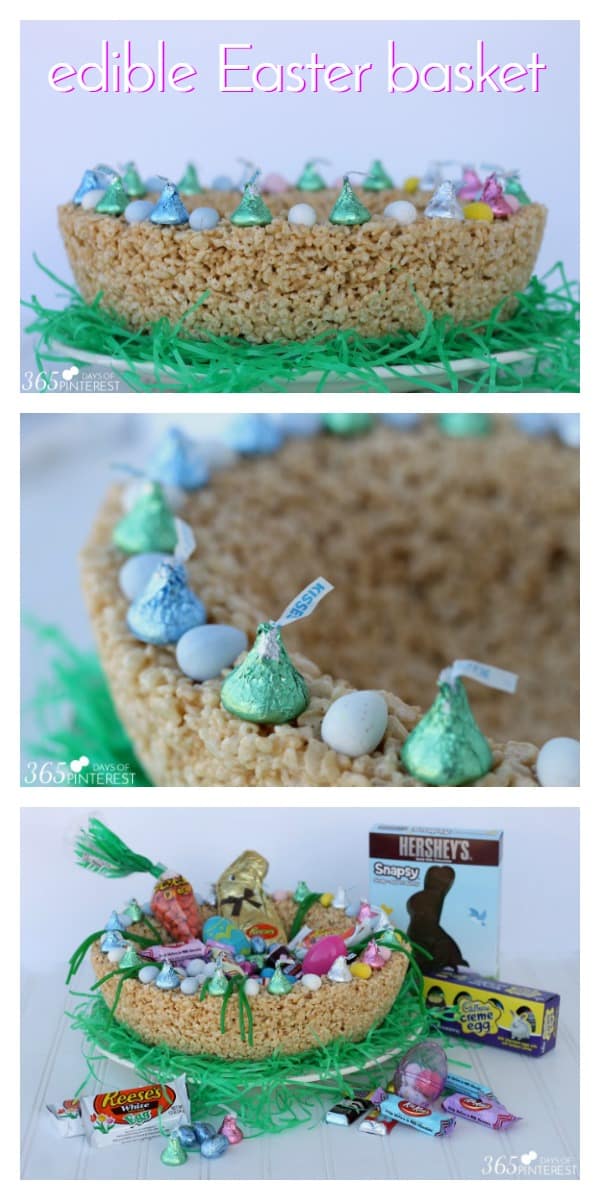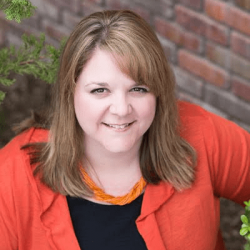 Latest posts by Nicole Burkholder
(see all)