This post may contain affiliate links. Please see my full Disclosure Policy for details.
I'll be the first one to admit, this meal doesn't exactly make you feel like a conquering hero in the kitchen. It's a meal from a box, a bag and a can. I almost felt guilty while I was making it! But I reminded myself that it was still way better than fast food or even restaurant food in most cases. It's also full of veggies and a great way to use up leftover chicken. And it turned out to be quite tasty. I'm a big fan of Stove Top stuffing. Stuffing has always been my favorite part of the Thanksgiving meal. Some years I don't even have turkey. It's all about the side dishes for me!
Prep time for this meal was less than ten minutes. I cooked a whole chicken in the crock pot a few days ago and froze the pieces I didn't use that night. So I had already cooked chicken ready to go (a rotisserie chicken from the grocery store would work well, too). I dumped a bag of frozen veggies in a 9×13 pan and mixed a can of cream of chicken soup and about 1/3 cup of sour cream in with the veggies. Then I pulled apart my chicken and mixed the pieces in with the veggie mixture.
When the stuffing was ready (cooked on the stove according to box directions), I poured it over the top and stuck it in the oven at 350° for about 20 minutes. I didn't really time it- I just checked to make sure the veggies were done. While not a dramatic or entirely creative meal, it was tasty and will make good leftovers for lunch!
Ingredients
2 cups cooked chicken, cubed or shredded
1 bag frozen vegetable mix
1 can cream of mushroom soup
1/3 cup sour cream
1 box Stovetop Stuffing, cooked according to package directions
Directions
Mix chicken, vegetables, soup and sour cream together and put in 9×13 casserole dish. Cook stuffing according to directions on the box and then pour over top of the veggie/chicken mixture. Bake at 350° until vegetables are cooked through (about 15-20 minutes)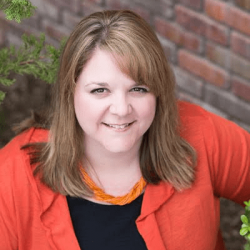 Latest posts by Nicole Burkholder
(see all)