This post may contain affiliate links. Please see my full Disclosure Policy for details.
WHY doesn't IKEA have a shipping department?!? I have been wanting to do this project for months, but the closest IKEA to us is in San Diego, so it's not like I can just run out to the store really quickly. The other day, however, I was in San Diego to pick up my sister in law from the airport, so I made a stop at everyone's favorite export from Sweden. Somehow, in that GIGANTIC store, there was only one spice rack left-and that one was the display. I wish I could just order it online and be finished with it! I need at least four shelves, but for now, one will have to do. So today, I hung the sad, lonely spice rack on the wall of my boys' room to hold the inevitable stray books that wander off the bookshelves in the playroom.
This is also the perfect parking spot for all the library books we collect during our outings. Well, some of the books, for now. As soon as I can purchase a complete set, we'll have enough space for our books. The shelves are sturdy, can be painted any color (I left mine the natural birch for now) and look nice than cluttered bookshelves. AND they are the perfect size to hang them behind the door so you're using what's normally wasted wall space. I'm in no way claiming this idea as my own. There are so many pins about creating adorable reading nooks. That's exactly why there weren't any on the shelves at IKEA. The lady in the yellow shirt told me they can't keep them stocked. I suppose that's a side effect of being a popular pin! This is the one that served as my inspiration.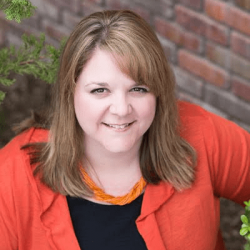 Latest posts by Nicole Burkholder
(see all)