This post may contain affiliate links. Please see my full Disclosure Policy for details.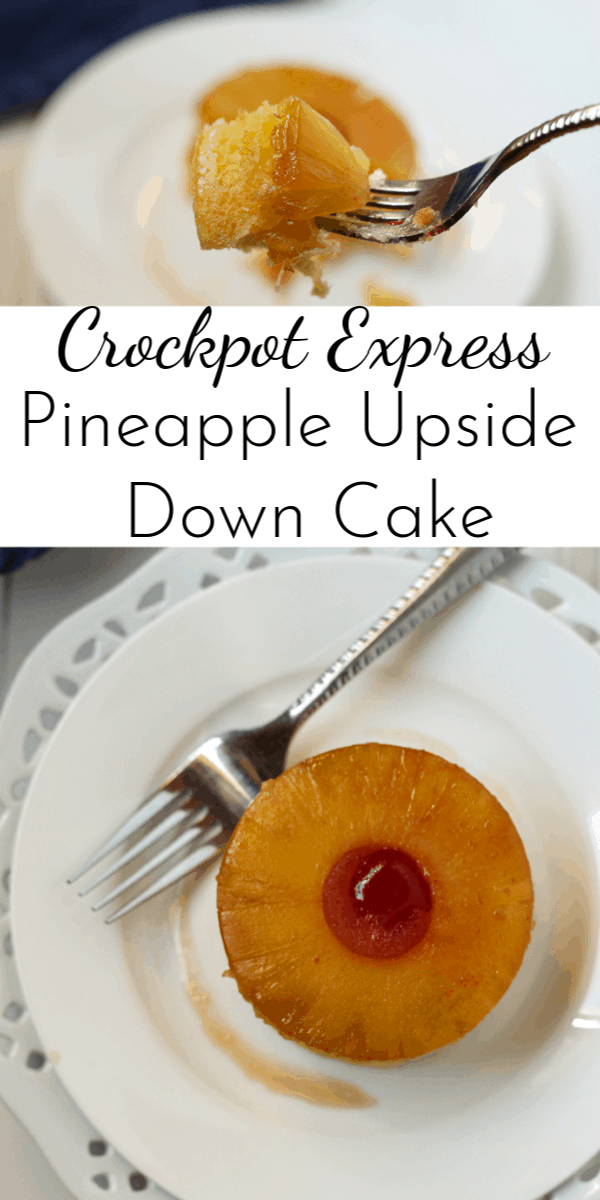 Crockpot Express Pineapple Upside Down Cake has all the flavors of the original but it's quicker and easier to make! (Especially when you start with a boxed cake mix.)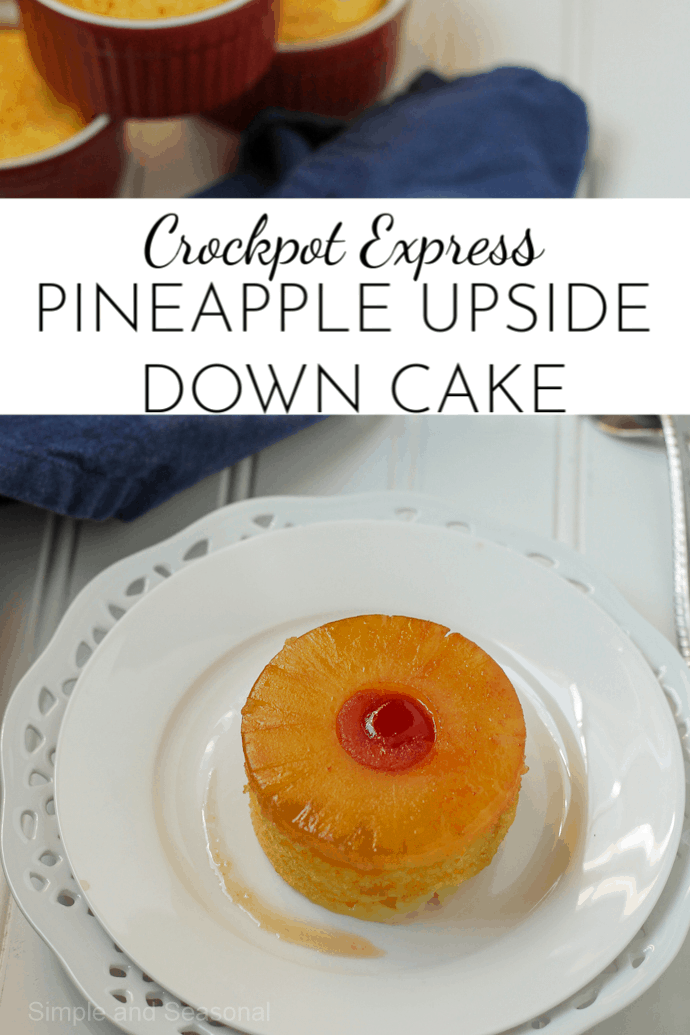 Every New Year's Eve, we have pineapple upside down cake. It's not exactly a traditional winter/holiday dessert, I know. 🙂 However, December 31st is my dad's birthday and this is his favorite cake. Now I'm updating this classic dessert by making mini cakes in the pressure cooker. Crockpot Express Pineapple Upside Down Cake has all the flavors of the original but it's quicker and easier to make!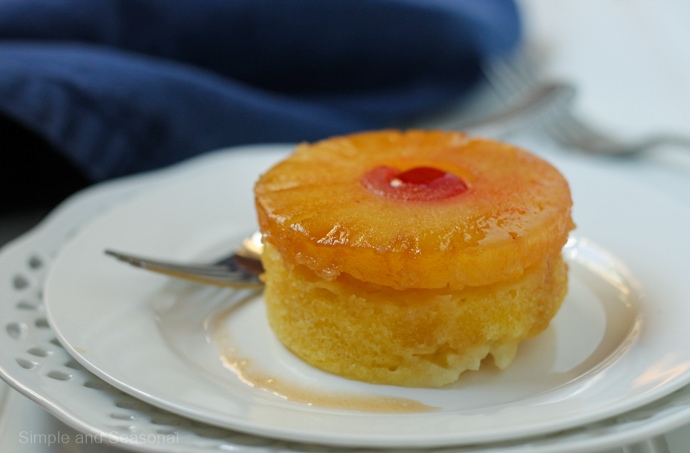 I made these cakes in 6 ounce ramekins. You get the golden caramelized pineapple thanks to the brown sugar on the bottom and that fun pop of color and flavor with the cherry center. The cake batter itself has pineapple juice in it which just makes those summer flavors come through in every bite.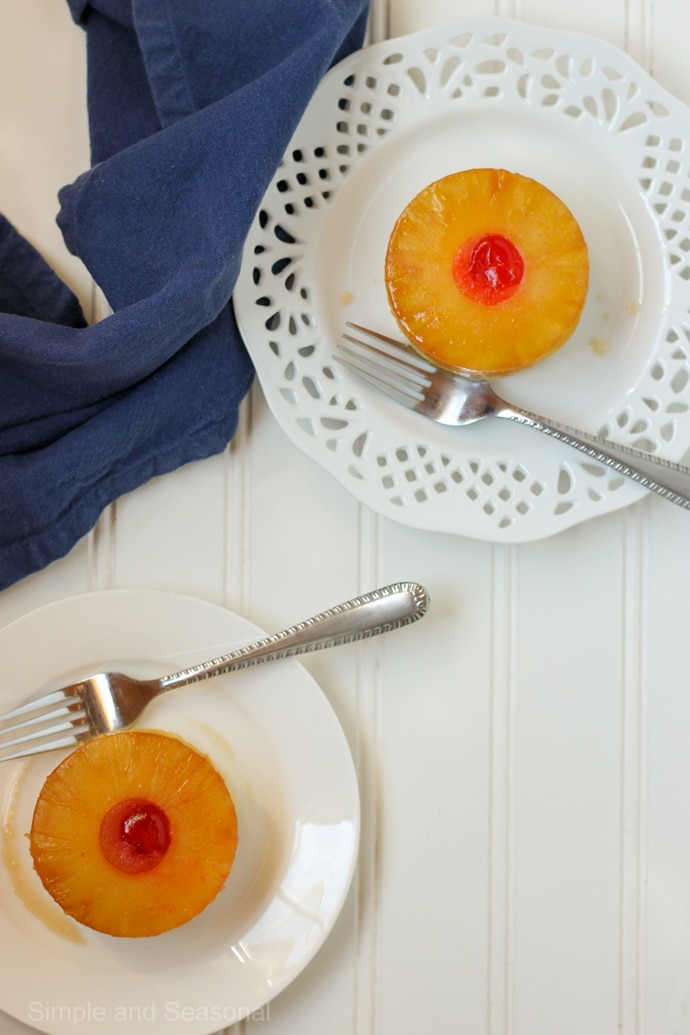 This recipe makes 6 individual cakes and you can cook them all at once. If you are baking for a larger crowd, it's fine to double the recipe and cook them in two batches. I cooked these in my 6 qt. Crockpot Express by placing 3 ramekins on the trivet and then stacking the other three on top (off set so they don't actually sit inside each other.)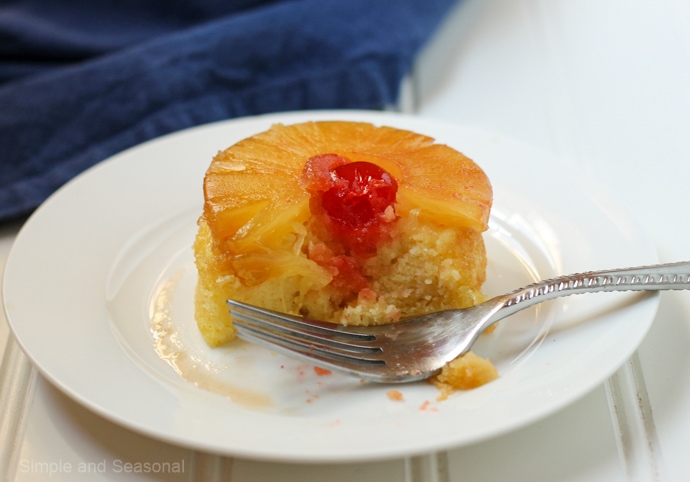 The texture of steamed desserts is very moist and a bit denser than desserts baked in the oven. I love cooking "upside down" desserts like this or Crockpot Express S'mores Lava Cake because you can flip them over and get nice clean edges on the top. You don't have to worry about the cake that sometimes rises above the edge of the ramekins if they are overfilled because that ends up on the bottom anyway. 🙂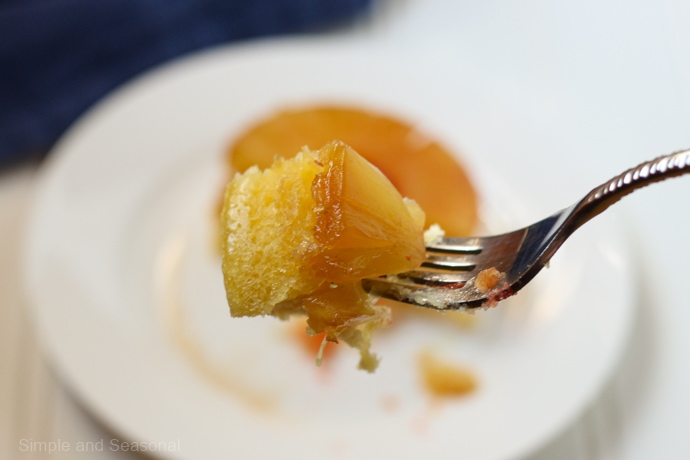 Crockpot Express Pineapple Upside Down Cake
Ingredients
2

cups

yellow cake mix

2

tbsp

vegetable oil

2/3

cup

pineapple juice

(the juice from the can of pineapple rings)

2

eggs

6

tbsp

brown sugar

divided

1/4

cup

melted butter

divided

6

pineapple rings

6

maraschino cherries
Instructions
In a large bowl, mix the cake mix, oil, pineapple juice and eggs on med/high for 2 minutes.

Spray 6 (6 oz) ramekins with cooking spray. Add 1 tbsp of brown sugar to the bottom of each ramekin.

Divide the melted butter between all 6 of the sugared ramekins (just pour it into each one-no need to stir or mix it)

Over the brown sugar, place a pineapple ring and add a cherry to the center of the ring.

Pour the cake batter over the pineapples, dividing evenly between the 6 ramekins. Just fill them 3/4 of the way-I stop just below the line at the lip of each one. (There will be cake batter left over)

Add 1 cup of water to the inner pot and place the trivet inside. Stack three ramekins on the trivet and then stack the other three on top by offsetting them just a bit. Close and lock the lid, turning the steam release valve to closed.

Press Steam and then Start/Stop. (Defaults to 10 minutes on High.) When the cooking time is up, do a quick pressure release and carefully pull out the ramekins. Some of the cakes may have risen above the edge of the ramekins, but that's fine.

Cool on a cooling rack for 5-10 minutes before turning out onto a plate.
Notes
Use the extra cake mix to make another 1-2 individual cakes OR pour it into an egg bites mold and make cake bites! Cook the bites on steam for 5 minutes with 5 minutes NPR and then pop them out while still warm. Top with frosting for a sweet bite!
Nutrition
Calories:
521
kcal
|
Carbohydrates:
91
g
|
Protein:
5
g
|
Fat:
16
g
|
Saturated Fat:
10
g
|
Polyunsaturated Fat:
1
g
|
Monounsaturated Fat:
4
g
|
Trans Fat:
1
g
|
Cholesterol:
75
mg
|
Sodium:
667
mg
|
Potassium:
181
mg
|
Fiber:
2
g
|
Sugar:
59
g
|
Vitamin A:
348
IU
|
Vitamin C:
8
mg
|
Calcium:
202
mg
|
Iron:
2
mg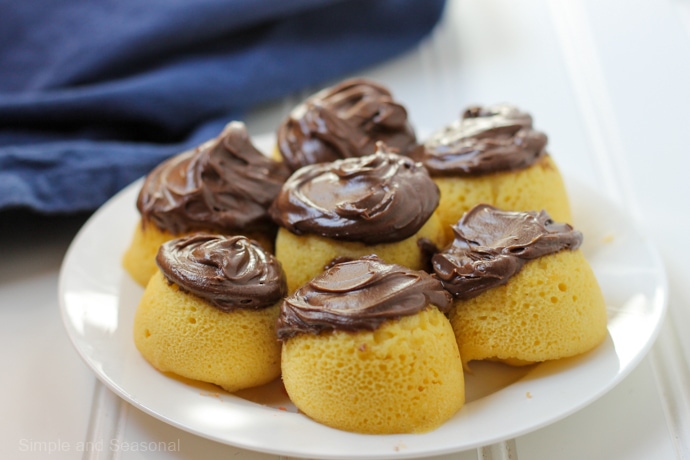 I used my leftover cake batter to make little cake bites! They were like mini cupcakes and the kids gobbled them up. To make Crockpot Express Cake Bites, just use your favorite cake mix (or leftovers from a recipe like this one) and then pour the batter into an egg bites mold. You can cover with foil or leave them uncovered. I haven't really noticed a huge difference either way when doing small bites.
Cook on high for 5 minutes (I use Steam and adjust down to 5 minutes) and then allow a 5 minute NPR. Take them out and let them cool for a bit before frosting. They are so yummy!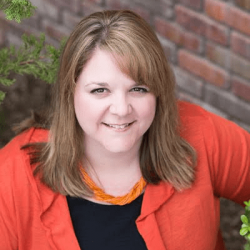 Latest posts by Nicole Burkholder
(see all)