This post may contain affiliate links. Please see my full Disclosure Policy for details.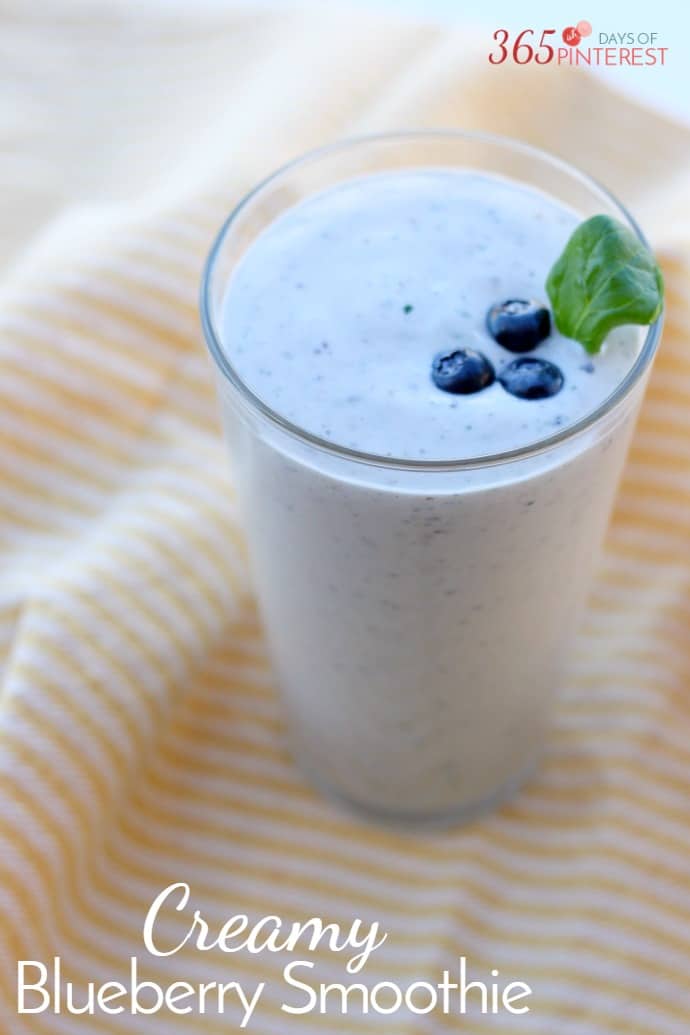 In a rush to get out the door in the morning? This Creamy Blueberry Smoothie is packed with powerful anti-oxidants, vitamins, minerals, and protein and I bet you can make it under 2 minutes!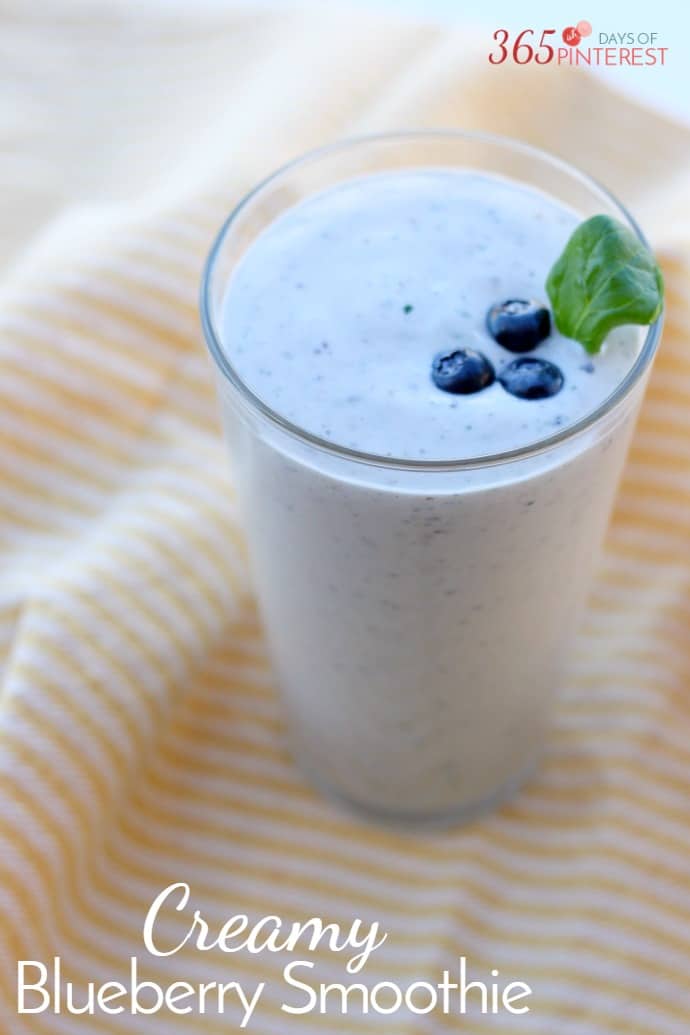 As I've focused on eating more whole foods and fewer processed meals over the last few months, I've discovered a love for smoothies-especially this Creamy Blueberry Smoothie. They are one of the easiest ways to get my veggies for the day!
I know, I know- vegetables in a smoothie? For breakfast?!? It sounds gross, but take it from a cynic- you can't taste them. 😉 I haven't worked up the guts to go full-blown "green" with my smoothies, but I do put in at least 1 cup of baby spinach and I haven't died yet.
The nice thing about a smoothie is the ability to get creative with ingredients. You can create any flavor combination you'd prefer if you stick with the basic building blocks:
fruit
liquid
veggies
something to make it creamy
something to make it sweet
extra flavor
extra energy booster
Fruit– I like to use frozen berries, but if I have any fresh fruit that needs to be used up, I'll toss it in the blender.
Liquid– you can use milk, water, coconut water, freshly squeezed juice or even iced coffee.
Veggies– like I mentioned above, I like to use spinach, but you can also try beets, kale, greens (like a spring mix).
Creamy– to me, this is the most important ingredient. I like my smoothies thick and creamy and not likely to go through a straw. 🙂 To do this, I use a frozen banana. I keep peeled bananas in a plastic bag in the freezer and pull one out when it's time to make my breakfast. It's a little easier on the blender if you break up the banana into smaller pieces before tossing it into the mix.
You can also add plain, full-fat Greek yogurt for another boost of protein and satisfying, good-for-you calories. However, if you have a problem with dairy, you can certainly leave it out.
Sweet-honestly, I don't feel the need for more sweetener when I use a lot of fruit, but it depends on what you're playing with. If you want to sweeten it up a touch, just add some honey or real maple syrup.
Flavor– the first time I tried the Greek yogurt, I added too much and my smoothie was so tart! Adding a little sweetener and then a splash of flavor like vanilla extract really helped. Ginger, cinnamon, and cocoa powder are also yummy!
Booster– generally I leave this extra step out, but if you have flax seeds, chia seeds or even some ground nuts, they are another good source of energy.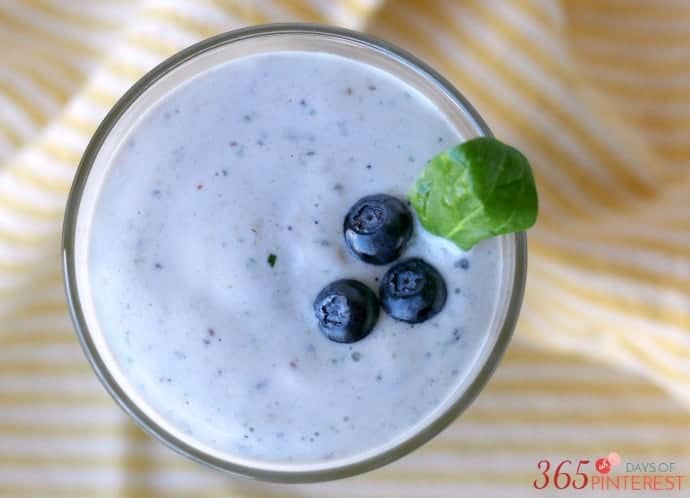 Another yummy way to use up milk is by making Homemade Strawberry Milk! It's more suited to an afternoon treat, rather than a healthy breakfast, but hey-we all need a little treat once in a while!
Creamy Blueberry Smoothie
This Creamy Blueberry Smoothie is packed with powerful anti-oxidants, vitamins, minerals, and protein
Ingredients
1/2

cup

blueberries

fresh

1

cup

milk

I used whole milk

1

frozen banana

1

cup

baby spinach
Instructions
Add the ingredients to a blender and pulse until creamy and mixed well. There's no need to add ice, as the frozen banana and cold milk keep the smoothie chilled. Yields two large glasses (20 oz each)
Nutrition
Calories:
151
kcal
|
Carbohydrates:
25
g
|
Protein:
5
g
|
Fat:
4
g
|
Saturated Fat:
2
g
|
Cholesterol:
12
mg
|
Sodium:
65
mg
|
Potassium:
484
mg
|
Fiber:
3
g
|
Sugar:
17
g
|
Vitamin A:
1642
IU
|
Vitamin C:
13
mg
|
Calcium:
153
mg
|
Iron:
1
mg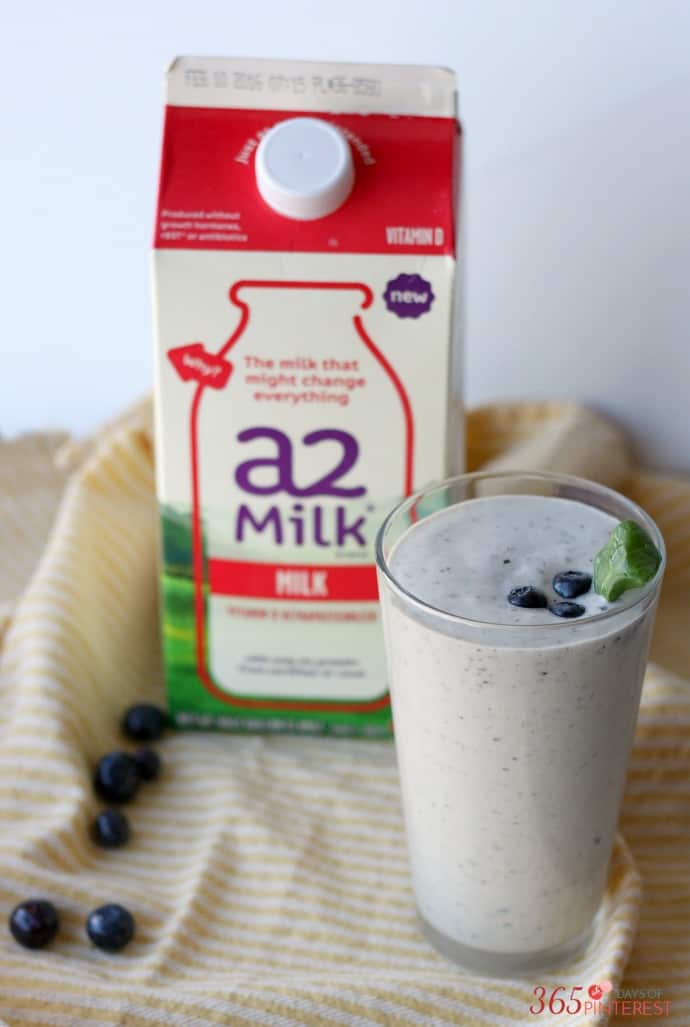 This was originally a sponsored post written by me on behalf of The a2 Milk Company™.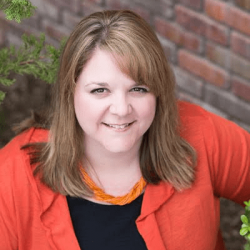 Latest posts by Nicole Burkholder
(see all)