This post may contain affiliate links. Please see my full Disclosure Policy for details.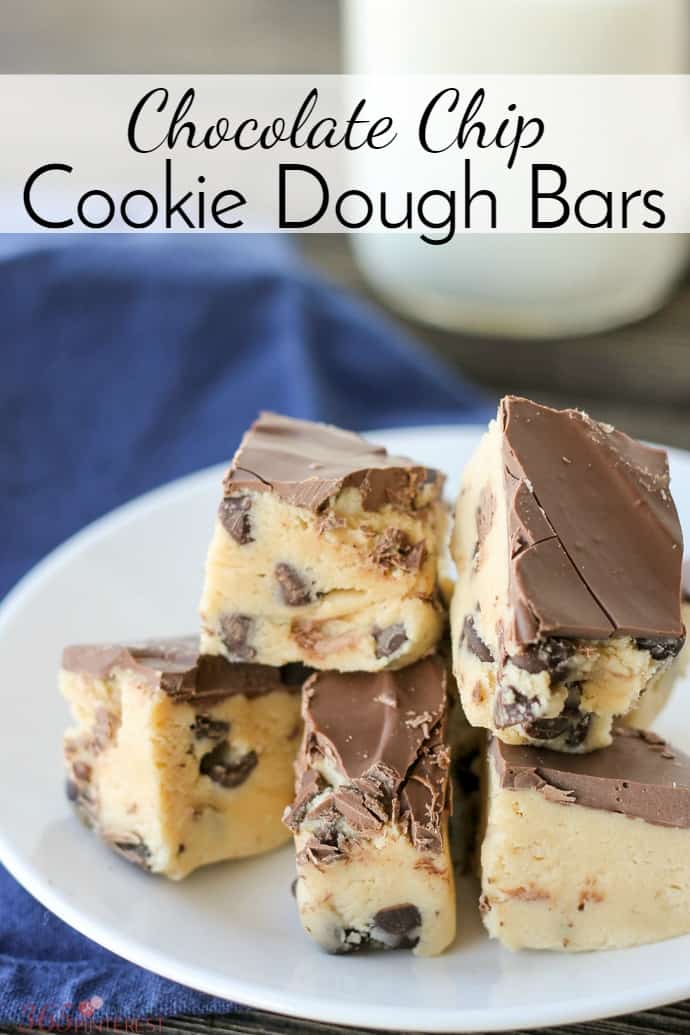 This no bake recipe for everyone's favorite guilty pleasure (cookie dough) is safe to eat and easy to make! Chocolate Chip Cookie Dough Bars are almost as good as the real thing!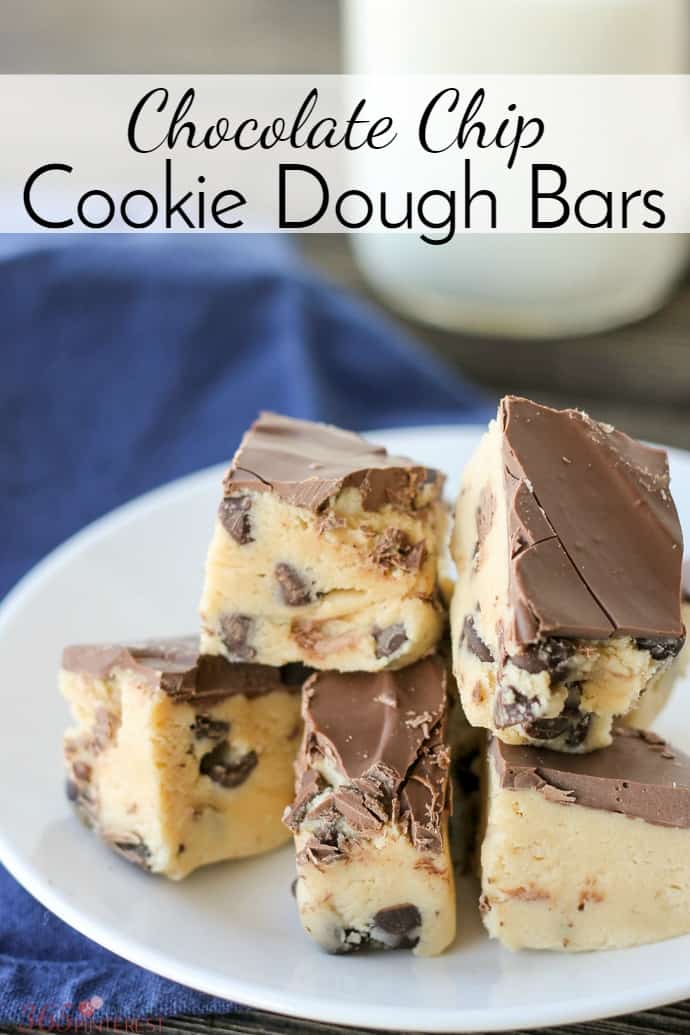 The other day I shared a photo of my Mini Skillet Chocolate Chip Cookie on Instagram and suddenly I had a craving for chocolate chip cookies. Imagine that. 😉 I told the boys I would make some for dessert after Sunday dinner, but when I started pulling out the ingredients, I realized I didn't have any eggs! Naturally, I did what any Pinterest lover would do-I searched "egg-less cookie recipes" on Pinterest. There are probably 17,000 cookie recipes on Pinterest, but a pin from The Recipe Critic for Chocolate Chip Cookie Dough Bars caught my eye.
I've never made any kind of edible cookie dough before. Primarily because I really prefer cookies, so eating the dough seems like a waste. But when you can't make cookies, the dough is definitely the next best thing. And then there's the added benefit of not having to worry about eating raw eggs. I was fascinated by the use of sweetened condensed milk in the dough. I happened to have a can in the pantry that I never used during the holiday season, so I pulled everything out and got started right away. The only bummer about this recipe (and every other recipe that I read for edible cookie dough) is that you have to wait several hours before you get to eat it. So plan ahead! (In other words, it won't work for satisfying a sudden craving.)
Chocolate Chip Cookie Dough Bars
Ingredients
1/2

cup

butter

softened

3/4

cup

brown sugar

1

tsp

vanilla extract

2

cups

flour

all purpose

1

14 oz can sweetened condensed milk

2

cups

chocolate chips

I prefer regular sized, milk chocolate chips

For the frosting:

Optional- 1/2 cup chocolate chips and 1/2 cup creamy peanut butter -OR-

1

cup

dark chocolate chips and 1 tsp coconut oil

for melting
Instructions
Line an 8x8 pan with foil or wax paper for easy removal and cutting later

In a large mixing bowl, cream the butter and sugar until light and fluffy. Add the vanilla.

On low, mix in the flour and condensed milk, alternating a little at a time until well blended.

Fold in the chocolate chips.

Press the dough into the pan and refrigerate for at least 3 hours, until firm.

For the topping, you can melt the chocolate chips in the microwave and stir in creamy peanut butter before pouring over the top of the dough. Personally, I don't like peanut butter in cookies, so I just melted dark chocolate chips with a little coconut oil and poured that over the top. It's not as smooth and creamy, but it's what I prefer. (More like a candy shell.) Your choice! 🙂

Chill until set firm again and them slice and serve!
As I mentioned above, the topping is totally up to you. I think even chocolate frosting would be good, if a little messy. 🙂 Most people on the planet LOVE chocolate and peanut butter together, so that's a no brainer. Go for it! If you want to totally ruin this recipe, add some walnuts or pecans to the dough. I hear people like that sort of thing. Weirdos.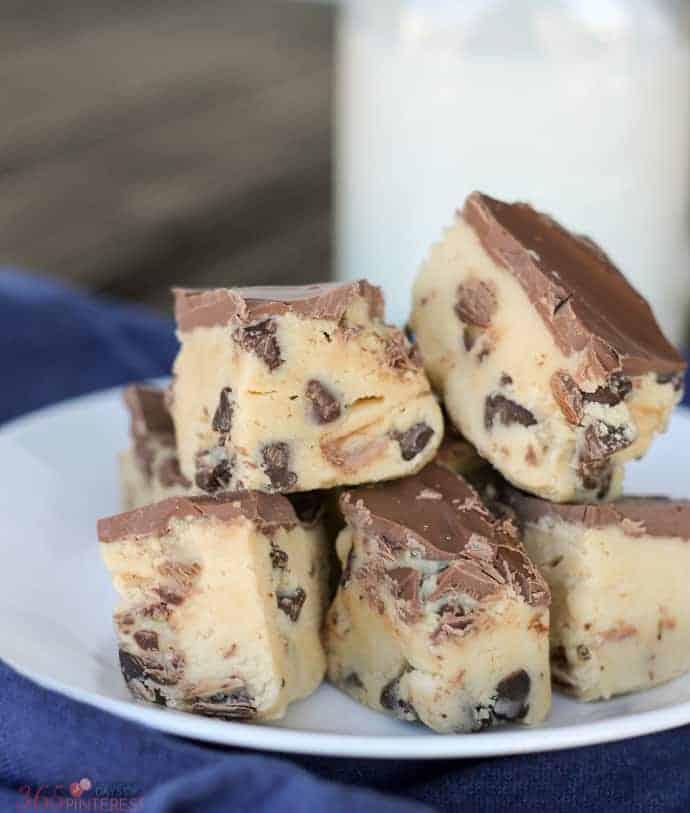 If you think these Cookie Dough Bars are awesome, you'll love these other recipes!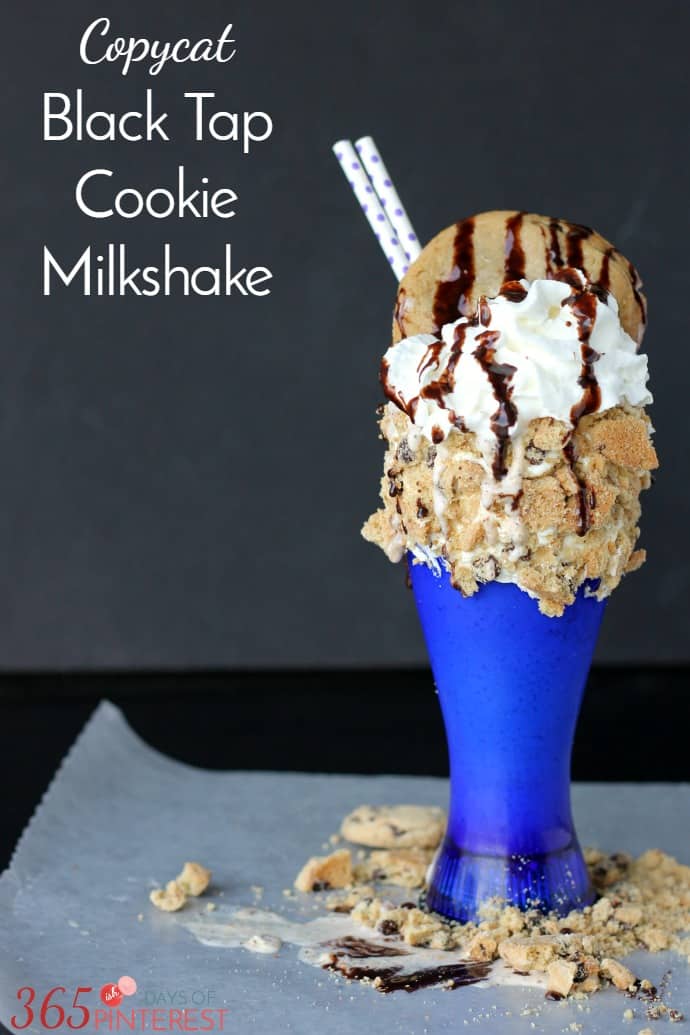 Chocolate Chip Cookie Monster Shake
Jumbo (like size of your HAND) Chocolate Chip Cookies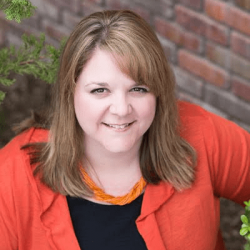 Latest posts by Nicole Burkholder
(see all)