This post may contain affiliate links. Please see my full Disclosure Policy for details.
Let's be honest. Valentine's Day is heavily skewed to women. The flowers, the chocolates, the sappy cards full of romantic poetry…all of that is right up our alley. But your husband shouldn't be left out of the romance just because he happens to be a man! You can put together a thoughtful gift basket for him with a little creativity and some printer ink.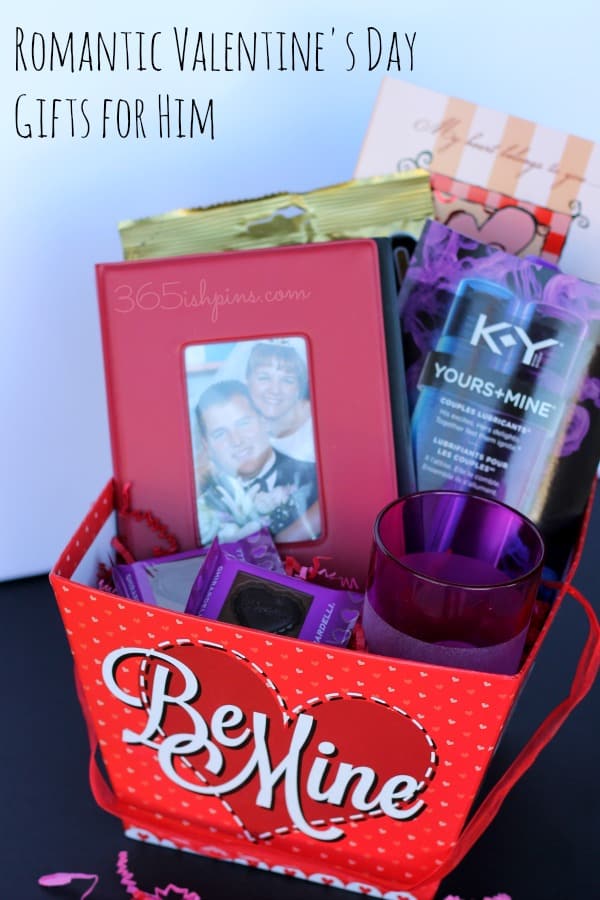 I went to the store and picked up a small gift box to fill with some goodies for my husband. This doesn't have to be an expensive project. I went to our dollar store and the drug store next door to get my gifts. I was thinking I would have to get a plain basket and decorate it, but this box was only $1 and it's perfect! The main component of the gift is the little photo album. I dug out the photo albums, went searching through Facebook and my computer files and found some great photos for a walk down memory lane. (If walking down memory lane with me isn't what you had in mind, just scroll on down to the bottom. It won't hurt my feelings, I promise.) 🙂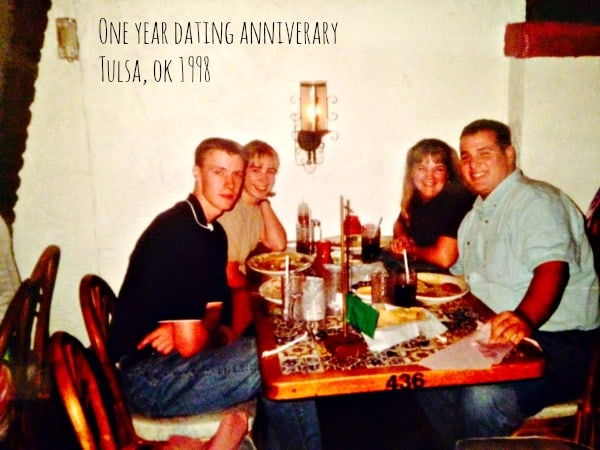 We went out to a ridiculous but fun destination-style restaurant in Tulsa, Casa Bonita, to celebrate our one year dating anniversary. Trust me, in college, reaching a year of dating was a big deal! The couple that came with us on our double date didn't last long. But they both married other people from college and those marriages have lasted. 🙂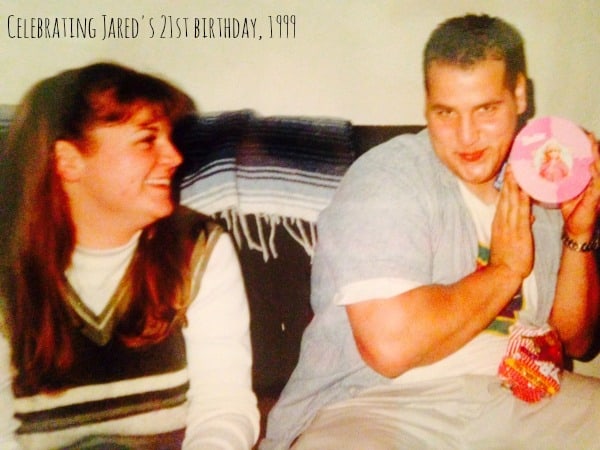 The next semester we celebrated Jared's 21st birthday over at a friend's house. A friend wrapped up his gummy bears in that pretty little pink box with Barbie on it. 🙂 I included this photo because it reminds me of how much fun we had when we were dating and that I still think he's a pretty funny guy. 🙂 I picked up some gummy bears for his gift basket because he still loves those things!
We FINALLY made it out of college and got married! The day was such a blur, I have a hard time remembering all the details. But obviously, we were really happy.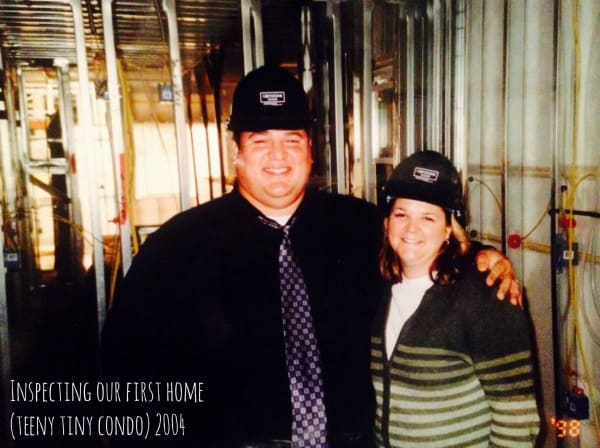 I know the camera stamp says '98, but this was really the end of 2004. We were finally getting into a home of our own and ready to stop bouncing from rental to rental. The builders made us wear the hard hats while we walked through our soon-to-be new condo. I was several months pregnant with our first son in this photo.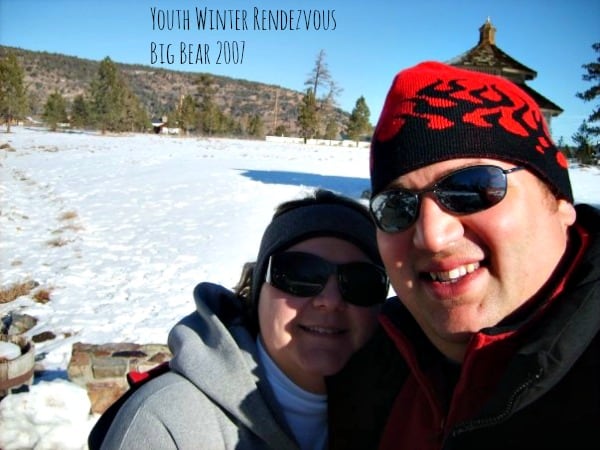 For ten years, we were the youth directors at our church, and we got to do all sorts of great things together with our teens. We went on trips and had great adventures. Going up to Big Bear to play in the snow with the teens was always one of my favorite activities!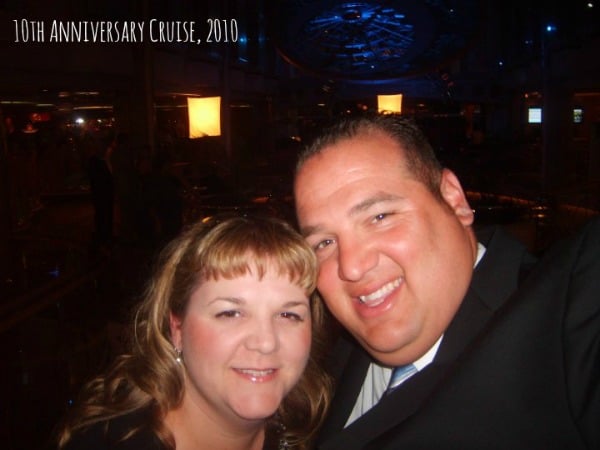 In 2010, we took one of those "trip of a lifetime" type vacations and cruised to Puerto Vallarta. It was such an amazing vacation. We left the kids with my parents and celebrated ten years of marriage in grand style. Every time I see a photo from that trip pop up on my computer screen, it makes me happy.
As you can probably tell, we like to be silly and have fun together. I wanted to make sure to include some photos like this one to remind us not to take things too seriously in life. We went to a "couples costume" night with what I thought was a prize winning costume- War and Peace. Sadly, we lost to Kermit and Miss Piggy. But it was still a great night. 🙂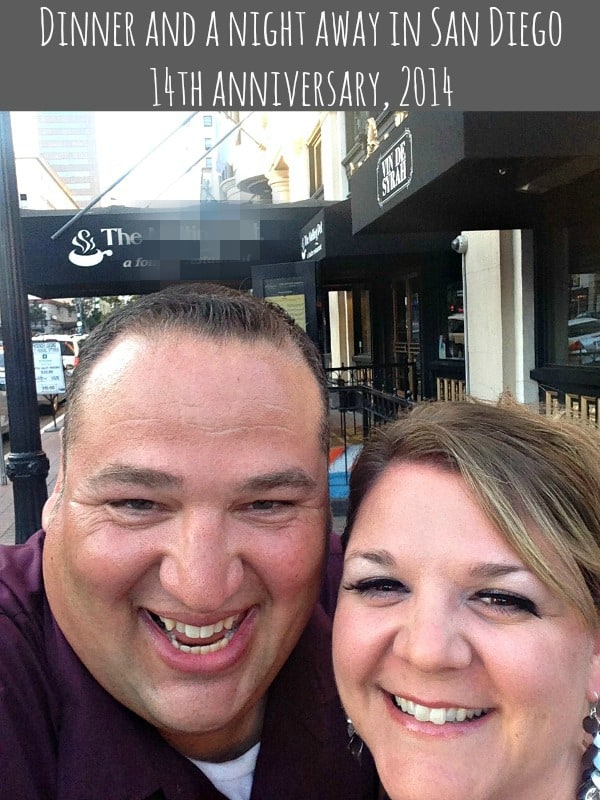 For our anniversary, I planned an overnight getaway (the first in a long time) to San Diego. We stayed in a historic hotel, walked the Gaslamp district and ate dinner at The Melting Pot. I like this picture. We're older. There are gray hairs showing up on both of us. Our faces are a bit worn and wrinkled. But there's a deep happiness there that is lasting. There's a security in knowing that we are both in this for the long haul. And even after 14 years, the romance hasn't gone away. That's what is so great about holidays like Valentine's Day. It's an excuse to get romantic and show each other why you fell in love all over again.
I had so much fun putting this basket together just because of all the memories that were brought up by each photo. Inside the photo album, I slipped in a few coupons for him to redeem at any time. You can download each one for free and print them up to give to your Valentine! The downloads do not have my watermark on them and are sized 4×6 to fit in a photo album!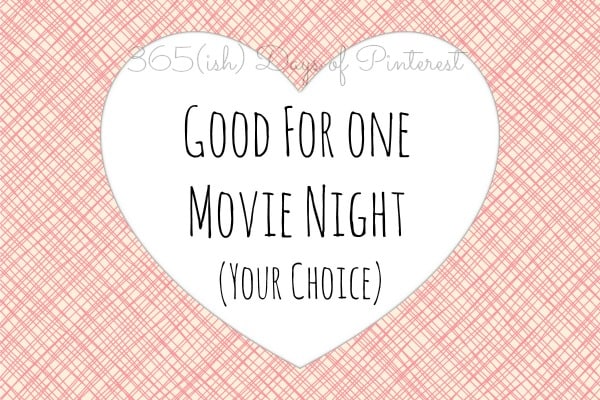 Click here to download Good For One Movie Night without the watermark.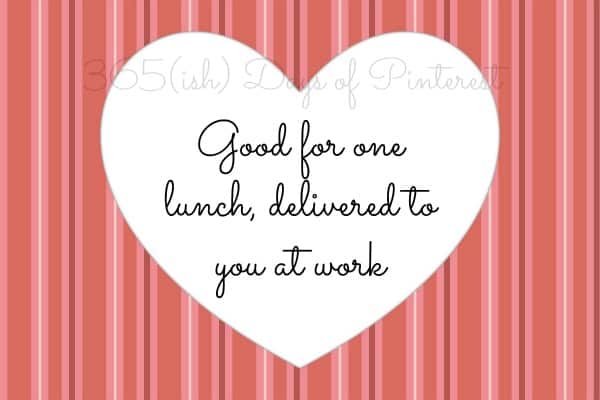 Click here to download Good For One Lunch Delivered without the watermark.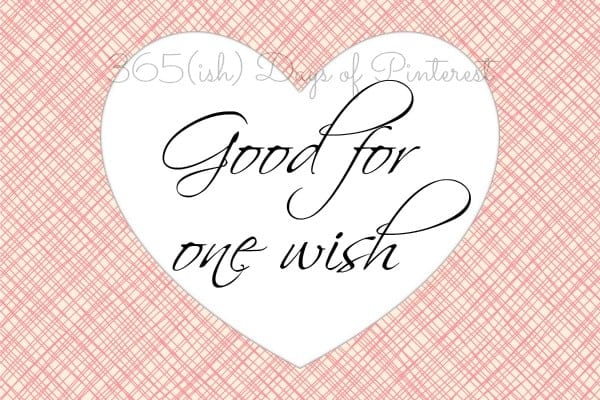 Click here to download Good For One Wish without the watermark.
That last coupon could be used for anything like a day playing golf, a night out with friends, a back rub, a favorite meal….oh, who am I kidding? In anticipation of this coupon being the FIRST one to be redeemed, I put a pretty frosted candle in the basket along with some K-Y® YOURS+MINE. Enjoy the romance and Happy Valentine's Day!
This post was sponsored by Collective Bias, Inc. and its advertiser. All opinions are mine alone.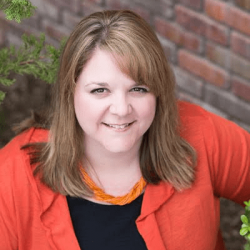 Latest posts by Nicole Burkholder
(see all)