This post may contain affiliate links. Please see my full Disclosure Policy for details.
These pretzel dogs are a combination of the two best baseball game treats: soft pretzels and hot dogs. Bring on the mustard!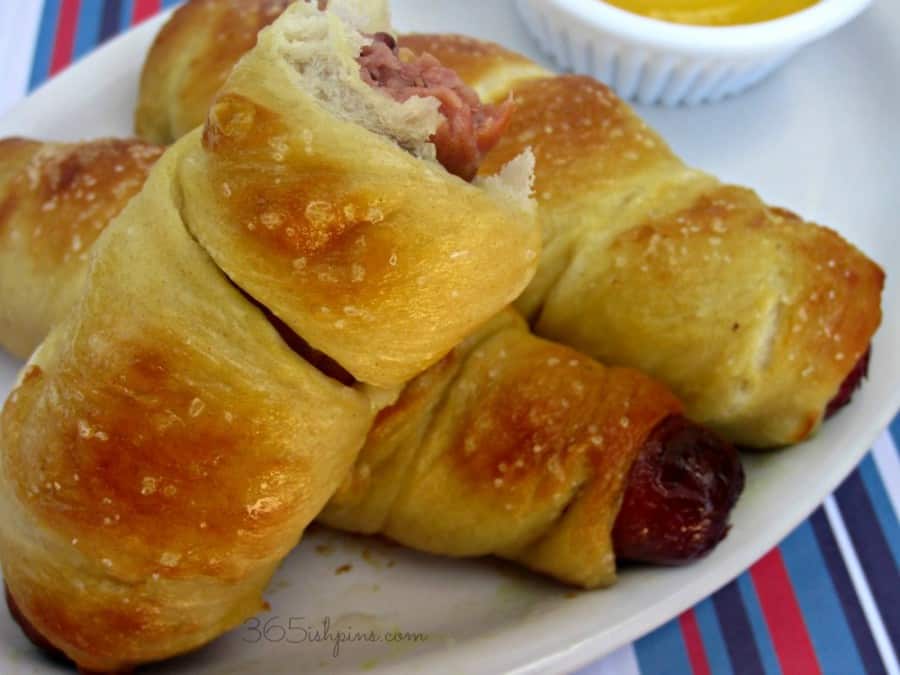 Nothing says "summer" more than hot dogs. My boys could live on them, but they are really only something I crave when it's hot outside and the days are long. Hot dogs are just one of those easy summer dishes that you can throw on the grill and serve a crowd. This time, however, I purchased a special flavor: Cracked Dijon Mustard. That got me thinking about those hot soft pretzels they sell at baseball games with mustard dipping sauce. Why not put the two together? I made some pretzel dough, wrapped them around those awesome hot dogs and BAM! (apologies to Emeril) Pretzel Dogs.
Pretzel Dogs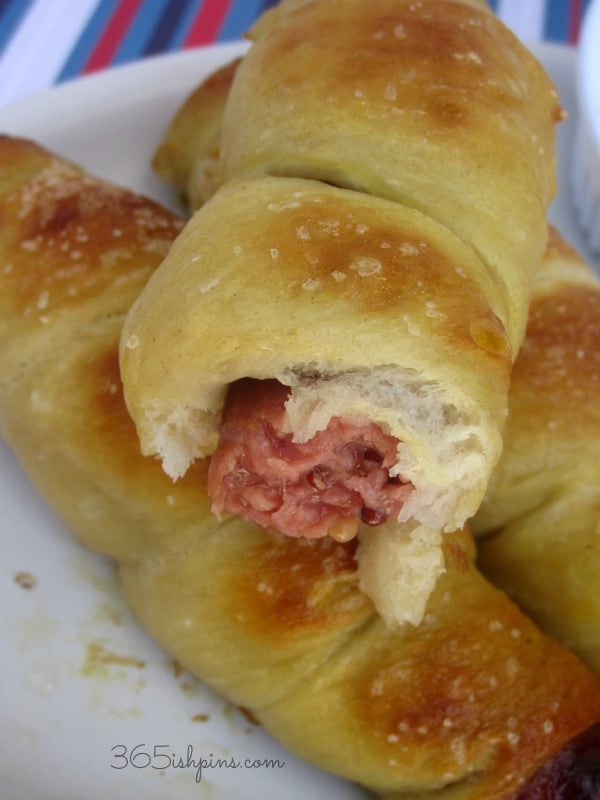 Pretzel Dogs: Easy Summer Dishes
Ingredients
3/4

cup

warm water

(110-115 degrees)

2

tsp

sugar

1

tsp

salt

1 1/2

tsp

active dry yeast

2 1/4

cups

flour

1

tbsp

butter

, melted

10

cups

water

2/3

cup

baking soda

1

egg yolk

, beaten with 1 tbsp water

sea salt to taste

8

hot dogs
Instructions
Combine the water, sugar and salt in the bowl of a stand mixer. (Make sure water isn't hotter than 115° or it will kill your yeast.)

Sprinkle yeast on top of the water and let it sit for 5 minutes, or until it's getting foamy.

Add the flour and butter and mix on low with the dough hook until combined.

Increase to medium speed and knead until the dough is smooth and begins to pull away from the edges of the bowl. This was more than 6 minutes for me and my little non-Kitchenaid mixer. 🙂

Remove the dough from the bowl (it's sticky) and place in a greased bowl, covered with plastic wrap.

Let rise in a warm room for an hour, or until doubled in size. Mine rose for over 2 hours before I got back to it, and it was fine.

Preheat the oven to 450° and line a large cookie sheet or two smaller ones with parchment paper. Spray the paper with cooking spray.

Bring the water and baking soda to a boil.

Separate the dough into 8 equal parts and shape into 12" ropes with your hands. I dusted my hands with flour to keep it from getting too sticky.

Wrap one piece of dough around each hot dog, leaving a little sticking out of each end. Pinch the ends of the dough together so they stay put.

Drop the pretzel dogs into the boiling water one at a time for 30 seconds. Remove with slotted spoon, place on cookie sheet and brush with the egg yolk and water mixture.

Sprinkle with sea salt and place in the oven for 12-14 minutes, or until golden brown.

Let cool before serving with mustard or hot cheese dipping sauce. Yum!
Notes
Adapted from Alton Brown's recipe for Food Network
Did you know that during hot dog season (Memorial Day to Labor Day) Americans will consume about 7 million hot dogs?!? They are just about as American as baseball and apple pie. 🙂 And the #1 condiment? Mustard. I'm telling you, these Cracked Dijon Mustard hot dogs wrapped in a soft pretzel are a match made in heaven. Seriously. Make these pretzel dogs. Soon.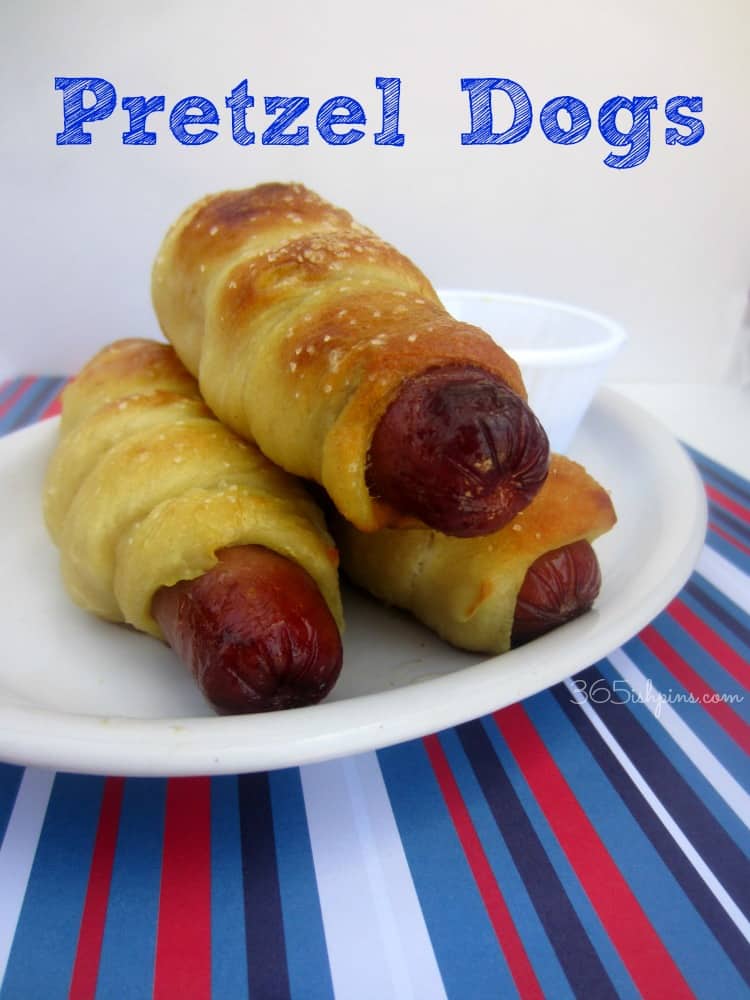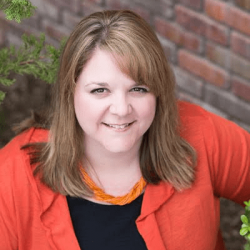 Latest posts by Nicole Burkholder
(see all)