This post may contain affiliate links. Please see my full Disclosure Policy for details.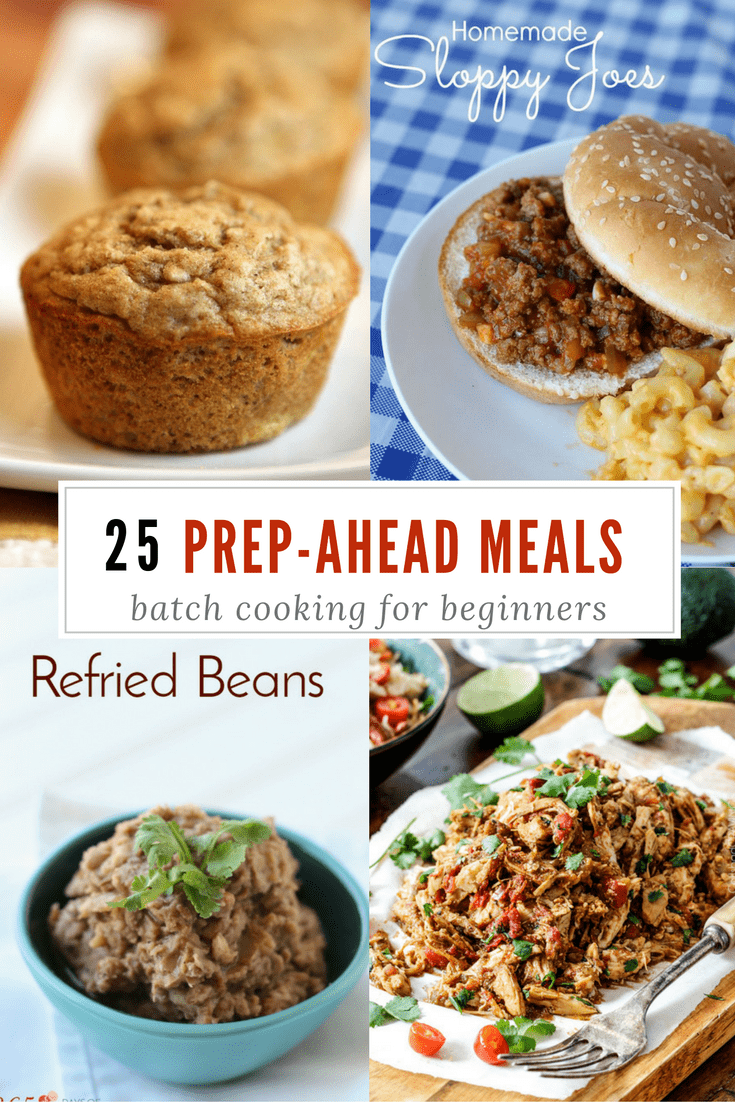 Meal prep makes the week SO much easier! Taking advantage of batch cooking, freezer-friendly meals and smart menu planning (not to mention the printable shopping list) will save you time AND money. Bonus: these recipes actually taste good, too. 🙂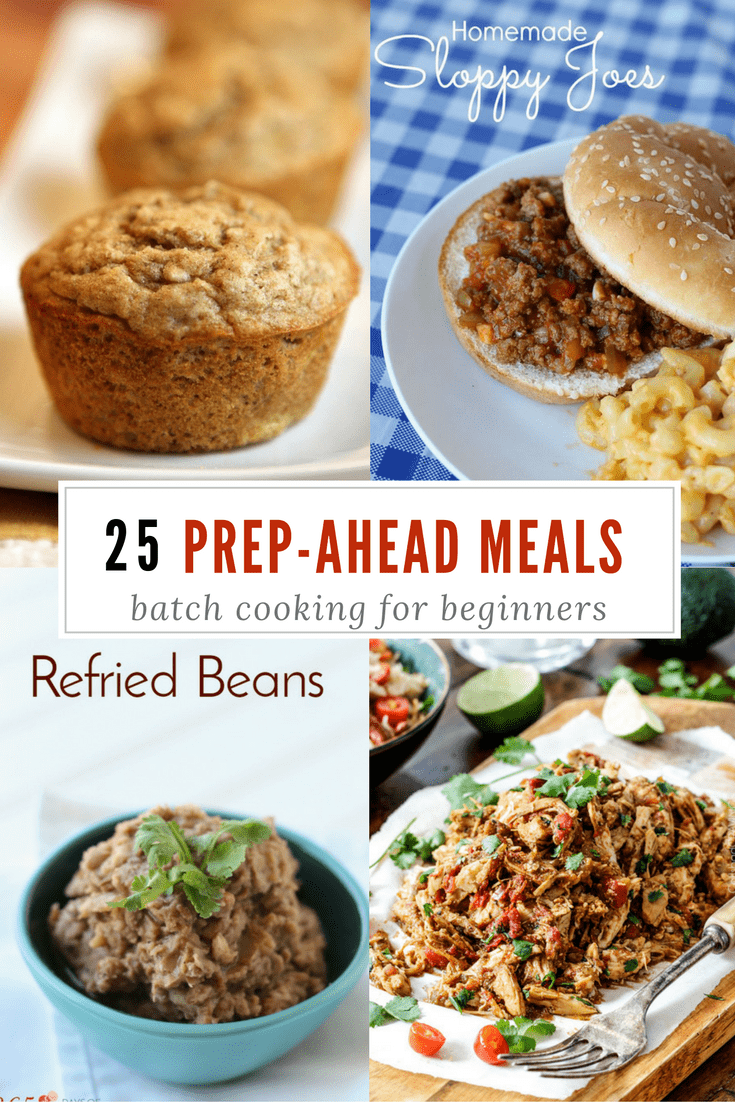 Today, I enjoyed a breakfast that wasn't cereal, packed lunches in seconds, and spent a grand total of ten minutes in the kitchen getting a homemade dinner ready for my family. Tomorrow, I'll pull a bag out of the freezer, drop it in the slow cooker and dinner will be done. Every day, I already know what's going to be for dinner. All of this is possible because of some planning and one long day in the kitchen. Prep ahead cooking (sometimes called batch cooking or meal prep) takes a lot of organization on the front end, but the rewards are definitely worth the effort!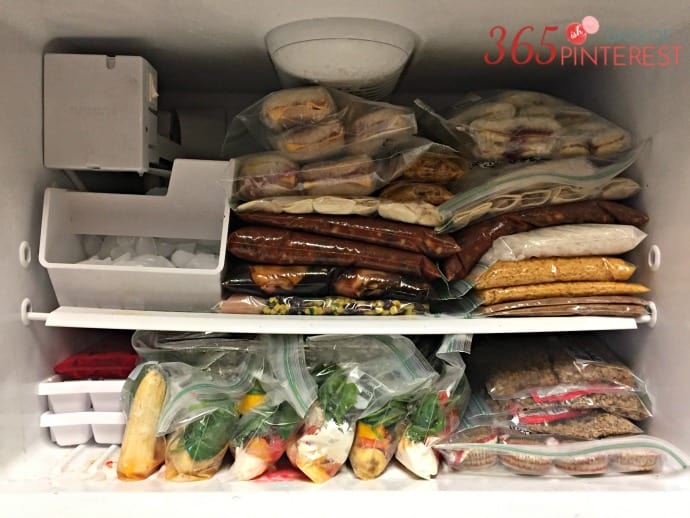 WHAT WE HAVE IN OUR FREEZERS:
Breakfast (sandwiches, smoothies, muffins, oatmeal bars and bread for a French toast bake)

Lunch (taquitos, chicken salad, burritos, peanut butter and jelly sandwiches)

16 dinners

Side dishes (for 6 meals)
12 breakfast sandwiches
6 smoothie packs
24 banana oat muffins
20 oatmeal bars (2 qt. bags full)
14 extra-stuffed taquitos (would usually make 24 normal-size ones)
1 lb. chicken salad
8 bean/cheese burritos
14 uncrustables
2 bags white rice (quart-sized bags)
2 bags Mexican rice
2 bags refried beans (1 cu. each)
2 9×13 pans sour cream chicken enchiladas (10 lg. enchiladas)
1 Cilantro Lime Chicken
1 Honey Sesame Chicken
2 bags shredded slow cooker Mexican chicken (2 cu. each)
2 bags of chili soup
1 bag of chili Frito pie
2 pans baked ziti
1 bag of spaghetti sauce (3 cups)
2 lbs. taco meat (1 lb. per bag)
2 lbs. sloppy joe (1 lb. per bag)
Bread crusts for an overnight french toast bake
The final tally of everything we ended up with is just exactly that- the outcome of all the recipes as we put them together. You may end up with a few more enchiladas or taquitos or burritos-it all depends on how much filling you use for each one. This list is just to give you a general idea of how much food you will have in the refrigerator and freezer when you're done.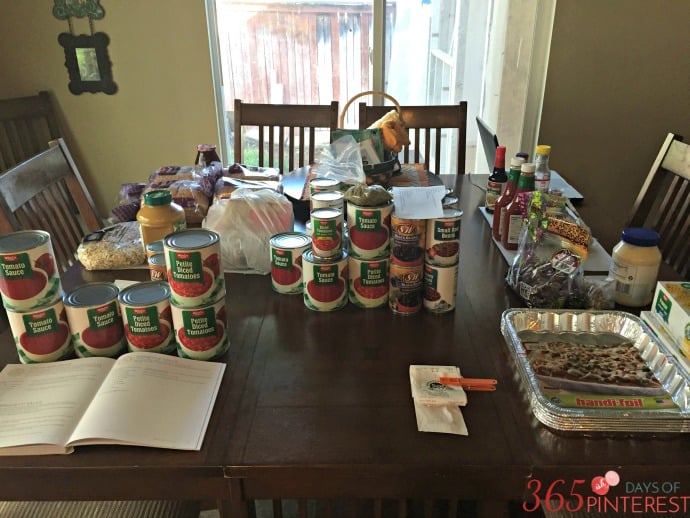 How to batch cook for prep ahead meals
When you're planning a big day of batch cooking, organization is definitely going to be your friend. Thankfully, SIL #2 thrives on making lists and organizing things, so she did the heavy lifting on this. We had a Google doc with recipes that we kind of just dumped there until we decided which ones we wanted to make. It started as a freezer meal list that eventually morphed into more of a batch cooking list. Most of the meals are in the freezer, though. We tossed around ideas for a few days and then decided to settle on two main proteins. I highly recommend limiting the proteins you cook with to just one or two. The whole purpose of batch cooking is to do the work once and then have the cooking done for several different recipes. It was getting too crazy trying to keep up with the grocery list, so we settled on ground beef and chicken.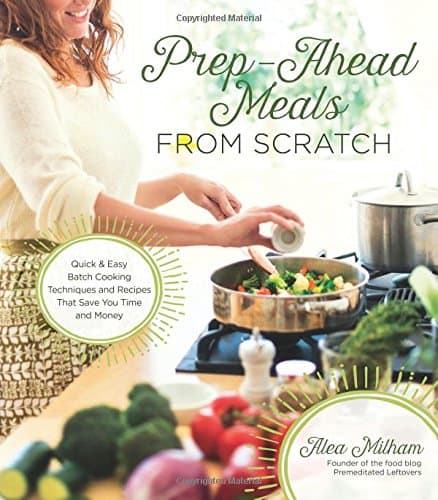 I went to a conference where Alea Milham was speaking and she gave all of us a copy of her new cookbook. We referenced it a few times while preparing and even made the spaghetti sauce from the book. It had some great tips for how to cook large batches of food several different ways, as well as best practices for reheating the food. You can purchase Prep Ahead Meals from Scratch on Amazon using my affiliate link.
After you've settled on the recipes you want to make, create a grocery list for everything you'll need. (Hey, guess what? I've already created a printable shopping list for you down below! BAM! Just saved you an hour's work. You're welcome.) 🙂 For sanity's sake, put EVERYTHING on the list, even if you have it already in the pantry. Then just check off the things you don't really need to buy. It just helps to have it all in one place. Head off to the grocery store for all your goodies but don't plan to cook on the same day you shop. This takes some time, and if you choose to make the same recipes we did, you'll need to do some cooking overnight in the slow cooker. We cooked all the chicken breast for the different recipes with shredded chicken as well as the refried beans overnight before meeting together.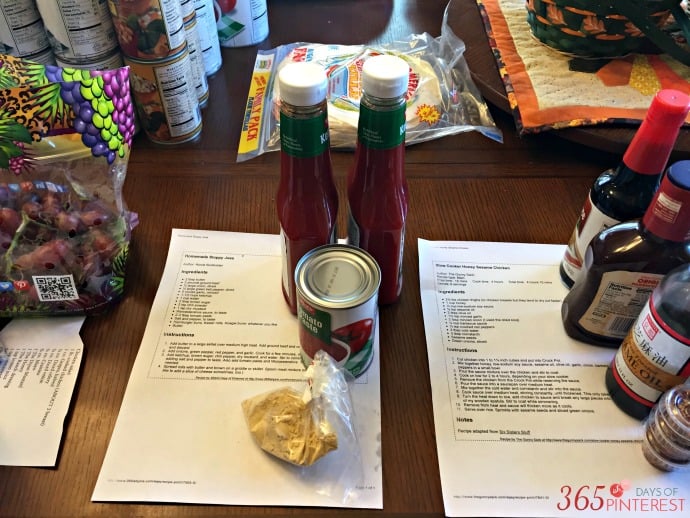 When you're ready to do the meal prep, print out the recipes you are using and divide the ingredients by recipe as much as possible. This will keep you from wandering around the kitchen looking for something! It's also great if you're doing this with other people, because everyone is working from the same recipe and it's easy to jump in and help each other as you work. Once you're all set up, just pick a recipe and get to work!
Here are the recipes for our meal prep menu!
Breakfast

Lunch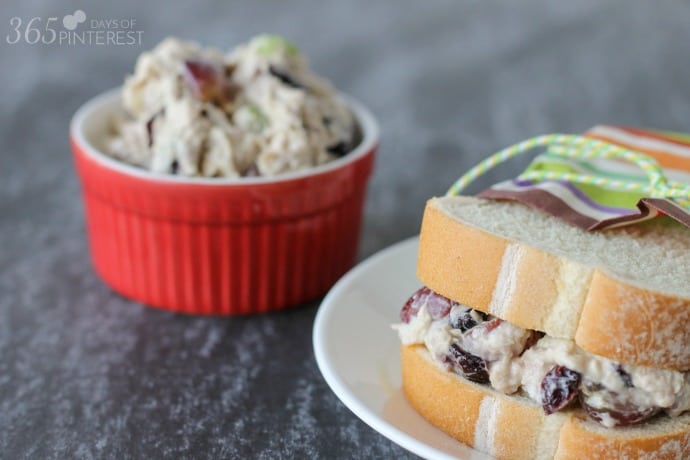 Peanut butter and jelly "uncrustables"-we all have little ones at home or in school so working ahead and making some good old PB&J sandwiches was a no brainer. We punched them out with a large cookie cutter, wrapped each one in plastic and then put them in a freezer bag. Charlie has talked about his "special heart sandwich" every day since I started adding them to his lunch box. 🙂 We saved all the corners and crusts to make a French toast bake. We were thinking croutons, but some pieces had jelly still and that would not go well with garlic. 😉
Sides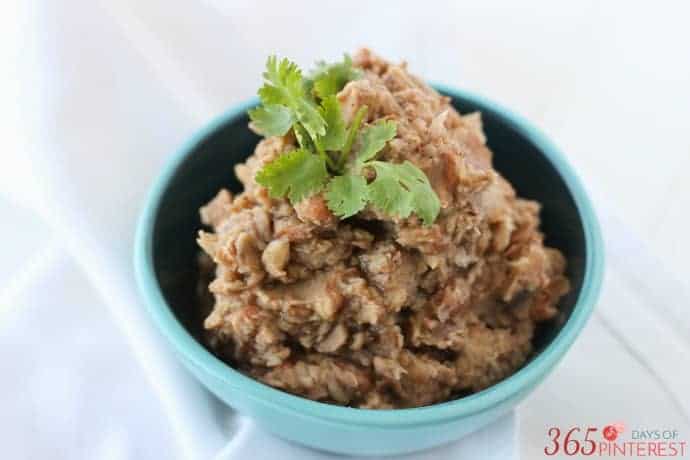 White rice– plain long grain rice, cooked with a 2:1 ratio of water to rice
Mexican rice– long grain white rice cooked with the juice from the Mexican Shredded Chicken with a ratio of 2:1
Tip: to reheat the rice, simply defrost and then microwave with a damp paper towel draped across the bowl.
Dinners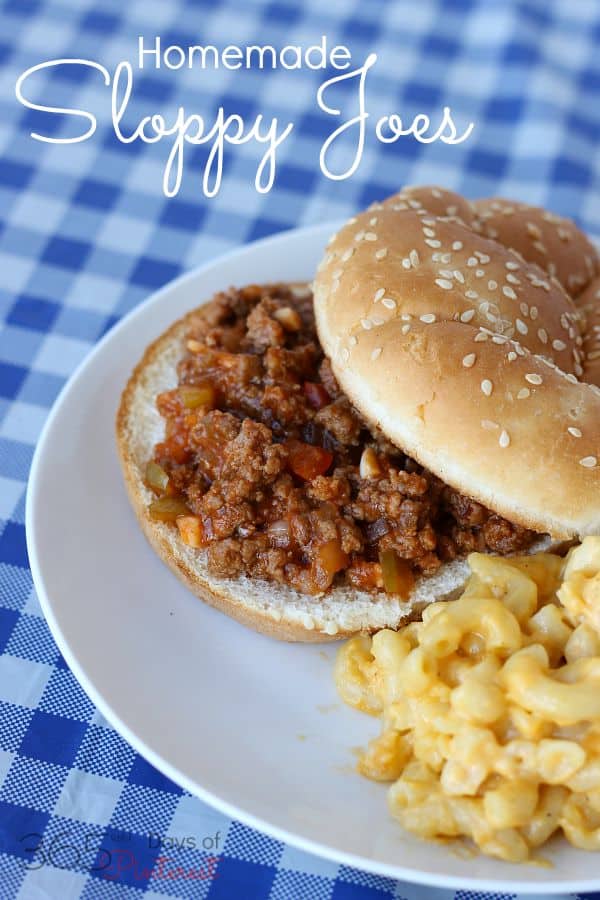 Cilantro Lime Chicken– to be honest, this was a little bland after cooking. If you make it, I would kick up the spices a notch to give it more flavor after cooking. (I have found that to be very typical of freezer/crockpot meals that don't have a sauce in the bag with the meat.
Taco Meat-browned ground beef seasoned with a taco seasoning packet and separated into (2) 1-pound bags
Baked Ziti-cooked ziti noodles mixed with the meat sauce below and topped with mozzarella cheese
Spaghetti Meat Sauce from the new cookbook Prep Ahead Meals from Scratch by Alea Milham
2 Tbs olive oil

1 cu diced onion

4 tsp minced garlic

29 oz. diced tomatoes

30 oz. tomato sauce

2 Tbsp sugar

2 Tbsp Italian Seasoning
Saute the onion and garlic in olive oil until tender. Add the tomatoes, tomato sauce, sugar and Italian seasoning. Stir and then cook over med-high heat until it reaches a boil. Simmer on low for at least 15 minutes.
Chili
2-3lb. Ground beef
2 sm. Onion, chopped
1 tsp minced garlic
2 cans red kidney beans
2 cans black beans
2 cans great northern beans
2 cans diced tomatoes (or chili tomatoes)
2 cans Rotel
8 Tbs ketchup
2 Tbs oregano
2 tsp chili powder
2 tsp salt
2 Tbs cumin (optional)
48 oz. tomato sauce (add at the end)
Mix all ingredients up to tomato sauce
Separate into 3 gallon-size bags
Add 15-20 oz of tomato sauce to a bag to make chili soup (2 bags soup)
Add 8 oz. of tomato sauce to 1 bag to make chili for frito pie, hot dogs or baked potatoes.
Congratulations! You made it all the way to the end of this enormously long post! 🙂 To reward your perseverance, I have a gift for you. Just click here to download the Shopping List PDF instantly!
Here's a quick Facebook Live video I did talking a little about the results of our day and answering a few questions. Be sure to pin this post to reference later when you're ready for your own epic day of meal prep! Feel free to ask any questions in the comments below or on social media and I'll do my best to help.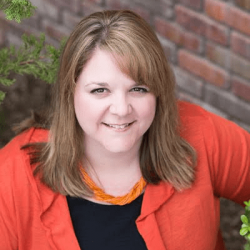 Latest posts by Nicole Burkholder
(see all)