This post may contain affiliate links. Please see my full Disclosure Policy for details.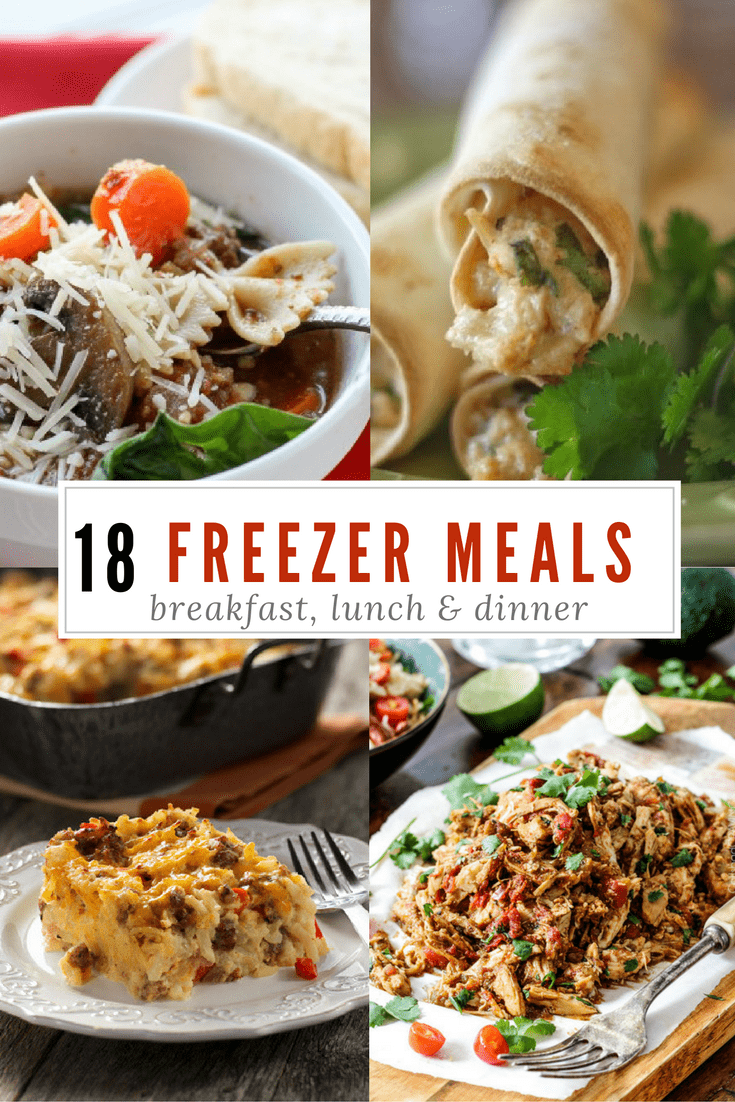 18 tried and true freezer meals that your family will actually eat! No bland, mushy dinners here. Save hours of time in the kitchen by preparing meals ahead of time and then cooking later! Start with the Lasagna Soup freezer meal!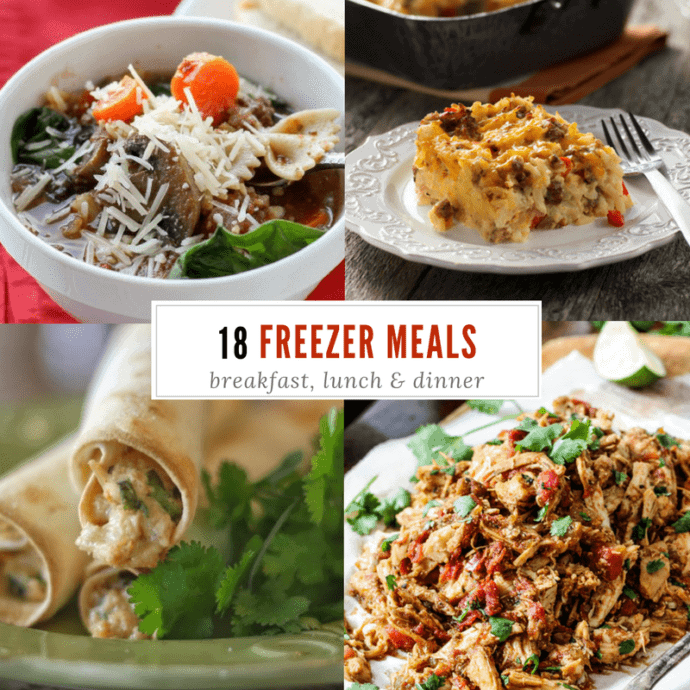 Several weeks ago, my sisters-in-law and I got together and spent an entire day batch cooking meals for our families. Most of the food became easy freezer meals to pull out and heat up later. (You can read all about our first experience with prep ahead meals here.)
It was such a success that we did the whole thing again a couple weeks ago. We added a few new recipes, repeated some favorites, and once again declared the whole thing "worth it."
It's a lot of work to get the shopping lists organized and then you spend the whole day in the kitchen, but after that, you reap the benefits for several weeks!
All the Freezer Meals in my freezer:
21 banana oat muffins

1 8×8 pan hashbrown casserole

16 bean burritos

9 Uncrustables

2 lbs. chicken salad (actually in the fridge, not the freezer)

21 taquitos

1 honey sesame chicken

1 yeehaw stew (with rice)

2 8×8 fajitas

2 bags shredded slow cooker Mexican chicken (2 cu. each)

2 bags Mexican rice

1 bag refried beans

2 lbs carnitas

1 pork lo mein (with veggies)

2 lb. pork roast for pulled pork (with BBQ)

2 deep-dish baked ziti

1 lasagna soup (with pasta & spinach)

Bread crusts for an overnight French toast bake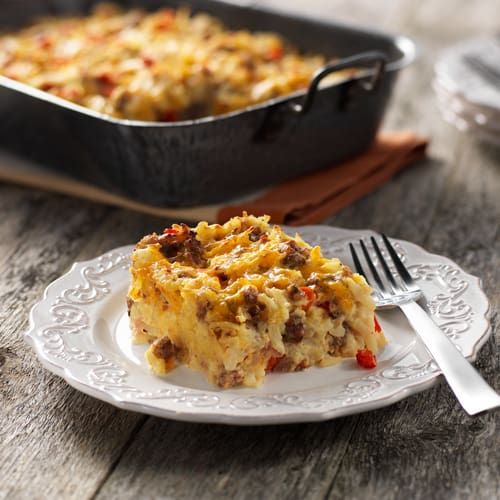 Breakfast

Lunch
Bean Burritos made with Crockpot Refried Beans
Uncrustables using a sandwich press (affiliate)

Dinner
Slow Cooker Honey Sesame Chicken
Slow Cooker Shredded Mexican Chicken and Mexican Rice
Baked Ziti
Yee-haw Stew-this is a friend's recipe so I don't have a link for it yet. I need to make it again so I can take pictures and post it! If you don't want to wait, leave a comment and I'll happily add the recipe here for now. 🙂
Lasagna Soup Freezer Meal-it's a stretch to call this "lasagna" soup since it doesn't really resemble lasagna at all. It is, however, SO delicious, and it's full of great Italian flavors.
This is a meal that is an excellent option for freezer to slow cooker dinner. You just dump everything in a freezer bag and then when you're ready to eat it, drop the whole frozen clod in the slow cooker and let it simmer all day. YUM!
Lasagna Soup
A perfect freezer to slow cooker meal for cold winter nights!
Ingredients
1

lb.

Italian sausage

2

c

onion

chopped

1

c

carrots

diced

2

c

mushroomed

sliced

2

Tbsp

minced garlic

4

c

chicken broth

1

can Italian style diced tomatoes

15 oz

1

can tomato sauce

10.75 oz

1

c

bow tie pasta

2

c

fresh spinach
Instructions
Brown sausage, add onions and carrots and saute for 3 minutes

Stir in mushrooms and garlic and saute for 3 minutes

Dump cooked ingredients into the slow cooker.

Add broth, diced tomatoes, tomato sauce and simmer in slow cooker on low for 6 hours

Either pre-cook pasta and add to slow cooker or add to pot last 30 min & turn to high.

Stir in spinach and cook until wilted (right before serving.)

Top with shredded mozzarella or Parmesan cheese and serve with crusty bread
Crockpot Express Cooking Instructions
Follow the above instructions and add all ingredients to the pot except the spinach and pasta. Press Soup/Stew and set timer for 20 minutes. Allow at least 10 minutes NPR and then carefully release any remaining steam. Open the lid and add the spinach and pasta. Close and lock the lid and close the steam release valve again. Press Steam and set time for 4 minutes. Do a quick release after cooking. (Be careful-divert the steam with a cloth or plate to avoid hot splatters!)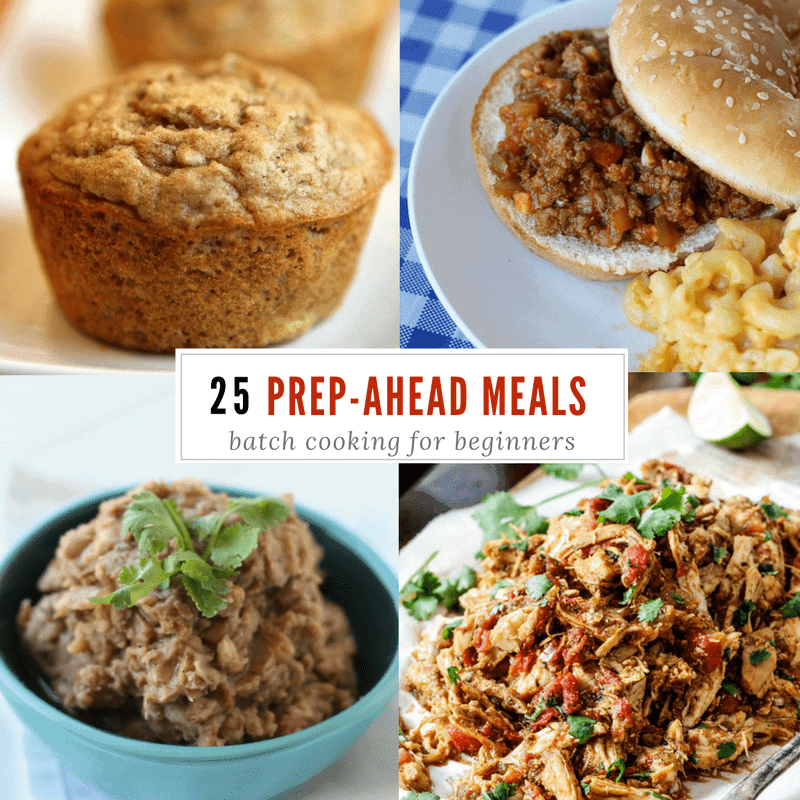 Be sure to check out my first post detailing how to get started batch cooking for freezer meals. There are twenty-five recipes included in that post, along with a complete shopping list! If you are interested in the shopping list for this collection of recipes, please leave a comment here or on social media. I'm happy to share! 🙂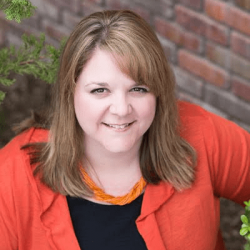 Latest posts by Nicole Burkholder
(see all)