This post may contain affiliate links. Please see my full Disclosure Policy for details.
Some people in this house (I'm not naming names, but they are all boys) go through pillows like I go through a batch of chocolate chip cookies. Quickly. They get lumpy, smashed down in the middle, smelly and YELLOW. Ick. I don't know why, but my boys sweat buckets all night long-like sleeping is a contact sport! Until now, I've just thrown them away and gone to buy more cheap pillows for them to destroy. I did try just tossing them in the wash once, but I wasn't happy with the results. This time, I tried a new "magic" cleaning solution from One Good Thing. Success! THIS is how to wash and whiten pillows!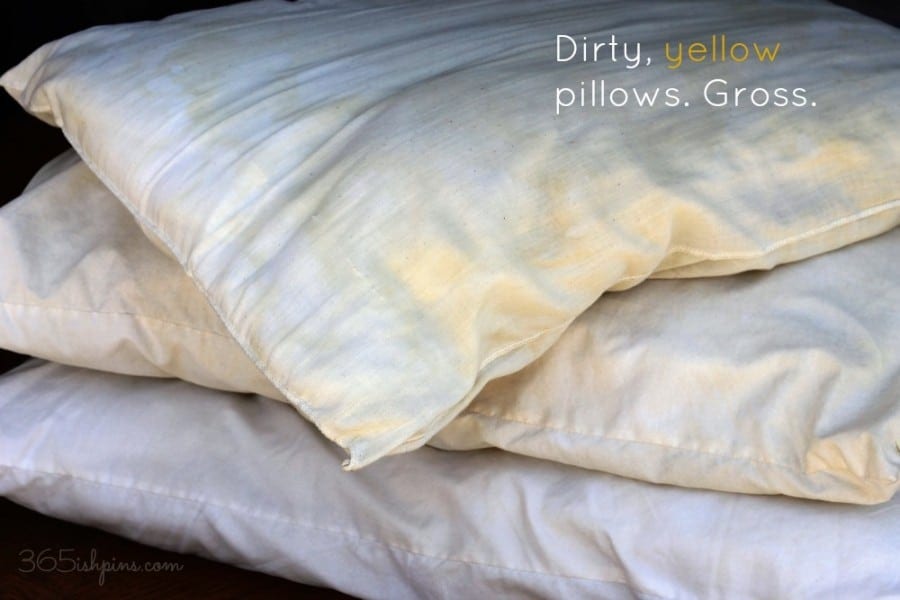 This is what I started with-a pile of yucky pillows. Honestly, you really can't see the full extent of the staining in this photo. And trust me, you are lucky you can't smell them! Especially the top pillow that belongs to Bryce. I'm an really not looking forward to the time when I have three teenagers in my house.
How to Wash and Whiten Pillows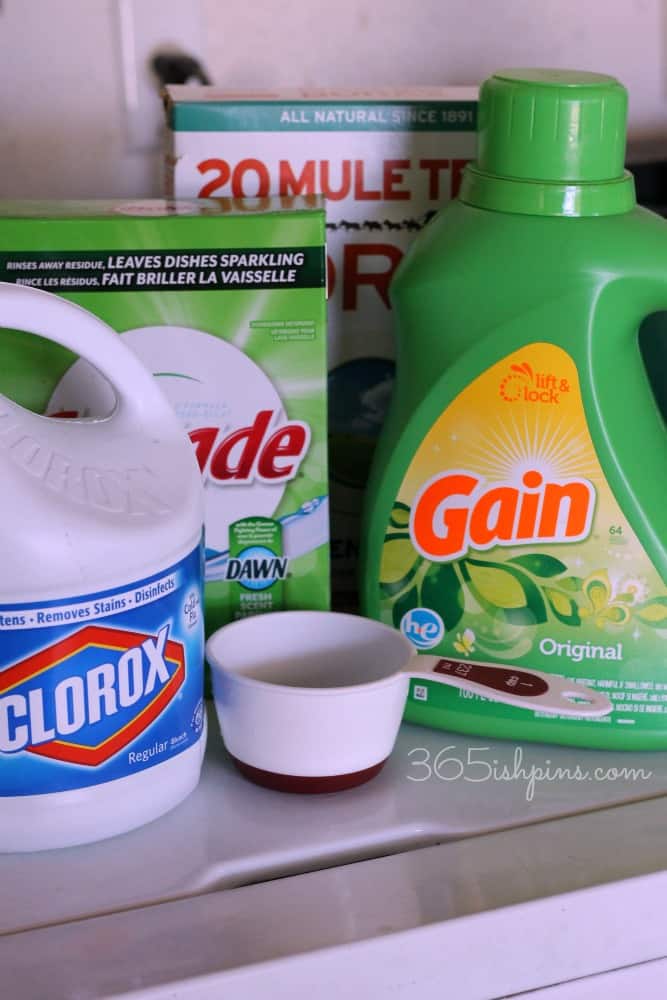 Magic Cleaning Solution to wash and whiten pillows (and other stuff, too!)
HOT water
1 cup laundry detergent
1 cup powdered dishwashing detergent
1 cup bleach
1/2 cup Borax
Before you wash your pillows, make sure the tag says they are washable. 😉 Most synthetic pillows are. Fill the machine about 1/3 of the way with hot water. I added a tea kettle full of boiling water to bring the temperature up even more. Then add all the ingredients of the "magic wash" and turn the washer on agitate for a few minutes to mix and dissolve the soap completely.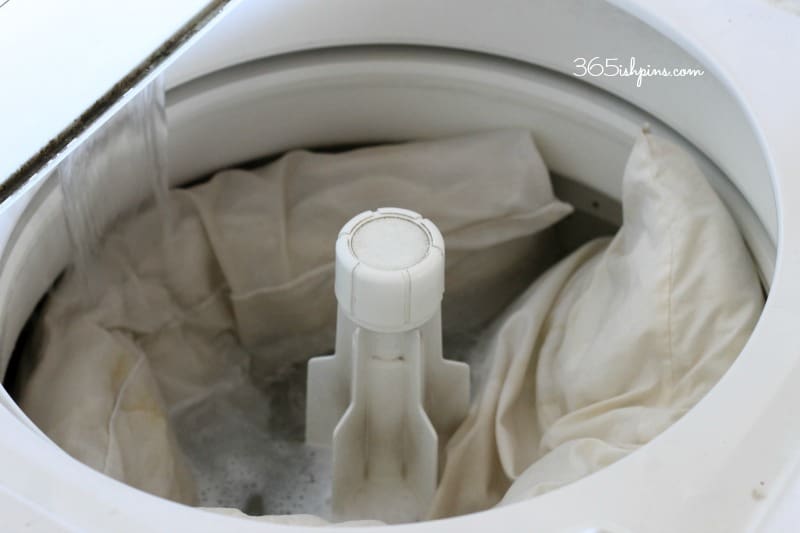 Then add your pillows (do two at a time to keep the machine balanced) to the water and finish filling. Let the cycle run (agitating) halfway and then turn the pillows over so each side gets a chance to be fully immersed in the soap solution. Run through the rest of a normal cycle, rinsing twice if you'd like.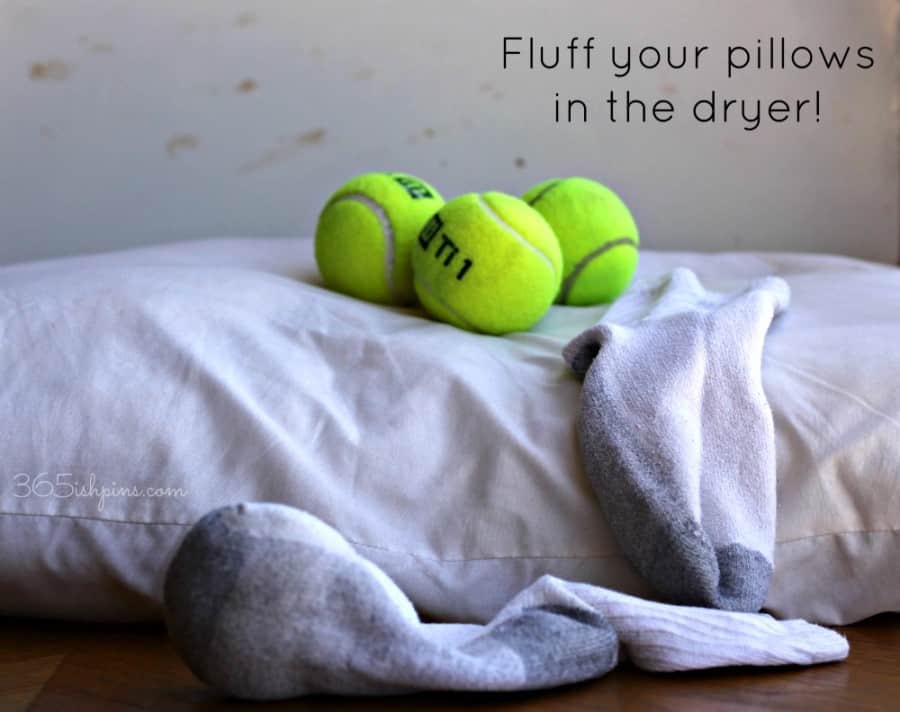 The next step is to dry and fluff your pillows back to life! Take a tennis ball and shove it down into the toe of a clean sock. Put the two pillows into the dryer with 2-3 of the "dryer balls" and set on low heat for synthetic materials.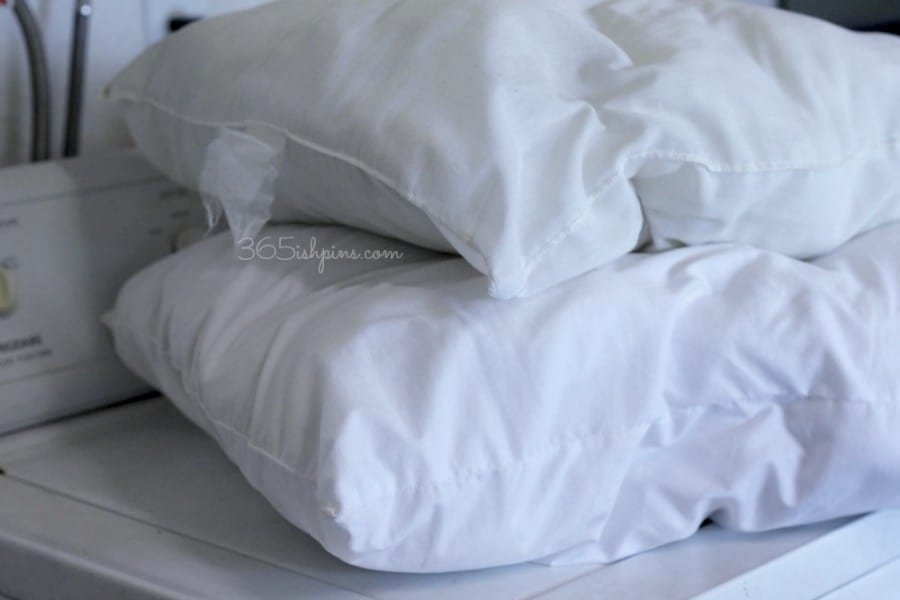 Ta Da! Nice, clean WHITE pillows again. And they smell so fresh, too. Hurray for another Pinterest success! Check out this post for my Top Ten (tested) Pinterest Cleaning Tips. I love it when things actually live up to the hype. 🙂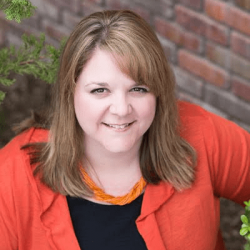 Latest posts by Nicole Burkholder
(see all)