This post may contain affiliate links. Please see my full Disclosure Policy for details.
This post was sponsored by Oceanview Wooden Swing Set from Backyard Discovery Products™.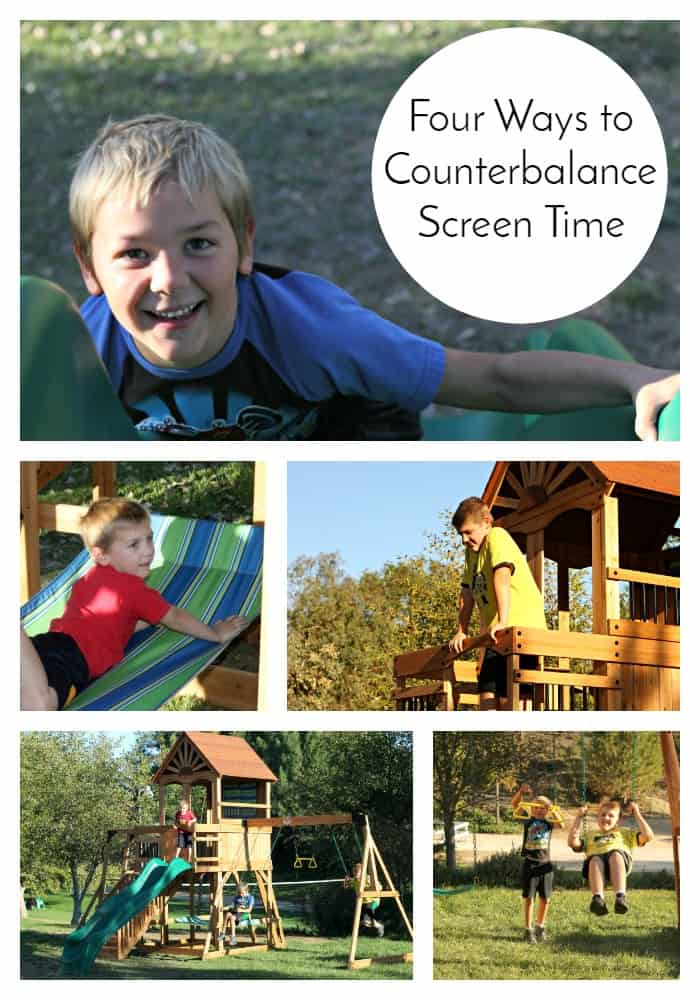 Video games and kids- like it or not it's a topic that's hard to avoid.
In my own family we enjoy video games and television. My husband and I both play video games and naturally so do our children. I enjoy the entertainment factor of video games and I am not ashamed to admit that at times I am grateful for the respite such activities provide me as a parent BUT I also find myself worrying about how it's impacting my kids.
How much screen time is too much?
What are they NOT doing when they are playing video games?
How can I get them motivated to get outside when the lure of video games is so strong?
There are literally dozens of ideas out there for how to limit children's screen time and of course each family has to find their own comfort level. In our own household we don't allow media until after 5pm and that works well for us, however, it doesn't address some of my biggest concerns- being sedentary, repetitive motion and constant visual stimulation. It is important to me, to not only limit the amount of time my kids spend doing these things, but to engage them in activities that will provide a counterbalance.
Four Ways to Counterbalance Video Games and Screen Time
Encourage gross motor skills such as balance, coordination, and locomotion
We use these skills everyday yet we don't often stop to think about how important they are. It takes years to refine skills like running, jumping and climbing so the more opportunities you kids have to practice things like climbing up and over things, swinging from monkey bars, and hanging up upside down, the better off they will be when it comes to the everyday use of their bodies.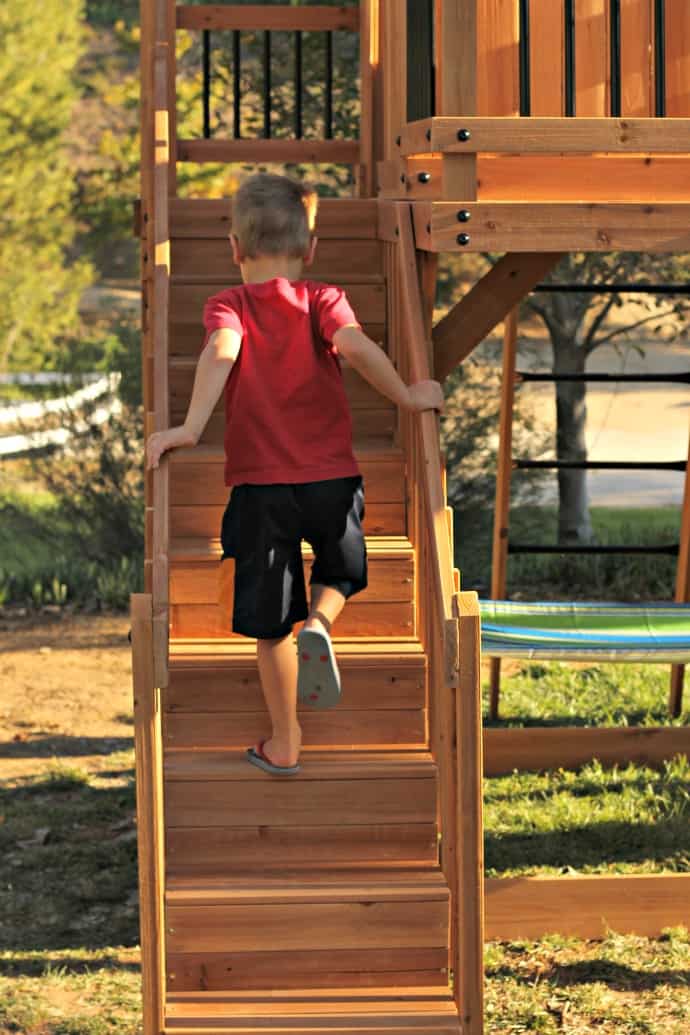 Swinging
Swinging is wonderful for children. The full body motion helps them integrate information from their muscles and joints which improve body awareness and according to The Motor Story, swinging can "increase a child's alertness, improve attention, and facilitate a calming effect."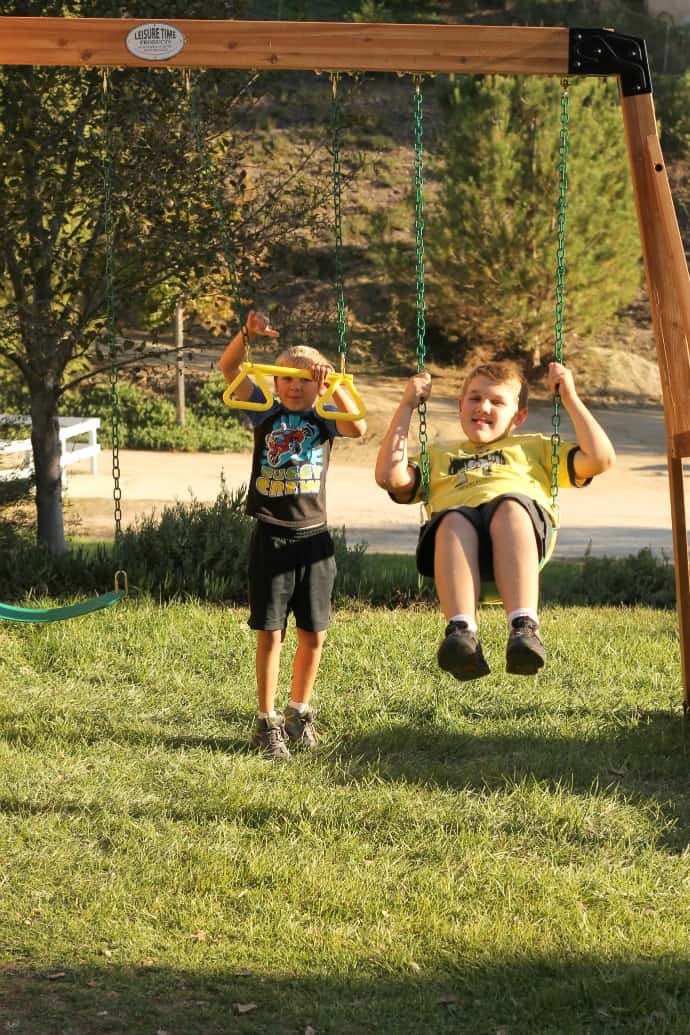 Quiet unstructured time
We all need down time, but there is a big difference between vegging out in front of a screen and sitting undisturbed- letting your mind wander, reflecting on your day, or just playing quietly by yourself. Kids need space to encourage them to engage in this kind of down time.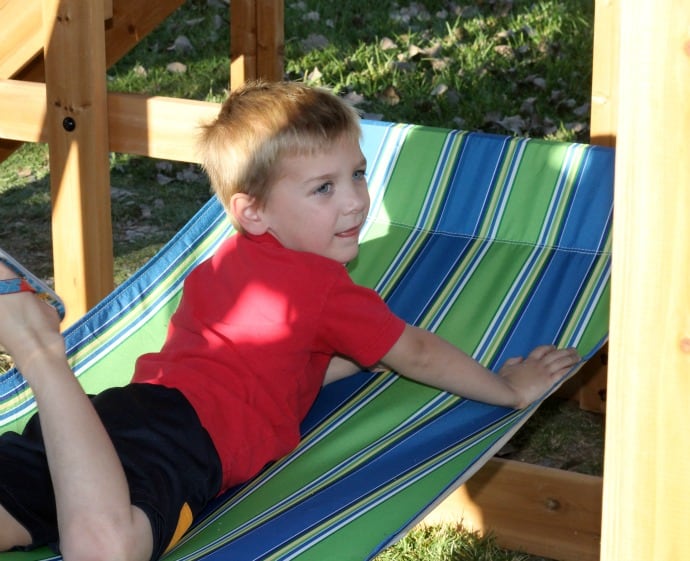 Imaginary play
Imaginary play gives children the chance to explore real world issues such as friendship, sharing, fear and loss on their own terms. (As children get older they may lose their affinity for dress up clothes and other dramatic play toys but a fort or clubhouse seem to hold their appeal into adolescence.)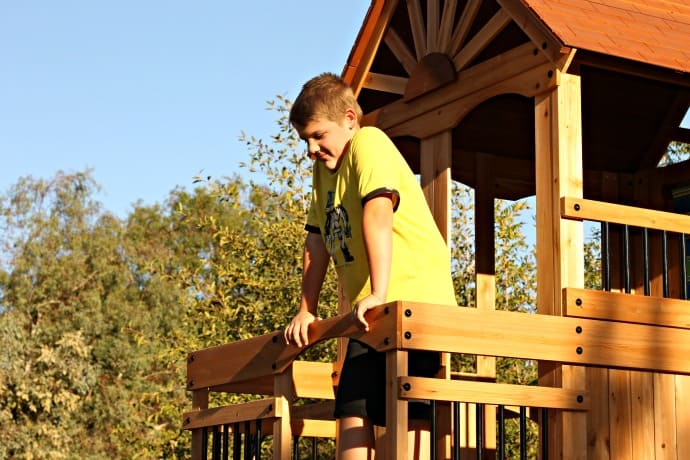 Encourage your kids to take time each day to engage in these activities. Let them know that it's important for them to have a variety of activities in their lives. There's nothing wrong with liking video games but their brains and bodies need other activities to grow healthy and strong!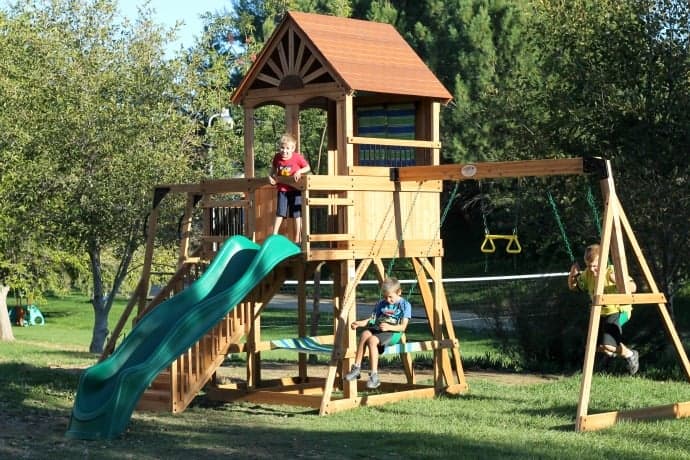 This post was sponsored by Oceanview Wooden Swing Set from Backyard Discovery Products™, perfect for drawing kids outside and encouraging activities to balance media in your kids lives. The wooden design makes it visually appealing and the club house and fort underneath will draw kids of all ages.
Do your kids need more encouragement to get outside and play? What if they had their own play set just like this one? Backyard Discovery Products™ is giving one away! There are multiple ways to enter using the Rafflecopter form below.
Here's what you need to know:
The giveaway will be open from 11/18/15 to 12/11/15 and is sponsored by Backyard Discovery Products™
One winner will be selected to receive one (1) Oceanview Wooden Swing Set delivered to the winner (ARV $1399)
The winner will be chosen on 12/14/15 and will need to give approval of the brand using their name and picture in publicity.
Are you ready to check out this amazing swing set out for yourself? You can head to your nearest Sam's Club, order it on Amazon, or go directly to their site!
This post was sponsored by Oceanview Wooden Swing Set from Backyard Discovery Products™.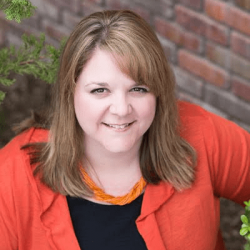 Latest posts by Nicole Burkholder
(see all)