This post may contain affiliate links. Please see my full Disclosure Policy for details.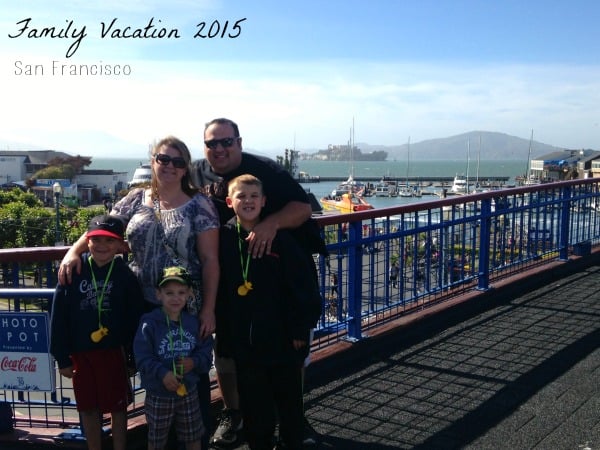 Four weeks ago, on June 12th, I celebrated my 3 year blogging anniversary and then logged off. I haven't posted a thing since! I scheduled out my social media and walked away. And I don't regret it one tiny little bit. Everyone needs a break once in a while, and I think bloggers especially need to take a break ON PURPOSE. It's not just the creating/writing/photographing/editing of new posts that takes time and energy. The endless networking on social media takes a toll and you don't realize how much you need a break from the digital world until you turn it off for several days. When we went on a little family vacation up and down the coast of California, I completely removed Facebook, Twitter, Pinterest, Instagram, Google + and Periscope from my phone. I declared a social media-free week and waited until we got home again to share any vacation photos and memories. It made the time feel like it was OURS as a family and didn't have to be shared with anyone else. And honestly, taking a break from the sometimes "drama" of social media is always a good idea. 🙂 So now that I've enjoyed a few weeks of freedom from social media and deadlines, I'm ready to jump back in, starting with some great family destinations on the California coast!
1. San Francisco
Normally, when we drive up to visit family in the Bay area (travelling from the San Diego area 🙂 in case you don't just automatically know where I live), we take the 5 freeway all the way. It's SUPER boring, but it's also the fastest way to get there. This time, we went up the 99 so we could stop and have dinner with some friends along the way. I also think it's a more interesting drive, although it's not exactly "scenic." We arrived at my in-laws' house late Friday night and then drove into the city and spent the next day playing tourist in San Francisco. There are a kajillion different things to do in San Fran, but we did something new this time and took a really fun tour around the city and McCovey cove on an amphibious vehicle. It was much nicer than driving around town ourselves and driving right out into the water was super cool! We had a blast on our Duck Tour.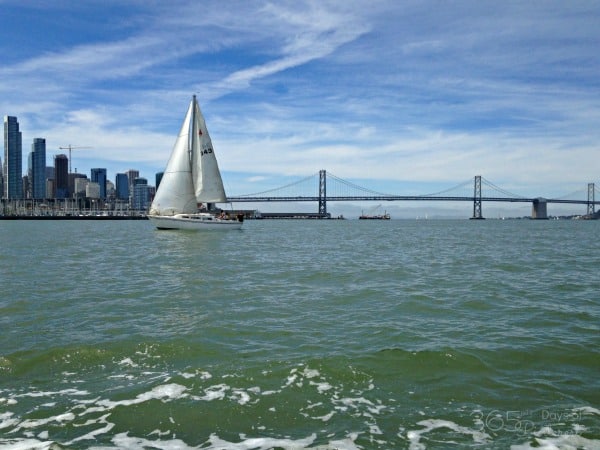 The boys also got these lovely "quackers" to play with the whole ride. That got a little old, but they were having so much fun and it does make for funny photos.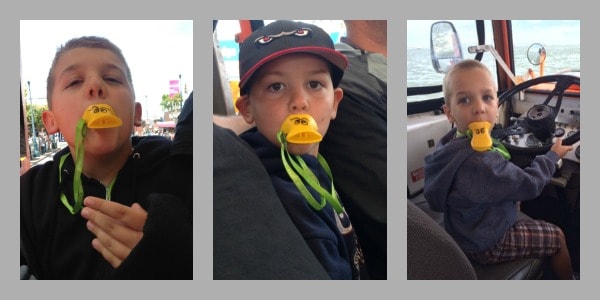 We were going to go see Alcatraz, but when I tried to buy tickets three days in advance, they laughed in my face. Tickets to see the island prison are sold out weeks in advance, so if you are planning a trip to San Francisco, make sure to get your tickets purchased early! I didn't mind too much, though. My husband and I have been to Alcatraz a couple of times already, so it was nice to do something new. After we finished our tour, we went to Pier 39 to ride the carousel and see the sea lions. Unbeknownst to us, One Direction was there making an appearance, so the crowds were crazy. We left to grab dinner on the way home instead of fighting the throngs of screaming girls any longer. 🙂
2. Avenue of the Giants (California Redwoods)
After our day in San Francisco, we spent Father's Day with Gramps and Mem and grilled out in the backyard. It was a nice relaxing day. The next morning we loaded up the boys and headed north to Eureka. The drive between the Bay area and northern California is beautiful. They have really improved the highway and eliminated a lot of the car sickness-inducing winding roads. I just love the way the sunlight blinks on and off on the windshield as you drive through the forests. The trees grow right up to the edge of the roads and the ferns and undergrowth in the forests are so lush and beautiful! We drove through the Avenue of the Giants, making sure to drive through a tree in Myers Flat, since no trip to Redwoods would be complete without that experience!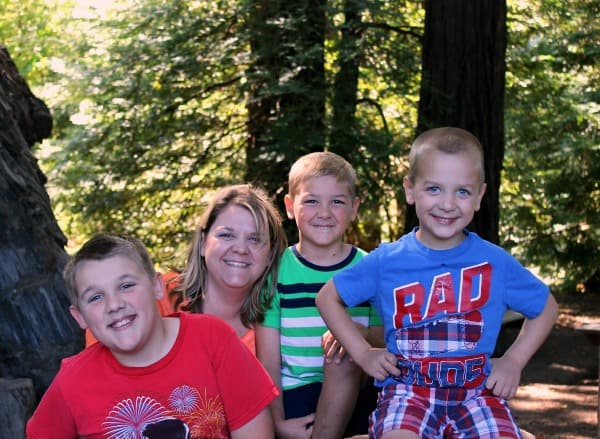 A little farther down the road, we saw a day use area for the Eel River and pulled over to check it out. The park ranger let us come in for a few minutes to look since we were just passing through on our way to Eureka and didn't have time to stop. The boys waded in the cool water for a few minutes and we promised them we would come back the next day to swim in the river.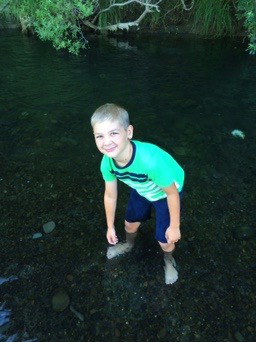 3. Eureka (Humbolt County)
After we reached our hotel and checked in, we headed to the Samoa Cookhouse for dinner. It is the only cookhouse in the west still running. Originally, it was built for the loggers working in the forests and lumber mills. They are still open for breakfast, lunch and dinner, and the meals are served family style. You don't order off a menu. When you arrive you sit down and they bring you whatever they are serving that day. We had soup, salad, AMAZING fresh-baked bread, BBQ ribs, chicken, corn and dessert. It's all you can eat, so you'll never leave hungry! After eating, we checked out the logging museum full of old tools, machinery and original kitchen supplies. The coffee mill was HUGE!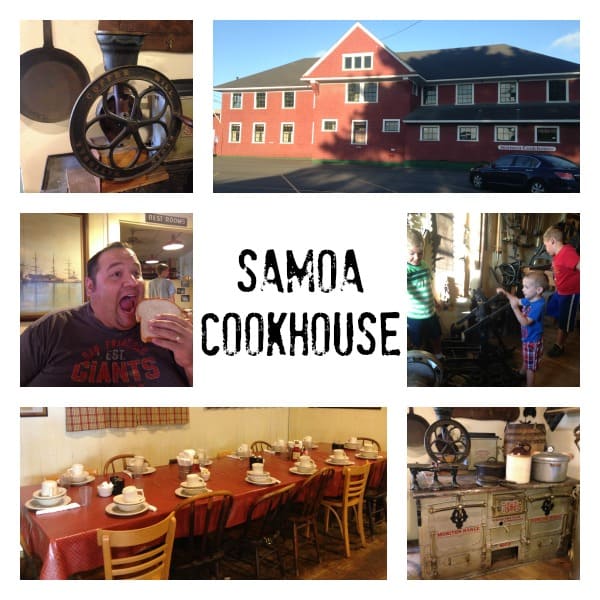 After dinner, we went a little farther up the road to one of the most beautiful beaches I've ever seen. Samoa is on a peninsula with the Pacific ocean to the west and the Arcata Bay to the east. The beaches have sand dunes and beach grass that looks more like what you would see on the east coast. There were also thousands of shells, sand dollars and crabs everywhere!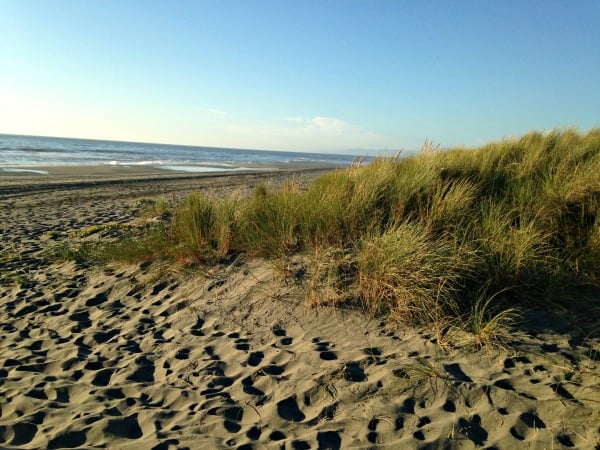 While the rest of California was sweltering in the summer heat, we were wearing sweatshirts and enjoying a beautiful sunset on a beach all to ourselves. Ah, the joys of vacation! 🙂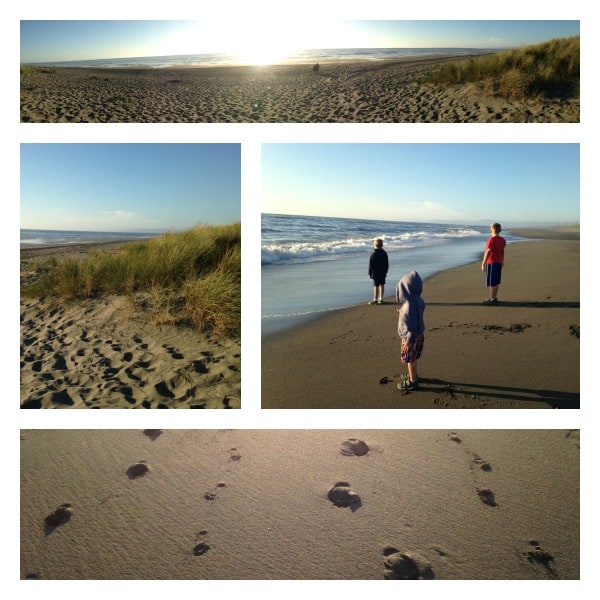 We spent the night in Eureka and then spent the next day visiting my husband's old stomping grounds: his elementary school, house, church, paper route, little league field and favorite places to ride his bike. Then we spent a few hours at the Sequoia Park Zoo there in town. It's a great small zoo where you can get up close to the animals and watch them during feeding hours.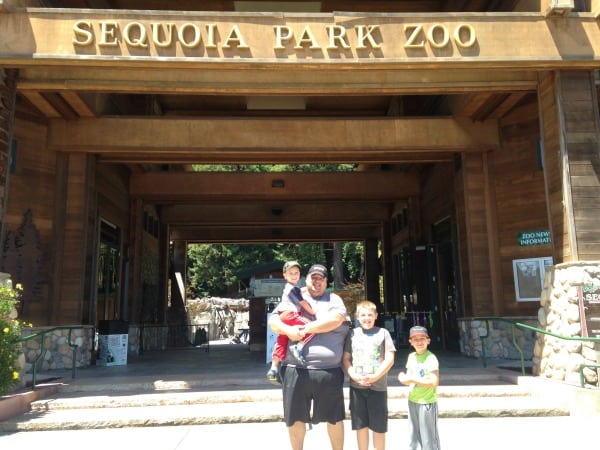 We left Eureka and headed back down towards the Bay area the same way we came. We had promised the boys we would stop and swim in the river on the way back home, so we found an information center along Avenue of the Giants (which is FULL of fantastic camping sites, by the way!) and changed into our swimming clothes. Then we parked in the day use area and played for a couple of hours in the cool, clear water. It was the highlight of the trip for my boys. The scenery is just breathtakingly beautiful and the current was slow and easy so I didn't have to worry about the kids.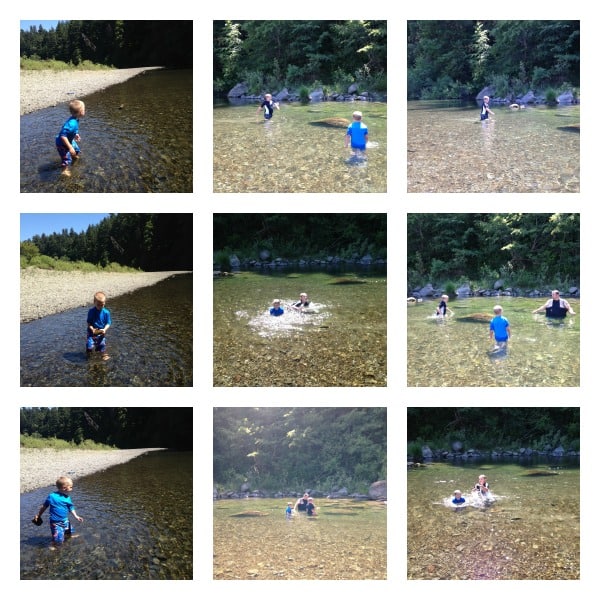 We got back to Gramps and Mem's house late that night and spent the next day with them just hanging around the house and relaxing. On Thursday we started our long and scenic drive home by traveling down the Coast Highway (Hwy 1) and stopping along the way at things that caught our attention. This is one stretch of the drive that you're definitely going to want to take some Dramamine!
4. Monterey and the Coast Highway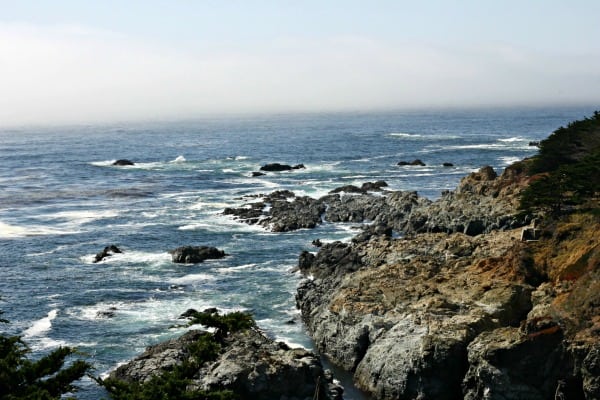 You can start in Monterey and take the 17 mile drive around the gorgeous golf courses, but I knew the boys would be less than thrilled with that, so we just had lunch at the original Bubba Gump Shrimp Co. and then moved on down the coast. There are lighthouses, bridges (the Bixby bridge was completely covered in fog, so I didn't get any photos of it) and mile after mile of stunning coastline drink in as you wind your way down south.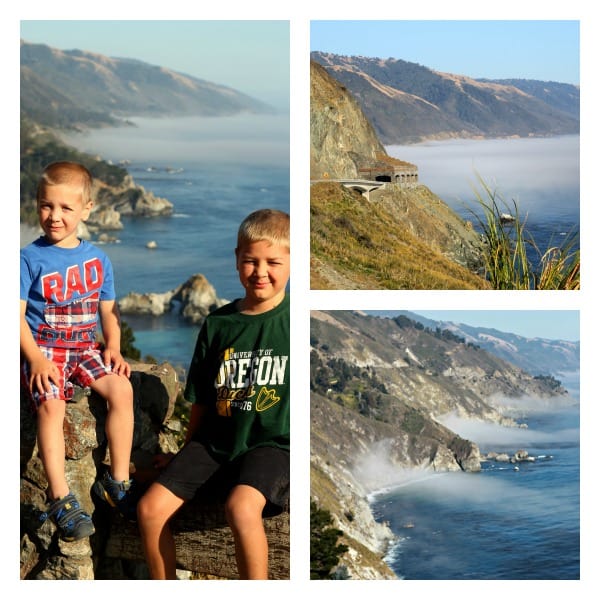 Be sure to stop at Elephant Seal beach and spend some time watching these giant sea mammals! They are huge and pretty funny looking. The males were all jockeying for position and calling out to each other. It sounds like really loud belching, which my boys though was hilarious.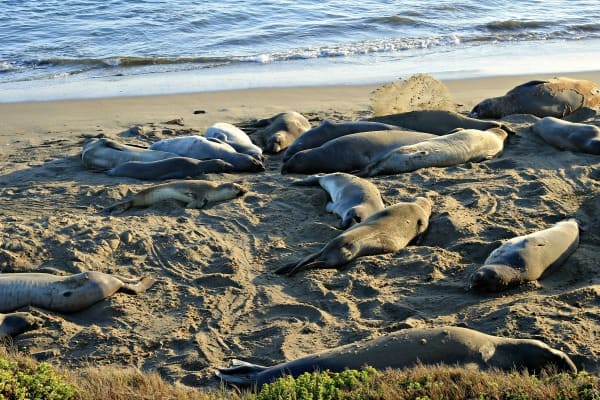 We stopped in San Louis Obispo for the night and then came down the rest of the way home the next day. If you are going to be travelling up or down the length of California, I really recommend taking the coast. I know it's a longer drive, but it's so much prettier! We saw lots of couples in cute little sports cars cruising with the top down. This kind of vacation is about the journey, not just the destination!
I'll be back to posting all kind of goodies I discovered thanks to Pinterest now, but I just really wanted to share our vacation adventures with you and encourage you to come visit the beautiful state of California. Plus I needed to prove that I wasn't just sitting around eating chocolate chip cookies and watching Netflix for the last month. 🙂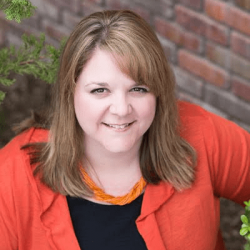 Latest posts by Nicole Burkholder
(see all)