This post may contain affiliate links. Please see my full Disclosure Policy for details.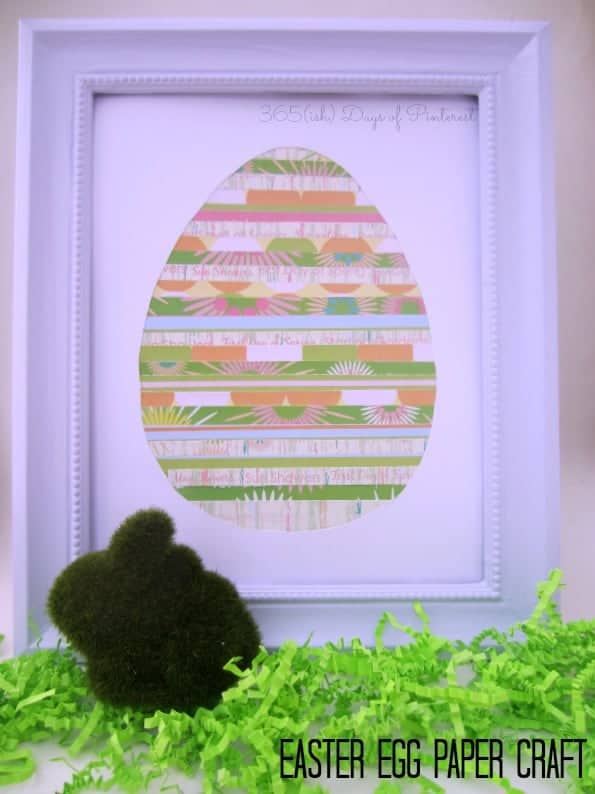 This cute little Easter egg art for my mantel is the craft that almost wasn't. Have you ever had one of those days where everything just kept going wrong? I was searching Pinterest for paper crafts to do with my kids to send to their great-grandma (Mimi) in an Easter card, and I saw this on Minted and knew it was something I could handle. I started working on my Easter egg paper craft first thing this morning, and that's pretty much when everything started going wrong for the day.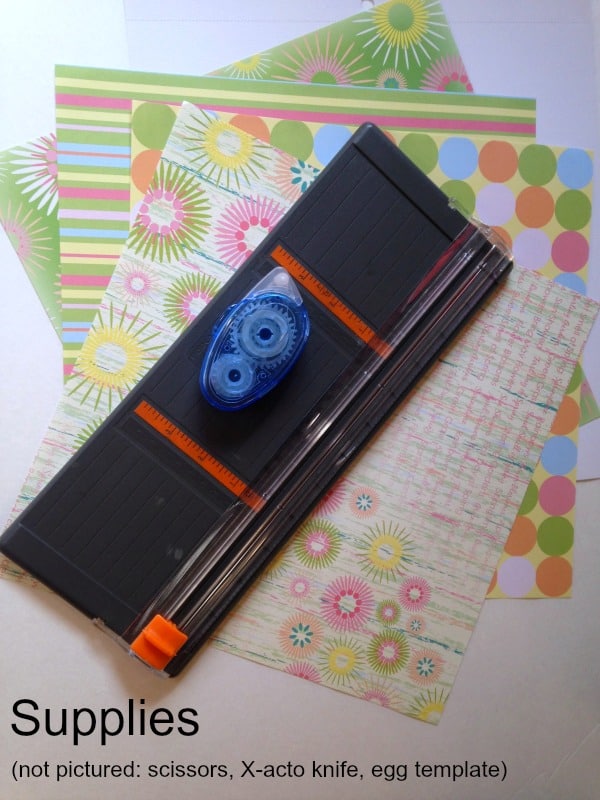 I chose four coordinating sheets of scrapbook paper for my strips. Using my paper cutter, I cut five to ten strips of each sheet that were 1/4″ or so. I also had a piece of white card stock that I cut to fit in an 8×10 frame. I tried to free hand an egg onto the card stock, but it just kept getting worse. I'm no artist. 🙂 Fortunately, if you Google "egg template" you'll get many free downloads to choose from. I printed mine out and used it as a guide to cut out an egg shape from the white card stock.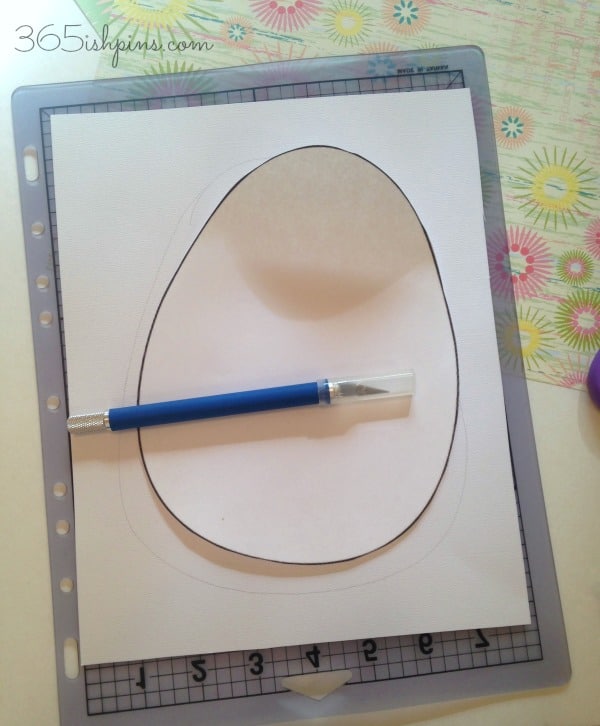 After cutting out the egg, I laid it on a piece of paper just to keep it in place and then started sticking the strips to my egg with my tape runner. I love that thing! It makes things like this so easy and much neater than glue. I tried very hard NOT to glue them in any kind of order. I didn't want a pattern, just colors that blended pleasantly.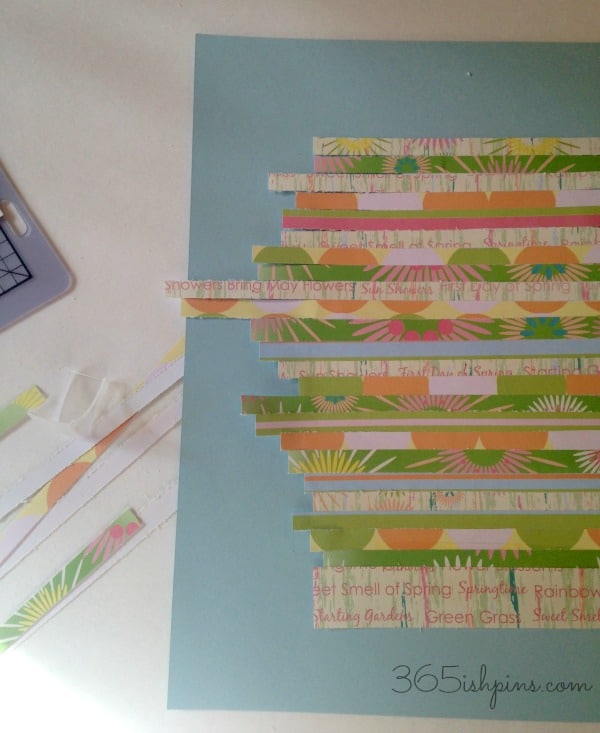 Here's the view from the back. Now all I had to do was trim the extra paper off the sides. (Word of caution: DON'T trim too closely. You don't need to since you'll be covering up the front anyway.) I spent an unnecessary amount of time getting my overlay just right because I was too eager with the scissors!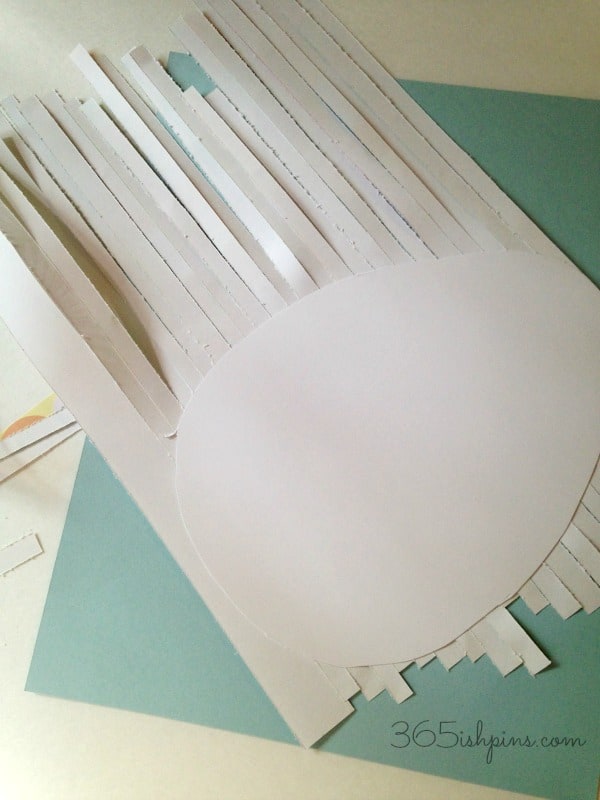 The last step is to cover the front of the egg with the card stock. I used a little bit of my tape runner again to hold the cover in place and keep the egg from sliding around once I put it in the frame.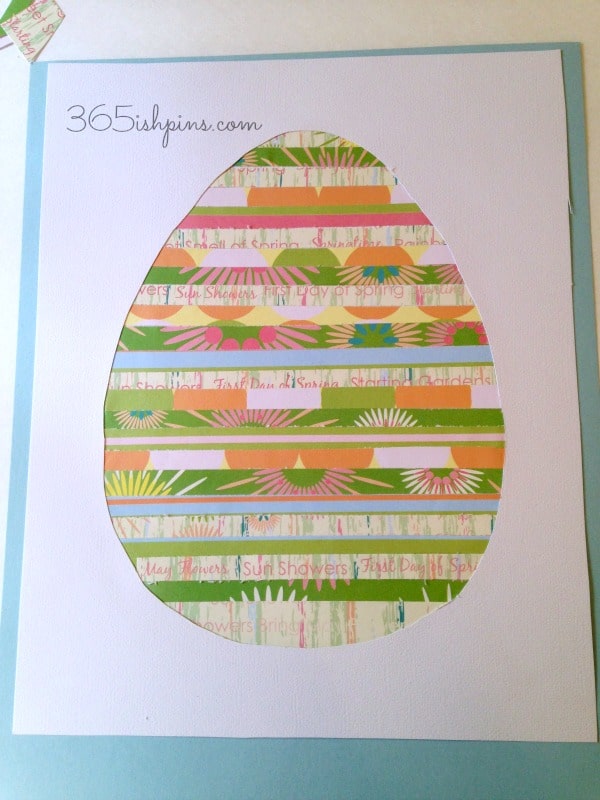 Ah, the frame. Remember the part where I said my day began to go incredibly wrong? I was hurrying through this project this morning so I could take advantage of the morning like in my dining room for better photos. As soon as I finished, I started prowling through the house looking for a frame. The only empty 8×10 that I had was an ugly gold and black color. I remembered I had purchased some pretty lilac colored paint from the Lowe's paint clearance section. I grabbed it and a sponge brush and went to work. It was so pretty! I knew I needed another coat, so I wrapped the brush in plastic and set the frame up on the counter to dry. While in the middle of a piano lesson, I heard a rattling noise in the kitchen, and this is what I found: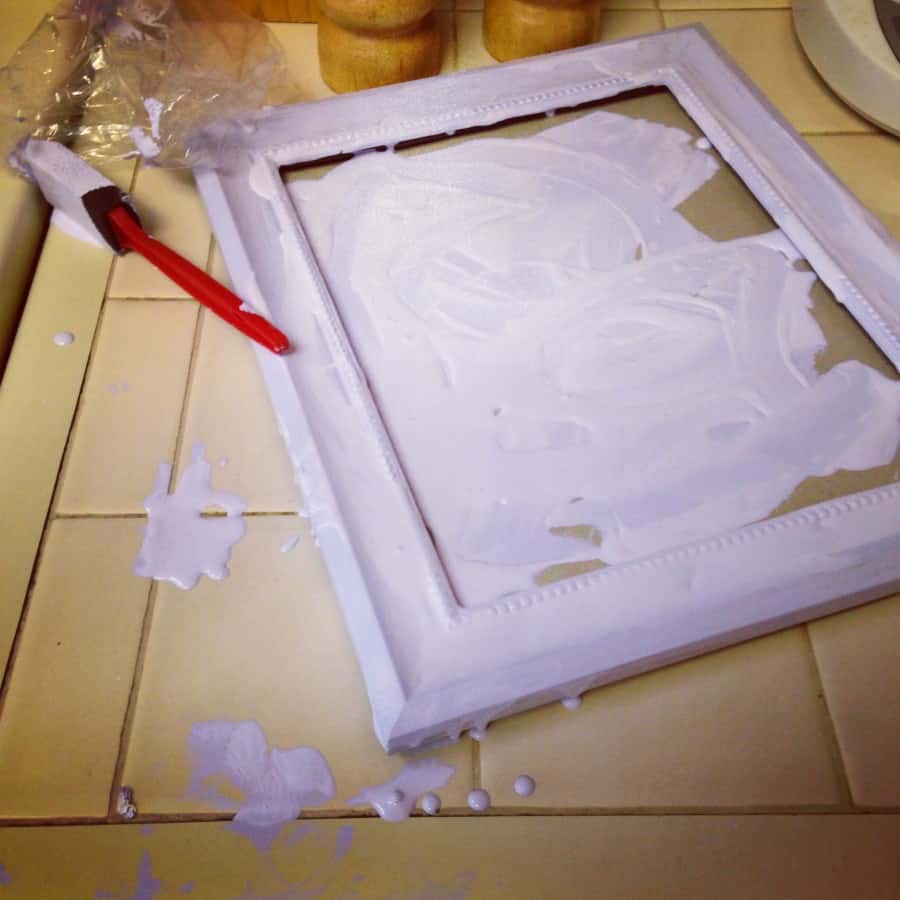 Did you hear me screaming? Well, actually, it was more like silent weeping and growls of frustration. The two-year-old responsible for this mess still has paint all over his belly, because it "hurts and tickles" too much to let me scrub it off. One more bath should do it. I cleaned up this mess as best I could and tried to spread out the second coat that was so kindly applied for me. I put the frame out in the sun to dry and when I was running out of daylight, I was forced to put my artwork inside it. I'm pretty sure it will never come out again. 🙂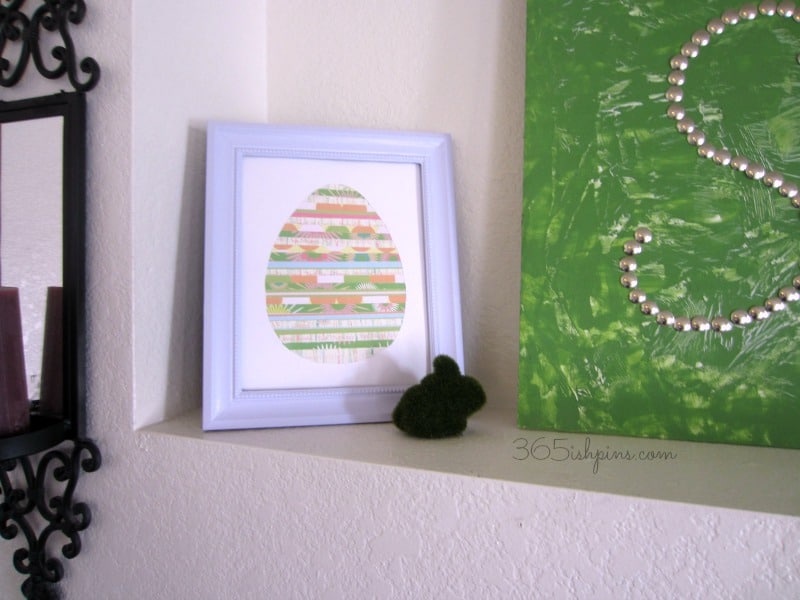 I put the finished product in the corner of the mantel. My Spring mantel is coming together! It still needs some flowers for color but a few more projects and garage sale finds should do it! Note: while I was inside setting this up and photographing it, my puppy was in the back yard shredding my light box. Yep. It was that kind of day.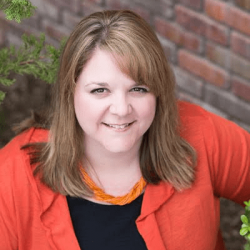 Latest posts by Nicole Burkholder
(see all)