This post may contain affiliate links. Please see my full Disclosure Policy for details.
Mmmm, I'm getting hungry again just thinking about last night's dinner! I love jalapeno poppers. They are the only thing worth ordering off the Sonic menu, in my opinion (except the drinks, of course). So when I saw this pin for jalapeno popper chicken, I had to try it out. Immediately.

I didn't have chicken breast because I'd just used it all up in my freezer meals, so I used boneless skinless thigh meat instead. Because I couldn't "stuff" them (thigh meat ends up as a thin, sort of mangled cut) I figured I would make a roulade. Yes, I just went there. I don't watch the Food Network for nothing. A roulade is just the French way of saying I rolled the meat around the filling. But roulade- say it with me- roulade, sounds so much fancier. 🙂 I made my filling, spooned it over the chicken, rolled it up and held it together with toothpicks. Then I dredged it in egg and panko crumbs and baked on a cookie sheet for about 25 mins. Oh. My. Goodness. I ate two pieces and wished I'd made more. I have nothing bad to say about this meal. At all. I will make it again and again and again! Soooooo good! And it's way better for you than fried jalapeno poppers would be anyway. Well, her version is. I used regular cream cheese and colby jack because I think it melts better and is yummy in Mexican style foods. Either way, enjoy!
1/2 cup panko
2 tsp. canola oil
1.5 – 2 tsp. taco seasoning or mixture in notes*
1 egg
2 oz. reduced fat cream cheese
1/4 cup shredded cheddar cheese (we used 2%)
1-2 jalapeño peppers, seeds and ribs removed, minced
2 chicken breasts
Preheat the oven to 375 and place an ovenproof rack onto a rimmed baking dish. Spray with cooking oil.
In a small skillet over medium heat, combine the panko with the canola oil. Cook, stirring often, until the panko is golden and crispy. Place in a shallow bowl or dish. To the panko, add the taco seasoning* and stir to combine.
In another shallow bowl or dish, lightly beat an egg. In a small bowl, combine the cream cheese, cheddar cheese, and jalapeños.
Using a small utility knife, cut a pocket into the side of each chicken breast, or horizontally slice the chicken through the center, until it is almost butterflied. Season the chicken lightly with salt and pepper, and then divide the cream cheese mixture evenly between each chicken breast's pocket. Use toothpicks to secure, if necessary.
Dip the chicken pieces one at a time first into the egg, and then into the panko mixture, making sure to coat the chicken completely. Place the chicken on the prepared baking rack and cook for about 25-30 minutes, or until chicken is cooked through.
*Note: To make your own taco seasoning mixture, combine 1/2 tsp. chili powder, 1/4 tsp. cumin, 1/8 tsp. garlic powder, 1/8 tsp. onion powder, 1/8 tsp. cayenne pepper, 1/8 tsp. oregano, 1/8 tsp. paprika, and salt and black pepper to taste.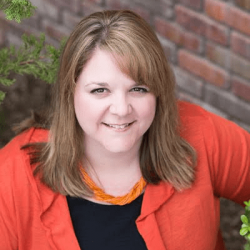 Latest posts by Nicole Burkholder
(see all)