This post may contain affiliate links. Please see my full Disclosure Policy for details.
Tonight we are celebrating our family's December birthdays. I saw
this cake by Food Network
a few months ago and pinned it in anticipation of Bryce's birthday. Peanut Butter and Jelly sandwiches are a staple of the Burkholder household, so I thought it would be a really fun birthday cake. The ingredient list is a piece of cake (oops, no pun intended there) so I figured I would give it a go.
Ingredients
1 stick unsalted butter, at room temperature, plus more for the pan
All-purpose flour, for the pan
1 18.25-ounce box white cake mix, plus required ingredients
1 cup creamy peanut butter
1 1/2 to 2 cups confectioners' sugar
2 to 3 tablespoons milk
3/4 cup grape jelly
Directions
Butter a 9-inch-square cake pan, line with parchment, then butter again and dust with flour. Make the cake mix and fill the pan three-quarters full (you'll have batter left over). Bake at 350 degrees F until a toothpick comes out clean, 30 to 35 minutes.
Let the cake cool in the pan 10 minutes, then turn out onto a rack and let cool completely. Transfer the cake to a work surface. Trim off the top using a serrated knife, then slice the cake in half horizontally.
Beat the butter and peanut butter with a mixer until smooth. Alternate adding the confectioners' sugar and milk, beating after each addition, until the frosting is fluffy and smooth. In another bowl, whisk the grape jelly until it is loose and spreadable.
Spread a thick layer of peanut butter frosting on the bottom cake half.
Spread the grape jelly on top of the peanut butter frosting, making sure to reach the edges. Top with the remaining cake layer.
Cut the cake in half diagonally and transfer to a serving plate. Separate the halves slightly to show the filling.
The downside about getting a recipe from their site is that it's only that- a recipe. It's not a food blog with handy step by step instructions and pictures. Now, I do NOT claim to be a food blogger in any way, shape or form, but I do want to make this easier for anyone who would like to try this recipe, so I'm posting more detailed instructions.
Here's my cake (white cake, boxed mix) cooling. I used an 8×8 baking dish instead of 9×9 and it was just fine. I also used all of the batter. The recipe says you will have some left, but my box was 16 oz. instead of 18 oz. Be sure to cool completely before attempting to slice it in half!!!
Once the cake was cooled, I began the frosting. It was quick and easy. Mix the butter and peanut butter together, then little by little add the powdered sugar and milk, mixing until it's soft and fluffy.
Now comes the hardest part. Slicing the top off isn't difficult since you have the corners to use as a guide. You want to take all the golden brown off the top and even it out so it looks like white bread. I then used toothpicks stuck in the middle of each side to help guide my knife blade as I cut in half horizontally. This is definitely the most difficult part of working with cake!
After slicing in half, frost the bottom half of the cake with the peanut butter and then top with the jelly. Be sure to get both all the way to the edges so they will show when you put the top half of the cake on.
Tragically, as I lifted my top half to cover the peanut butter and jelly filling, it cracked. But doesn't it really look like a yummy slice of PB&J?
Slice on the diagonal and pull apart slightly to show off the filling. Ta Da!!! Peanut butter and jelly cake! I'm looking forward to taking a big bite of this tonight with a tall glass of milk!
Linking up to Saturday Dishes: Cake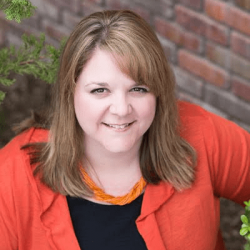 Latest posts by Nicole Burkholder
(see all)