This post may contain affiliate links. Please see my full Disclosure Policy for details.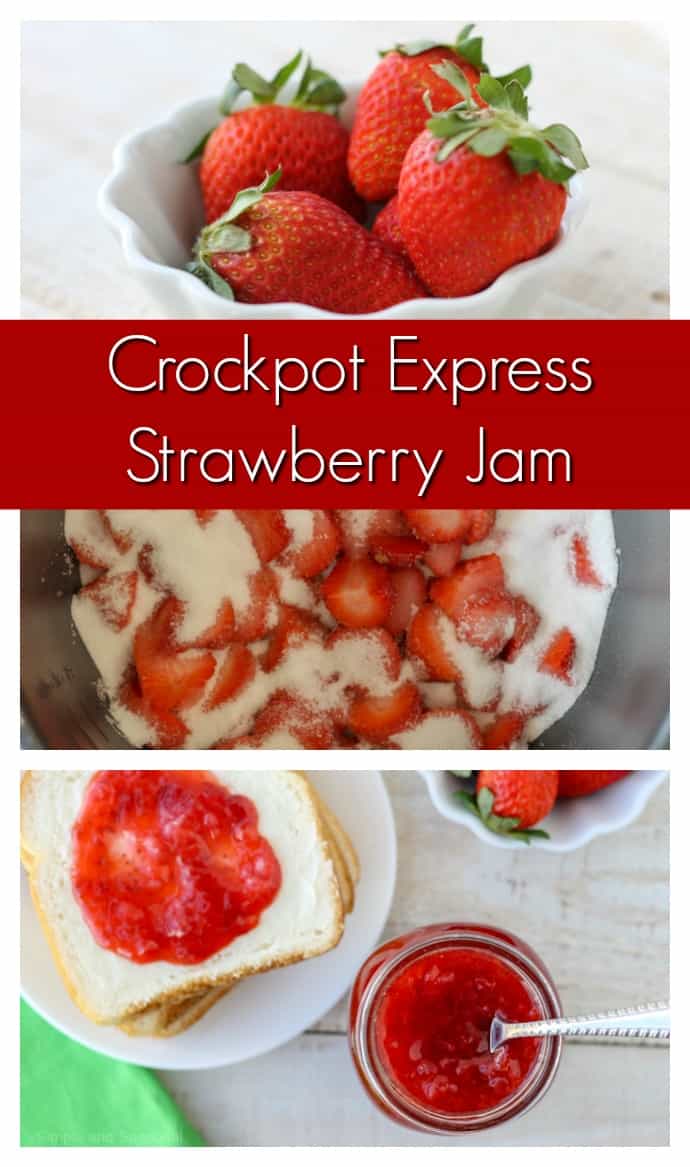 In less than an hour, you can be enjoying fresh Crockpot Express Strawberry Jam! It's perfect for a peanut butter and jelly sandwich or as a topping for sundaes and pancakes.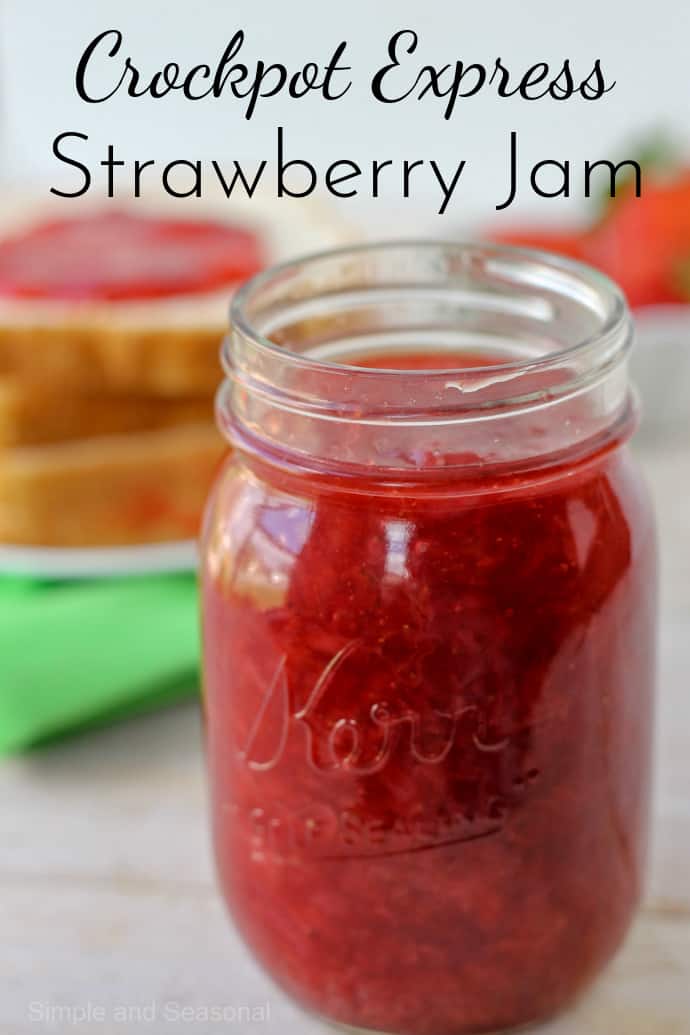 In our town, we have a "second run" store that sells overstocked and donated items from local businesses. They have groceries, drug store items, furniture, home decor and all sorts goodies in there. I like to stop by every couple weeks because it's like going on a treasure hunt.
This last week, they were giving away flats of strawberries with any purchase! This recipe for Crockpot Express Strawberry Jam is a perfect way to use fresh strawberries!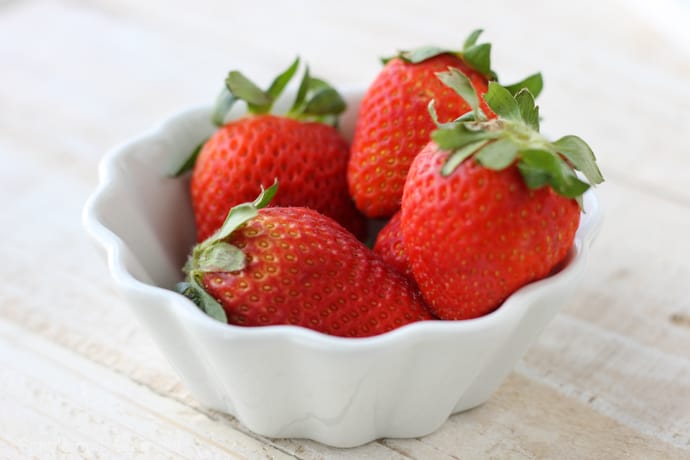 Buying food at a second run store is a bit of a risk. Sometimes they have great deals on food that's perfectly good. It was probably just a mistake in ordering and the large grocery chains donate it and write it off rather than keeping the stock on hand. Other times they are selling things that are past their expiration date, and you're taking a gamble. 😉
Fruit is always a gamble because it's hard to know how fresh it is. These strawberries, however, were perfect! Out of the 8 pints I had, I only tossed out one berry that was getting soft and icky. What a score!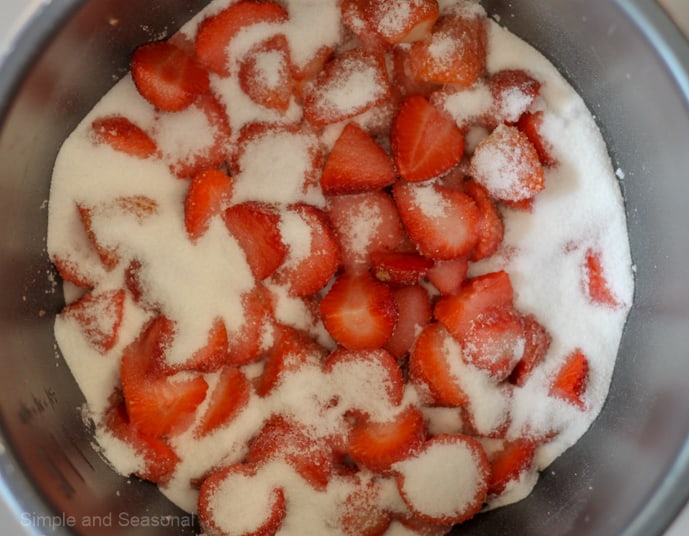 Why make Crockpot Express Strawberry Jam?
I grew up with homemade strawberry jam. There's simply nothing like it. Smuckers is good, but it doesn't have anything on homemade jam. You can read my post about How to Make Strawberry Jam if you want to actually make a large batch and can it for later.
This recipe, however, is for when you want to make a small batch of quick jam that will go straight to the fridge and get used up in a couple weeks. Oh, and bonus: NO PECTIN NEEDED!
The other benefit of making strawberry jam in the CPE is the easy cleanup! When we make jam as a family, the kitchen is a DISASTER afterwards. There are pots full of sticky jam residue, sugar all over the counter, and canning supplies spread on every surface.
The results are worth it, but it's an all day kind of thing. Making it in the Crockpot Express keeps the mess in one pot, and it wipes out so easily thanks to the nonstick surface!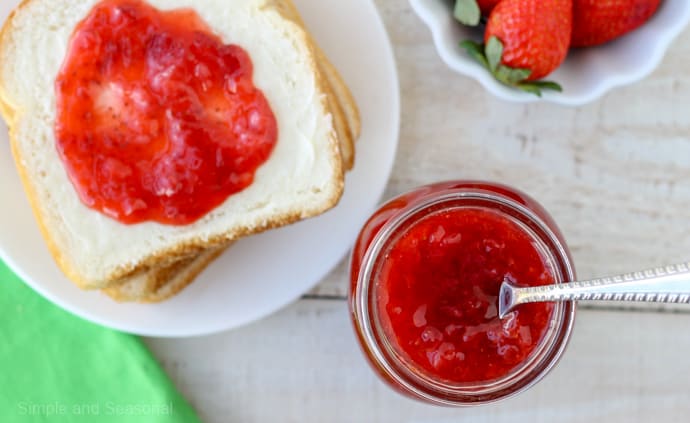 You can easily add other fruits to make a mixed berry jam as well. Just strain the jam after cooking it to remove the seeds and then return it to the pot for simmering and thickening. Remember, don't do a quick release! You'll end up with a kitchen that looks like the scene of a murder. 🙂
Other Crockpot Express Jam Recipes:
Crockpot Express Strawberry Jam
In less than an hour, you can be enjoying fresh Crockpot Express Strawberry Jam! It's perfect for a peanut butter and jelly sandwich or as a topping for sundaes and pancakes.
Ingredients
1

pound

strawberries (4-5 cups)

quartered

1

cup

sugar

1/4

cup

orange juice

(juice of one whole orange, squeezed)

1/4

cup

water

2

tbsp

corn starch
Instructions
1 pound strawberries (4-5 cups),

1 cup sugar

Mix the strawberries and sugar together in the inner pot. Let them sit for at least 30 minutes. If there's not a lot of liquid pulled out of the berries in 30 minutes, stir and let them sit for another 15 minutes.

Stir to combine the berries and the juice pulled from them. Add the orange juice.

Close the lid, lock it and set the steam release valve to closed. If you have a manual button, set it on high for 1 minutes. If not, press Steam and set to 3 minutes. Press Start/Stop. Watch the timer carefully and after one minute (display will read "2") then press Start/Stop to cancel the cook time.

All for a full natural pressure release (about 15 minutes.) Remove the lid and use a potato masher to mash the strawberries to your desired consistency. I like to leave relatively large chunks of strawberries in mine.

Press Brown/Saute and then Start/Stop. Bring the jam to a simmer.

1/4 cup water,

2 tbsp corn starch

In a small jar, combine cold water and corn starch. Slowly pour into the jam and stir. Allow to simmer and thicken for 2-3 minutes. Press Start/Stop to turn off the heat. Pull the inner pot out and allow the jam to cool.

Pour cooled jam into jars and refrigerate.
Notes
Jam will last in the fridge for up to a month (if you can keep it around that long.)
To freeze, place in freezer safe containers after cooling. 
Nutrition
Serving:
2
tbsp
|
Calories:
63
kcal
|
Carbohydrates:
16
g
|
Potassium:
52
mg
|
Sugar:
14
g
|
Vitamin A:
10
IU
|
Vitamin C:
19.3
mg
|
Calcium:
5
mg
|
Iron:
0.1
mg
Crockpot Express Strawberry Jam would also taste great on top of Crockpot Express Cheesecake! Give it a try and let me know what you think.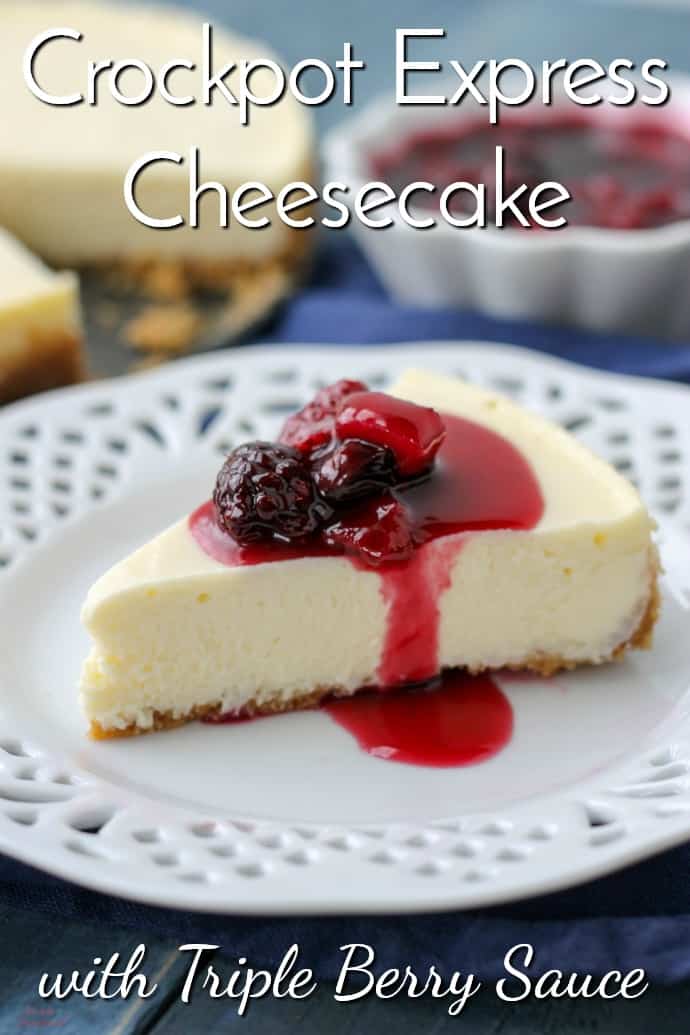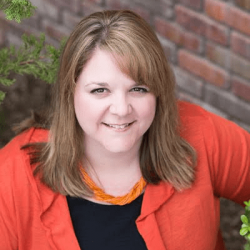 Latest posts by Nicole Burkholder
(see all)