This post may contain affiliate links. Please see my full Disclosure Policy for details.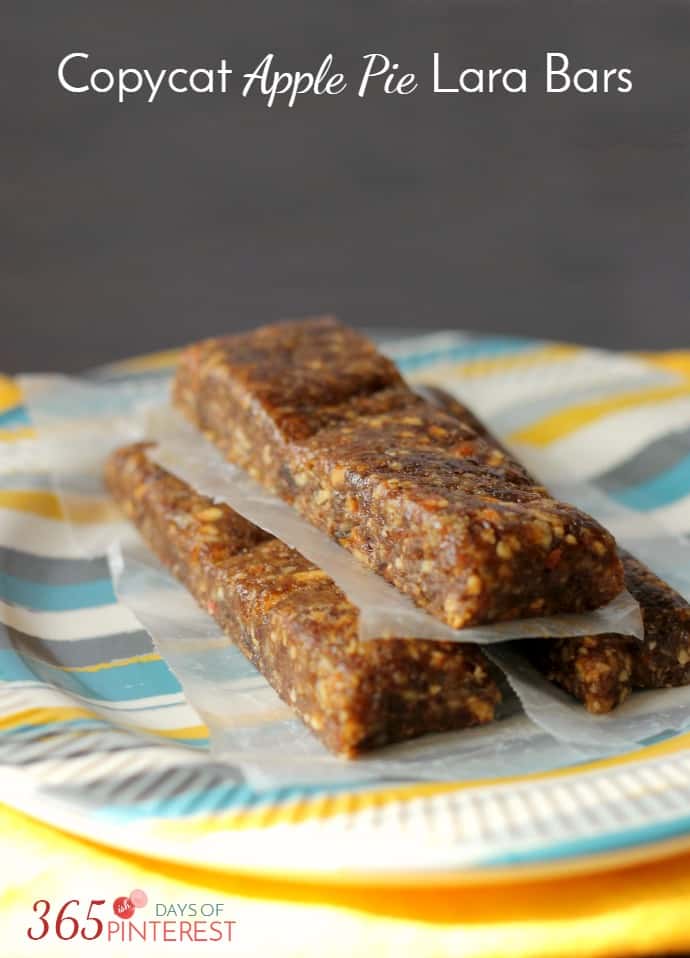 Start the new year off right with these delicious copycat Apple Pie Lara Bars. They are made with delicious whole foods and naturally sweet!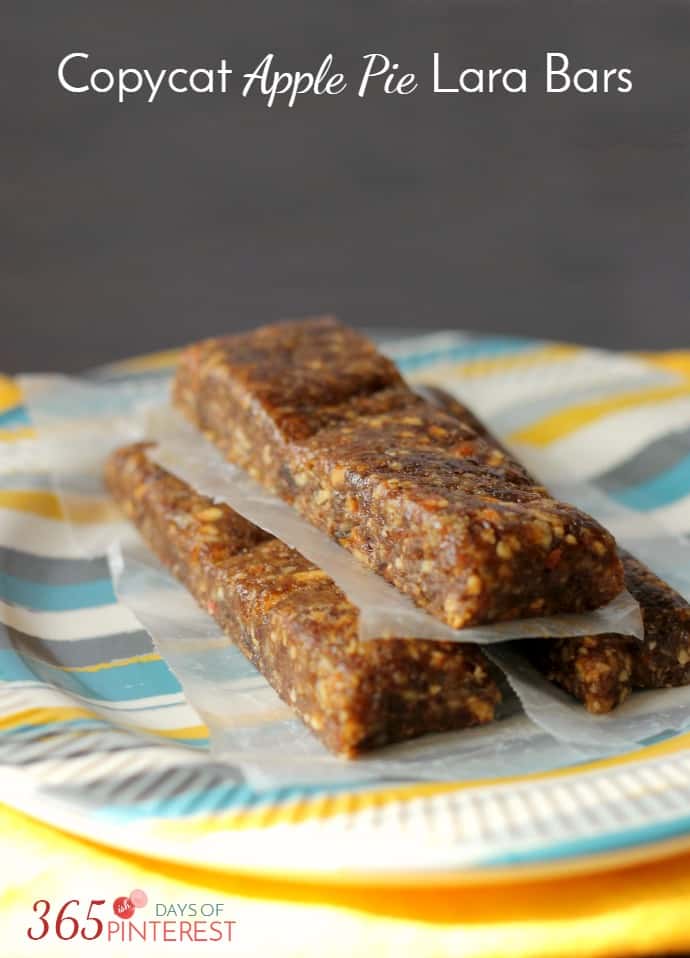 I am so excited about how well these turned out. You might remember I mentioned them in my Baked Apple Chips post. I'm happy to say that the experiment turned out well and I have something to add to our ever-growing list of healthy snacks. They are vegan, gluten free, paleo, dairy free, and just about any other kind of specialty diet approved. 🙂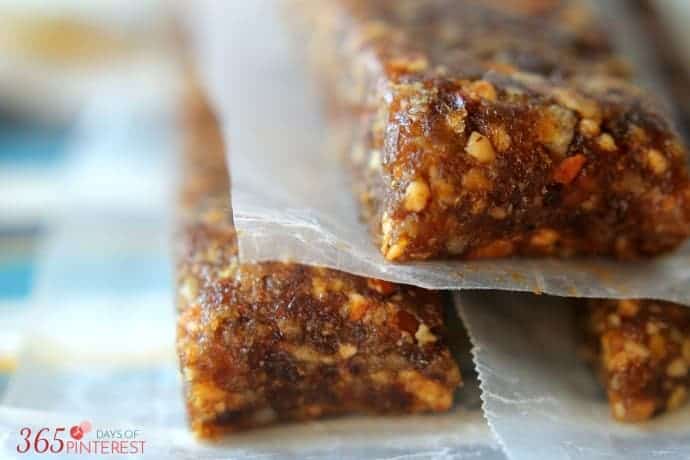 In the last year, I discovered a snack bar called Lara Bars. Most of them are made with only fruits and nuts, which means they are a fantastic and healthy snack. I try to eliminate refined sugar as much as possible (you know, when it's not Christmas.) So, for me, finding an easy snack that was good for me was super exciting. I decided I would try to save some money by making them at home. I used the ingredients listed on the back of the Apple Pie Lara Bars and just played around with the measurements until I got the right blend of fruits and nuts. The result is a delicious snack for a fraction of the cost!
Copycat Apple Pie Lara Bars
Ingredients
1 1/2 to 2

cups

pitted dates

1

cup

dried apples, no sugar added

(We have these in the bulk section of our grocery store)

1/2

cup

almonds

1/3

cup

walnuts

1/4

cup

raisins

1

tbsp

cinnamon

1-2

tsp

water

as needed
Instructions
Add all the ingredients to a food processor and pulse until a paste is formed. If the mixture is too wet, add more nuts. If it's too dry, add more dates and/or a little water until it reaches the desired consistency.

Once you have a chewy "paste" to work with, spread it out on a baking sheet lined with wax paper. It won't take up the whole sheet. Refrigerate to make it easier to cut into bars.

The bars are approximately 5 inches long and 1 inch wide, and you can get 8 bars out of the batch. Keep refrigerated and wrapped in wax paper to stay fresh.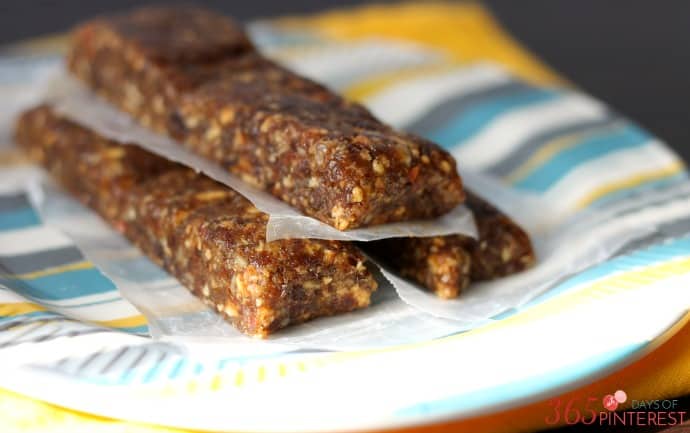 Just look at that chewy, nutty goodness! As far as I can tell, each bar comes in around 200 good-for-you, energy-providing calories. No sugar crash here! You can play with different fruits to change up the flavors, too. I would suggest that you always use dates, as they act as the binding agent in the bars. Just be careful-lots of dried fruits are made with added sugar. I made my own baked apple chips to use in these. It was easy and they were another great healthy snack option!
If you like these copycat Apple Pie Lara Bars, try this other clean eating snack!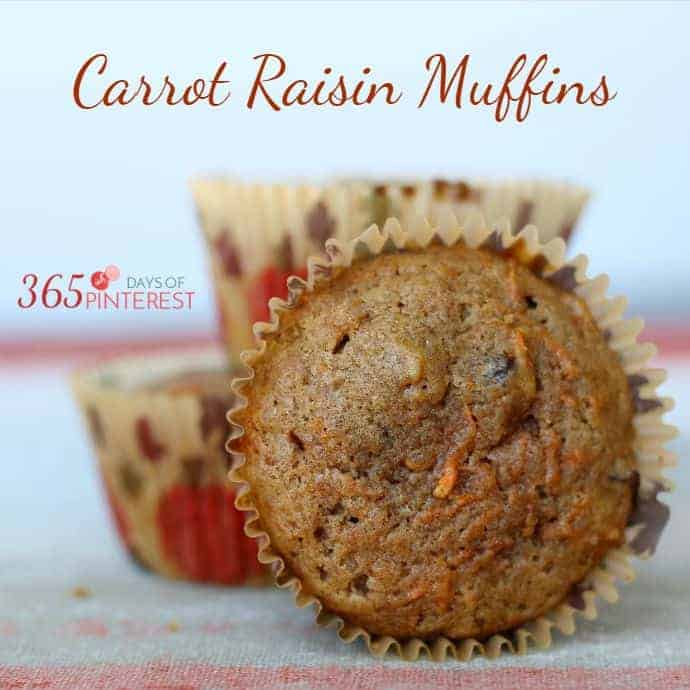 This post originally appeared on Princess Pinky Girl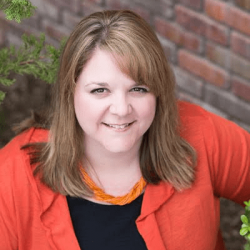 Latest posts by Nicole Burkholder
(see all)