This post may contain affiliate links. Please see my full Disclosure Policy for details.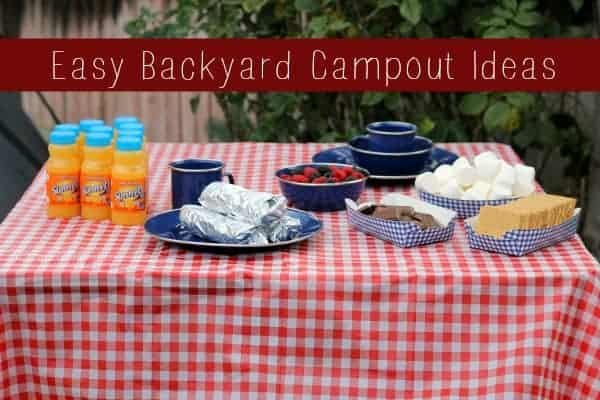 Believe it or not, sometimes it actually rains in southern California. Usually, it's when we have outdoor plans. For example, Henry is supposed to go on a Kindergarten field trip to pick strawberries on Friday, but that has been cancelled because the weather report says there's a 100% chance of rain on Friday. And further proof of my hypothesis: this hastily arranged backyard campout "party" in place of the actual campout we had planned for the weekend. Although, to be honest, it didn't hurt my feelings too much to go home and sleep in my own bed when the party was over!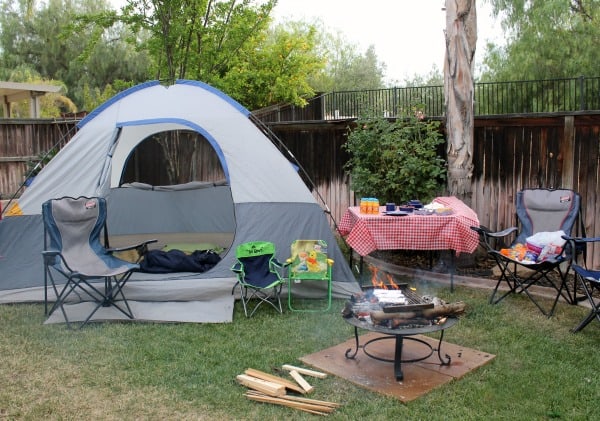 My brother and sister-in-law have a new house with a beautiful backyard that's perfect for entertaining. They picked up a fire pit and set up the tent several weeks ago for a family campout. Jamie was telling me how much fun it was for the kids and we planned to do a cousin campout on the weekend for fun. We set a date, planned the menu and put it on the calendar. Then she called me a few days before and mentioned that rain was in the forecast for Friday night. So instead, we quickly rearranged some plans and did a weeknight campout "party" instead, since camping overnight on a school night isn't the best idea. 🙂 The original plan was to just have S'mores for dessert before bed and then enjoy some Campfire Breakfast Burritos and SunnyD for breakfast. Instead, we went over earlier in the afternoon and enjoyed breakfast for dinner!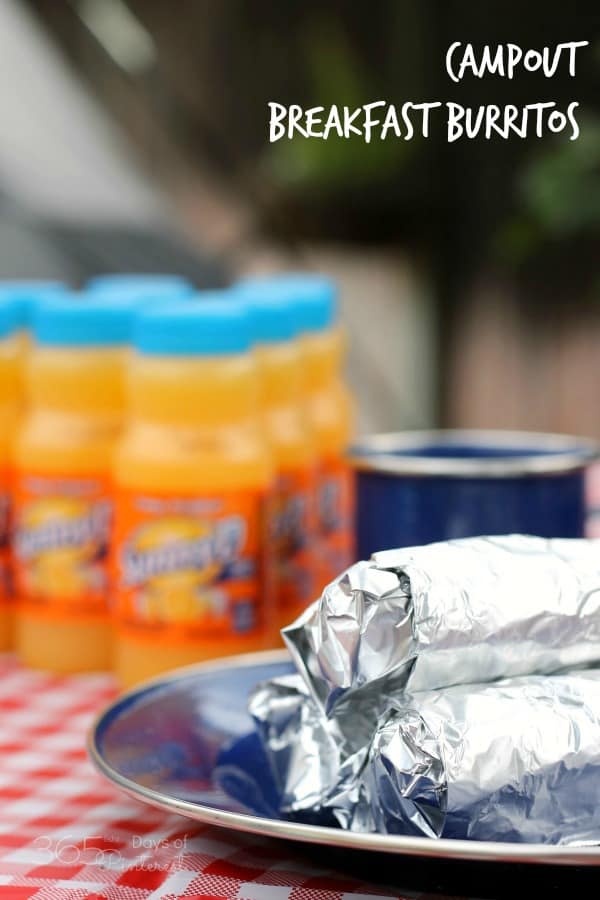 Breakfast burritos are a really easy breakfast when you're camping. Just prepare the burritos at home and wrap them up tightly in foil. Toss them in the cooler and when you're ready to eat, heat them up over the fire!
Campout Breakfast Burritos
1 pound breakfast sausage
1 medium yellow onion, chopped
3 cloves garlic, chopped
1 pkg shredded hash browns, cooked according to package directions
12-16 eggs
2 cups shredded cheese
8-10 tortillas
sour cream and salsa, optional
In a skillet, saute garlic and onion in oil until fragrant and opaque. Add in sausage and cook all the way. Set aside. While the sausage is browning, cook the hash browns in another pan according to package directions. Set aside to drain on paper towels. Cook eggs over low heat until you have soft scrambled eggs. Now it's time to build burritos!
Take a flour tortilla and layer potatoes, sausage mixture, eggs and cheese inside. Roll them up tightly and then wrap in two layers of aluminum foil. (PS-those are my husband's hand. Not mine. Just to be clear, folks.)
When it's time to heat them up, just throw them on the grill over the campfire. But a word of caution: don't leave them there! They cook quickly, so be sure to turn them so they warm evenly and you don't end up with one side of the burrito charred black. Ask me how I know that.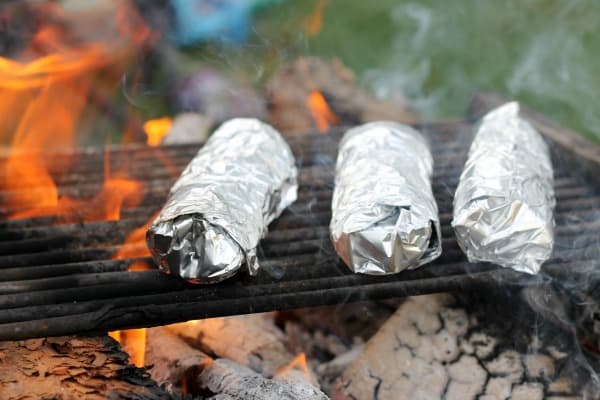 Most of the kids were not overly thrilled at the prospect of breakfast burritos for dinner, so we also made "cheesy roll ups" as they are called in our house. Just roll up some cheese in a tortilla and heat them up the same way.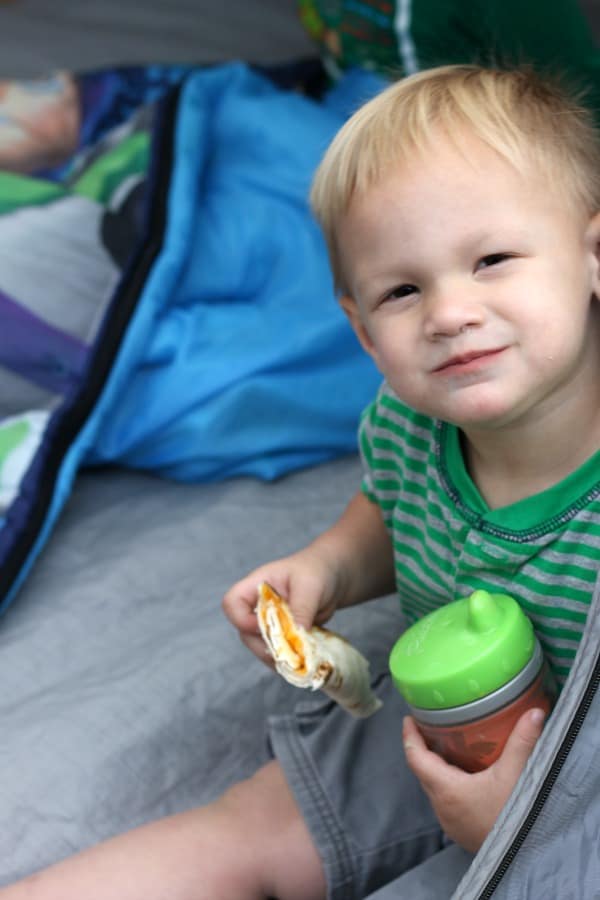 Charlotte enjoyed her cheesy roll up from her throne. Meanwhile, the adults crammed together on a bench wondering why there weren't enough seats for all of us. 😉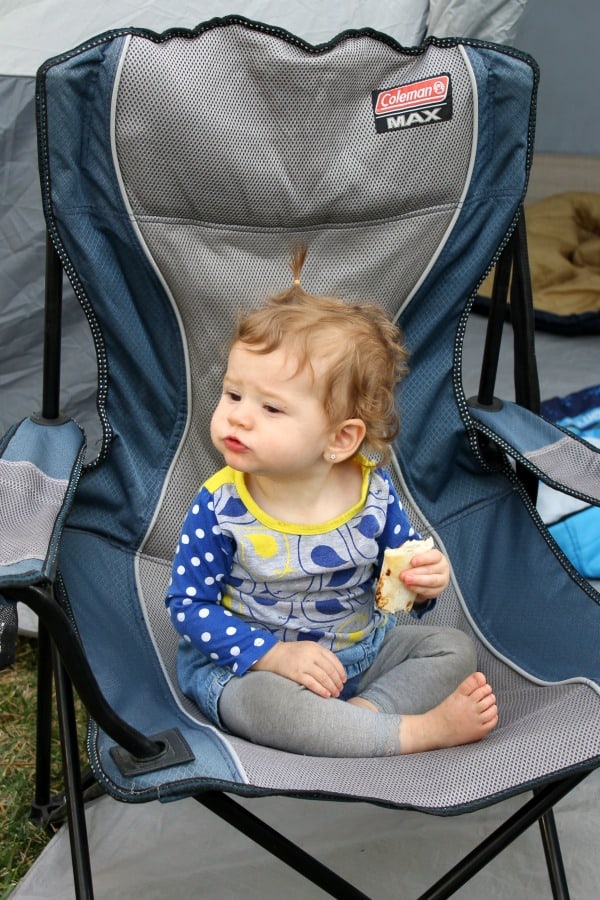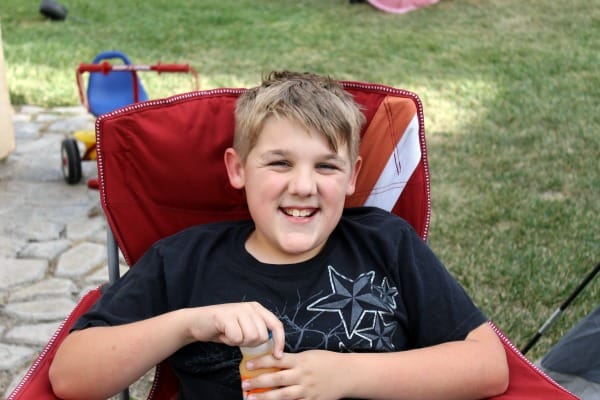 Please remember to drink responsibly. Backyard car wrecks are more common than you would think! 😉
After dinner, the kids played around in the tent and tried a game of ring toss. I picked up a ring-style throwing toy at the dollar store and Jamie covered a plunger with some cardboard and stinky skunk wrapping paper. How appropriate. Never fear- the plunger was new and unused for it's other purpose. 🙂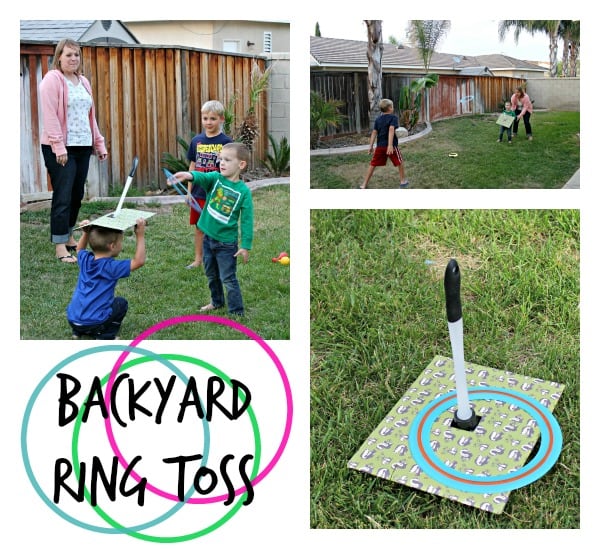 Even if you're not actually sleeping in the tent, it's still lots of fun to play in one! My only suggestion would be to make sure you have one that's easy to set up. Ryan and Jamie's tent is a quick pop-up style and it took just a few minutes to put up and pull down again after the party.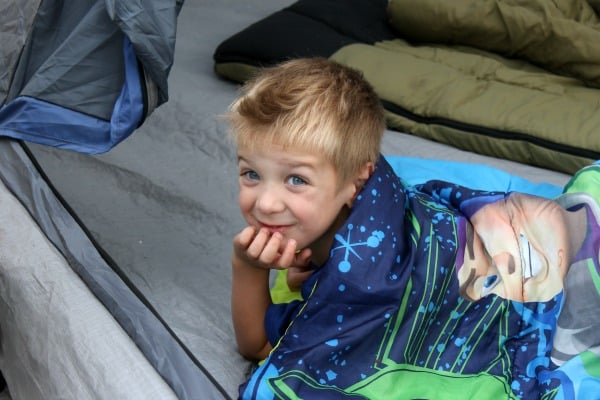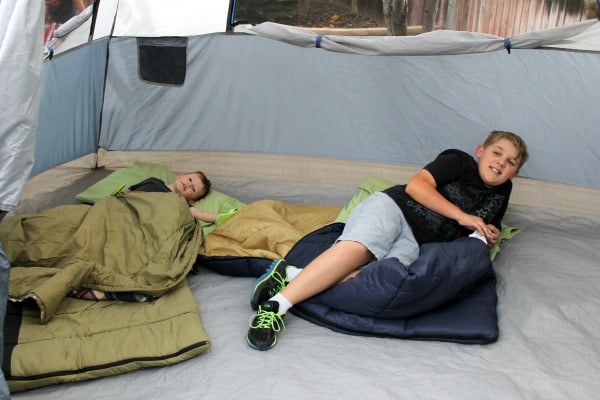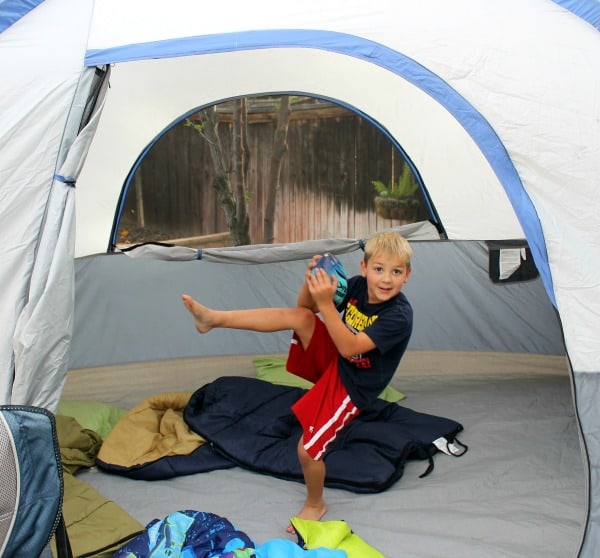 For dessert, you can't beat the classic S'more. I found the fun sized chocolate bars in the bulk section of the grocery store and it was a cheap way to get chocolate for everyone.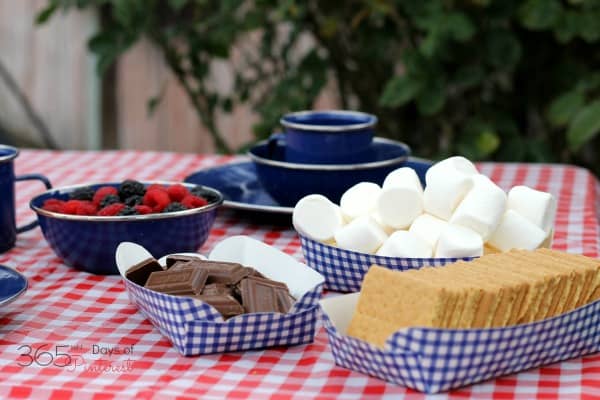 Just make sure you actually have something on your stick, or you're going to very disappointed in the way your S'mores taste. 😉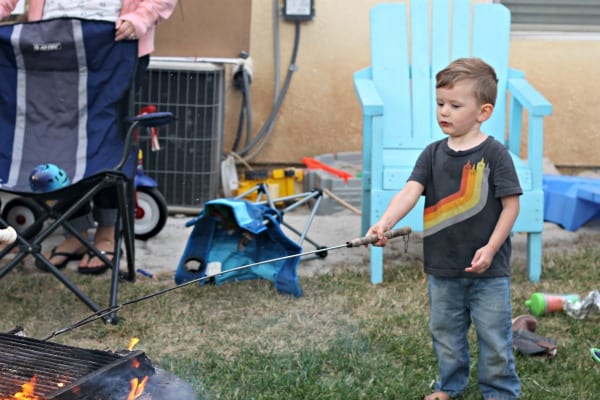 I could have just eaten S'mores all night, but we also made a DELICIOUS treat that was new to me: Campfire Churros. When I was perusing Pinterest, I saw several different versions of a biscuit on a stick. Since this was my first attempt at such a thing, I went with the most simple: biscuit dough, butter, cinnamon and sugar. You guys. These are AMAZING. I can't tell you how yummy these turned out! You just have to trust me and try it yourself. They give S'mores a run for their money. Seriously.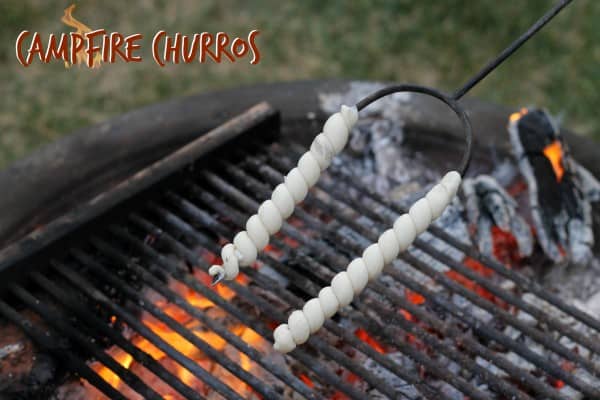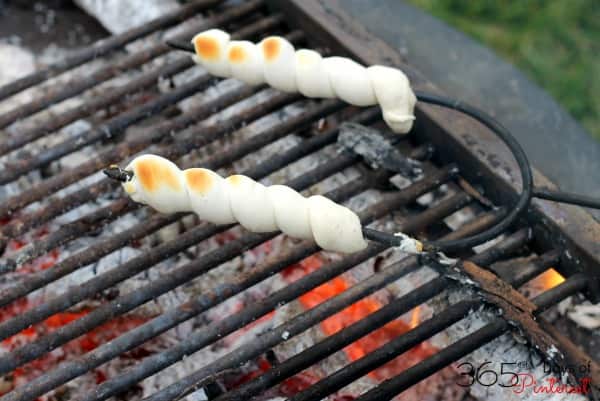 Campfire Churros (Biscuit on a Stick)
1 can biscuit dough
1/4 to 1/2 cup melted butter
cinnamon and sugar mixture to sprinkle on top (we probably used about 1/4 cup)
Take a biscuit out of the can and roll it out a little like a play dough snake. 🙂 Wrap the dough around the end of a roasting stick, making sure it doesn't overlap itself. Pinch the ends down a little to make sure it doesn't unwrap. Then heat over low flame until the dough browns and puffs up. It takes just a little longer than it does to roast a marshmallow. When it's done, just slide it off the stick and dip or roll in melted butter. Sprinkle with the cinnamon and sugar mixture. Then go make a dozen more because you can't stop eating them.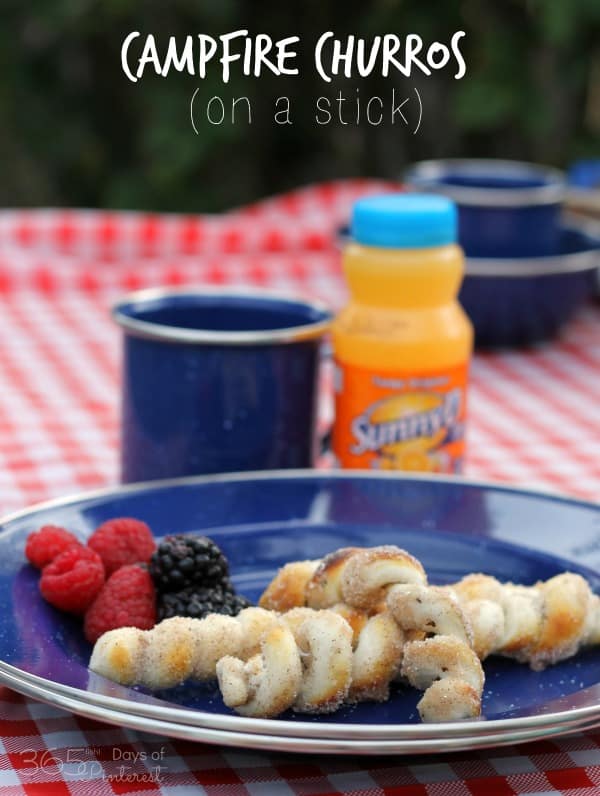 And now, finally, a few tips for a successful backyard campout:
1. Don't sit downwind of the fire. Sing it with me… ♫♪ Smoke gets in your eyes…♫♪♫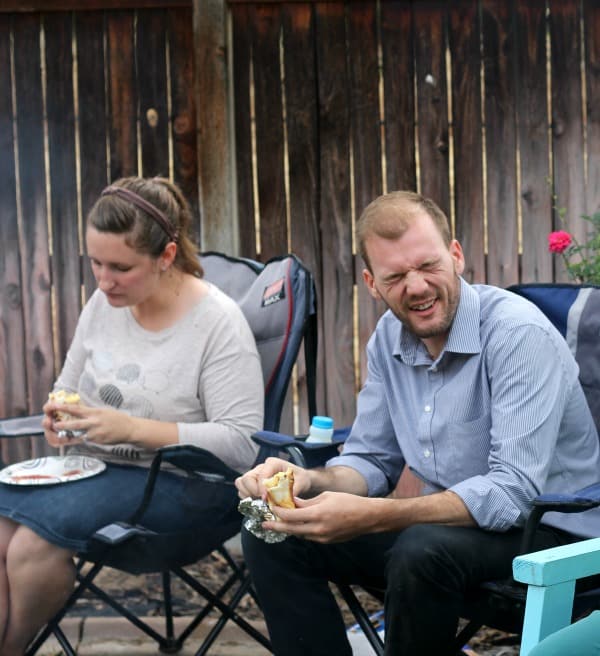 2. Don't give the baby chocolate. Even if she is adorable.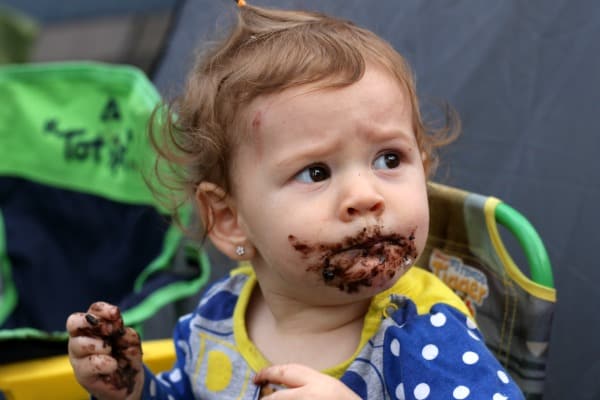 3. Check out this awesome post for 10 camping supplies to make instead of buy! And if you are looking for places to camp for FREE (besides your own back yard, of course,) then head over here and find one near you!
This post was originally sponsored by Collective Bias, Inc. and its advertiser. All opinions are mine alone.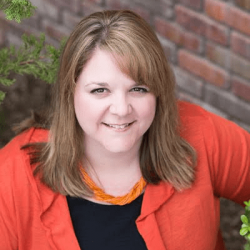 Latest posts by Nicole Burkholder
(see all)