This post may contain affiliate links. Please see my full Disclosure Policy for details.
No, you didn't take a wrong turn and end up on a fitness blog.
But, it is January and that means it's time for setting goals, organizing and getting a fresh start. Today, I begin my 3rd challenge as a member of 8 Week FIT (a women's only weight loss group on Facebook) and I'm very excited about the motivation of a new year.
During my first challenge, I lost 10 pounds, and during the holiday "maintenance" challenge I did just that- I maintained my weight. Now today I begin the next challenge and hope to lose 12 pounds.
That's a tall order, but I believe I can do it-especially if I stick to these 7 simple rules!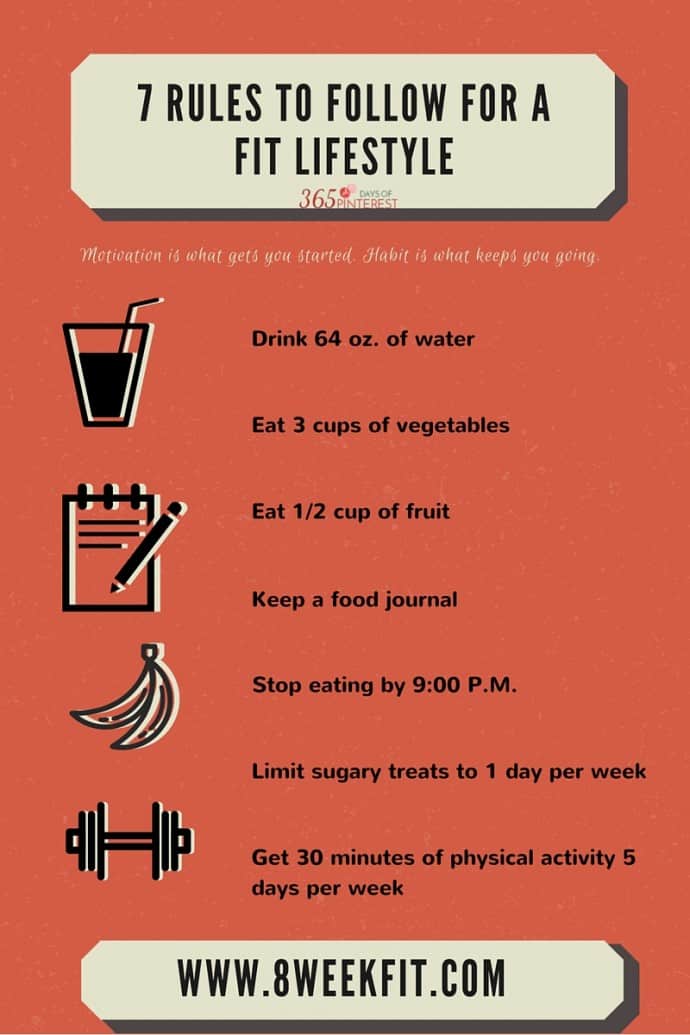 Rule #1- Drink at least 64 ounces of water a day
This is the easiest rule to implement for me. I don't have a hard time drinking water, and I see immediate results when I'm actually getting my daily allotment. My skin is softer and smoother, I don't feel empty and hungry, my headaches are much less frequent and even my nails grow stronger!
I did discover during the first challenge that it's MUCH easier to drink water when I'm sipping it through a straw instead of from a bottle. I bought a large double-walled Starbucks tumbler on Amazon (affiliate) and I just keep in mind that I need to drink 3 of those a day and I'm good!
Rule #2- Eat (or drink) at least 3 cups of vegetables a day
Aaaaaaand this rule is the hardest one to implement for me. It's not that I don't like vegetables, but 3 cups is a lot, and if I don't get them in early in the day, I have a hard time forcing them down.
I have found that spinach and mushrooms are great in eggs, and I count avocado as a veggie, which helps. When zucchini was in season, I had it for dinner a lot.
Of course, there's always salad, but after a few days, it can get old. According to everyone in the Facebook group, green smoothies are the easiest way to add a cup or two of veggies to your diet.
I picked up some baby spinach and I plan to make a smoothie for breakfast this week sometime. I'll probably try one of these green smoothies for beginners from Little Family Adventure.
Rule #3- Eat at least 1/2 cup of fruit every day
No problem here! I can tell you have a lot more than 1/2 cup of fruit most days. I usually have some for breakfast and then I try to treat fruit as a snack and use it to curb my sweet cravings.
Rule #4- Keep a food journal
It doesn't matter HOW you do it, just that you do it. For some inexplicable reason, it's much harder to eat junk when you force yourself to keep track of it.
You don't even need to count calories. Just the simple act of recording "1 broken OREO from the bottom of the bag" will make you think twice about whether that was the best choice.
I use an app on my phone to keep track of my food because it will also track my calories and exercise. I keep a little notebook around, too. Sometimes it's quicker to jot down what I ate and then later I can add the details into my phone.
Rule #5- Stop eating by 9 P.M.
This is another tough one for me. You'd laugh if you could see me on a Wednesday night after church. It's really hard to rush home and try to inhale a celery stick and peanut butter before the clock strikes 9:00. 🙂
I'm a night owl, and I do a lot of work late at night after the kids go to bed. I like to snack while I work, which leads to mindless eating, poor food choices and a general "icky" feeling in the morning.
Making sure I have a nice dinner and even a smart snack before 9:00 keeps me from regretting my choices in the morning. Some nights it's miserable, and I just sit there sipping my water in sorrow, but it's worth it. Eventually.
Rule #6- Limit sugary treats to 1 day a week
Hurray for cheat day!!! What makes these "rules" reasonable and manageable is the built-in reality of one day per week when you loosen the reins a bit.
I try to plan what my treat will be in advance. If I know that I have a brownie sundae waiting for me on a Friday night date with my hubby, it's much easier to say no to the cookie in the pantry today.
Some weeks you may be doing well and you won't even want the sweet treat. Or you'll take a few bites and be satisfied. Then there are weeks you'll lick the bowl and go back for more.
It's OK. It's all about balance. Go ahead and enjoy your birthday party. Don't make people feel bad for you because you're sitting in the corner munching on a dry celery stick while everyone else is having ice cream. If you've planned for it, enjoy it! But ONLY on cheat day!
Rule #7- Get at least 30 minutes of exercise 5 days a week
It doesn't matter what kind of physical activity you choose. The important thing is just that you do it. On some days, I will walk on the treadmill, other days I go for a run, and sometimes I go to the gym with a friend.
However, even if you can't get an official "workout" session in, you can still have some kind of physical activity. Raking the leaves in the yard or playing basketball with your kids counts, too! Just get up and get moving!
So, that's what I'm up to today. What about you? Have you started a fitness program or thought about goals for 2016? Obviously, I want to lose weight, but even more than that I want to be healthy and strong.
If you don't want to join just yet, you're always welcome in the Facebook group!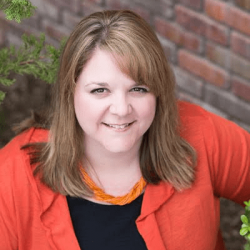 Latest posts by Nicole Burkholder
(see all)