This post may contain affiliate links. Please see my full Disclosure Policy for details.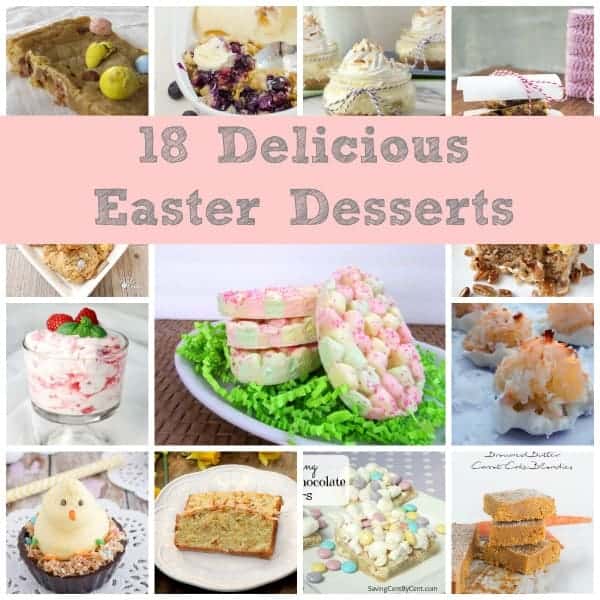 My favorite part of holiday meals is dessert. Well, honestly, isn't that EVERYONE's favorite? 🙂 I like to try new desserts so that's what I always sign up for at our family meals. And Pinterest is the world's best place to search!
I typed Easter desserts into the search bar and BAM! there were hundreds of ideas to pick from. They are bright and cheery and full of spring flavors.
I started pinning them all to a secret board (I didn't want to annoy you with my zillion Easter pins all at once) and then I decided I would collect my favorites into one post and share them with you!
Remember, if you want to pin a particular recipe, then click-through the link to that post and pin from the source. If you want to save the whole collection, please pin away! Happy Easter!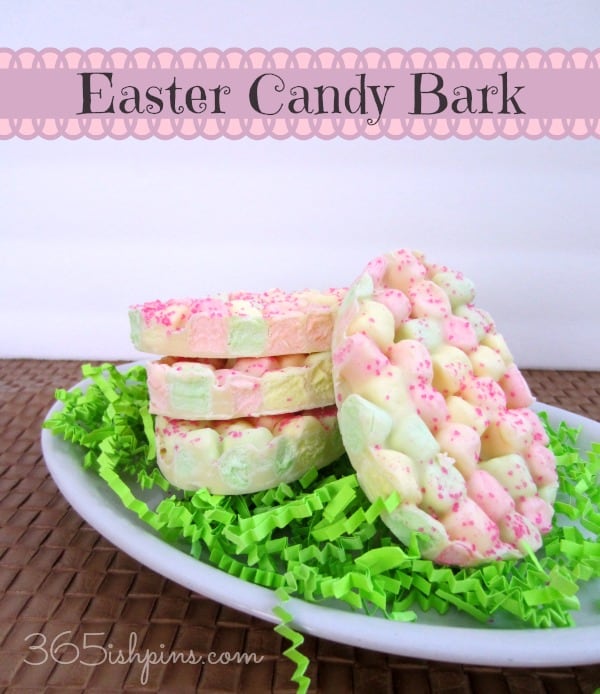 I have made this Easy Easter Bark for a few years now and it's always a hit. It's pretty, colorful and only takes TWO ingredients. Three if you're feeling "fancy."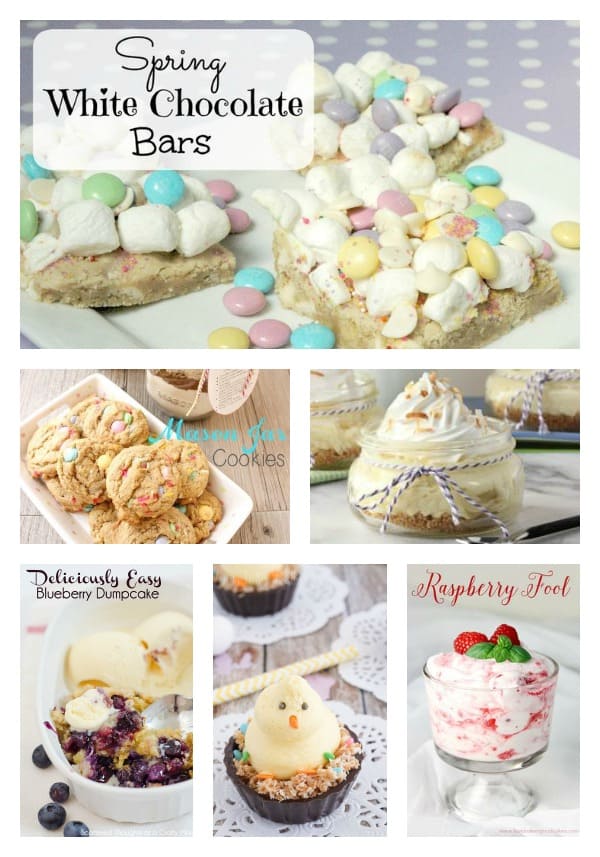 White Chocolate Bars from Utah Sweet Savings
Mason Jar Cookies from The Real Coake
Pina Colada Dessert Cups from Cooking on the Front Burners
Blueberry Dump Cake from Scattered Thoughts of a Crafty Mom
Raspberry Fool from Love Bakes Good Cakes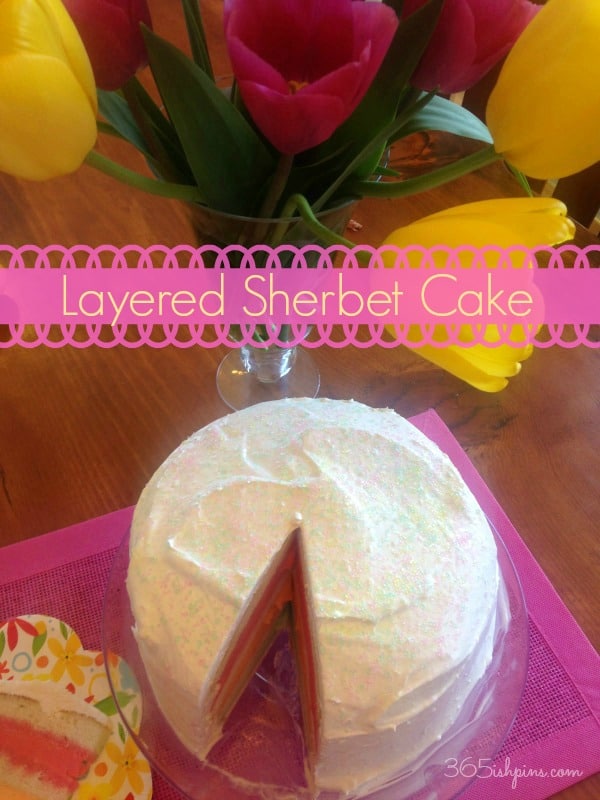 I made this Layered Sherbet Cake for Easter last year. My son saw me putting up this photo and asked me to make it again. He really likes sherbet. The frosting on this is really light and yummy, and it's so colorful and bright!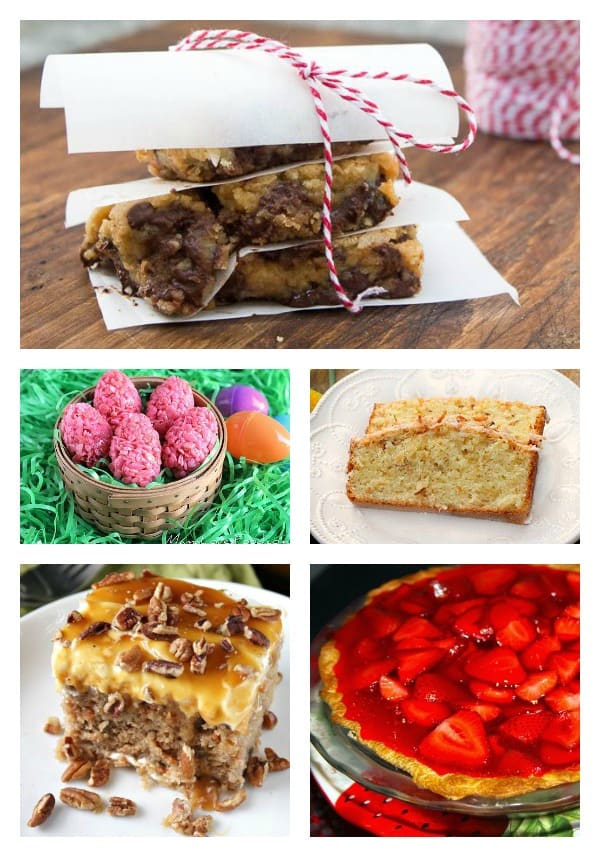 Amaretto Coconut Chocolate Chip Cookie Bars from Atta Girl Says
Marshmallow Treat Eggs from Mama Loves Food
Buttermilk Coconut Pound Cake from Bunny's Warm Oven
Sea Salt Caramel Carrot Cake from Sugar and Soul
Mile High Fresh Strawberry Pie from For the Love of Food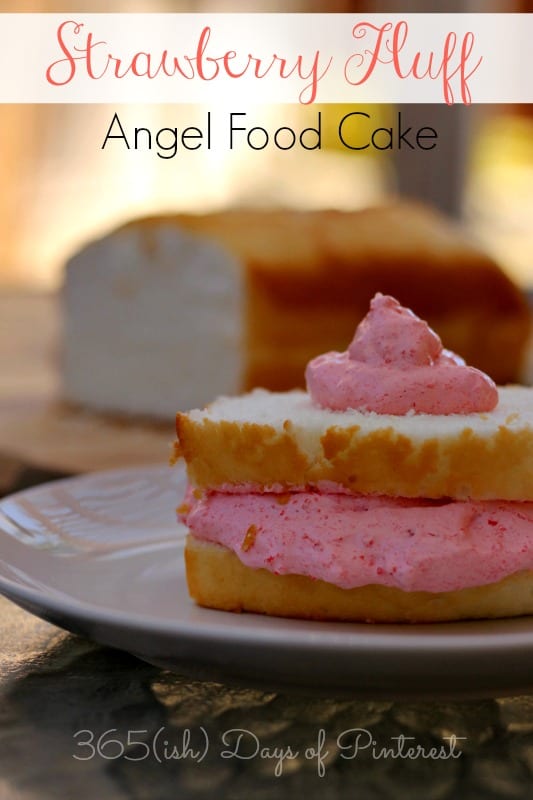 This Strawberry Fluff Angel Food Cake is perfect if you are trying to watch your calorie intake but still want to enjoy dessert after Easter dinner. The filling is light and fluffy and a pretty pink color.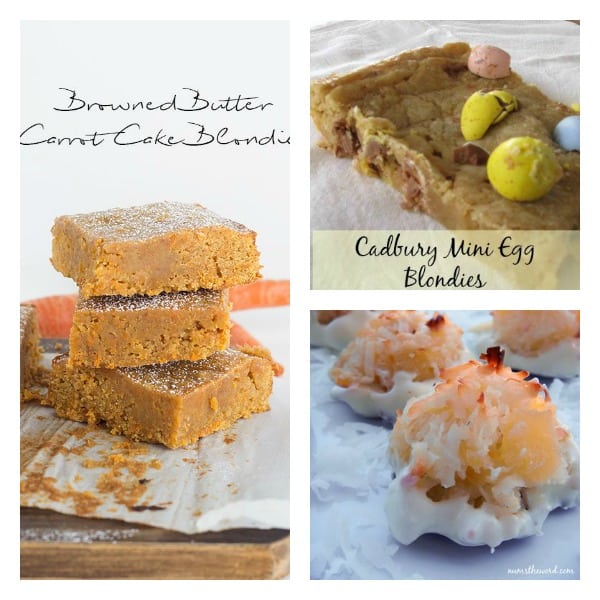 Browned Butter Carrot Cake Blondies from Cookie Dough and an Oven Mitt
Cadbury Mini Egg Blondies and Pineapple Coconut Macaroons from Num's the Word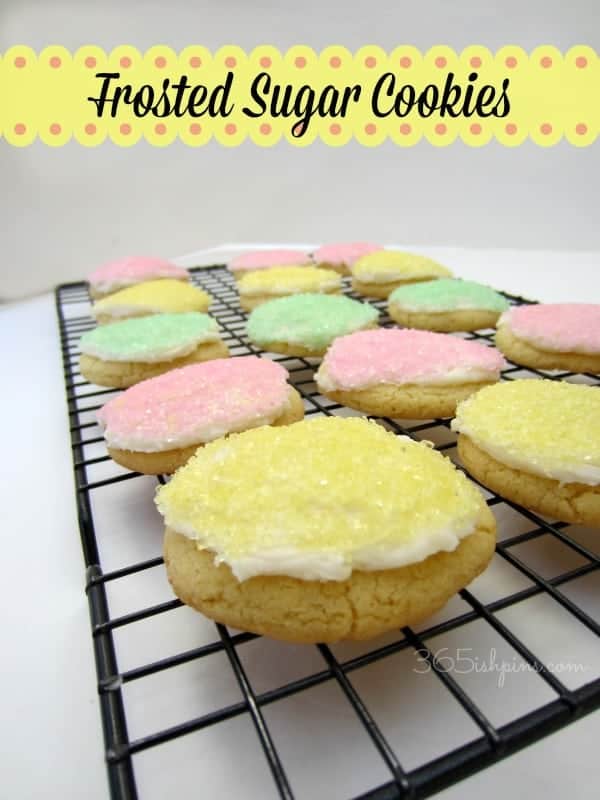 You know those frosted sugar cookies they sell at the grocery store for about a zillion dollars a dozen? This is the homemade and delicious answer to those! Add some pretty pastel sprinkles and they look great on the Easter table!
So which one did I choose for this year's Easter dinner? You'll just have to wait and see! 😉 I have a feeling it's going to deserve its own post in the very near future! What about you? What are you planning for dessert on Sunday?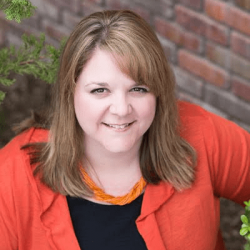 Latest posts by Nicole Burkholder
(see all)