This post may contain affiliate links. Please see my full Disclosure Policy for details.
Quick and easy Mickey Mouse cookies are perfect for any Disney themed birthday party or Mickey Mouse lover! Everyone loves OREO cookies!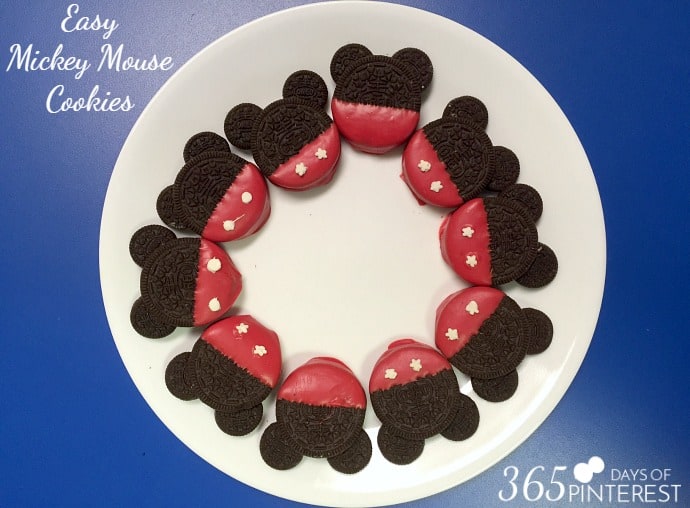 This week our preschool co-op met for the final class of the year. At the last minute, we decided to celebrate with a little party after class. Thanks to the way things were quickly thrown together, we all went with the "something I can pick up from the store and easily throw together" option. 🙂 I decided to bring something sweet, because, well-dessert. It's de baest. (channeling my best Nacho Libre impression there.) I went scrolling through my Pinterest boards and saw some really cute Mickey Mouse pops made from OREO cookies, but I really didn't feel like going to all that work. When I saw these cute Mickey and Minnie cookies from Living Locurto I figured I could do something similar without too much effort.
Let me tell you, I was sorta wrong about that.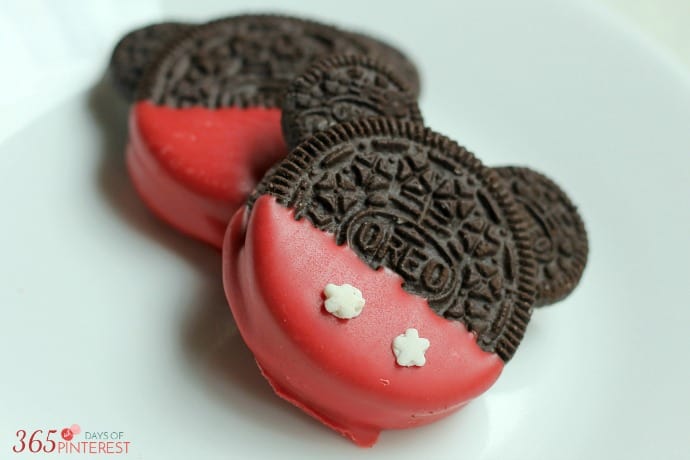 Seems simple enough, right? OK, well, the cookies really ARE easy to make. But you know the old adage, "the right tool for the job" is really REALLY true. So let me tell you a little story about these cookies…
Jared has a new job and is now working from home. We are still adjusting to having both of us home all day and trying to get our schedules to mesh. One of the things that has been in flux is who picks up the kids from school each day. I was going to run to get my ingredients from the store and then pick up the boys, but Charlie needed a nap and Jared was going to get his hair cut, so he volunteered to go to the store for me. I sent him an email with the link to the recipe, including a video if he wanted to see what everything looked like.
Now, don't get me wrong. Jared goes to the store all the time. I can totally trust him to come home with the things we need (OK, he often comes home with more than we need, but that's beside the point.) This time around things didn't go as smoothly. He started at Wal-mart because that was closest to him. I told him everything I needed should be on the cake decorating aisle. He sent me a text later saying that all he found there were the OREOs so he was going to go to Winco instead. I tried to tell him to go to Joanne's or Hobby Lobby because I knew they would have the specialty stuff that I needed, but he said he had NO desire whatsoever to be seen in those stores alone, so he would take his chances at Winco. I didn't hear from him again until he came home with the boys and a bag full of executive decisions.
Let it be noted: he was not granted authority to make said decisions. 😉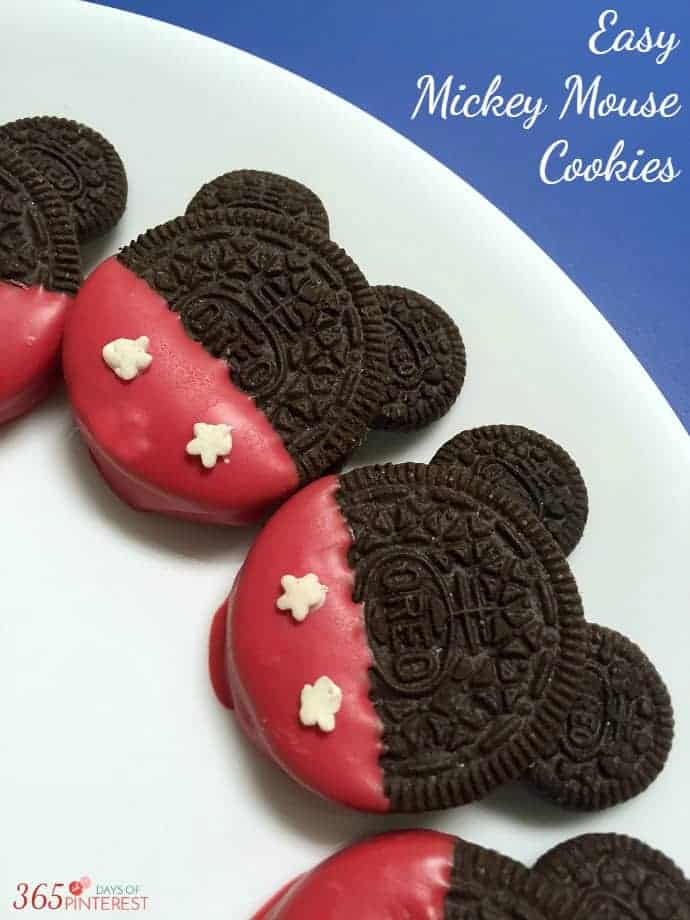 Here's what I needed for these Easy Mickey Mouse Cookies:
Double Stuff OREO cookies
Mini OREO cookies
red candy melts
tube of white frosting
flat white sprinkles for buttons
All you have to do to put these cute cookies together is pull apart the mini cookies, scrape off the white filling and then press them into the top of the double stuffed cookies. If you need to, use a little frosting to hold them in place. Then dip them in the red melted candy and let set on a sheet of wax paper. Use a tiny dab of frosting to hold the sprinkles in place for the buttons. Quick and easy!
However, here's what I ended up having to work with to make do 🙂
Regular OREO cookies-Jared admits this one was his fault. It wasn't the end of the world, but it made it much more tedious to put the cookies together. Instead of just pressing the mini cookies into the center, I had to open each one and "glue" the mini cookies in place with frosting because regular OREO cookies aren't wide enough to hold mini OREOs. So take note: GET THE DOUBLE STUFF!
Mini OREO cookies– check!
white candy melts because they don't carry colored candy melts at Winco except at Christmas. Only problem? Mickey doesn't wear white pants! Jared figured I could just color them red. He didn't know that I was out of red food coloring, so he would've had to buy that for me. Which I would have told him-if he had called! Fortunately, I had a small bag of a few red candy melts leftover from these cute Christmas reindeer pancakes and I just made a very small batch of the Mickey cookies with what I found in the pantry.
Canned frosting in a plastic bag-Jared did find a tube of white frosting on the baking aisle, but he didn't notice that it needed a tip to be able to use it. I can't really blame him for this one. If I had seen it, I would have known to buy the tip to use as well, but I didn't give him a heads up on this one. And just a note to Betty Crocker: WHY do you sell tubes of frosting that are not compatible with standard piping tips?!? It's a CROCK! (see what I did there?) 😉
white flower shaped sprinkles for buttons-he didn't come home with any kind of sprinkle or candy alternate to use as buttons. I knew finding flat round sprinkles would be tough, but I think at this point he was just sick of trying to find things and figured I could live without them. I had flower sprinkles left over from Easter, so I went digging through the bottle and pulled out all the white ones. I didn't have enough for every cookie, but there were enough to get the idea across.
Soooo….the moral of the story?
There's really isn't one. I'm thankful for a husband that is willing to go to the store for me when I need things. Yes, he kinda messed up and I was a little stressed out initially about how to make this work, but we did end up laughing about how ridiculous this "easy" snack turned out to be. And when I uncovered the plate at co-op this morning, it was to happy little voices proclaiming, "It's Mickey Mouse!"
I call that a Pinterest win.
Some fun co-op memories from this year…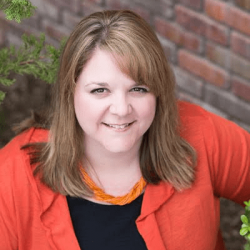 Latest posts by Nicole Burkholder
(see all)