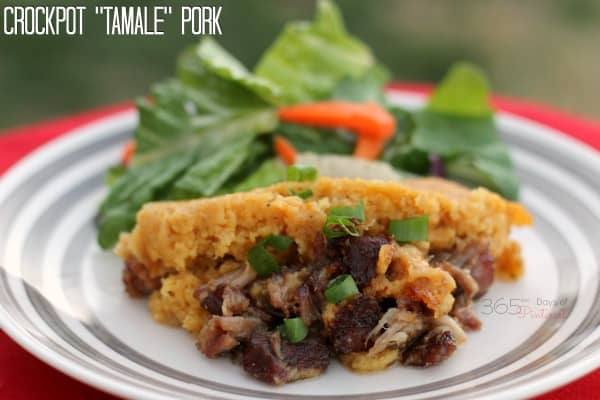 I've talked before about how much I enjoy the emails I get from Pillsbury. I actually open and read those almost every day. When I saw they were doing a daily slow cooker series, I knew I would find something to love. And I did! The thing about this Tamale Pork that caught my attention was the fact that the entire meal cooks in the crockpot. You don't have to brown anything first, and the cornbread cooks right ON TOP of the meat! I changed the recipe a lot, but kudos to Pillsbury for turning me onto something totally new! I haven't seen anything like this on Pinterest yet. Maybe I get to be first! 😉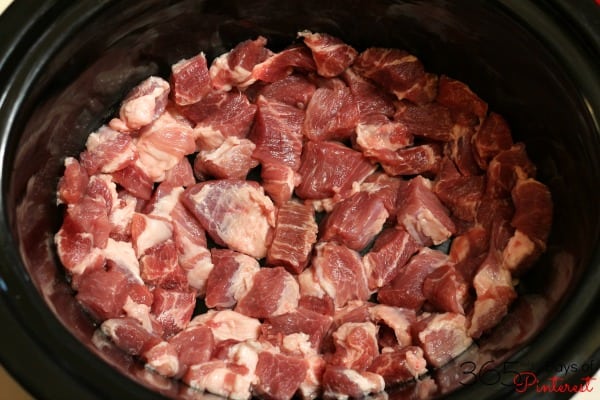 You're going to cube the pork shoulder and then place it in a layer on the bottom of the crockpot and up the sides. That is very important! You need to create a well for the corn bread mix to bake in so the edges don't get burned. The recipe calls for 1 1/2 pounds of pork shoulder, and you need it. Mine was more like 3/4 of a pound since we had already used half of the meat for another meal. It was just enough, but more meat would have been nice.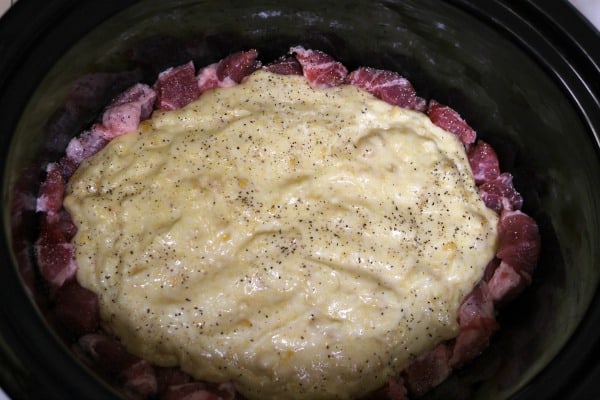 After you mix all the yummy goodness together in a bowl, you pour it into the center of the pork. Make sure you have a nice solid layer of meat underneath and around all the way!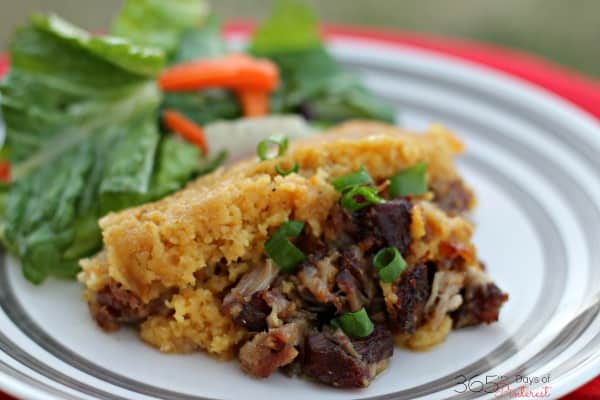 After about 7 hours on low, this delicious tamale pork is what you are rewarded with! Tender pork shoulder with crispy edges and a moist, flavorful cornbread topping that tastes just like tamale pie. This is another BIG WIN in my book and going back on the regular menu right away!
Crockpot Tamale Pie Pork Shoulder
Ingredients
1 1/2

lb

pork shoulder

cut into 1- to 2-inch pieces

1

onion

chopped

1 1/2

teaspoons

seasoned salt

1

egg

1/4

cup

milk

1/4

cup

butter

melted

1

can

15 oz cream corn

1

can diced green chiles

optional

1

box

8 1/2 oz each corn muffin mix

1

cups

shredded sharp cheddar cheese

salt and pepper to taste
Instructions
Spray 5-quart oval slow cooker with cooking spray. Mix pork, onions and seasoned salt in slow cooker. Toss to coat. Spread a single layer of pork mixture in bottom of cooker, then stack pork up around side of cooker.

In medium bowl, beat egg, milk and butter with whisk. Stir in corn muffin mix, chiles, cream corn and then cheese. Pour mixture in a mound over center of pork mixture. The pork around the side will prevent corn muffin edges from burning.

Cover and cook on Low heat setting 7 to 8 hours or until edges of corn muffin mixture are browned but not burned.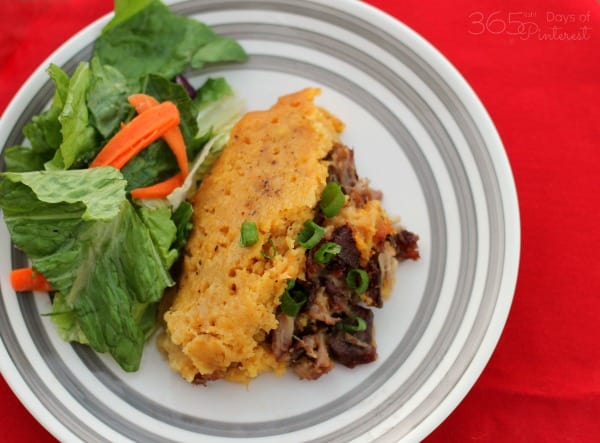 I'm pinning this Tamale Pork to my Crockpot Recipes board on Pinterest and I'd love it if you would pin it, too!