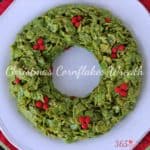 Print
Christmas Cornflakes Wreath
An easy, no bake recipe perfect for Christmas parties!
In a large saucepan, melt the butter and marshmallows until smooth, stirring continuously.

Add green food coloring and stir until desired shade of green is reached.

Remove from heat, add cereal one cup at a time, stirring gently.

Stir until cereal is completely covered with marshmallow mixture.

Scoop out onto a serving plate while still warm and form into a wreath shape.

Add cinnamon candies in groups of three to mimic holly berries.

Allow to cool and harden and then slice and serve!