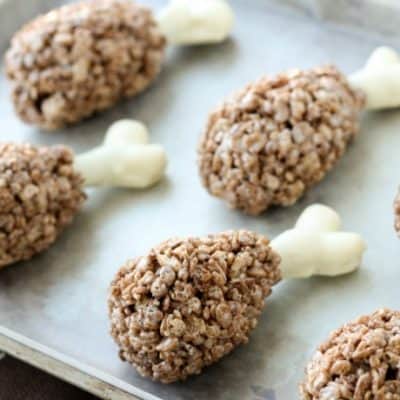 Print
Turkey Leg Treats
A fun twist on the classic Rice Krispies treat, these Turkey Leg Treats are a fun Thanksgiving dessert for kids and adults alike!
Break the pretzel rods in half and melt the candy according to package directions. (I usually do 15-30 second intervals in the microwave, stirring well each time.)

Dip the smooth end of the pretzel rod and then press two marshmallows onto the end. Repeat until 12 "bones" are dipped. Let sit for about 5 minutes.

Dip the pretzels again, covering 2/3 of the rod. Let sit.

In a saucepan, melt the butter and marshmallows, stirring until smooth. Remove from heat and stir in cereal. Mix until coated well.

Allow to cool just a bit and then form the cereal mixture around each pretzel rod, forming a drumstick. Don't try this until cooled enough, or it won't hold its shape! Spray your hands with cooking spray to keep the marshmallow from sticking while you work.

Place on a wax paper lined baking sheet and let sit until fully cooled.