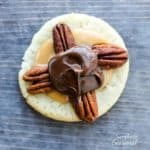 Print
Easy Turtle Cookies
A sugar cookie topped with gooey caramel, chocolate and pecans, Easy Turtle Cookies are full of holiday flavors!
Cut cookie dough in 1/4 inch slices and place on a cookie sheet to bake. Bake at 350 for 8-10 minutes until lightly browned. Remove and cool completely.

In a bowl, combine the caramels and cream and microwave for one minute. Stir, and then microwave for another minute. Spoon onto the center of each cookie and press four pecan halves into the caramel.

In another bowl, melt the chocolate chips (microwave in 30 second intervals) and stir until smooth. Spoon over the caramel. Let stand until set.