We are headed out for a road trip on Wednesday, and I'm not exactly looking forward to spending hours in the car with three active little boys.  But we love Gramps and Mem, so we're making the trip! 🙂 I've been busy printing, laminating and collecting things to use to keep the boys busy during the long hours.  If you have a road trip coming up soon, check out this roundup for some ideas that might work for you!I love the DVD player in our van.  It will be getting lots of use for this trip, don't get me wrong.  But I also know that a road trip is a great opportunity to spend some quality time together as a family.  Trapped in our moving prison  minivan. 😉 I tried to find a variety of things that would appeal to an 8-year-old, 4-year-old and almost 2-year-old.  Not everything will work for everyone, but hopefully I'll have enough goodies in my entertainment bag to help pass the time.
Printables
I found this amazing site called MomsMinivan via Pinterest, of course, and I was burning through ink and paper printing fun things to do!  I printed up two scavenger hunts, one for the city, suburbs and rural areas, and another one with pictures for preschoolers.
Then I clicked through the other FREE printables and found some really fun RoadTrip Bingo Cards!  I printed both sets of them and laminated them so we can use them over and over again.  If you're like me, and don't relish the thought of giving your kids a dry erase marker in the car, Crayola makes dry erase crayons that wipe off with a cloth.  These work on regular plastic sleeves as well as dry erase boards and laminated sheets.  How awesome is that?!?  The last thing I printed was a license plate game from Dating Divas.  I only printed one copy and laminated it so we can just do it together as a family throughout the trip.  That road trip date post had a lot of cute ideas and printables available.
Felt Play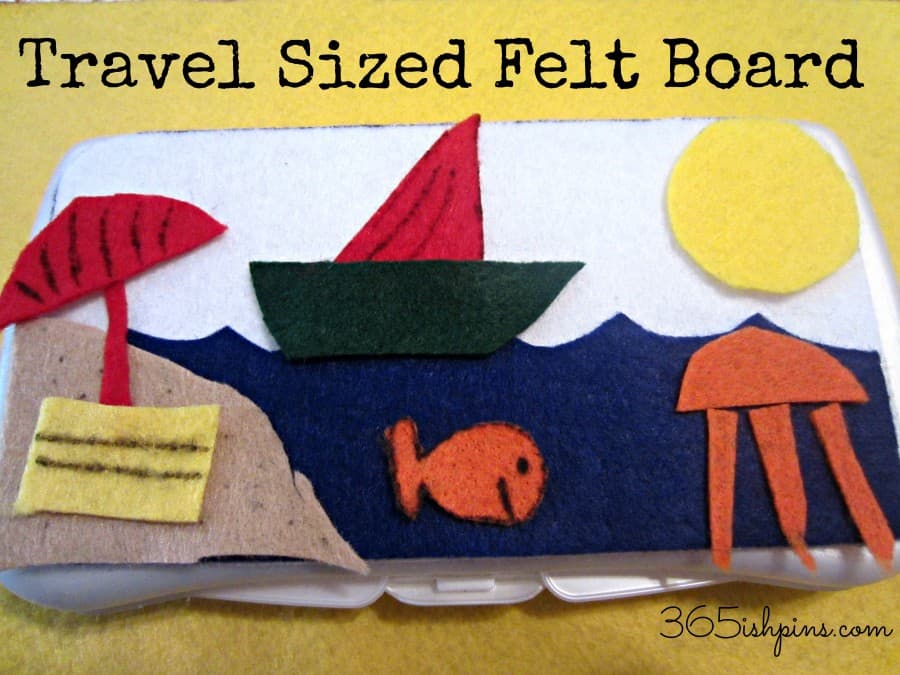 A couple of weeks ago I posted about the travel sized felt board that I made using a baby wipes case.  Obviously, I'm bringing that along, but I knew I wanted to pick up a couple of cookie sheets at the dollar store to use as magnetic boards.  I had a burst of inspiration (more likely I saw it somewhere long ago on Pinterest and I've just forgotten) and I lined the bottom of my trays with a sheet of stick-on felt.  Now each boy has their own colored tray which can be used for playing with our felt pieces.  We had a set of Thomas and Friends felt characters, so I'm bringing those in a zip-loc bag, as well as the ones I made the other day.  Also, my project for tomorrow is to use these templates I found (guess where) and create Mr. Potato Head.  My littlest one especially will like that.
Magnet Boards
As I mentioned above, I purchased some cookie trays at the dollar store.  I also bought some magnet letters to go along with the ones we already have hanging around our refrigerator.  I was going to use the inside of the cookie trays for magnets, but I lined them with felt, so instead the boys can just flip the tray over and put the magnets on the back side.  The trays are also perfectly sized for holding a sheet of paper, so they can use them for coloring and marking on their bingo cards.  I'm hoping to get a chance to run out and buy some magnetic clips to help turn their boards into "clipboards" for holding their papers.
Quiet Books
 My two older boys have had quiet books since Christmas.  Their very resourceful Aunt Carrie made them for sitting in church on Sunday nights.  They are full of coloring pages, puzzles and pages from activity books in plastic sleeves. She printed a lot of pages from this great Cars Preschool Pack. They use the dry erase crayons to do the puzzles over and over again.  I put the books away a few weeks ago so they would be new again for the trip.
Old Favorites
Then, of course you have just your standard coloring books, marker sets (for the older kids) and flashcards.  I also bought a few new books at the dollar store and saved them for reading in the car.  Hopefully all these little diversions will help pass the time and keep things entertaining in the car while we travel.  We can't wait to see Gramps and Mem and all the uncles, aunts and cousins! 🙂
Linking up with: