If you're last name is Burkholder or Rench, please stop reading now. You don't want to spoil any Christmas surprises, do you? 🙂
Thanks to Shutterfly for providing amazing personalized products for this post! All opinions are 100% my own and are very happy ones!
Shutterfly isn't just for Christmas cards and photo books anymore! (Although, I love our cards and use Shutterfly every year.) While I was working on our cards, I was amazed at how many other great products they carry now. I found my cart filling up quickly as I discovered the perfect gift for Grandma, or a fun stocking stuffer for my sister-in-law. I even got some fun things for my nieces and nephews. Because, really, who doesn't love to see their name or picture in print? 😉
More and more, I enjoy giving personalized gifts for birthdays, holidays and other special occasions. Adding a personal touch to a gift makes it so much more special and a lot less likely to get returned to the store. 😉 I've put together a collection of personalized gift ideas to help spark your own creativity and make this year's gift-giving a little bit easier!
Hand lettering is all the rage this year, and there are so many ways to incorporate it into gift giving. I love these glass plates from Fabulous Fete. She shares a tutorial to make your own lettered plates and it doesn't sound too difficult at all!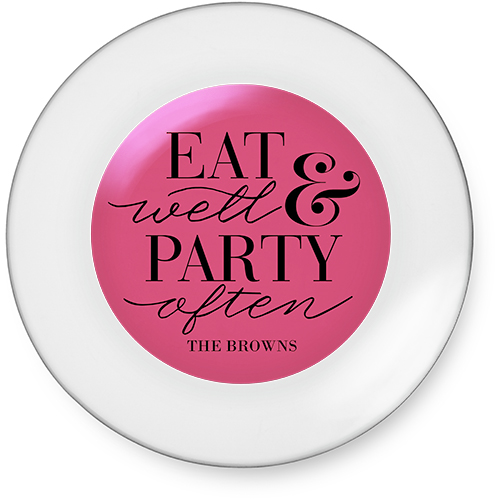 If you don't trust your hand-lettering or DIY skills, Shutterfly has a host of options for plates. You can choose one of their designs to personalize, or upload your own! I skipped the glass plates and grabbed a few of their Disney plates as gifts for my nieces and nephew. Last year I bought them place mats, so I thought it would be fun to get the plates this year!
Just about everyone has a phone these days, and phone cases are a great gift. This collection of 10 ideas for decorating a phone case has some great ways to make a unique gift. I really like the watercolor one!
You can create phone cases on Shutterfly using your own photos and their templates, or use their collection of artwork to personalize. I made one of each as stocking stuffers for the family. To me, a phone case is like a purse. It's fun to have lots of options, since you carry it around with you all the time!
The one item that makes me giddy while shopping for school supplies is a notebook. There's just something about a fresh, clean, empty notebook that calls to me. This post from DIY Candy shows how to make those boring black and white composition notebooks into a work of art. I love the addition of gold foil! With the variety of scrapbook paper out there, the possibilities are pretty limitless for a project like this!
If you want to skip the DIY, there are tons of notebooks and journals available on Shutterfly. I really loved searching through all their available artwork and finding images that I know will resonate with my gift-ees. 🙂
In California, a law just passed banning plastic bags in stores. This has underscored my opinion that you can NEVER have too many bags. Really- there's always something to tote around, anyway. 🙂 If you have a fancy sewing machine that does embroidery, you could whip these up in no time. I don't have a sewing bone in my body, so I let Shutterfly do the work for me. I'm sure the boys' school teachers will love their tote bags!
Grandmas are the easiest people to buy gifts for every year. Seriously, just put their babies' pictures on anything and they will go crazy for it. I was blown away by the quality of both the pillow and blanket that I ordered. The photos pop off the fabric. The blanket is so soft and is HUGE! I had so much fun going through everyone's Facebook photos and finding the perfect shots for it.
Yup, Grandma's going to cry happy tears when she opens this one. I can't wait to see her face! Did you know you can also DIY this? If you purchase ink jet fabric sheets, you can print an image right off your computer and then stitch it together with backing and sew up your own pillow!
A simple and elegant way to personalize a gift is by decorating the actual wrapping paper! I really like the look of a package wrapped in brown paper with a colorful ribbon. You can stamp the paper using a stamp like this one, or just go free-hand and practice your hand lettering skills. Do you have "that one person" in your family who always removes the paper very carefully and folds it up neatly? You KNOW she'd love this!
Check it out! You can get wrapping paper, too! I thought this was so cool. I picked some of my favorite pictures from Christmases past. A nice bonus is the "To" and "From" name tags-no need for an extra gift tag! 🙂
I could go on and on about all the personalized gifts that are simple DIYs or available on Shutterfly. Household goods like blankets, pillows, wall art, candles, cutting boards and travel mugs are my favorite. They also have the more familiar stationery goods like calendars, Christmas cards, note cards, photo books, personalized kids' books, address labels and even stamps! Seriously, make your life easy and just check out the personalized gifts available. I got the majority of my Christmas shopping done all in one place! Happy shopping (or DIY-ing if that's your thing!) 🙂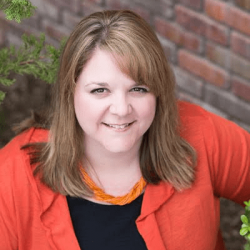 Hi, I'm Nicole!I love chocolate chip cookies, good grammar, and trying new things. Pinterest is my happy place. Come follow me down the rabbit hole!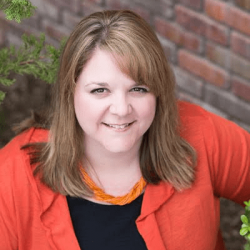 Latest posts by Nicole Burkholder (see all)